Maine is a lovely summer/fall destination on the East Coast. Based on our travels, in this blog post, we're going to share:
A Boston to Acadia National Park, Maine itinerary. This itinerary is flexible and can be covered in 3-5 days.
What to see in Portland, Maine in a day
Suggestions on where to stop on a road trip from Boston to Acadia.
Winters in Boston can be brutal. Supriya and I had been longing for the warm weather and when it did arrive, we made plans to use the first summer long weekend in the US to pack our bags again. This time around, we packed all our camping essentials, made reservations (including at our first Airbnb stay), and hit the road to drive five hours north of Boston to visit Acadia National Park. Acadia National Park is located in Maine, a state at the highest end of the US east coast.
Considering Airbnb for the very first time ever? We've found private, safe, and unique stays with them in the US and abroad too. Sign up using our referral link and get $35 off your first booking.
The idea was to get away from routine city life and get up close to nature. We couldn't think of a better spot in the woods that would be accessible from Boston. Also, camping turns out to be way cheaper than staying in closed rooms at hotels, so that is a big plus too!
The states of Maine, Massachusetts, New Hampshire, Vermont, Rhode Island, and Connecticut make up the northeast kingdom of the United States and are collectively called New England. Each state is unique in its own right.
Is Acadia National Park worth visiting? Oh yes! Maine is known for its rugged coastline and spectacular beauty. No points for guessing – the region is also a photographer's paradise. It is a popular camping destination in the US, which is why we chose to visit the park early in the summer rather than later. Aside from that, Acadia NP is also a great place for wildlife spotting and hiking. Since it was a long weekend, we wanted to take our time and broke our journey down to three days. Like we mentioned above, this Boston to Acadia itinerary can be stretched to five days so that you can enjoy the park at a slower pace.
Here is a recommended itinerary from us if you're planning to head to Acadia National Park from Boston soon.
Day 1: Boston to Portland, Maine
Boston is a great city and has lots to offer visitors. One needs to spend a few days in the city to truly see its main sights and get a sense of the Bostonian vibe. If you're landing at Logan International Airport or starting your journey from the Boston area, make sure to start early in the morning.
How long is the Boston to Acadia National Park drive?
The Boston to Acadia National Park drive time is about 5 hours, and the distance is 280 miles.
Because we were planning this getaway over a long weekend, we started early for two reasons:
to beat the holiday traffic
to get early to a spot called Portland Light House
How far is Portland, Maine from Boston?
The distance from Boston to Portland, Maine is 112 miles and it is roughly midway between Boston and Acadia National Park – that makes it the perfect town to break your journey. We stayed in an Airbnb apartment near Portland. You could look at Airbnb or click here to find another wonderful stay in Portland.
Let Portland Light House be your first stop upon entering Maine. The views from the lighthouse are gorgeous. There are cliffs and numerous trails to walk and get close to the ocean. We could see camera enthusiasts, families, and couples enjoying the beauty as we did. The best part- free entrance and parking :). Get some picnic lunch and breathe in the fresh salty sea breeze.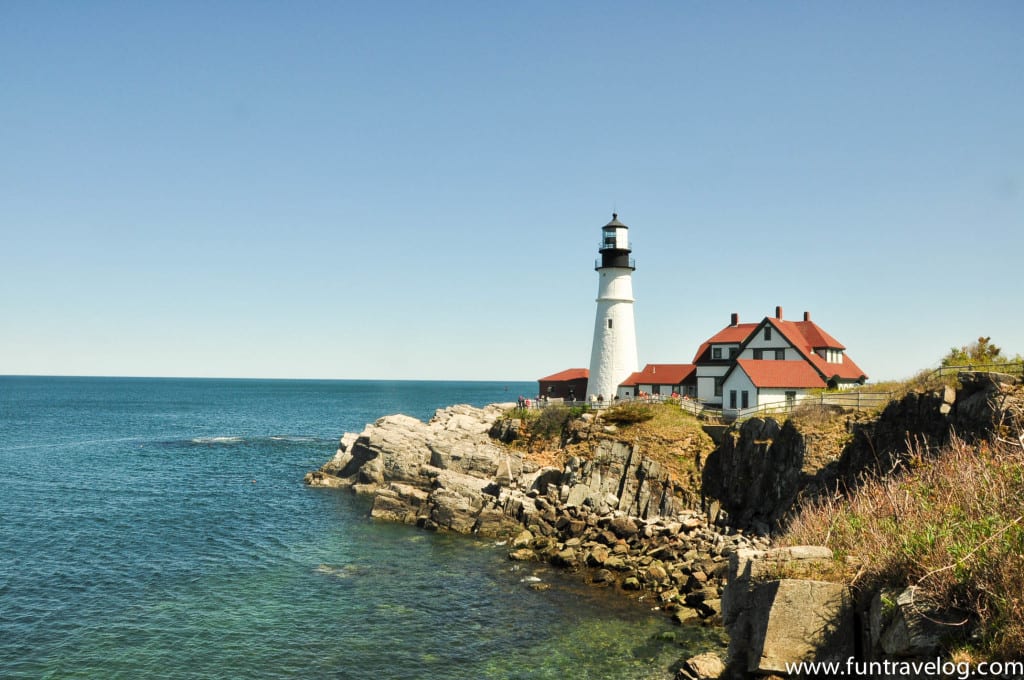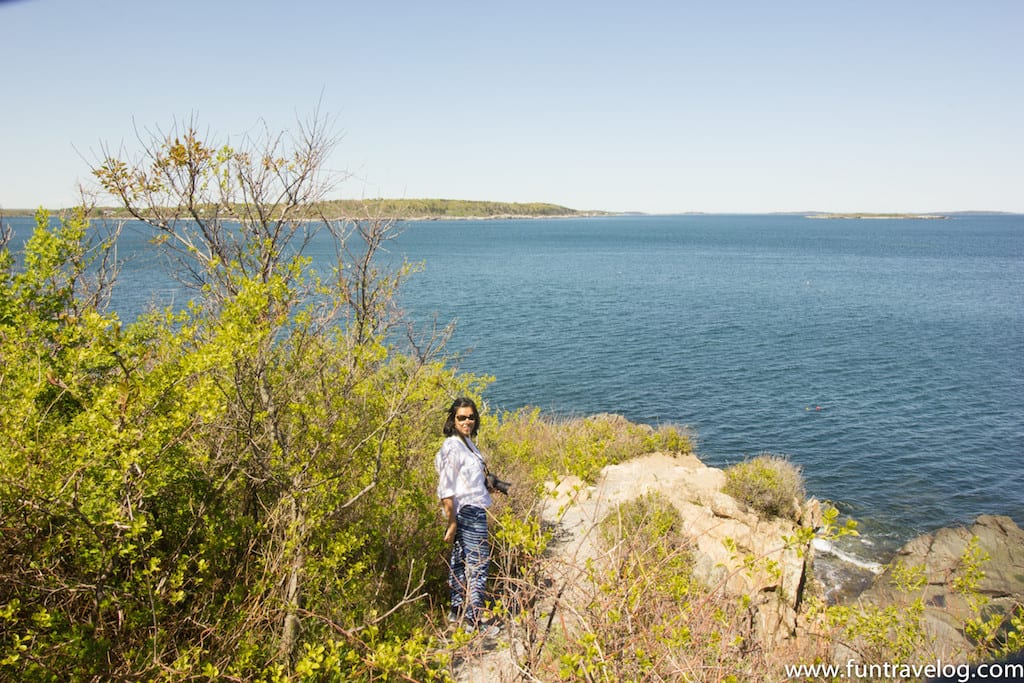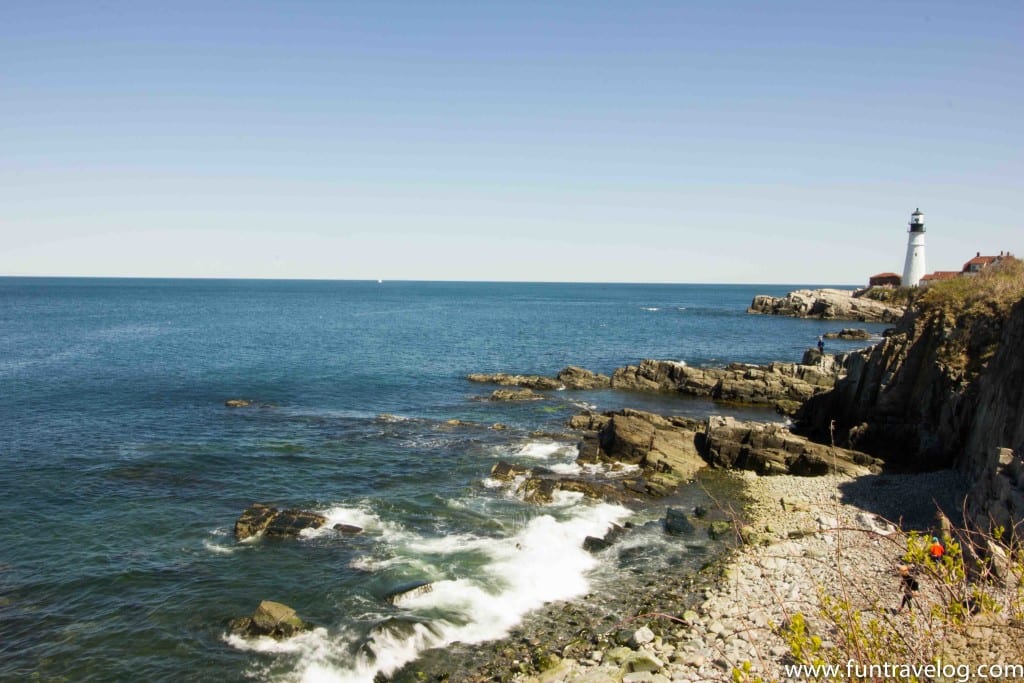 What are the best things to do in Portland in a day?
If you have time/days on hand, it is quite a nice place to explore. We were pleasantly surprised by Portland. It has a vibrant hipster vibe and is home to some cozy cafes too. Unlike other seaside towns that we have explored, Portland is quite lively by night. We visited some bars along the pier before crashing at our Airbnb stay.
Here's a list of the best things to do in Portland if you only have a day on hand:
Visit lighthouses: Head to Portland Head Light lighthouse, Bug Light Park, Two Lights State Park
Pick up donuts from The Holy Donut (they're made of a special ingredient: potatoes!)
Walk around on Exchange Street, which is the Old Port area that has brick sidewalks – there are several boutiques, restaurants, bookstores, and bars here
Visit the Portland Museum of Art, it is small and has an interesting collection
Take a short cruise along the Casco Bay: a windjammer cruise or a lobster cruise are popular options
Grab a pizza from Otto's, it started in Portland and is now a local chain in New England (their pear and gorgonzola pizza is to die for!)
Visit the breweries or grab their beer for a takeaway: Allagash and Shipyard Brewing are two popular choices.
Bonus ideas of things to do near Portland
Head to Cape Elizabeth for a picnic and fly a kite there
Love shopping? Drive over to the L.L. Bean outlet, an outdoor gear and clothing store in Freeport
Where to eat in Portland, Maine?
There's an amazing mix of modern, diverse cuisine in Portland. You can find Asian, Italian, American, Greek, and even Middle Eastern cuisine in this small city. Since we're vegetarians, we don't end up going to seafood restaurants but oysters and lobsters are a big deal on this side of the world. If you're a vegetarian or enjoy vegetarian-friendly food, some of the restaurants/cafes that we recommend include:
Baharat: This is a restaurant that offers outdoor seating and middle eastern cuisine with a fine selection of cocktails.
Otto's: This is the home of one of our favorite New England pizza chains. Everything on their menu is fabulous.
Bonus ideas of stops between Boston – Portland
See Boston for a day or two
Stop at Kennebunkport or Ogunquit in Maine – these are two small seaside towns on the coastline.
Stop at the historic Nubble lighthouse for scenic views or for the sunset
Day 2: Portland, Maine to Acadia National Park
Bidding goodbye to our comforting Airbnb country home was hard, but we needed to head to Acadia's Blackwoods campground before it got late.
It's wise to set up tents during broad daylight rather than fumbling around at night with flashlights. Besides, we wanted to explore Acadia's scenic 27-Mile loop by driving and hiking around.
What is the best time to visit Acadia National Park?
Summer or fall (May-October) are the best times to visit Maine and Acadia. We chose to plan our Boston to Acadia road trip during the Memorial Day long weekend in May, which is typically early summer, and the weather was great on all of the days.
It would be best to plan your getaway to Acadia after checking the weather predictions for the dates that you are planning for. If you choose to visit during either of these seasons, chances are that you will encounter good weather which is ideal for exploring the park. Like the rest of New England, Maine is especially colorful in late September / early October.
Directions to Acadia National Park
The distance from Portland, Maine to Acadia National Park is about 170 miles and takes roughly three hours. Here's how to get to Acadia (two routes):
If you take the I-95/I-295 route via Augusta, Bangor, and Ellsworth, you will get there fastest.
However, there is another route via US-1/US-3 which is considered more scenic but takes an hour and a half extra.
Here are the route options, compared in the map below.
We chose the former route to save time for Acadia but can say that the drive was very scenic on a sunny day nonetheless.
Where to stop between Portland and Acadia in Maine?
Though we haven't been, the next time we're up there, we hope to make pit stops at:
The Peary MacMillan Arctic Museum in Bowdoin College, the only museum dedicated to Arctic studies
Fort Knox State Park
Penobscot Narrows Bridge Observatory from where one can catch fabulous views of Acadia
However, if you prefer a slower pace and are considering the US-1/US-3 route, you could also make the following stops between Portland and Acadia NP:
Freeport for shopping at the L.L. Bean outlet store
Pemaquid Point Lighthouse in Bristol. You can actually go up to the top of the lighthouse for a small fee.
The town of Rockland for a meal
Mt. Battie, for a beautiful view of the coast and the areas surrounding Camden town
Owl's Head Transportation Museum for a look at their collection of cars
Entering Acadia National Park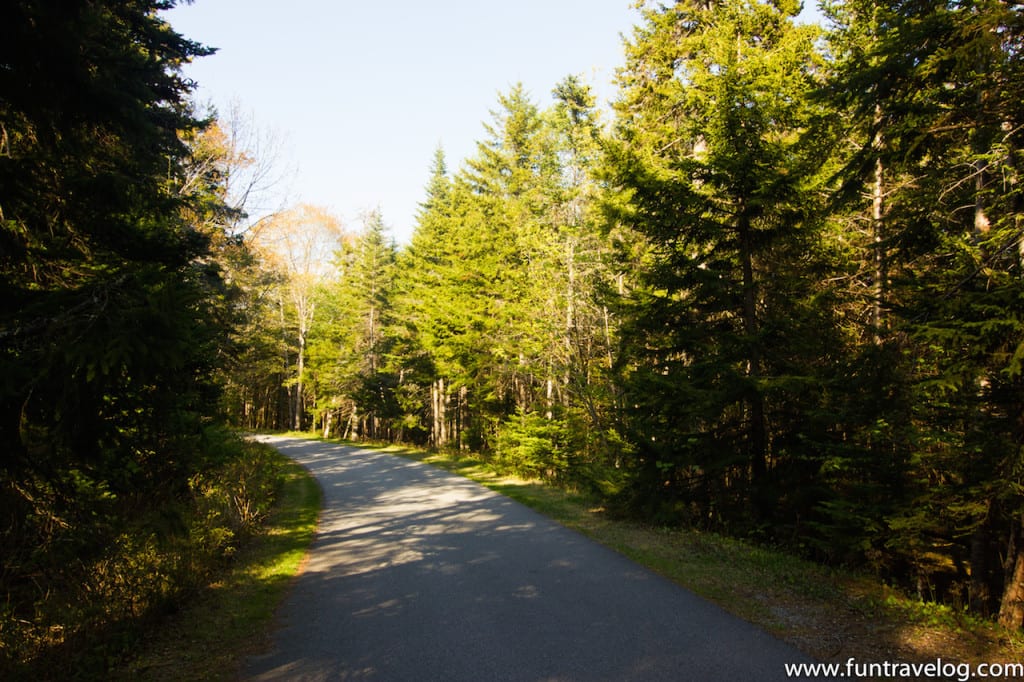 The entrance to Acadia National Park is not free. You are required to purchase a park entrance pass either in advance on the official Acadia NP website or at one of the sale sites in the park (currently passes are only being sold at Sand Beach Entrance Station and Schoodic Woods Ranger Station due to COVID-19). The fees are as follows:
A 7-day entry pass for a private vehicle is $30
A 12 month Acadia annual pass costs $55
You could also purchase the National Parks and Federal Recreational Lands Pass for $80 which is valid for a year. This pass also gives you access to other national parks in US.
If you wish to reserve a campsite like us, the cost is $20
Hancock County Airport is the closest airport near Acadia National Park. The town of Bangor, which is an hour away, also has an international airport. 
Where to stay near Acadia National Park?
While we chose to stay in Blackwood's campground inside the park, many visitors choose to stay in Bar Harbor, a town on Mount Desert Island. There are restaurants, B&Bs, hotels, motels, cottages, places to eat in this town. Also, it provides easy access to Acadia. While there are many hotels near Acadia, there are four campgrounds inside the park:
Blackwoods Campground
Seawall Campground
Schoodic Woods Campground
Duck Harbor Campground on Isle au Haut
We chose Blackwoods because of its proximity to most of the spots in the park. If you're thinking of camping, we've put together an entire list of camping essentials for first-timers.
Click here to find hotels in Bar Harbor if you want to consider staying outside the park.
Day 3-5: Inside Acadia National Park
One of the first two things we do upon entering any national or state park:
Head to the visitor center and seek a ranger's advice on places to see, and the best times to visit them
Grab a park map and note the spots we want to visit
Then we got to roughly planning our itinerary for Acadia National Park. We divided some of the spots to see between the two days we were there and decided how much time to devote to each of these places in advance.
What to do in Acadia National Park?
Acadia is a gem in the northeastern state of Maine, and very popular with outdoor lovers. The park is situated on Mount Deer Island and has a gorgeous rocky coastline, many miles of hiking trails, and summits with beautiful views. If you end up visiting the park with time constrain like us, here's a snapshot of the best things to do in Acadia National Park:
Hike or Drive up to Cadillac Mountain Summit
At 1530 feet, Cadillac Mountain is one of the best spots to visit inside Acadia. The best times to visit the summit are during sunrise or sunset.
From October to March, this summit experiences the first-ever sunrise in United States. It is one of the many mountains pushed up by the forces of the earth millions of years ago, and the effects of climate change and melting glaciers are easily visible on the surface of the summit. The scattered islands around Acadia, also called Porcupine Islands, can be viewed from up here. A visit to Cadillac Mountain is a must include on any Acadia National Park trip itinerary.
You can drive up to the top of the summit. One can also hike to the top of the summit – the distance is about 7.1 miles.
See the waves rising at Thunder Hole
The average visitor might wonder what the fuss about this spot is all about. But on your lucky day, you could watch the phenomenal activity of ocean waves rising in the air with a rumble of thunder, sometimes even as high as 40 feet. Thunder Hole is an ideal place to sit and relax and soak in the surrounding views.
It is best to check weather updates before visiting Thunder Hole. The thundering of the waves purely depends on the ocean. The best time to visit Thunder Hole is around midday.
See Otter Cliff
At 110 feet high, Otter Cliff is one of the highest headlands north of Rio de Janeiro. However, be cautious as you approach this seaside cliff, as the rocks can be wet and slippery since they are constantly pounded by the ocean waves.
Savor the views at Jordan Pond
This beautiful lake was formed by glacier waters and is home to the only restaurant inside Acadia National Park. It gets very busy during the holidays. However, step out of the restaurant and the views are beautiful. It is also possible to canoe or kayak in Jordan Pond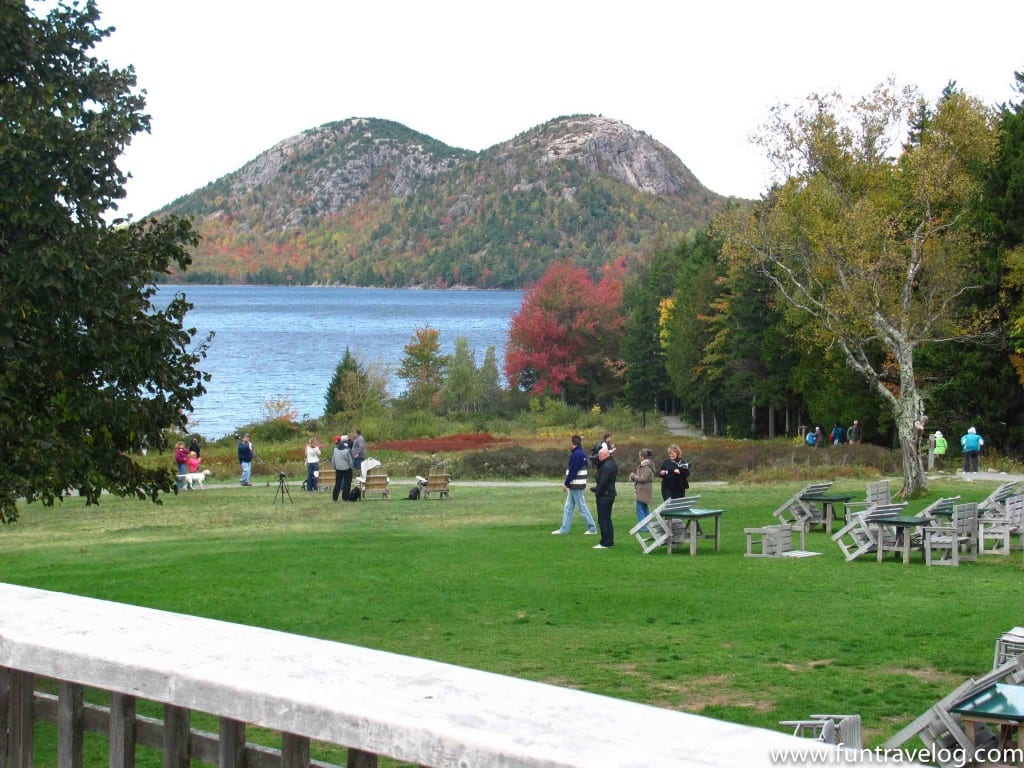 Plan a picnic at Bubble Pond
The pristine Bubble Pond is situated in a glaciated valley, surrounded by mountains. Again, another beautiful spot to picnic, relax and watch the scenery. The best time to visit this pond is on a calm morning when one can see reflections of the mountains in the water.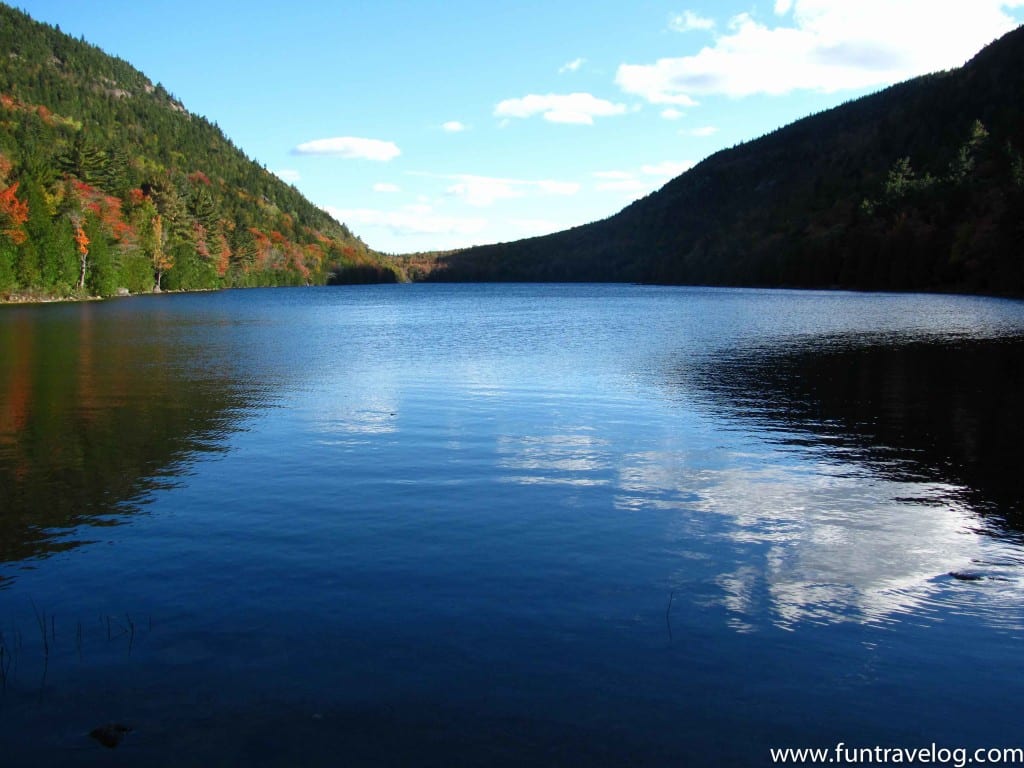 Drive the Park Loop Road
This 27-mile mostly one-way route connects many of Acadia National Park's primary spots – mountains, lakes, ponds, forests. The starting point for the loop is at the park entrance station in Bar Harbor, close to Sand Beach. PS: Be on the lookout for a moose or a deer.
It takes 3-4 hours to drive the park loop road, considering you would be stopping at various scenic points along the way.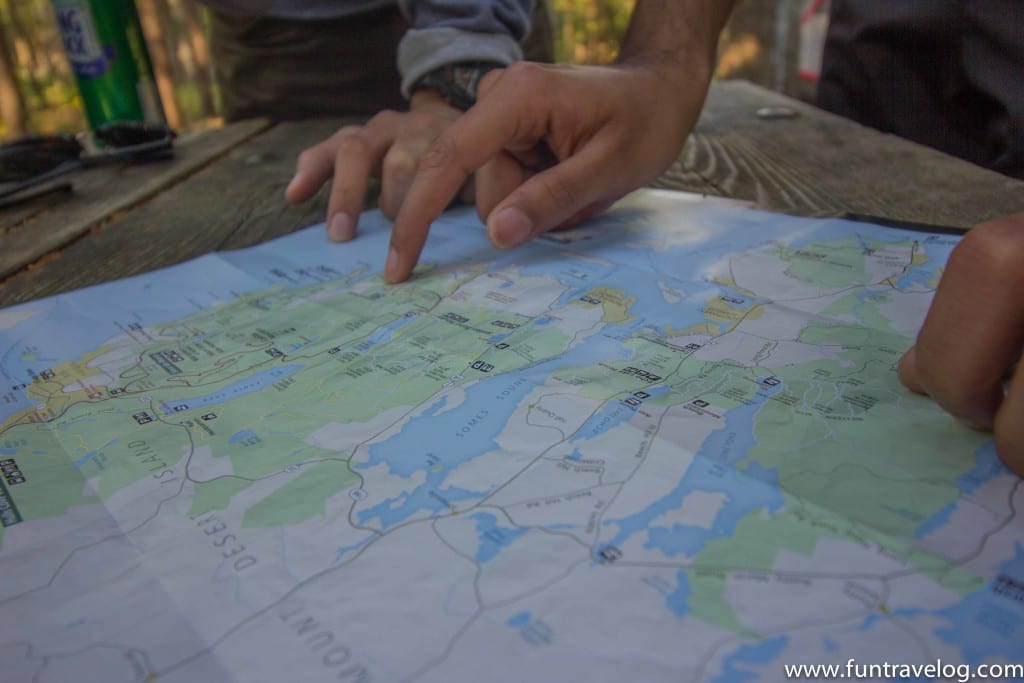 Hike the Ocean Path
This coastal path begins at Sand Beach and continues up to Otter Cliff, passing Thunder Hole. This loop is a popular choice for those looking for a sunrise hike, and dramatic views of the park.
Dip your feet in the water at Sand Beach
This small but stunning beach amid mountains and rocky seashores is a must-visit! The entrance is via the Park Loop Road, south of the park entry point in Bar Harbor.
Catch the sunset at Eagle Lake
This is the largest freshwater lake in the park and is much photographed. It is one of the best places to see Cadillac Mountain at sunset.
Restaurants in Acadia National Park
The Jordan Pond restaurant is the only restaurant inside Acadia National Park. There are several picnic areas in the park, with benches and fireplaces for grilling.
What to know before going to Acadia National Park?
Acadia National Park is a very popular park and many travelers flock to see its natural beauty during summer and fall. It's best to plan your stay in advance. Due to recent travel restrictions, campgrounds inside the park are closed, but you could certainly consider staying in the town of Bar Harbor. Find hotels in Bar Harbor.
Maine and Acadia are quite further north on the east coast and weather in this part of the world can sometimes be unpredictable. It's best to carry a windbreaker or an all-weather jacket when you travel to this part of the country.
Make sure to wear hiking shoes to access rugged areas of the park comfortably.
We'd also highly recommend carrying a good water bottle to keep yourself hydrated during a hike or walk.
Acadia is also home to a considerable amount of wildlife. Respect them and do ensure that your visit is as harmless to them as possible.
Considering the current pandemic situation, remember to leave no trace inside the park.
How many days do you need in Acadia National Park?
While it is possible to see some of the highlights in a day's time, it is best to devote at least 2 or 3 days to Acadia National Park itself to see its landmarks at a comfortable pace. If you only have a day, we'd suggest seeing the following:
Driving the Park Loop Road
Seeing Thunder Hole
Driving up to the top of Mt. Cadillac
Seeing Otter Cliff
Grabbing a meal / picnicking at Jordan Pond
Acadia National Park to Boston
After visiting all the amazing spots, you may not be inclined to stop along the coast in Maine. Brace yourself for a 4-5 hour drive from Acadia to Boston, or make one of the suggested stops along the coastline for lunch or coffee. If you took the faster route to Acadia from Portland, this could be a nice opportunity to stop along the coastal towns in Maine during our return journey.
Hope this post is helpful in planning your road trip from Boston to Acadia National Park. Have you camped inside Acadia? What was your best moment/best sight while camping there? On another note, let us know what has been your best camping experience ever.
PS: Looking for more national park inspiration? See our posts below.
Save