The Golden State of California is blessed with some awe-inspiring National Parks. We have been lucky to explore four of them already, namely Death Valley, Yosemite, Redwoods, and now Sequoia. Our 2-year-old daughter has accompanied us to three of these national parks.
Sequoia National Park is most popular for its ancient, giant sequoia trees. These groves of dominating trees are truly a sight to behold, and the biggest reason you should plan a visit to see them.
In this post, we will share all the tips and tricks to best plan one day in Sequoia National Park with kids – especially if you are tight on time. We are also hopeful to visit two other Californian national parks, especially Lassen Volcanic and Joshua Tree National Parks.
How to get to Sequoia National Park
Sequoia National Park is well connected by road from several towns in the Bay Area.
If you're flying into California, your best bet is to fly to San Francisco (SFO) or San Jose (SJC) airport and then drive 6 hours east.
To save time, you could also look into flying into the town of Fresno (FAT). Driving from Fresno does cut the driving time to half, about 3.5 hours.
But be wary that many flights from the east coast do not fly direct into Fresno, so we had opted to fly direct to San Francisco International airport (SFO) to begin our road trip.
You will likely get better deals on flights and rental cars flying into SFO. We did not want to rush and took a couple of days breather in the Bay area to adjust to the time zone and get the necessary supplies before heading to the National Parks.
Because we were visiting multiple National Parks for a week, we drove directly from Yosemite National Park to our Airbnb near Sequoia, which was about 4.5 hours, and included a lunch stop at Fresno.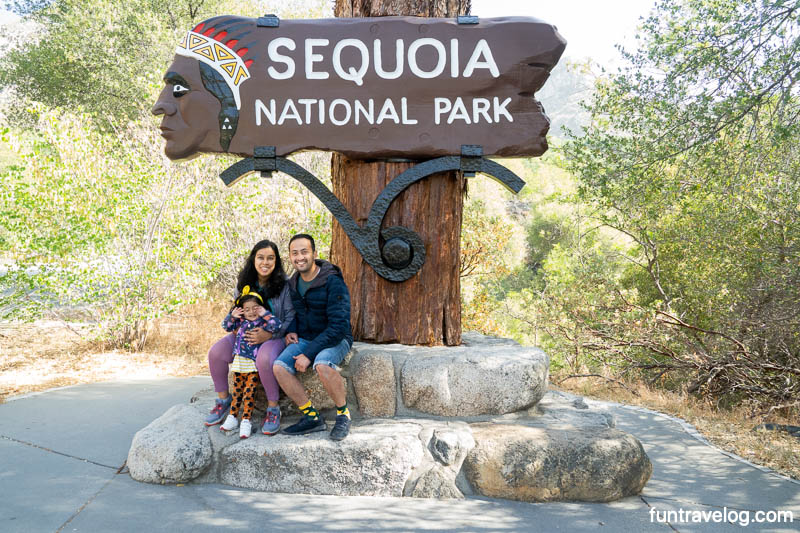 When is Sequoia National Park Open?
As of the date of publishing this post, both Sequoia and Kings Canyon National Parks are closed due to wildfires. So, check this official Sequoia National Park website to get the most up-to-date information about what's open before your visit.
Sequoia National Park Entrance Fee
If you're planning to visit more than one national park in a year, it is wise to invest in a national park pass. The pass is available for purchase online and in stores at REI. It costs $80 for the year and covers entrance for a driver and all passengers in a personal vehicle. Children under 15 get free entry.
Otherwise, the private vehicle entry fee for Sequoia & Kings Canyon National Park is $35 and can be purchased on Recreation.gov.
Planning a trip to Sequoia National Park
Distances
I want to make you aware of something important, which unfortunately we did not come across much during our research before the trip. If you're traveling with a big group or kids, be aware that the road after the Foothill Visitor Center to reach most scenic spots is quite uphill and full of twists and turns if you're entering from the south. So much so that we had headaches by the time we returned to our Airbnb. Luckily Raahi either was busy with her toys or slept, so we are guessing she managed the curvy ride like a pro!
Weather
Considering California has been affected by forest fires in recent times, it is best to check current weather conditions in Sequoia before planning your visit. The temperatures in Sequoia National Park can vary drastically and the weather is prone to changing quickly. Many areas of the park are also closed during winters and you could experience snow on your drive up to see the Giant Forest area too. Rain is common in the winters, spring is cool and summers can be hot. Safe to say that it's best to check temperatures closer to your visit, and always carry a jacket with you.
Things to do in Sequoia National Park with Kids in a day
As is the case with other National Parks, the first order of the day was to visit the visitor center to get a free map and understand the park's layout, since cell phone networks are almost limited. Aside from the General Sherman tree, most of the points of interest are not located too far from each other. Here's a map of Sequoia National Park with major points of interest marked.
If you're wondering what to do in Sequoia National Park with kids or toddlers, here are some suggestions:
Visit the Parker Group Sequoias
This is a group of giant sequoia trees that are huddled close to each other. We were thrilled to get up and close to some of the largest Sequoia trees. Unlike the General Sherman Tree, which is fenced off, one can walk up close to these trees and even touch them. This group of trees are located on Crescent Meadow Road on the way to Tunnel Log.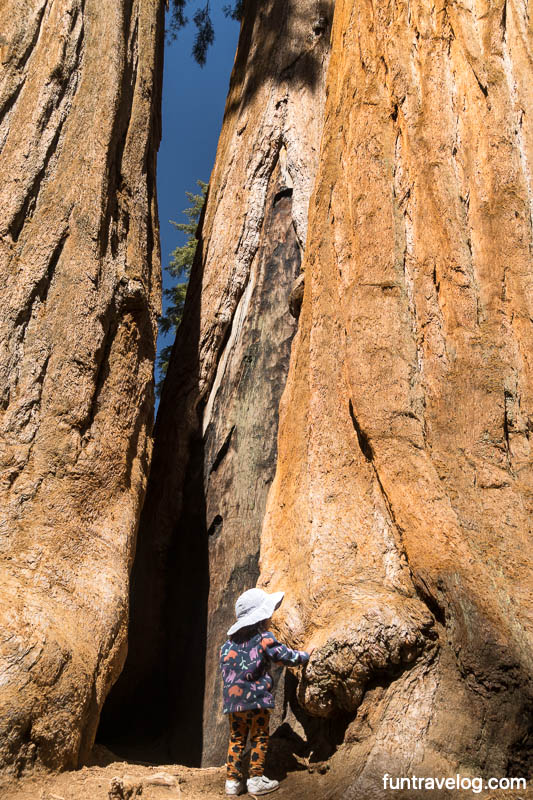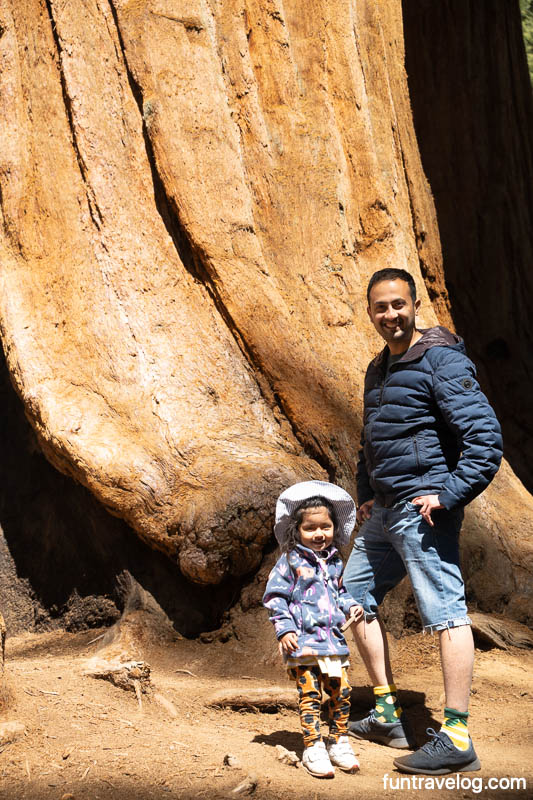 Drive through Tunnel Log
Another iconic spot for photography inside the park, tunnel log has existed since 1935 when a tall sequoia tree fell. Since the tree was too heavy to be moved, the park rangers carved a tunnel for vehicles to pass through. We were driving in the morning, and the crowd was minimal. If there is traffic behind you, you can move forward and take a U-turn to come back. If you plan on being creative with photos here, come during the morning hours.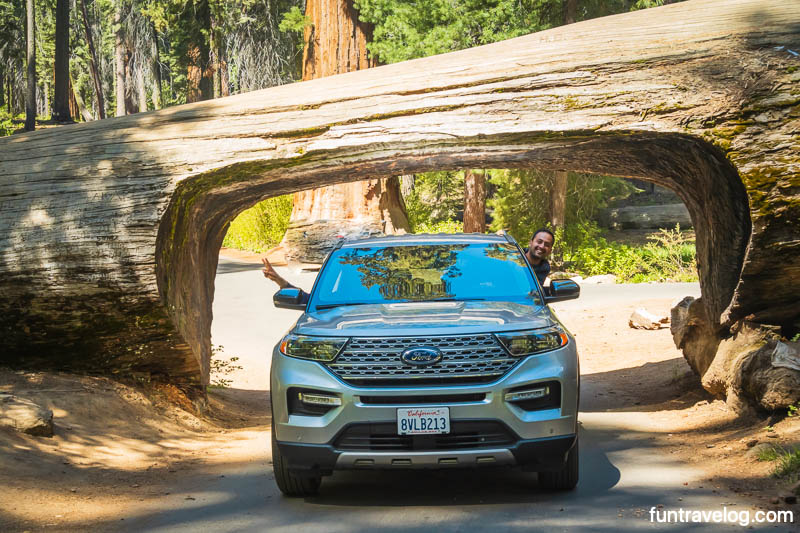 See the General Sherman tree
How can you not visit the world's largest tree in Sequoia National Park? Though largest by volume and not in terms of height, visiting General Sherman is a must do in Sequoia National Park. But here's the deal. If you're with a toddler, make sure you take at least carry water and a baby carrier. There are numerous steps downhill to reach the famous tree. This makes your way back to the parking lot quite strenuous for the little one. It is about a one-mile loop but an elevated hike. In hindsight, we should have done this first thing in the morning when Raahi was most active and recharged.
FYI, there is also handicap parking in another area for more accessible viewing.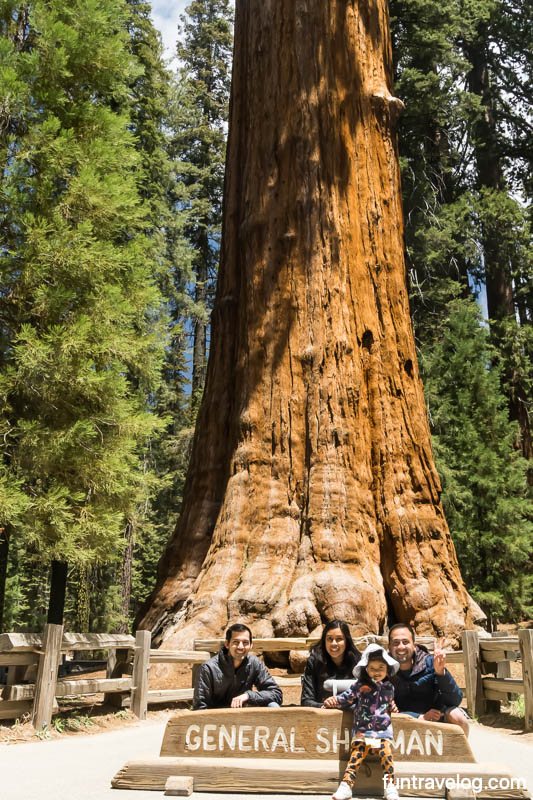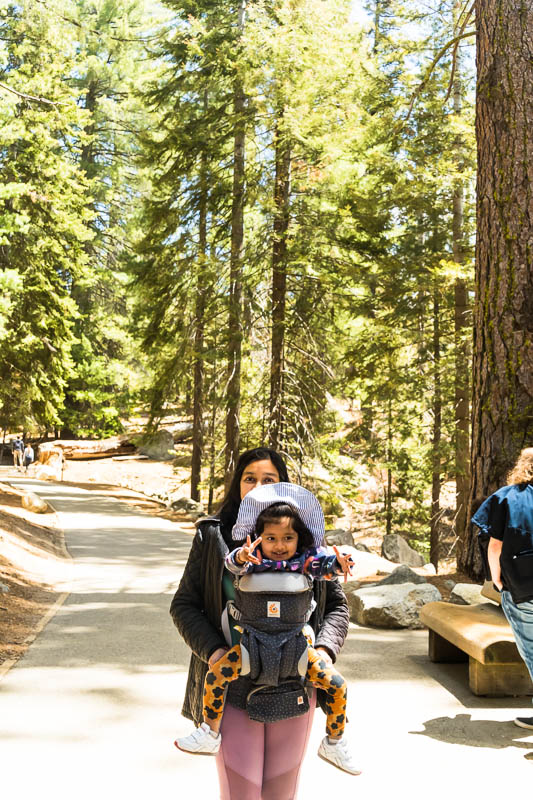 Climb Moro Rock
This is a giant dome that provides stunning views of the Sequoia National Park and consists of a flight of steep steps. If you're hiking with a baby or a toddler, it's best to use a baby carrier. Though there are railing enclosures, the flat portion of the rock has some steep drop-offs, so it is best to be vigilant with little ones around.
Visit the Giant Forest Museum
You can drive to this scenic museum to learn more about the park and the gigantic redwood and sequoia trees that call this area home. The museum is a good way to break your hikes and comes with restroom facilities too. There are few trails where you can wander around to explore these groves or pose in front of them.
More ideas: One day in Sequoia National Park with kids
Congress Loop Trail
If you have time and energy after visiting General Sherman tree (assuming you aren't tired of big trees yet), consider hiking the Congress loop trail which is approximately a 3 miles round trip.
Crystal Cave Tour
A guided tour inside a marble cavern at Sequoia National Park is a popular activity for families to do, provided you book in advance and visit during the spring or summer. When we visited the park in mid-May, the tours were not being offered. This tour ends up being a half-day activity with a steep half-mile walk to the entrance and a 50-minute guided tour.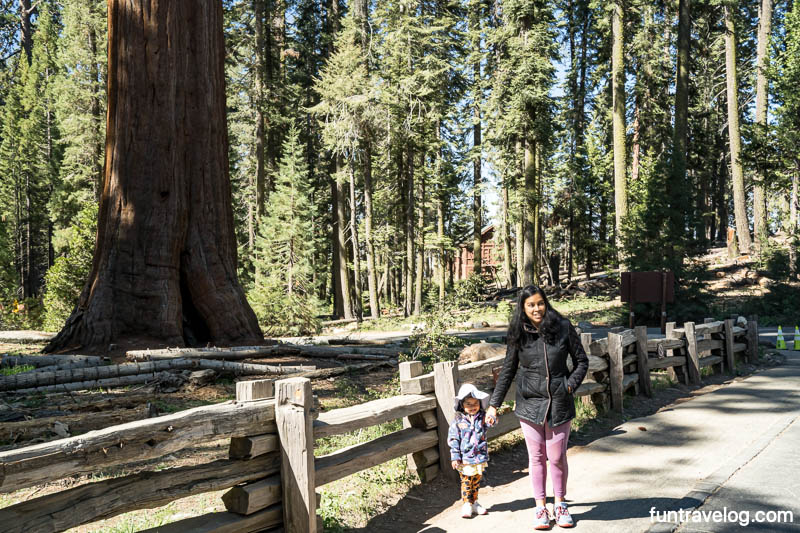 Places to stay in Sequoia National Park
The best way to explore a national park is by staying inside the park. Luckily, there is only one lodging option available inside Sequoia National Park, unless you choose to camp.
Wuksachi Lodge
The most premium accommodation inside Sequoia NP, Wuksachi Lodge is located conveniently close to the Giant Forest Museum, Big Trees Trail, Crescent Meadow, Wolverton Recreation Area, and the Lodgepole Visitor and Market Center. It has 102 rooms, a restaurant, a gift shop and the best of facilities. It is also dog-friendly and perfect for exploring Sequoia in a day.
Book a Room at Wuksachi Lodge now.
Places to stay near Sequoia National Park
Staying inside a national park cuts down travel time considerably. We have previously stayed inside other national parks like Death Valley, Yellowstone, Yosemite and it has been incredibly convenient to explore the parks while staying nearby.
Unfortunately, we could not find accommodations inside the park for our dates. This is where Airbnb came to our rescue and we managed to find, quite surprisingly, a great 3 bed home managed by a Super host. The house was in the town of Three Rivers, which is literally near the entrance of the park. Our munchkin had enough space to play around, there was a well-stocked kitchen to cook our meals and a huge porch to sip morning coffee or gaze at clear night skies! Also, downtown Three Rivers, though cute/small, is abuzz with cafes and restaurants.
If you want to stay outside the park, look for lodgings in Three Rivers, CA. Find your ideal stay on Booking.com or Airbnb.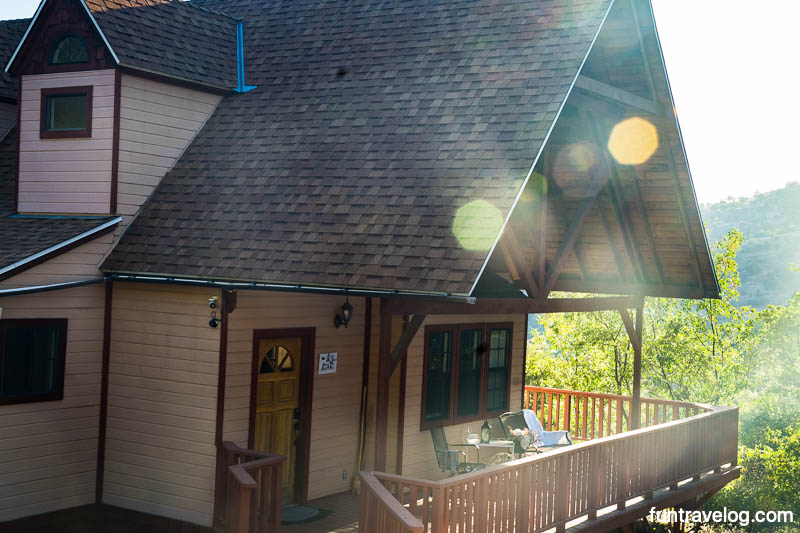 Should you visit Kings Canyon & Sequoia National Park on a day trip?
On the map, Kings Canyon and Sequoia National Parks are located next to each other. While some people try to pack in one day in Sequoia National Park and Kings Canyon Park together, we think it's a bad idea to pursue, especially if you have toddlers or kids along with you. Both parks are comprised of acres of wilderness and trying to squeeze in both together would be an injustice. Besides, you would be spending more time on the road than actually exploring the parks.
We opted to not visit Kings Canyon after learning that it will add probably 1.5 hours of narrow, steep, winding roads to our existing journey. Keeping in mind everyone's comfort and more importantly our 2-year-old daughter's comfort, we instead focused on only exploring Sequoia.
Sequoia National Park with Toddlers
Besides food and our baby carrier, there are other essentials we carry for our munchkin to keep her busy on flights, car and inside lodgings. Read our checklist.
There is a massive elevation gain when you drive up to Sequoia National Park. Make sure to carry layers for your entire family and stay hydrated.
If we had to pick between carrying a stroller or a baby or toddler carrier, we'd pick the toddler carrier. Our Ergobaby 360 has been going strong for two years now!
If you're looking to walk stroller-friendly trails in Sequoia National Park, then stick to visiting Parker Group and the General Sherman Tree. Make sure to park near the accessible entrance to General Sherman.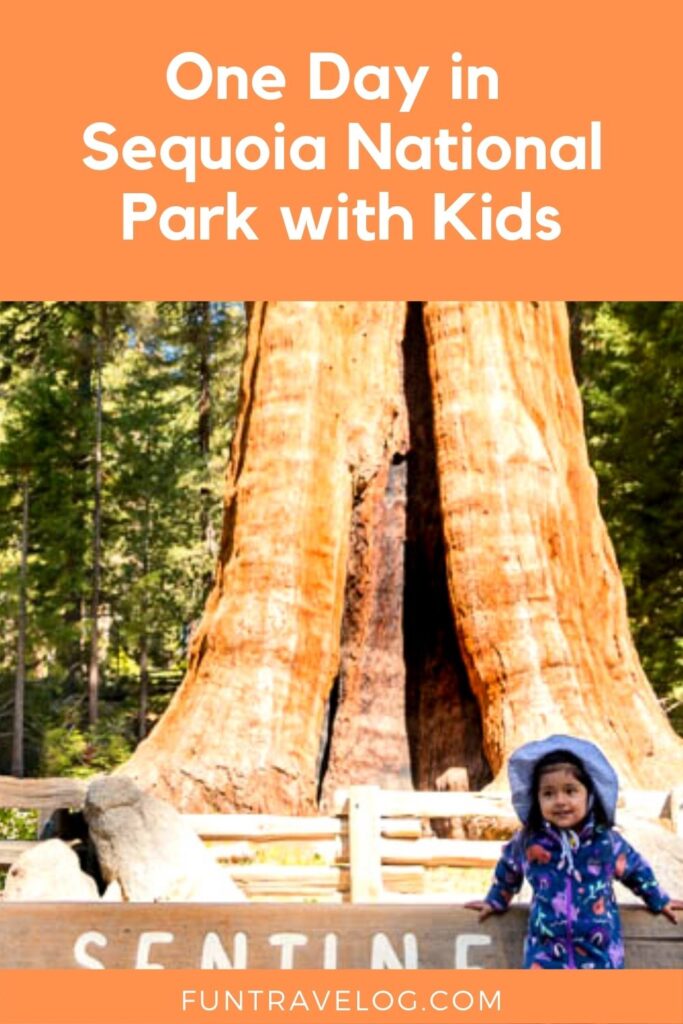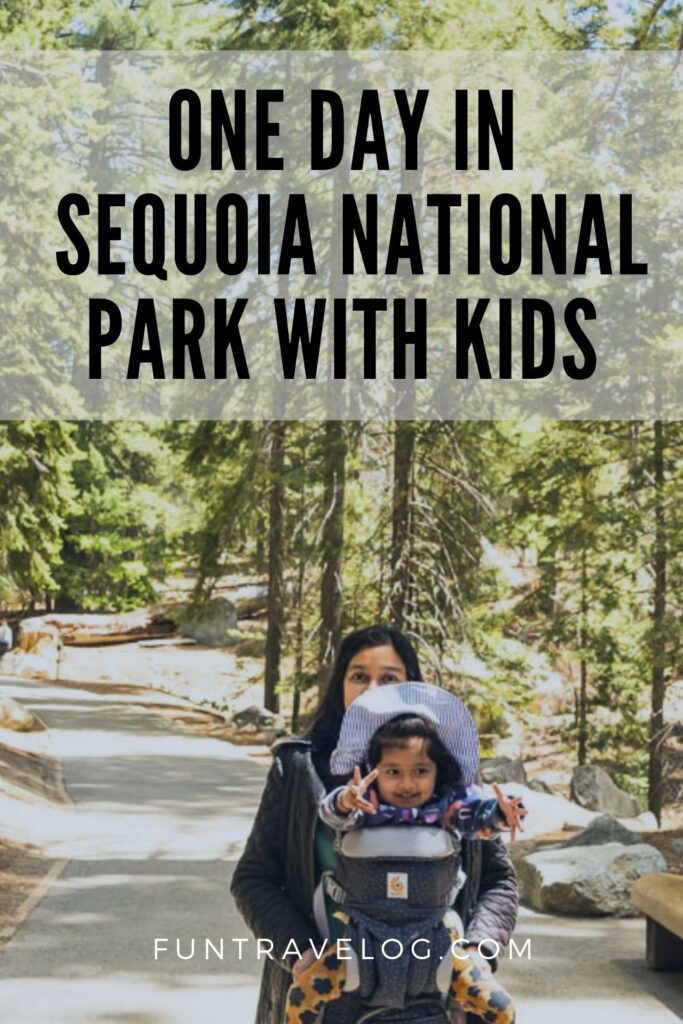 Disclaimer: This post may contain affiliate links, which means we may receive a commission if you click a link and purchase something. This is at no cost to you. Thanks for your support.
More National Park Inspiration