Like every other teenager, my future travel aspirations were ridiculously high. Growing up with a healthy dose of family vacations, the idea of solo travel crossed my mind only a few times. So I'm quite awed when I meet youngsters who have spent months living in foreign countries, learning a new skill and chasing their interests.
During the start of our southern Iceland road trip, we stayed at a restored farmer's home that is part of a working farm. We were secretly excited and hoped to see the estate. Imagine our delight when Valtyr, the owner, offered to have his farm girls take us around for a little tour.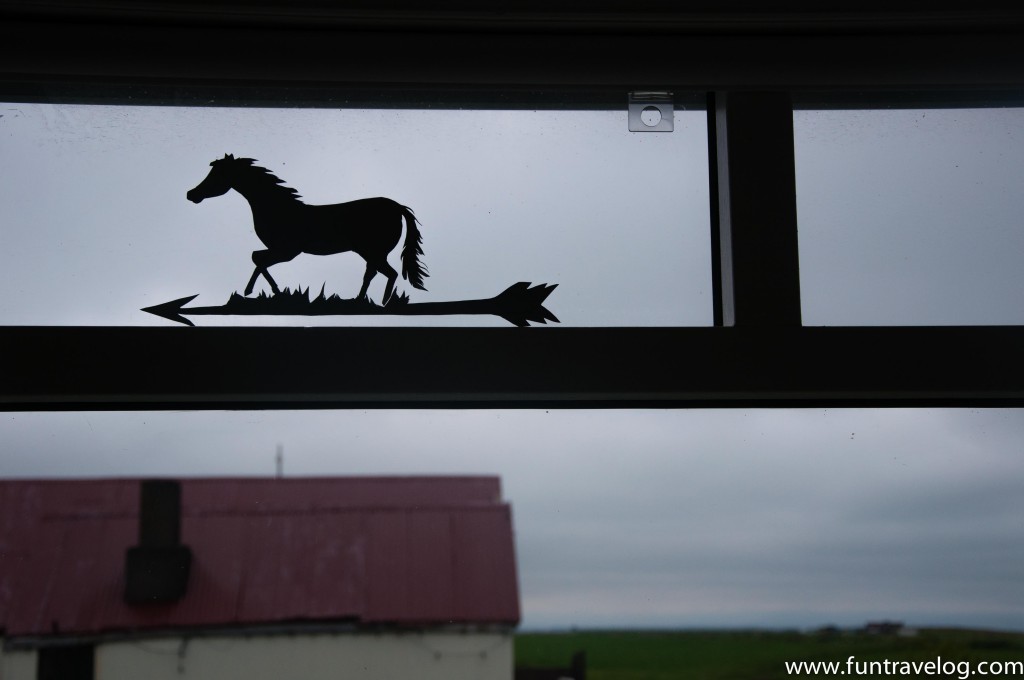 The girls, Siddy and Isabelle were a cheerful duo. While Siddy, Valtyr's niece, is an Icelandic studying in Sweden; Isabelle is a German who has volunteered in different parts of the world. Both girls were spending the summer working in Valtyr's farm.
The Farmer's Guest House is located in the rustic small town of Hella. Here we spotted acres of farmland and a few summer homes too.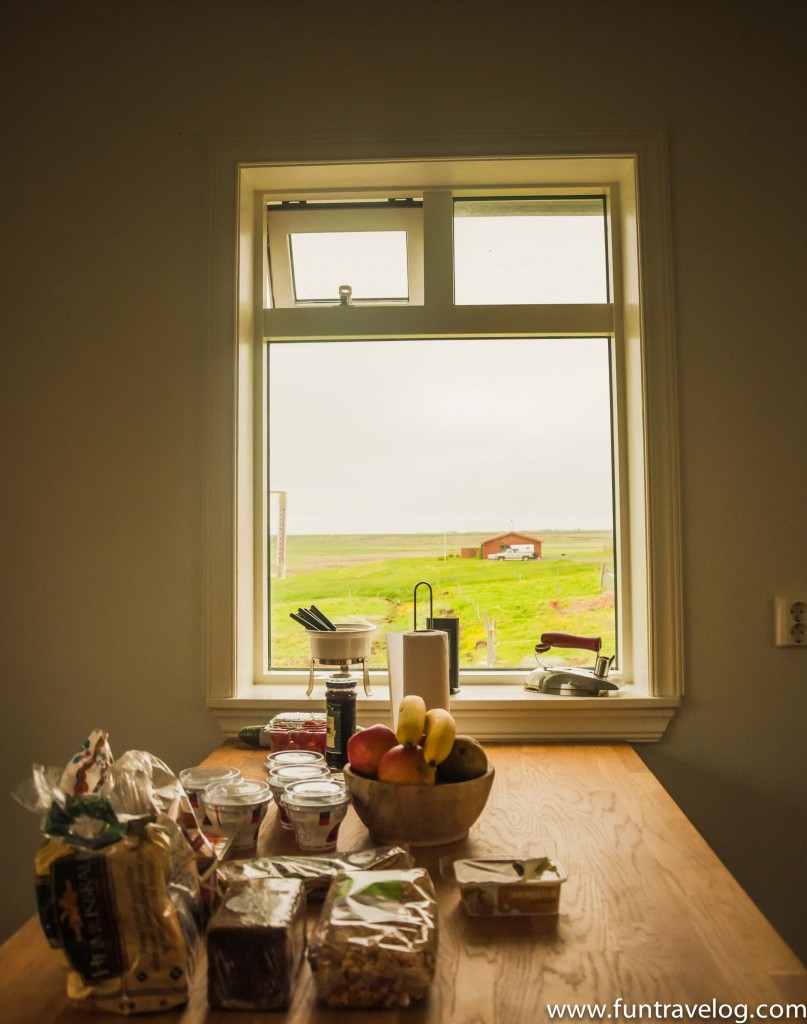 We started by taking a tour of the stables and first met a horse who had recently given birth. The passion with which Siddy described her love for horses was admirable. Both girls were well aware of the animal's habits and behaviour. As Iceland witnesses extreme winter weather, they told us about the measures taken to protect horses and sheep inside the enclosures. Their daily tasks included taking care of the horses, stables and maintaining the guest house.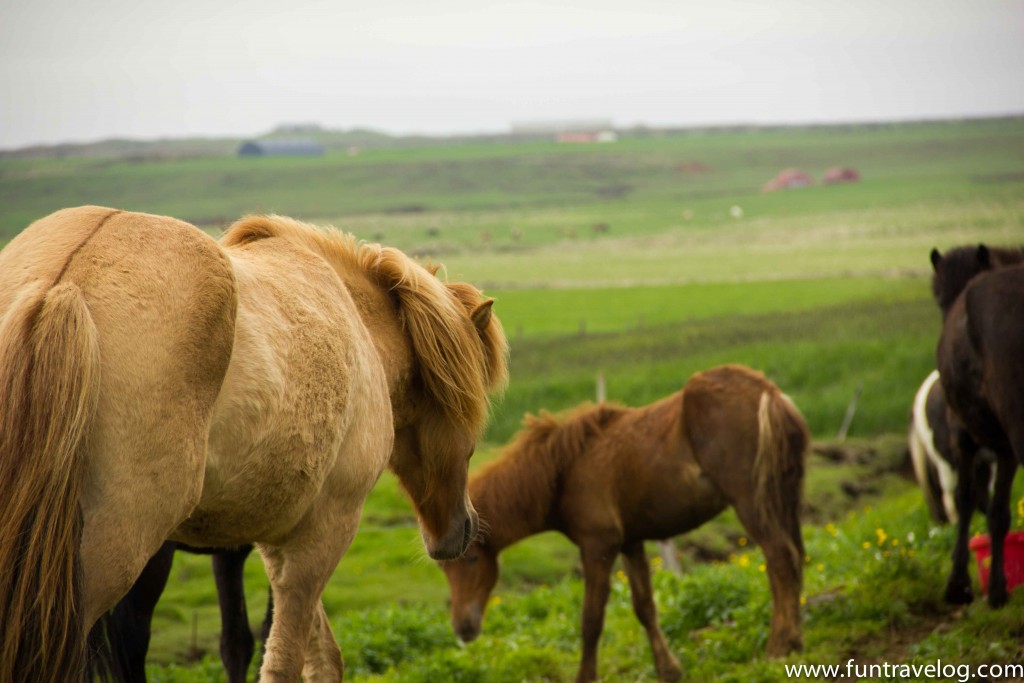 Though I usually keep a distance from most animals, I have the fondest memories of going horse riding as a kid. So, shaking off my initial hesitation I tried making friends with one of the horses. Appearance wise, Icelandic mares look different from their counterparts around the world. Their skin is incredibly smooth to touch and some of them have rather cute mops crowning their heads.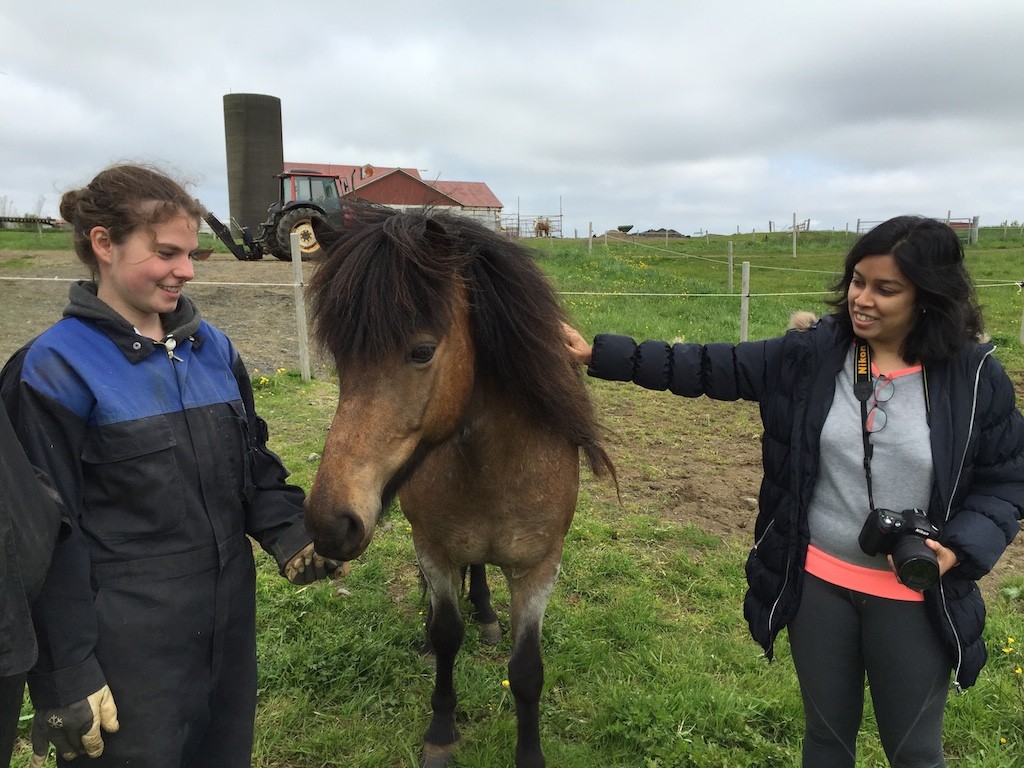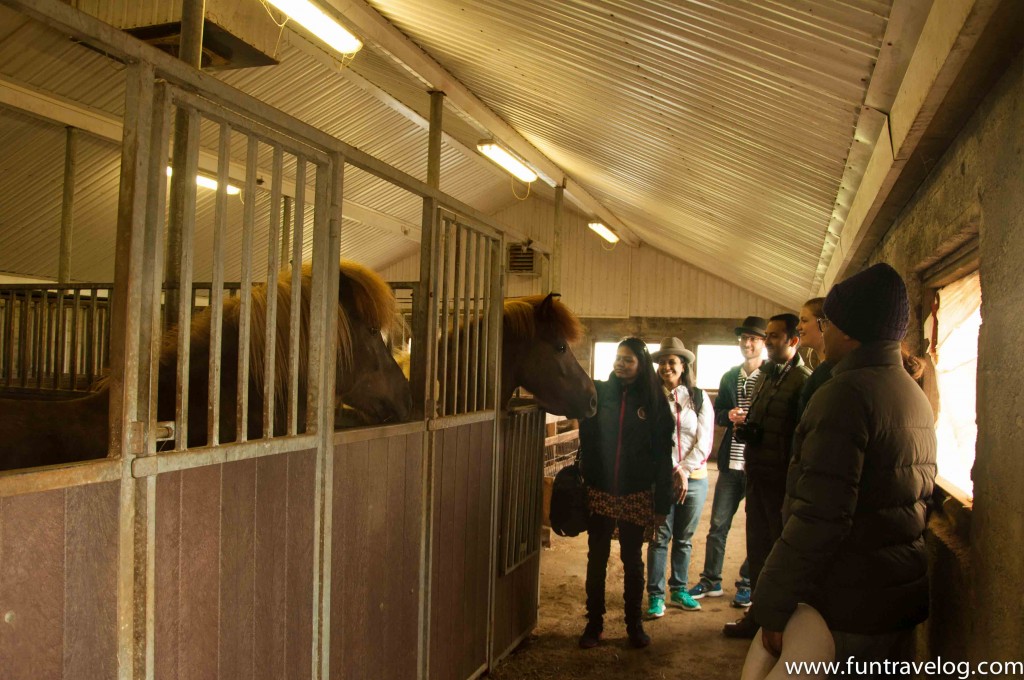 In Iceland horses are bred for racing as well as for their meat. It's all done in a planned manner and each farm controls the number of horses they breed. As a rule, once a horse goes abroad, it is never brought back into Icelandic mainland.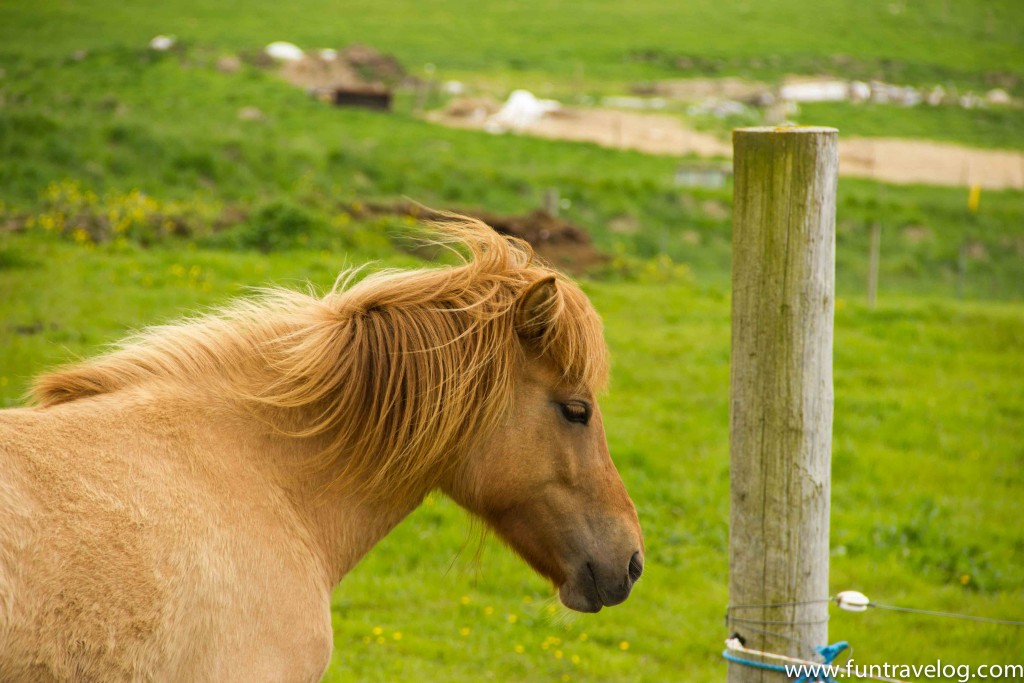 Before we left the stables, Siddy showed us old harnesses dating back decades and explained how they have been preserved in her family. In the field outside, some horses were making the most of the summer season by enjoying a late breakfast of greens.
The girls told us some fun stories about Valtyr's horses. They pointed out a couple of male horses surrounding female ones to impress them. They also told us that horses are named based on habits or how they were born.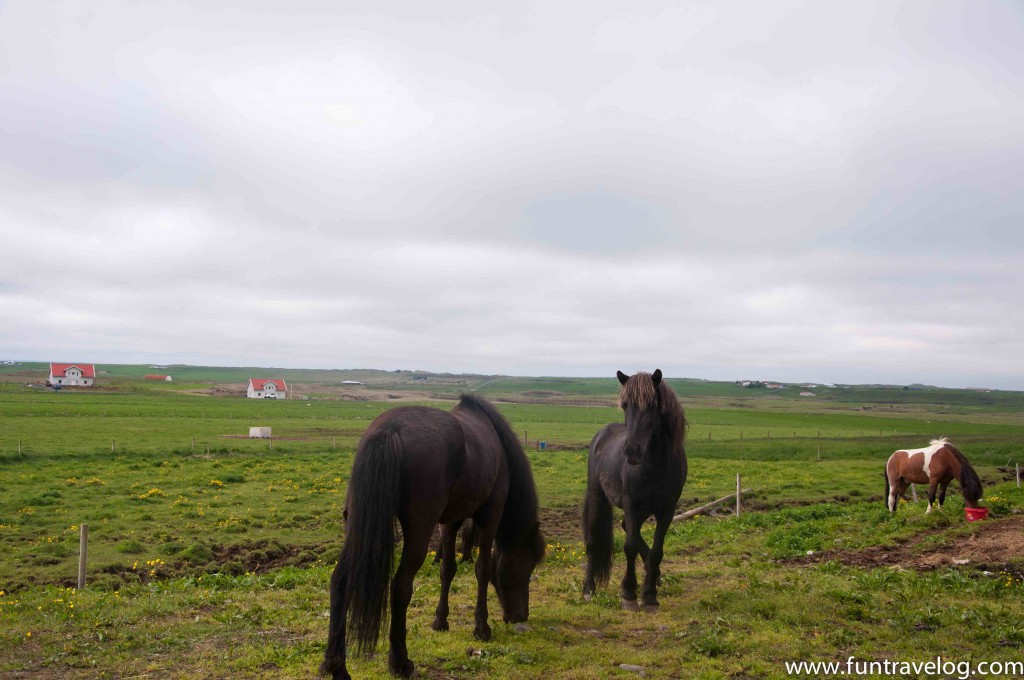 Next up, we went to see a another farm where new born horses were grazing. Siddy went ahead and jumped up on a massive tractor and led the way. As a struggling driver, my respect for her rose a notch higher. When we approached a barn, she motioned us to stop and we continued the rest of the journey on foot. Jumping atop mounds of moss, we first visited an old cave that used to protect sheep from snow in the earlier days. Walking further, we noticed the little ponies grazing with other horses. These horses haven't seen humans, said Isabelle. And true enough, as we walked close to where they stood, they seemed oblivious to our presence. Kind of like the start of civilization.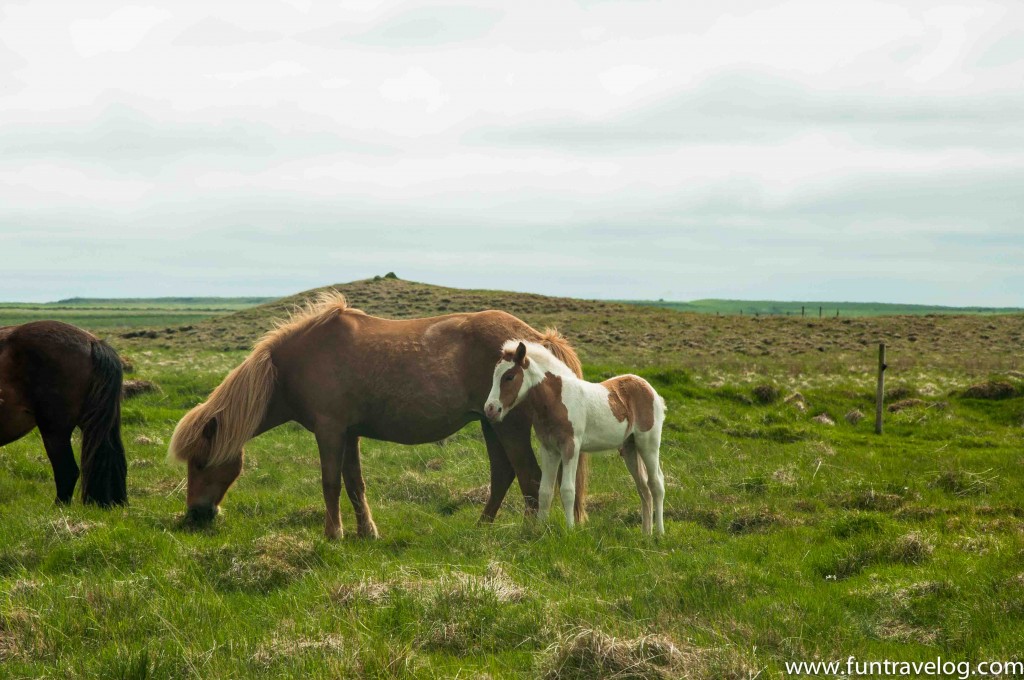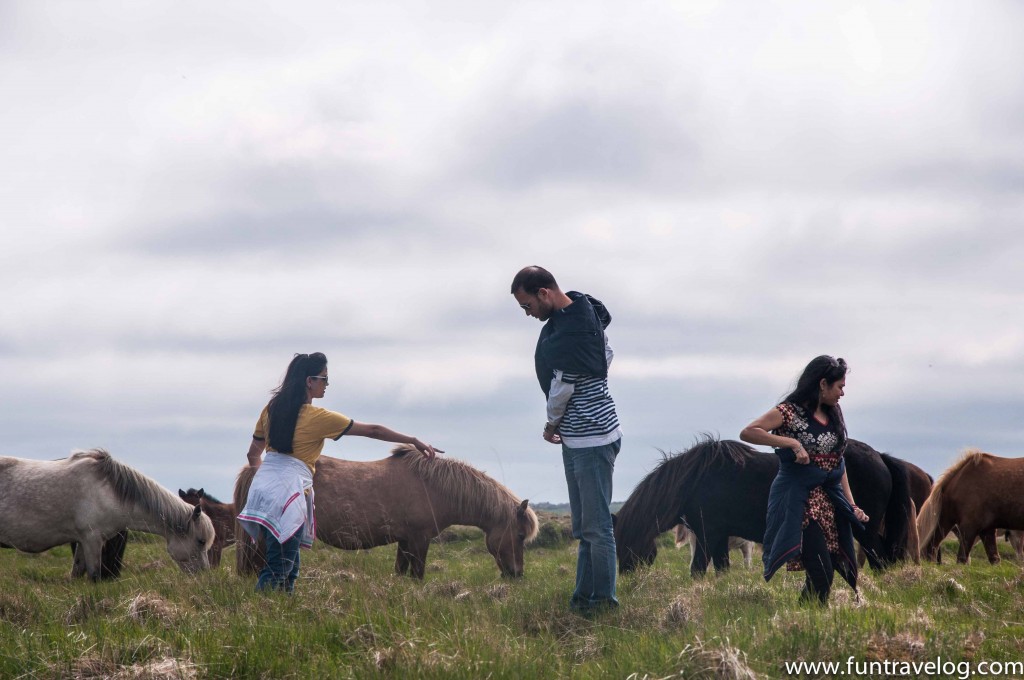 On my way back, I was chatting with Isabelle. She mentioned having volunteered at an elephant farm in Nepal and was sad about the recent wake of events in the country. Her future plans included a possible trip to Venezuela, another country facing ups and downs, to spend time with a friend.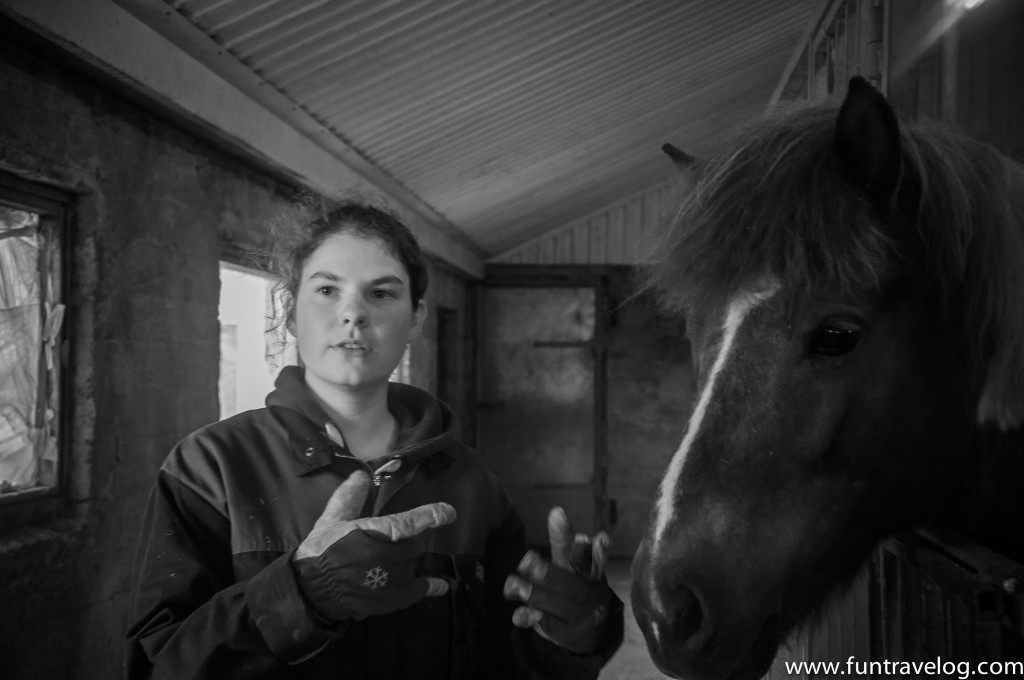 Our conversation gave me a glimpse of travel that is not bound by time but linked to a cause. Sometimes its not about seeing what a country has to offer but to live the life a country offers to its people. We read about such stories all the time on news or through blogs. Girls like Isabelle belong to a brave tribe of individuals who may have small experiences but those that are greatly inspiring.
Save