While planning our 10-day Costa Rica itinerary, we wanted to choose experiences over checking off a list. We all have been there at some point, especially with little travelers.
When we learned that our end of November visit might be an ideal time to witness arribada, we knew we had to give ourselves a chance to experience this phenomenon.
Arribada means arrival in Spanish, and there are only a few spots in the world where hundreds and thousands of sea turtles come to the shores to lay their eggs.
Ostional beach, near the town of Nosara on the Pacific coast, is undoubtedly the best place to see turtles in Costa Rica, and that's where we headed.
This guide will help you plan your visit to see this beautiful natural phenomenon. Read along!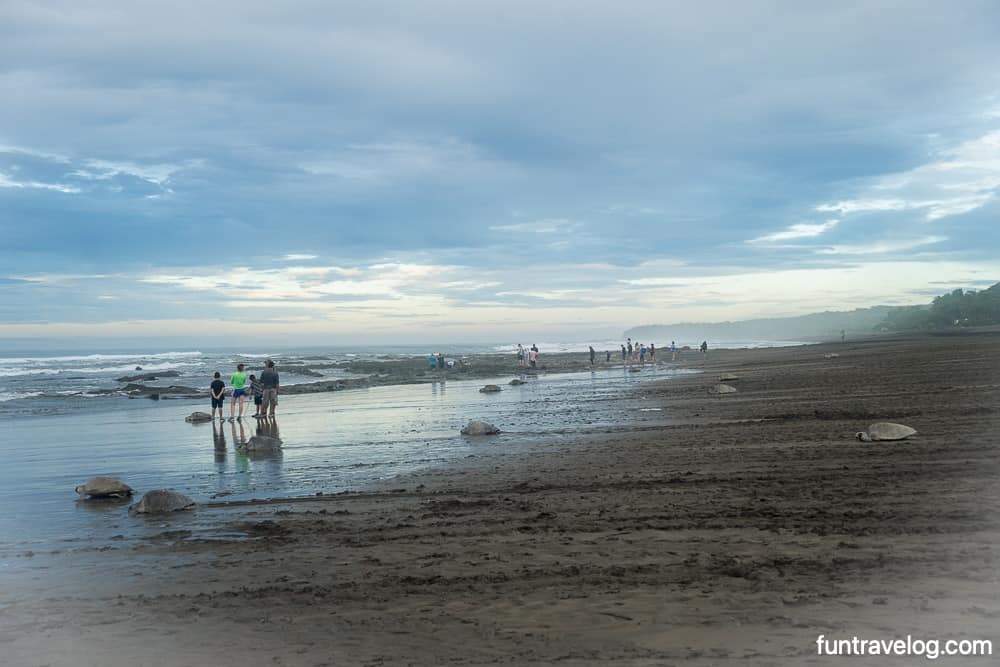 What types of turtles can you see in Costa Rica?
There is nothing more spectacular than witnessing the massive arrival of sea turtles. Among the seven existing varieties, five types of turtles in Costa Rica are seen at the most. These include the Olive Ridley, Leatherback, Hawksbill, Pacific Green, and the Loggerhead.
The last four among these five species are difficult to observe as their arrival patterns are isolated. On the other hand, about 20,000 Olive Ridley turtles can arrive on the shores at a time.
What's fascinating about arribada is that sea turtles always return to their place of birth to give birth. They may mate in the water or on land, but the female sea turtles will always return to the area of their birth to lay eggs.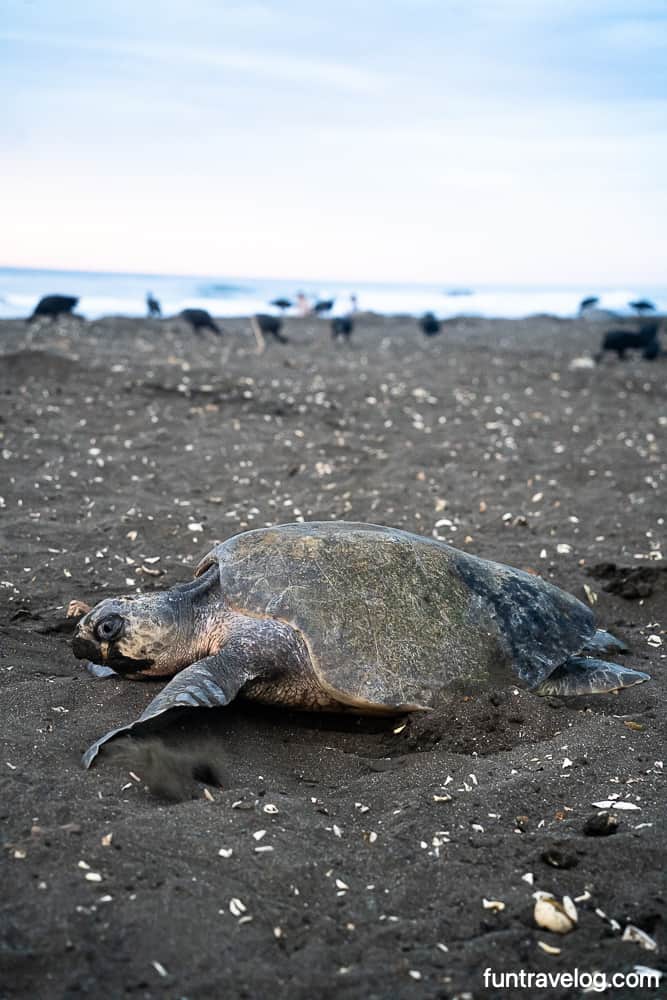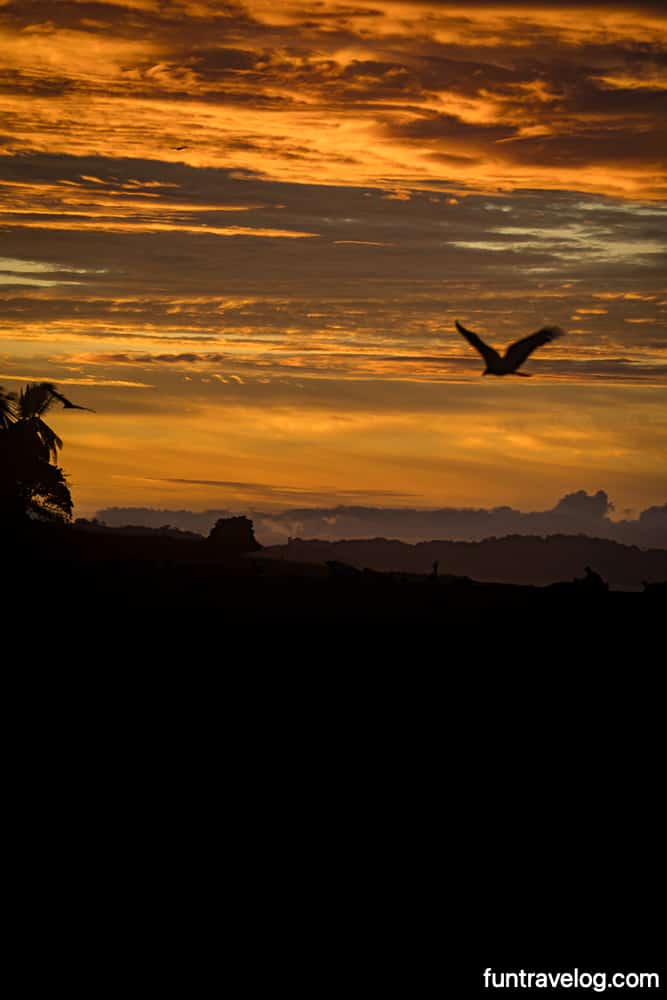 Where can I see turtles in Costa Rica?
While there are a few places in Costa Rica where turtles arrive onshore to lay eggs (see table in the section below), your highest chances of witnessing arribada is in and around Ostional beach.
Ostional beach has a protected area maintained by Ostional National Wildlife Refuge. This location was established as a protected site for the safe nesting of Olive Ridley Sea turtles.
Guided tours are available in early AM or at sunset and need to be reserved in advance. You cannot visit this protected area without guides. Female turtles lay eggs late in the night or during the early hours of the morning.
The best way to find out if tours are running is by checking their Ostional National Wildlife Refuge Facebook page. You can also connect with them via Whatsapp on +506 2682 0400.
Ostional is a small, sleepy town and many travelers prefer to stay in hotels in nearby towns when they opt to see arribada. We chose to stay at Olas Verdes, a hotel in the town of Nosara, about 30 minutes away. 
When do you see turtles in Costa Rica?
The Costa Rica turtle season is pretty much year round. Different varieties of turtles arrive on the Pacific and Caribbean coast. Here is a helpful chart with species of turtles and the region and time of the year when they arrive in Costa Rica.
Pacific Coast
Turtle
Month
Location
Leatherback Turtle
October – February
Playa Grande in Las Baulas National Marine Park,
Ostional Wildlife Refuge
Pacific Green Sea Turtles
October-February
Playa Naranjo
Olive Ridley
July-November
Ostional Wildlife Refuge,
Santa Rosa National Park (Playa Nacite)
Camaronal Wildlife Refuge
Hawksbill Turtle
All year
Playa Grande in Las Baulas National Marine Park,
Ostional Wildlife Refuge
Caribbean Coast
Turtle
Month
Location
Leatherback Turtle
March – July
Tortuguero,
Cahuita National Park, Manzanillo
Green Sea Turtles
June – October
Tortuguero
Loggerhead
July-October
Tortuguero
The arrival of turtles on the shore depends on various factors like how rough the sea is, weather conditions and the moon cycle.
It is best to visit reliable sites like Ostional and Tortuguero with a certified guide. The beaches in these areas are closed to regular public after 6 pm for the safe nesting of turtles.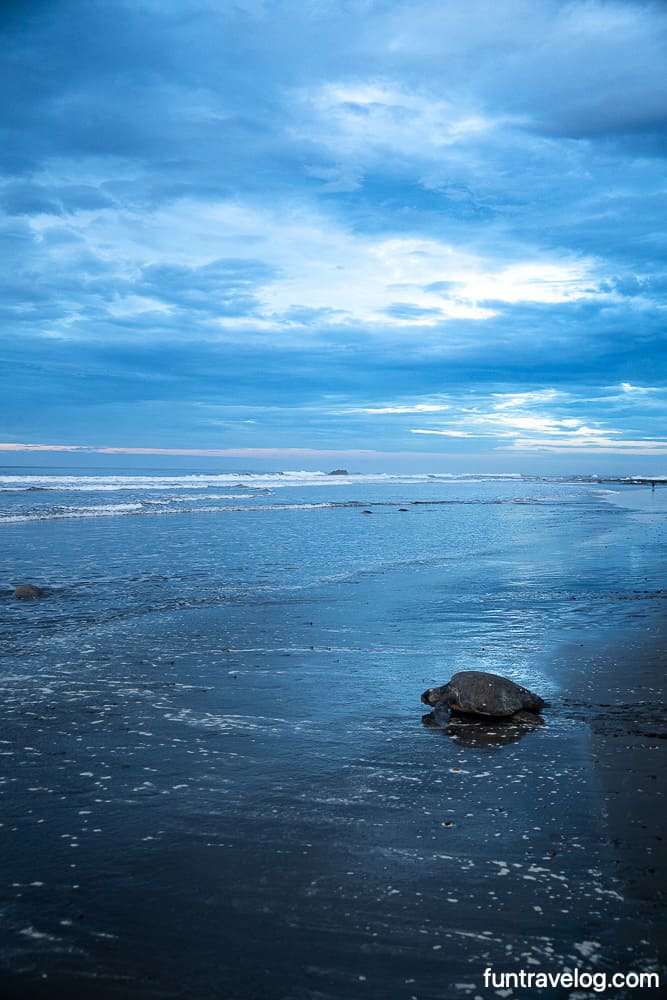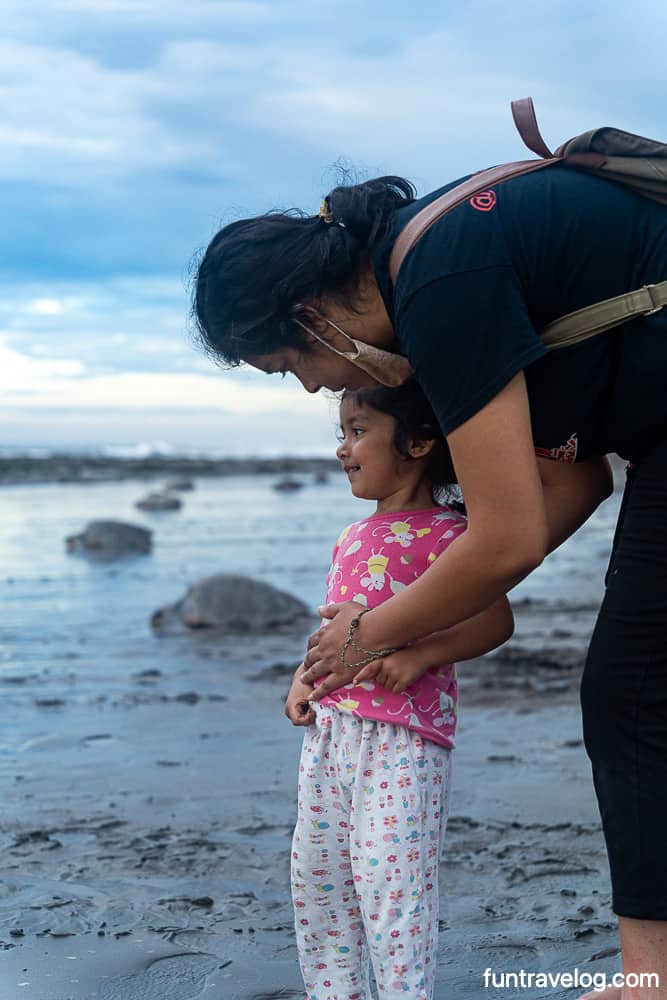 What time of the year do turtles hatch in Costa Rica?
The Costa Rica sea turtle hatching season follows the nesting season. Baby turtles hatch about 40-60 days after being buried in the sand by the female turtles. The eggs laid by the mama turtles have to survive predators like rodents, birds, raccoons, jaguars. Which is why, many Olive Ridley turtles arrive in hordes, as a way to protect themselves from predators.
There are many conservation projects in the area that are saving turtles in Costa Rica. They maintain nurseries to help with egg incubation. Many of them provide volunteering opportunities too. Typically, most turtles arrive in hordes on the darkest nights around a new moon.
Fun fact: the temperature of the sand determines the sex of the turtles. Warmer temperatures result in more females, while cooler temperatures result in more male turtles.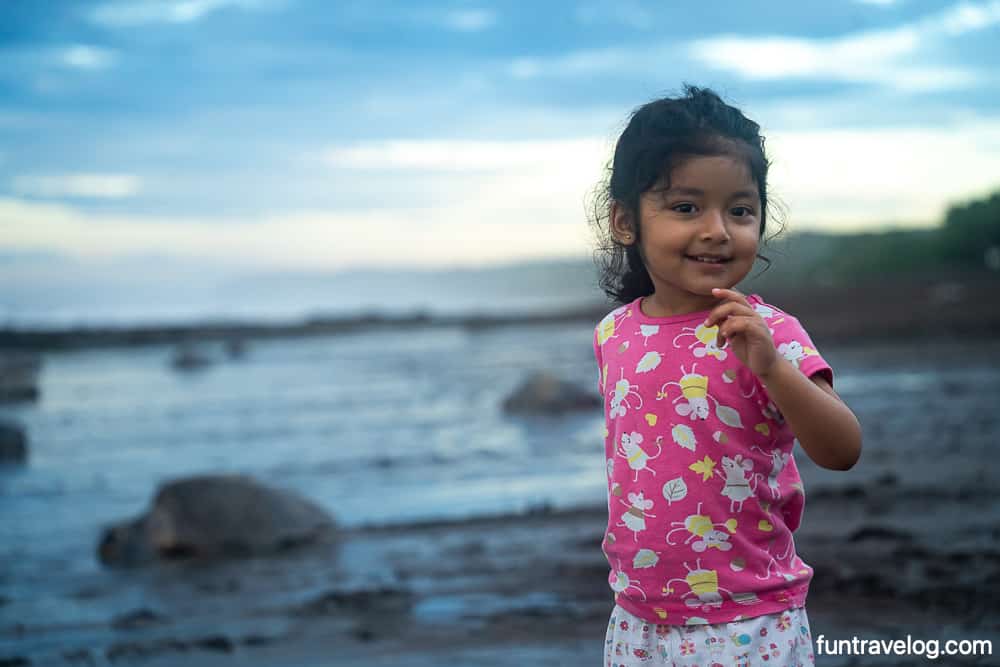 How much does it cost to take a tour to see turtles?
The tour with Ostional Wildlife Refuge costs about $20 per person if you book with them directly. There were no charges for our toddler to take the tour.
The wildlife refuge and several hotels in the area also provide transportation to and from the beach if you want to avoid driving on bumpy roads during early or late hours. See the next section for more information.
What to keep in mind before taking a tour?
If you're on a road trip, you may have to drive early in the morning or late in the night to the Refuge office in Ostional town to participate in the tour. The road conditions around Ostional are rickety and the route involves a river crossing which could potentially make things tricky with insurance, if there's any damage. That's why we chose to hire transportation to take us to Ostional. The staff at Olas Verdes were kind enough to book our tour and transfers. The transfers cost us an additional $100. 
Do not use light or flash photography of any sort. 
Always maintain your distance from the turtles. Touching or distracting them in any way is not permitted.
The number of turtles on the beach at any given time varies. Luck plays a bit of a role too. 
Do not block the turtles' path. They retreat back to the waters after laying their eggs.
Wear comfortable shoes or waterproof sandals. You will be walking on the beach and may also have to cross a small stream. 
Carry water and something to snack on after the tour., especially if you have a toddler with you. 
Staying in Nosara
We wanted to give ourselves a fair chance to witness arribada. Granted, it is a natural phenomenon, but we wanted to keep our hopes bright! So we decided to find a place to stay and chanced upon a boutique hotel called Olas Verdes.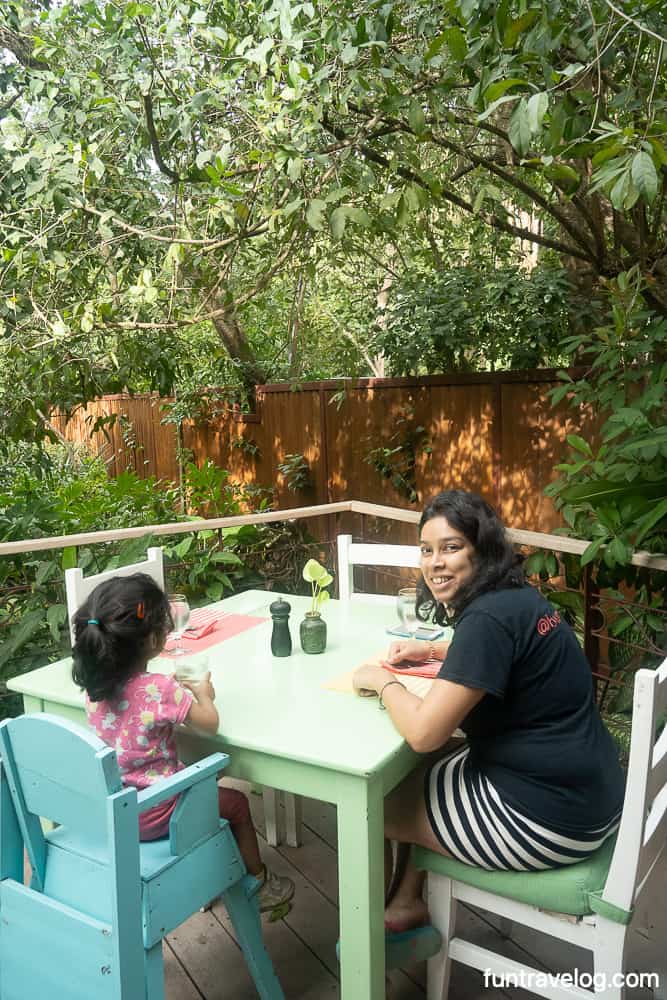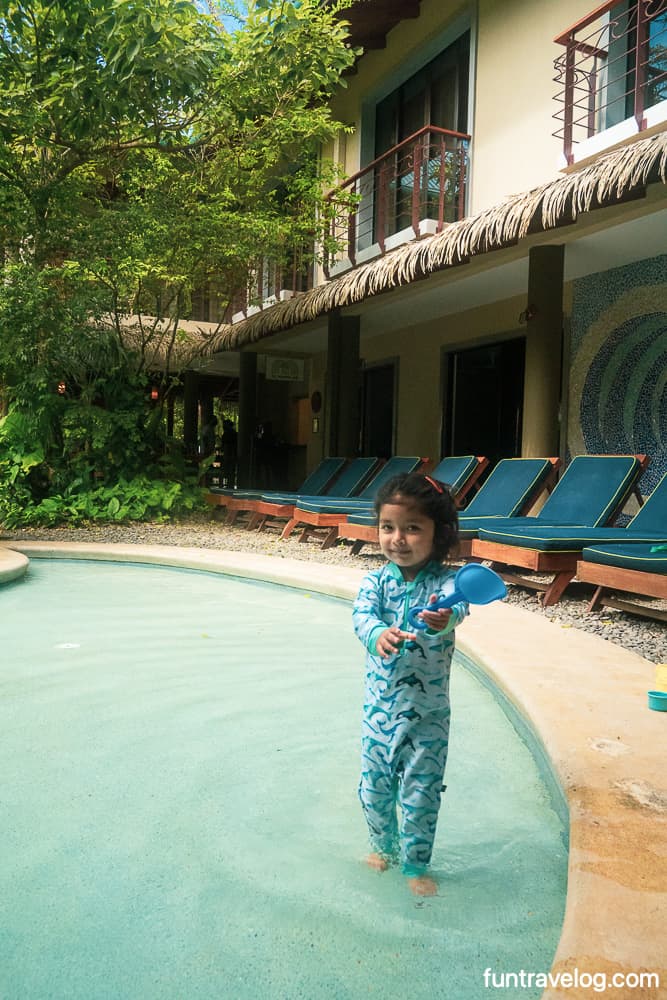 Nosara town or the Playa Guiones area were not super popular locations for travelers visiting the Guanacaste region. But the waves in this region are favorable for surfing. So much so, that the region today is a popular surf destination. Nosara is also a good base for those wanting to witness arribada. The area has a hip vibe and reminded us of our visit to Tulum many years ago.
As travelers during the COVID-19, we all have a moral responsibility to support local businesses and explore in a safe/clean manner. Thus it would be only fair if we share some of the added benefits of staying at Olas Verdes.*
*Disclaimer: we collaborated with the hotel in exchange for an honest opinion on our blog.
Location: Right on the beach, making it convenient to relax by the waters. Not only does this make our visit to arribada relatively easier, considering the odd timings and a toddler in tow, but the beach itself is pristine and free from commercial noise. Olas Verdes is also happy to arrange tours for you if your stay matches the timing of arribada.
Breakfast of champions is included in the room rate, plus their onsite restaurant served delicious vegetarian food for us. We were happy to have our meals onsite. If you travel with a child, you would know that a well-fed child means happy parents!
Their pool was perfect for our toddler to splash around, and their onsite Safari Surf school is sure to keep older kids plus adults busy and active. We cannot wait to return when Raahi is a bit older to try our hand at surfing.
Perhaps not a big deal to many, but their free laundry service is a great perk. Especially if you travel with kids 😊
Our visit was short, but we loved every bit of our stay at Olas Verdes. Such stays leave a lasting impression on us. If you're visiting this area of the Guanacaste region of Costa Rica (whether for arribadas, surfing, beach time), you should give them a chance to serve you. Thank us later!
Pin this post