With its alpine tundra, tall mountains, clear lakes, and opportunities for wildlife viewing, the Rocky Mountains make for a great family travel destination. In this post, we will share tips on how to plan a visit to Rocky Mountain National Park with kids and toddlers.
We visited Rocky Mountain National Park in early September with our 2-year old daughter. We were lucky to find beautiful weather, abundant wildflowers, and wildlife.
Rocky Mountain National Park has two entrances:
The nearest airport to the Beaver Meadow entrance is in Denver, Colorado. It is about 1.5 hours to the park. The Grand Lake entrance is about 2.5 hours away from the airport. We based ourselves out of Estes Park, a town close to the Beaver Meadow Entrance, with easy access to many Rocky Mountain National Park attractions.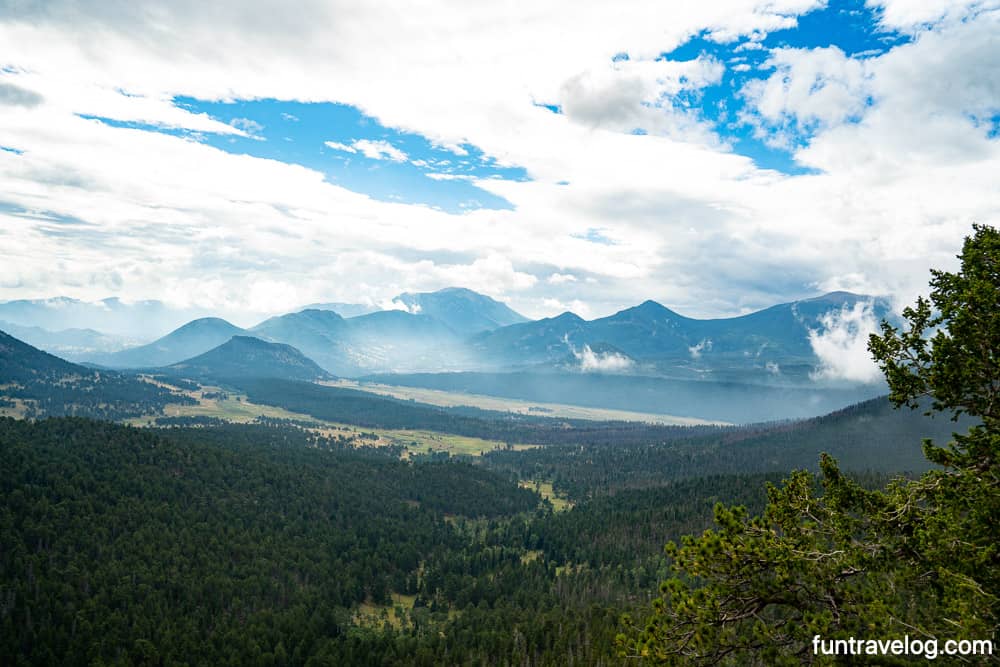 There's much to do in Rocky Mountain National Park if you visit in the summer or fall. Hope this guide helps get you started with your planning.
Rocky Mountain National Park Scenic Drives & Overlooks
Hit the road to appreciate the landscape of Rocky Mountain National Park. Here are a few kid-friendly drives, with suggested stops that you should include in your itinerary.
Trail Ridge Road
The 48-mile Trail Ridge Road starting from Estes Park on the east continues up to Grand Lake on the west. While on this paved route, you will gain elevation in a matter of minutes.
The highest point on the trail crosses just about 12,000 feet, and the sheer variety of landscape on this route will keep you amazed. Your family will get a chance to see evergreen forests, alpine tundra landscapes, deep valleys, and mountains along the journey. Trail Ridge Road is truly one of the most stunning scenic byways in America.
There are a total of several scenic stops along this route. If you intend to drive the entire route, reserve more than half a day. Keep time on hand for stopping along the way.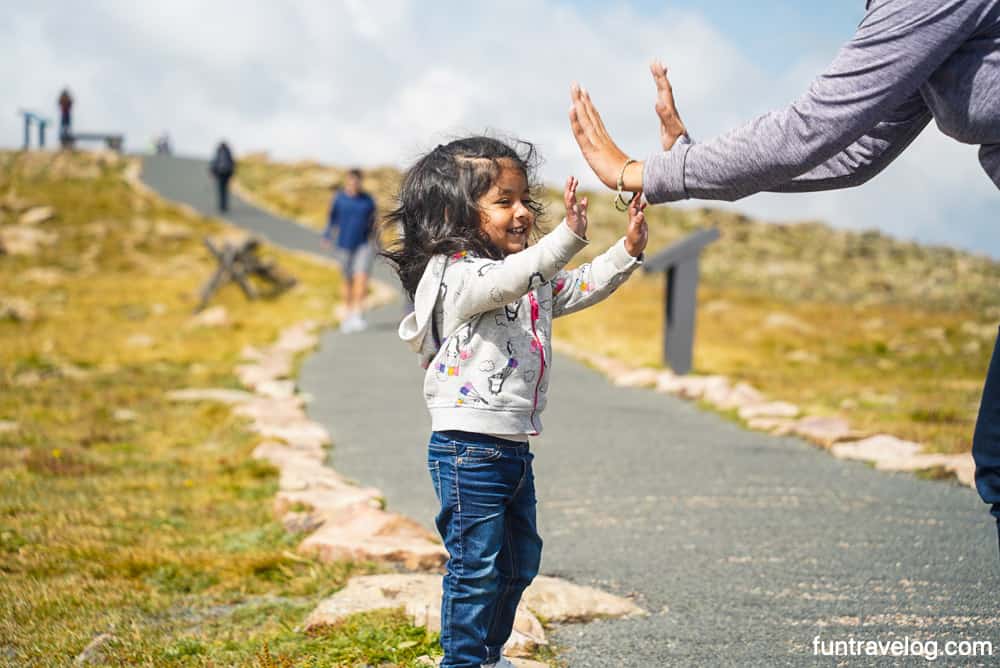 With a toddler in tow, we chose to drive up to the Alpine Visitor Center and returned to Estes Park. If you opt to do something similar, you will see plenty of scenic overlooks and will also cross the highest point on the trail. Some of the scenic overlooks that we particularly enjoyed include Rainbow Curve, Rock Cut, Deep Ridge Junction, Milner Pass & Poudre Lake.
The Trail Ridge Road is a nice drive to take with a baby as well. There are several stops to stretch your feet along the way, though access to the restroom is limited. It does get colder, and you will have to bundle your baby up well.
Old Fall River Road
The Old Fall River Road was the first auto road in Rocky Mountain National Park. While graveled, winding, and narrow, this one-way road offers some of the most intimate natural views inside the park.
Starting at Horseshoe Park, the road is 11-mile long and takes visitors through the park's wilderness to sub-alpine forests. On this route, you get a front-seat view of high country nature and will be able to admire the diverse Montane ecosystem from close quarters.
The road is open for a short time in the summer and fall, depending on trail conditions.
Here are a few essential tips if you're looking to drive up on Trail Ridge Road or Fall River Road:
Be sure to check the weather and road conditions before planning these drives
Drive a 4×4 car and load up on gas
Carry layers for the entire family. It gets 20-30% colder than Estes Park on these elevated roads
Stay hydrated, carry enough water
Keep snacks and even lunch on hand. There are no restaurants along these routes other than a cafe at Alpine Visitors Center
Bring your camera
Best Rocky Mountain National Park Family Hikes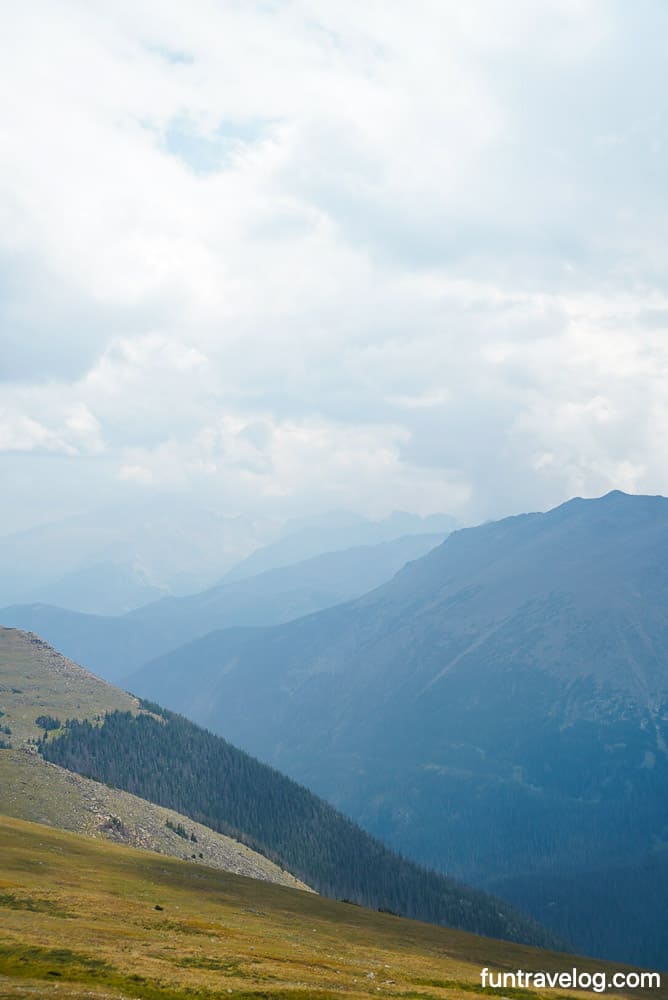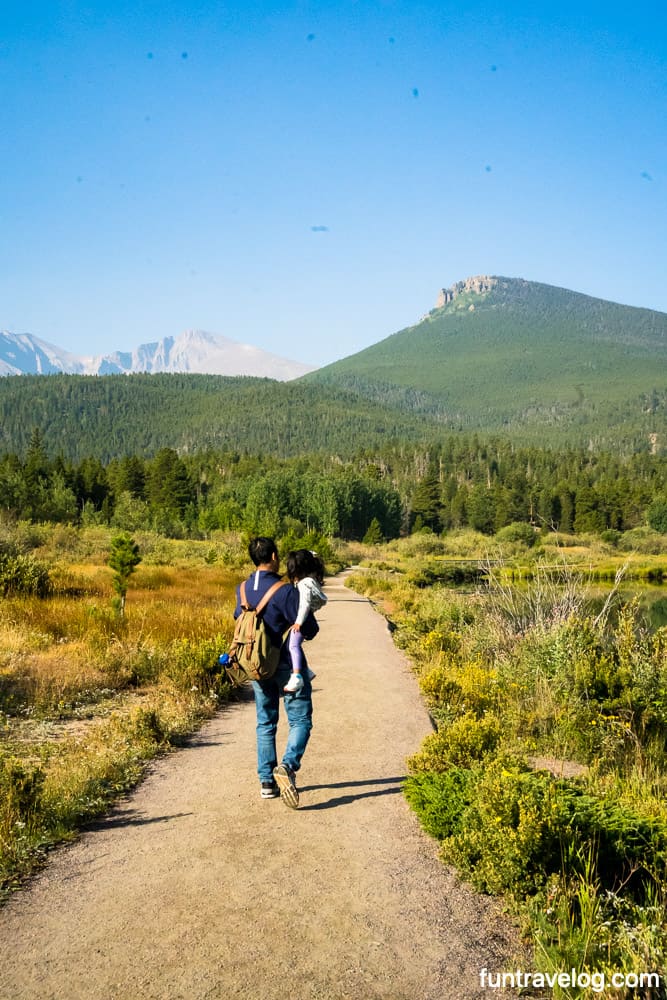 Best Rocky Mountain National Park Family Activities
Picnics
Having a picnic breakfast or lunch by a lake or with a view of the mountains is among the most preferred Rocky Mountain National Park kid activities. Picnic tables and grills are present in several spots around the park. The Beaver Meadow Visitor Center is a great spot to eat a picnic lunch before you explore the park. Lily Lake and Sprague Lake are perfect for breakfasts as crowds are thinner and the lakes look lovely on clear mornings. 
Make sure to get rid of the trash in bear-proof trash cans only. 
Rocky Mountain National Park Junior Ranger Program
The junior range program is a fun initiative to engage kids when they visit national parks. Free activity booklets for ages 5 and under, 6-8, and 9 and up are available at visitor contact stations. Kids can complete the activities and learn about the Rockies in the process.
The Junior Ranger Headquarters is located in the summer at Hidden Valley along Trail Ridge Road. Kids can also join a ranger-led program. Throughout the summer, the park also organizes kid-friendly events and pop-ups to keep families engaged. Parents must be present with kids at all times for these activities.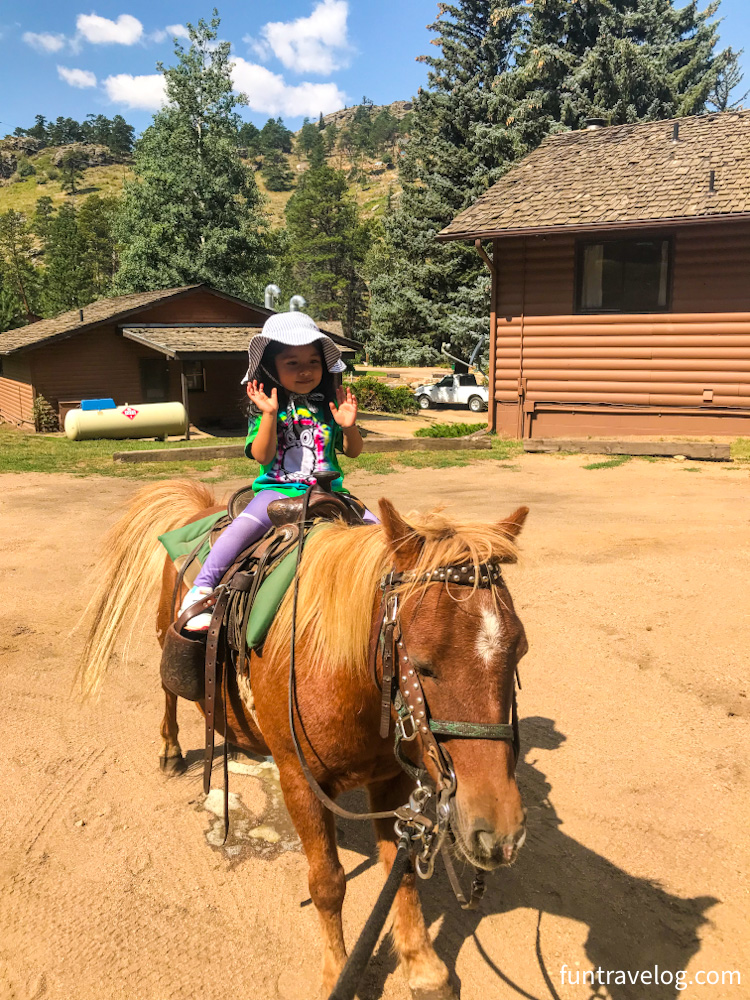 Rocky Mountain National Park Horseback Riding
Ride on a horse to see the panoramic vistas of the Rockies from a unique perspective. This is a fun activity that the entire family can indulge in. You could ride in Estes Park or the inside the Rockies itself. Hi Country Stables is located inside the park. Their stables are located in Moraine Park and Glacier Creek.
If you're hoping to ride with a baby or toddler, bear in mind that riding double is not permitted in Colorado. But, you can take the little one for a pony ride. We took our 2-year old for a pony ride at Cowpoke Corner Coral Stables and she loved it.
Love national parks? You can visit these parks with kids too:
Rocky Mountain National Park Reservations
Due to COVID-19, national parks require reservations for entry if you plan to visit between May to October. You would require:
a Rocky Mountain National Park timed entry permit
A national park pass or a one-time entrance fee
If you have booked your flights and know your visit dates, then it is wise to visit Recreation.gov and book your timed entry slots for the park. There are separate permits for the Bear Lake Corridor and the rest of Rocky Mountain National Park. The permit for the rest of the Rocky Mountain National Park would not be valid for entry to the Bear Lake area.
Be sure to note that there is a timed window of entry during which you must enter once. The national park also reserves 25% of its timed entry passes for last-minute purchases, but it would be unwise to rely on those during peak season as permits sell out quickly.
If you're planning to visit more than one national park in a year, it is wise to invest in a national park pass. The pass is available for purchase online and in stores at REI. It costs $80 for the year and covers entrance for a driver and all passengers in a personal vehicle. Children under 15 get free entry.
Otherwise, the private vehicle entry fee for Rocky Mountain National Park is $25 and can be purchased on Recreation.gov.
Best time of the year to visit Rocky Mountain National Park
In general, Colorado experiences warm summers and very cold winters. Rocky Mountain National Park is at an elevation and fluctuations in temperatures are common here.
Spring arrives by late April and the weather can continue to be unpredictable up until early May. Between late June- August, wildflowers are in bloom, and afternoon thunderstorms are common. Fall weather is crisp and generally dry.
In our opinion, it is safe to plan a trip between June-October, to make the most of the weather, and to maximize wildlife viewing opportunities.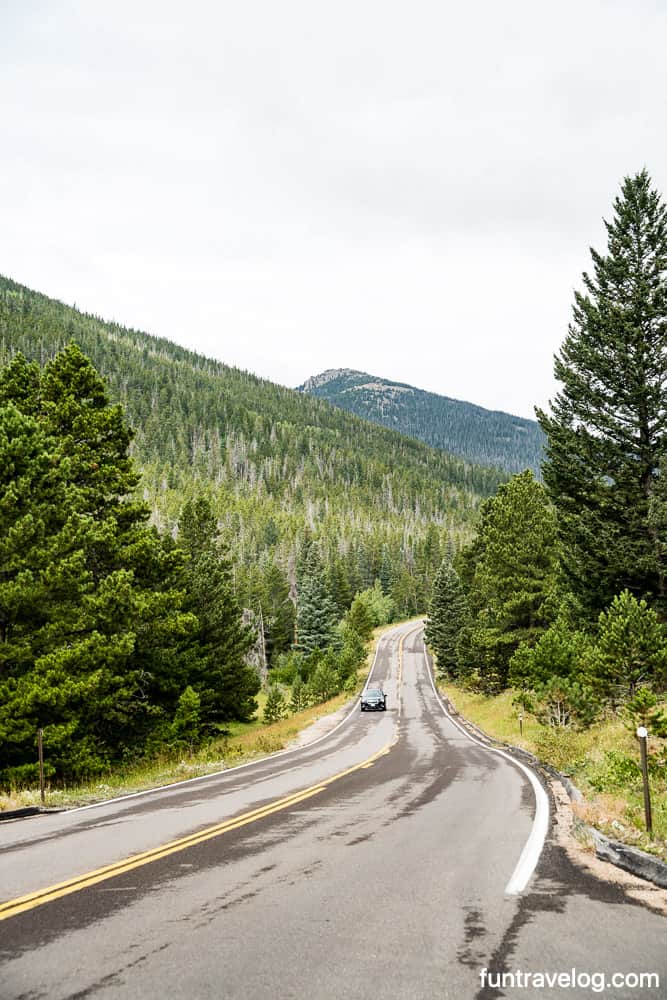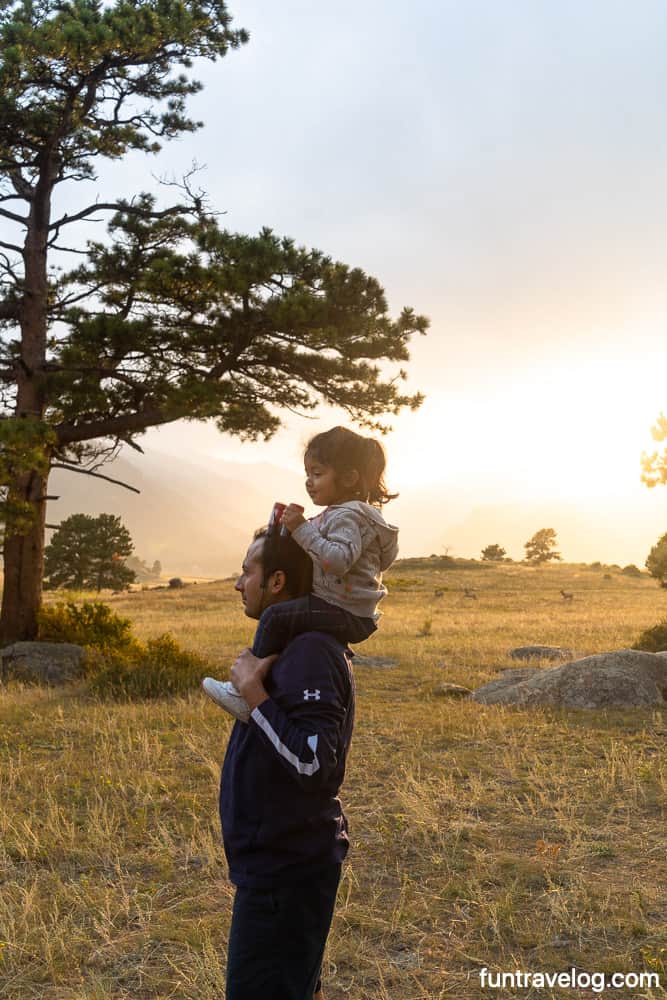 Where to eat in Rocky Mountain National Park
There are no eateries inside Rocky Mountain National Park, save for the cafe in Alpine Visitor Center on Trail Ridge Road. It is best to carry your food and be mindful about disposing of trash outside the park premises.
There are several restaurants in Estes Park and Grand Lake.
Because we had a private kitchen in our cottage, we didn't have to rely wholly on meals outside. We did enjoy some delicious meals at Nepal Cafe, took a packed takeaway lunch from Esmeralda Tamale House, and enjoyed live music and wine tasting at Snowy Peaks Winery. These places are all located in downtown Estes Park.
Rocky Mountain National Park Shuttle
From late May to October, the park operates a shuttle in the Bear Lake Corridor and the Moraine Park area. Currently, masks are required on these shuttles and there is a limit on the number of passengers permitted at a time.
The park shuttle is very convenient and the frequency of the buses is pretty high. It is a great alternative to finding parking in areas that get busy, especially during the summers.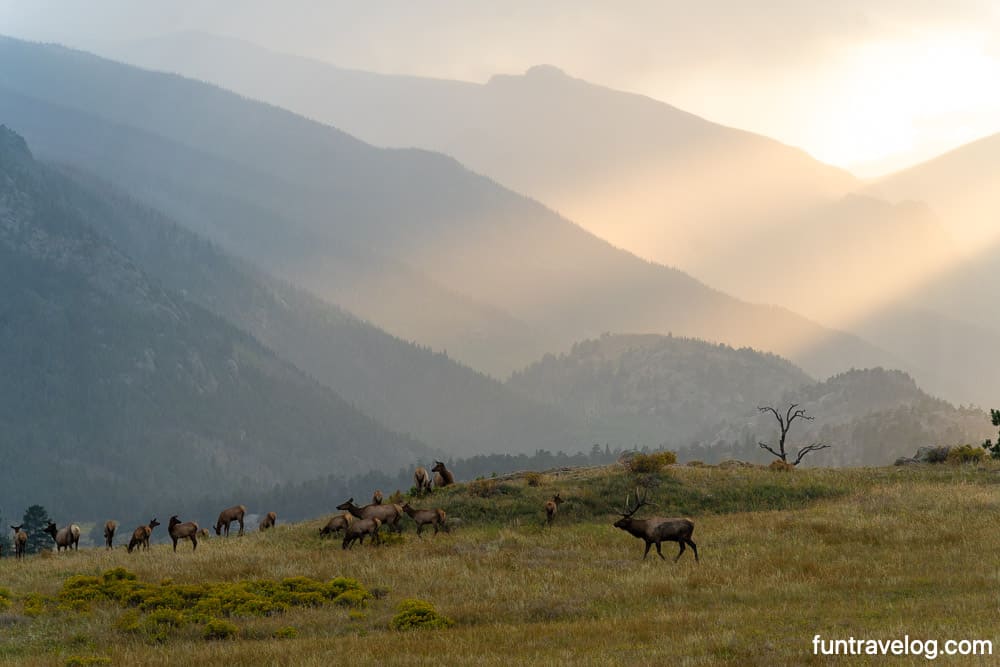 Rocky Mountain National Park Hotels
Looking for the ideal Rocky Mountain National Park accommodation? Both Estes Park and Grand Lake are good towns to base yourself in. There are several bed & breakfasts, hotels, lodges, cottages, and self-catering apartments in the area. We love staying with boutique or family-owned hotels. Depending on your budget, here are some great options to choose from:
Luxury
Woodlands on the Fall River: This five-star Rocky Mountain National Park stay comes with gorgeous views of the mountain and a river flowing by the patio. The rooms include a private kitchen and many guests have said that the place has exceeded their expectations.
Mid-range
Wildwood Inn: Located 4 miles from downtown Estes Park, Wildwood Inn has holiday homes with hot tubs, full kitchens, and a sauna on site. The rooms are spacious and can accommodate large groups as well. They also have a small playground on site which is a huge deal if you have a toddler with you. Their rates are reasonable too.
Budget
YMCA of the Rockies: If you're on a budget and still need to have all essential amenities in your room, then opt for the trusted YMCA. Rooms are lodge-style, and there are several indoor and outdoor activities for families on-site. Meals are served buffet-style in their dining room and there is a heated indoor pool on-site as well.
Looking to visit Rocky Mountain National Park with Kids in the future?
Pin this post for later!