As a family, we love road trips. Living in United States for the past many years, this love affair with road trips has just gained more momentum. Renting a car in Costa Rica thus was a no-brainer for us. While the country may seem small on the map, it has several diverse regions simply waiting to be explored.
Now that we have a toddler joining us in the party, we continue to make road trips albeit at a slower pace, and while keeping her comfort in mind.
Wondering what do you need to know about renting a car and driving in Costa Rica? We have shared our experience of renting a car, road conditions that we encountered and things to look out for when you're renting. Hope this helps with your decision-making if you are planning to visit Costa Rica with toddlers or kids.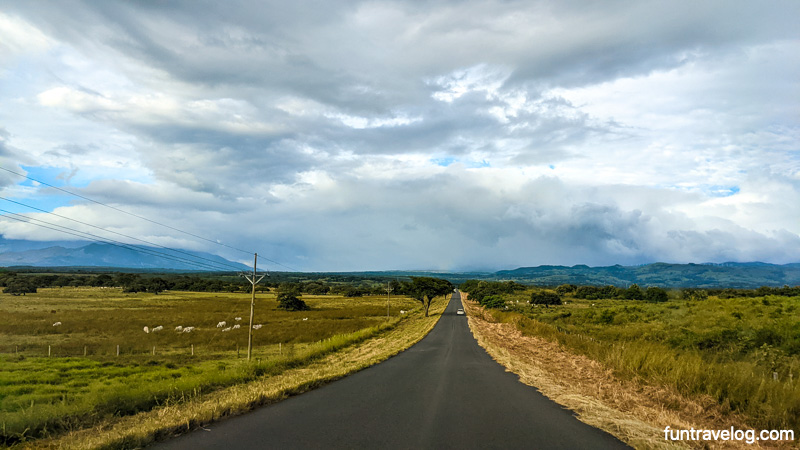 Should you rent a car in Costa Rica?
Absolutely! Unlike some countries where public transportation is seamless, well connected, and great value for money, travelers to most Central and South American countries require either hired transportation (buses, shuttles, or cars) or multiple changes in public transportation to get around. Further, some famous or hidden gems in Costa Rica can only be accessed with a car.
On the positive side, most of the highways in Costa Rica are well-paved and if this is your first time venturing out of US to Central America, do note that it is a fairly developed country in this region. It is a safe bet to try your hand behind the wheels in this country.
Driving in Costa Rica
Like many other countries, the roads in Costa Rica are paved or unpaved depending on which regions you're driving to.
We landed in Liberia and first traveled to Bijagua, which is a small village, where a small section of the route was all about dirt roads. Following that, we went to the more established town of La Fortuna where the roads were totally paved, including some of the steep and curvy ones.
Next, we traveled to the beach towns of Nosara and finally Tamarindo where we found a mix of paved and unpaved roads. A section of the route between Nosara and Tamarindo was mostly graveled. Also, we even crossed a small river in our rental car near Playa Ostional!
If you are visiting Costa Rica and will be in and around the established towns and cities, you are likely to find paved roads everywhere.
On a side note, we avoided driving during nights as is widely suggested on many forums and stuck to the speed limits. Even though we felt safe everywhere, we made sure our luggage was stored discreetly to avoid glaring eyes at various parking spots. You will find security guard(s) at most established parking lots, so please carry cash (USD or Colones) to pay them.
Lastly, in order to drive in Croatia, you don't need an international driver's license (I believe!). If you have a driver's license from your home country, then you're good to go. However please check with the rental car company to be sure.
Is it expensive to rent a car in Costa Rica?
We searched quite a bit for rental cars in Costa Rica and since the country is developed, the prices are similar to what you'd pay in the US.
If you are traveling during the busy season (typically November-March), expect to pay a premium. We found many big and small names to rent a car from, but once you add the insurance (more on this in a bit), car seat, internet etc. prices jumped quite significantly.
As you'd know, booking a rental car is an important aspect while planning any road trip since it goes a long way in determining your flights, budget, and trip itinerary. While we are no experts, we did our fair share of research at the time of booking.
Our total cost of renting a car for about 10 days came up approximately US$800 inclusive of gas*.
We visited Bijagua, La Fortuna, Nosara, and Tamarindo areas and paid zero for tolls.
Most gas stations are full-service, so just mention the amount for fill-up or if you want a full tank. We paid with our credit card everywhere. Expect gas prices similar to US. Make sure you know the type of gas that needs to be filled. In our case, it was Gasolina Super.
*Disclaimer: While we collaborated with Vamos Rent-A-Car for this trip, all opinions on this blog are our own and reflect our experience of renting a car in Costa Rica.
Here's why we chose a smaller company over a car rental chain:
Renting from a smaller company is the best way of earning travel karma for us. We wanted to do our bit to help small businesses during the pandemic.
We wanted to be able to have local support if needed
There were no hidden costs
What stood out with Vamos Rent-A-Car were these cool perks they provided at no extra charge:

A toddler car seat for Raahi
A local cell phone with data- we have T-Mobile that provides us free global roaming but noticed it was running at 2G/3G speeds many at times. This local phone was surely handy for navigation
A cooler bag- how cool is that if you think of it! For us it meant not to carry one more piece stuffed in our suitcase and rather focus on planning picnic lunches along Costa Rica's many beaches!
Vamos has car rental locations at both airports in San Jose and Liberia and even delivers cars to hotels or Airbnb's for a fee. We picked and dropped our car out of their office near Liberia International airport. They provided shuttle transfers to and from the airport. Their staff was prompt, their insurance information was well explained and their pricing was simple but very detailed. Additionally, we didn't have to wait too long to receive or return the car.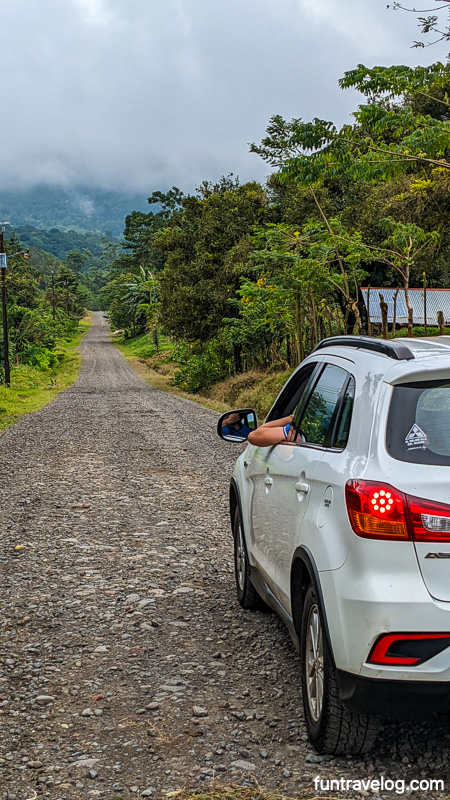 Do you need a 4-wheel drive in Costa Rica?
Renting a 4X4 is highly recommended as you never know when you'd hit a dirt road or for those curvy rides along La Fortuna area.
If you plan to visit just the cities or one or two regions in Costa Rica, maybe you'd be able to manage without a 4×4. But if you plan to visit waterfalls, small towns, lesser-known beaches, then renting a 4×4 would make your life a lot safer, and easier.
Moreover, if you're traveling during the wet season, I would consider it rather necessary to opt for a 4×4.
Car Rental Insurance in Costa Rica
It is a bit of a shame that many big/small car rental agencies in Costa Rica attract novice customers by offering low prices. But once travelers arrive to pick up the car, they are made aware of the mandatory insurance, denied CDW, etc. making their overall rental almost four times more expensive than what was initially promised.
So please be aware of such scams. If the price is just too good to be true, your instincts are correct!
Before you rent a car, know the following:
Anyone renting a car in Costa Rica needs to buy Mandatory Standard Liability Insurance (SLI).
On top of this, there is a cost for either Basic or Full Collision Damage Waiver (CDW) which is optional.
If you have a credit card that covers CDW, you'd need to either email the proof from your credit card company to the car rental agency or carry a printout at the time of pickup.
Additionally, the payment for the car rental must be made using the same card. We have been using our Chase Sapphire credit card that comes with this benefit for renting all over the world and Costa Rica was no exception. I would highly recommend having one such card to save money by declining the CDW from the rental company.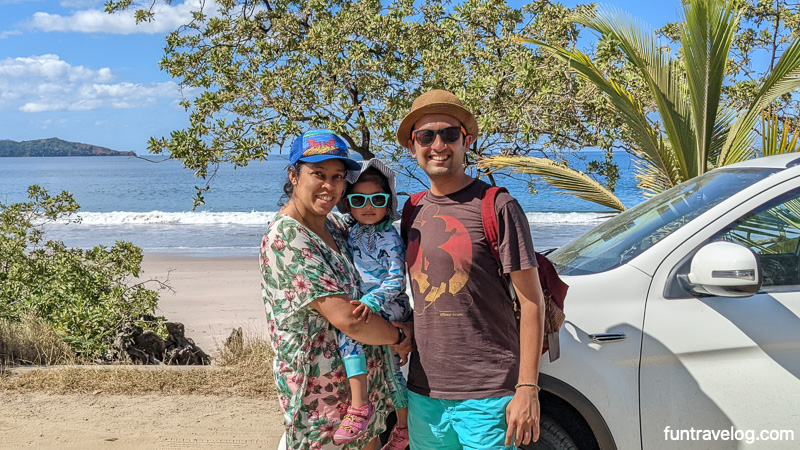 Car renting in Costa Rica with an infant/toddler
If you're traveling to Costa Rica with a baby or a toddler, having a car will certainly help you be more flexible. A couple of changes that we have made to our car rental planning since Raahi's birth:
We always prefer to rent a mid-size SUV vs a compact car, just so that there is enough space for our toddler to spread her legs and keep extra luggage that we now carry. Think about car toys, snacks, car seat, diaper bags, strollers, and so on. Also, the wider space helps when changing diapers on the go. For Costa Rica, it was all more important for us to have a SUV since we wanted to ensure smooth rides in case of dirt roads or any slight off-roading 😉
Rented a convertible car seat versus carrying our own. Raahi upgraded to a convertible car seat when she turned one and while we have a car seat backpack, we've found it extremely cumbersome to carry an additional piece of a bulky item over international flights. For us, the extra dollars spent on renting a car seat is 100% worth it.
Other top car rental tips
Read the terms and conditions before signing any agreement. As mentioned, make sure the mandatory SLI is included in the price.
Inspect the car thoroughly and take photos of any dents. Make the car rental company aware about the number of dents that already exist on the car as it is quite possible given the share of potholed and dirt roads around the country.
Check and confirm whether you need to return the car full tank or not. Do not choose the option where the rental car company will charge you for fill-up of the gas upon return. Do it yourselves!
Is it cheap to rent a car in Costa Rica? Not totally, but the amount you would spend is wholly justified if you compare your alternatives like shuttles, drivers or buses. Bottomline, if you're in Costa Rica, relax and enjoy the ride. Pura Vida!
Pin this post