Writing this piece while flying on a small aircraft from West Yellowstone to Salt Lake City gives me the rare opportunity to collect my thoughts. We've just returned from Yellowstone, the world's first national park, a place of extreme wonders. If geographical time travel exists, then here it is. Where else in the world can you walk or stay above a super active volcano, watch nature perform its own experiments, or observe animals live in their natural habitat – in their land? Yes, this is their land and we are only visitors. Within our first 4 days in Yellowstone (and one more day driving from Salt Lake City to Yellowstone National Park) we realized that this fascinating, almost otherworldly landscape is so gifted.
There are many ways to preserve memories. We've made our attempt through these beautiful pictures of Yellowstone National Park.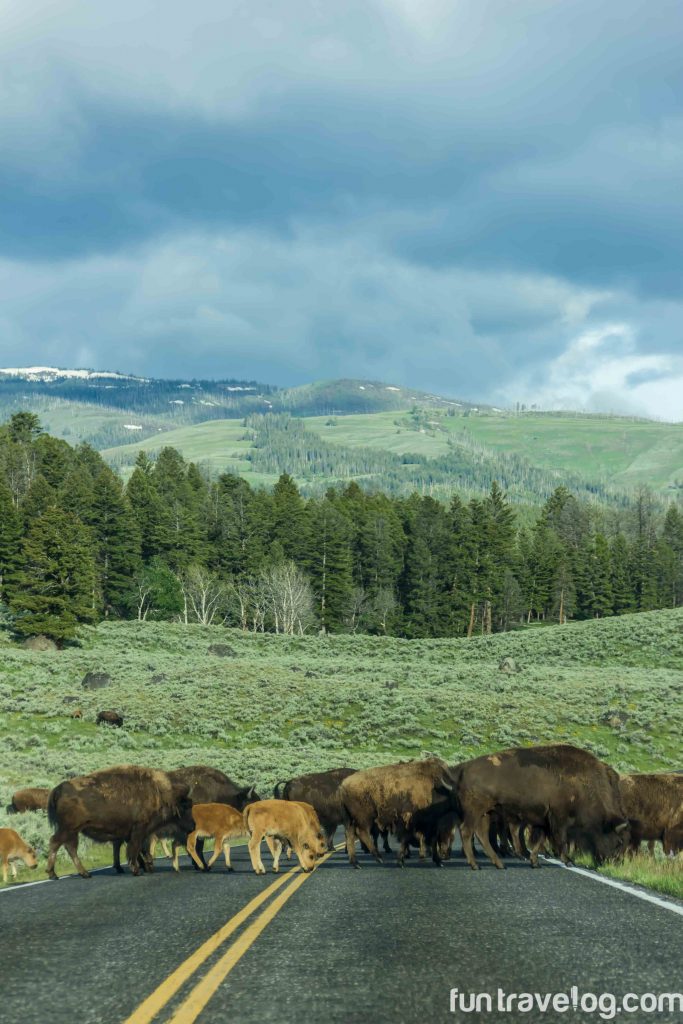 The constantly changing story of Yellowstone park goes back millions of years, but the park was formally discovered only in the late 1800's. Thanks to science, today we know so much more about the volatile nature of this landscape. As we traveled around, a number of questions popped up in my mind that I possibly couldn't have acquired answers to in the time that we were there. What explains the character of this land? How do several microorganisms survive these harsh conditions? Could such life exist elsewhere? Or even, how do the National Park services keep the park sustainable? Having traversed the park all around though, I am now versed with its sights and sounds – which is a good enough place to start your own discovery of this unbelievable geological world. I hope this helps you as you begin planning your trip to Yellowstone.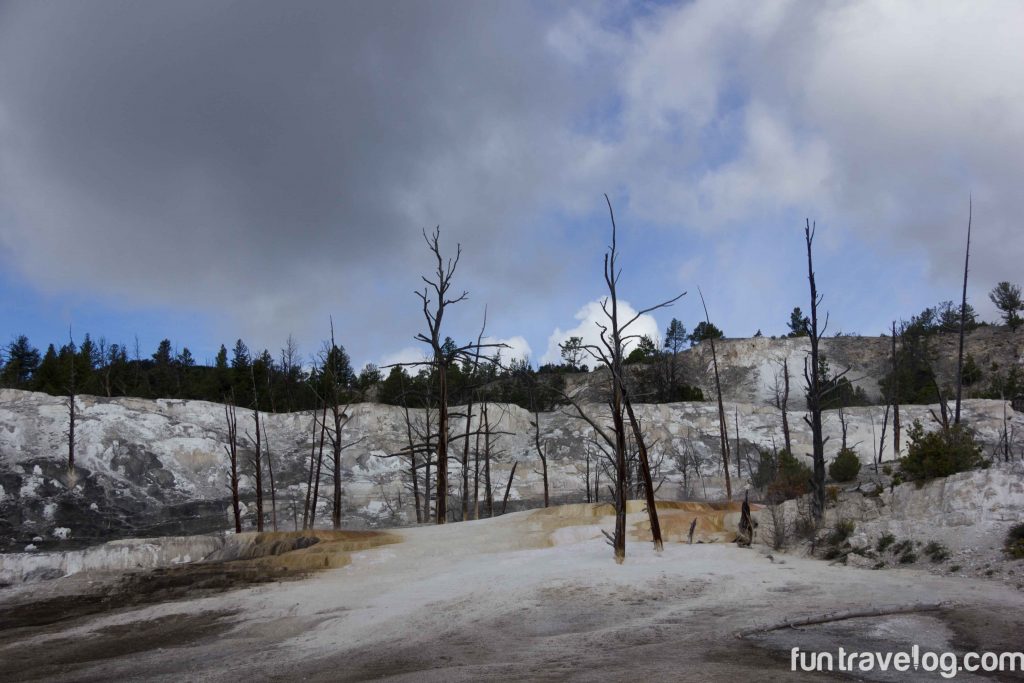 Yellowstone itinerary starting from Salt Lake City
Day 1 & 2
Our six-day journey began in Salt Lake City, Utah. Most people who choose to visit Yellowstone may not necessarily fly into this city. We arrived on an evening in order to get an early head start towards Bear Lake on the next morning. Yellowstone has five main entrance points and we drove up to the south entrance through the following route:
Salt Lake City > Bear Lake > Jackson > Grand Teton National Park > Yellowstone National Park South Entrance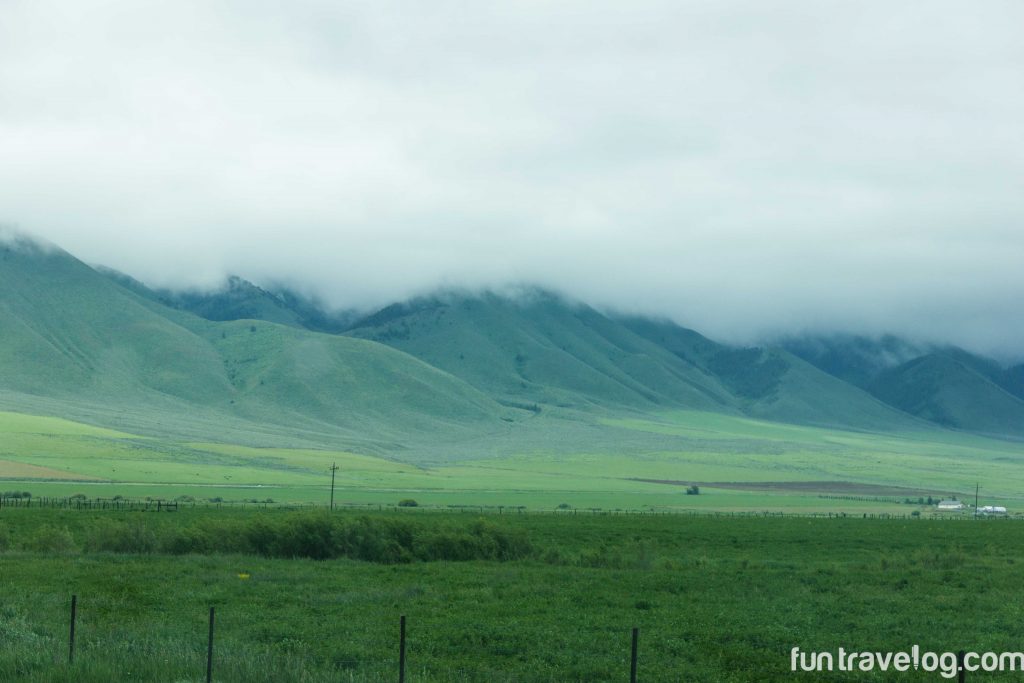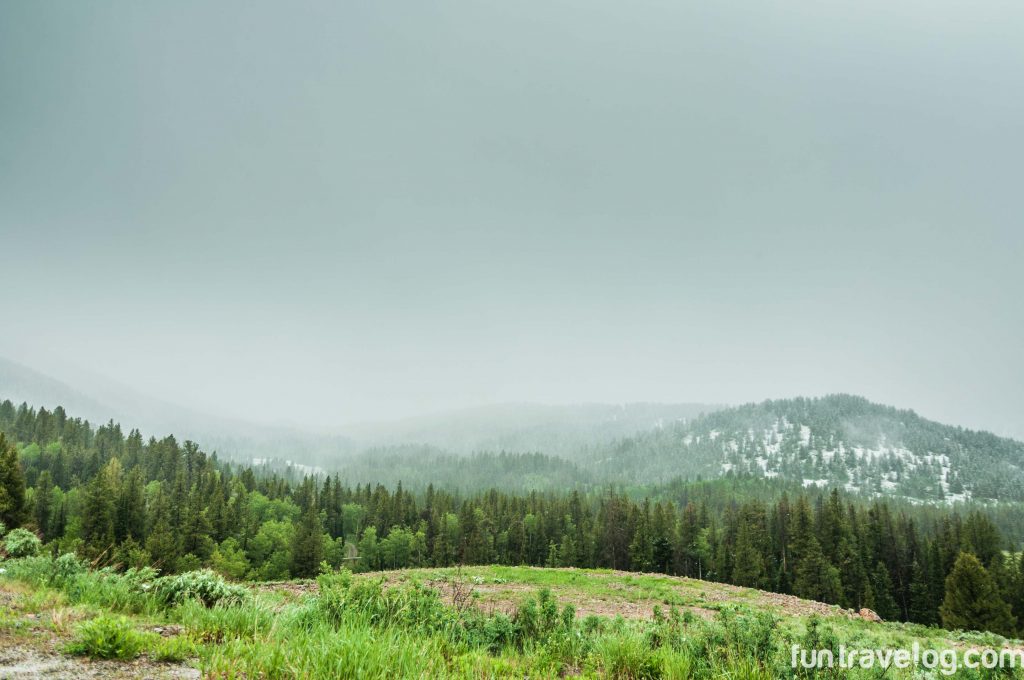 Picking this route allowed us to:
break our journey at Jackson for a night, and see the town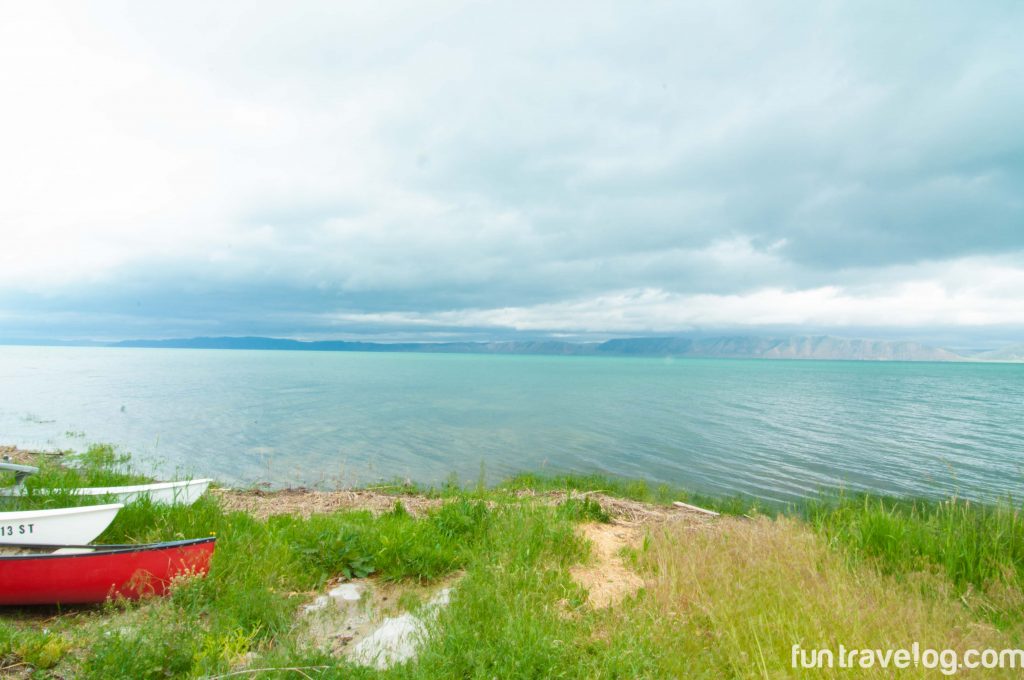 explore Grand Teton NP (another beautiful national park, half an hour away from Jackson)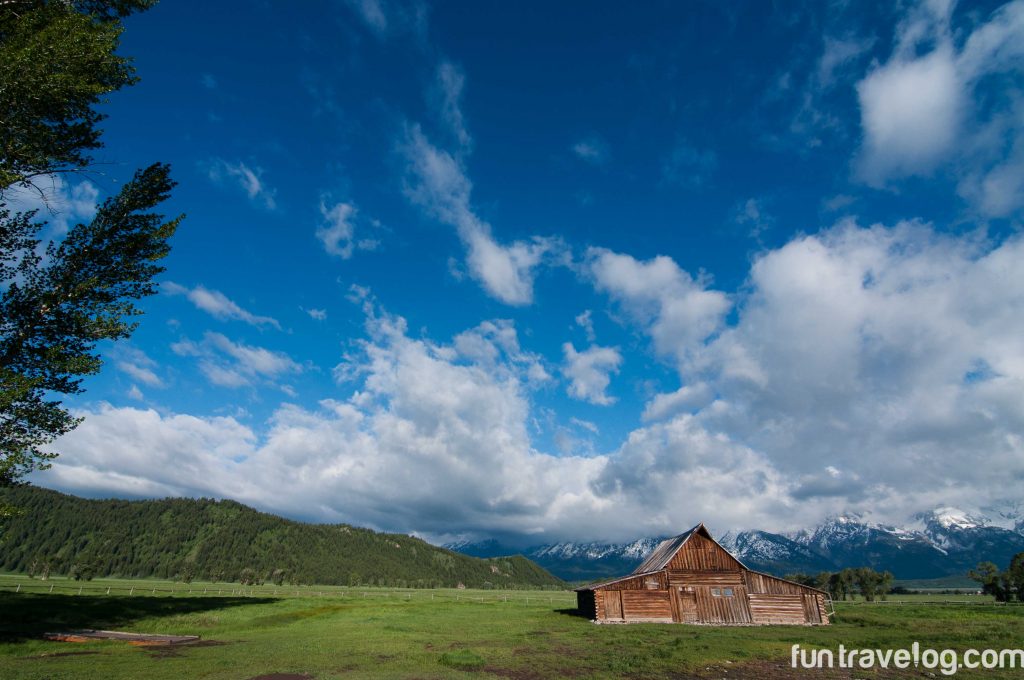 Yellowstone National Park Itinerary
There are two ways to plan a Yellowstone road trip: by staying inside the park and driving around, or staying outside the park and either driving or taking guided Yellowstone bus tours each day. Logistically, the former option is a more convenient one. Here's a snapshot of the route we took. Click on the map below to see our Yellowstone route on Google Maps.

Driving left off the south entrance, we first decided to see some of the popular spots on the south-west side of the park. This section of the park includes the upper, middle and lower geyser basins. Be warned, this could possibly be the busiest section of the park as it was crammed with tour buses on the afternoon we arrived. We've seen geysers before in Iceland, but nothing prepared us for the sheer number of geysers present in Yellowstone. Devote at least 3/4th of a day to see this area. Since we arrived in the afternoon, we took a last minute decision to skip the Emerald basin and the Biscuit basin.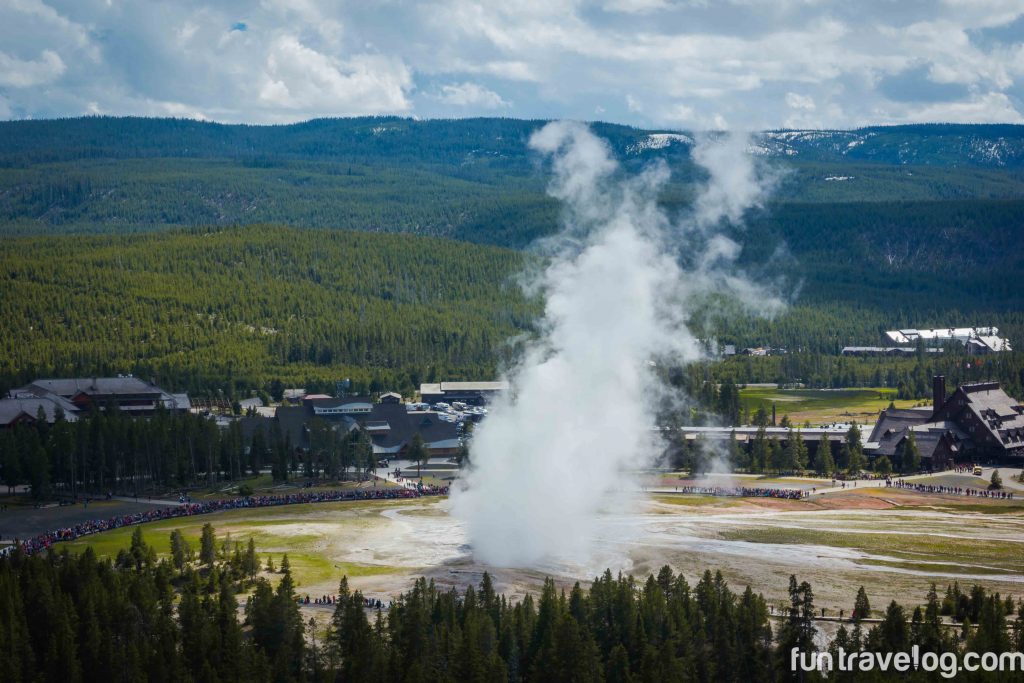 Old Faithful, Yellowstone's most reliable geyser, located in the upper geyser basin, erupts every 40-126 minutes. It can be observed through the stands, the visitor center or through an observation point that involves a short but steep one-mile hike. Naturally, we picked the most stunning view. From here on, we took a short hike to see Solitary geyser (that never erupted while we were there) and took the boardwalk to see several other geysers. Although, if you've never seen a geyser erupt before, stick to the stands.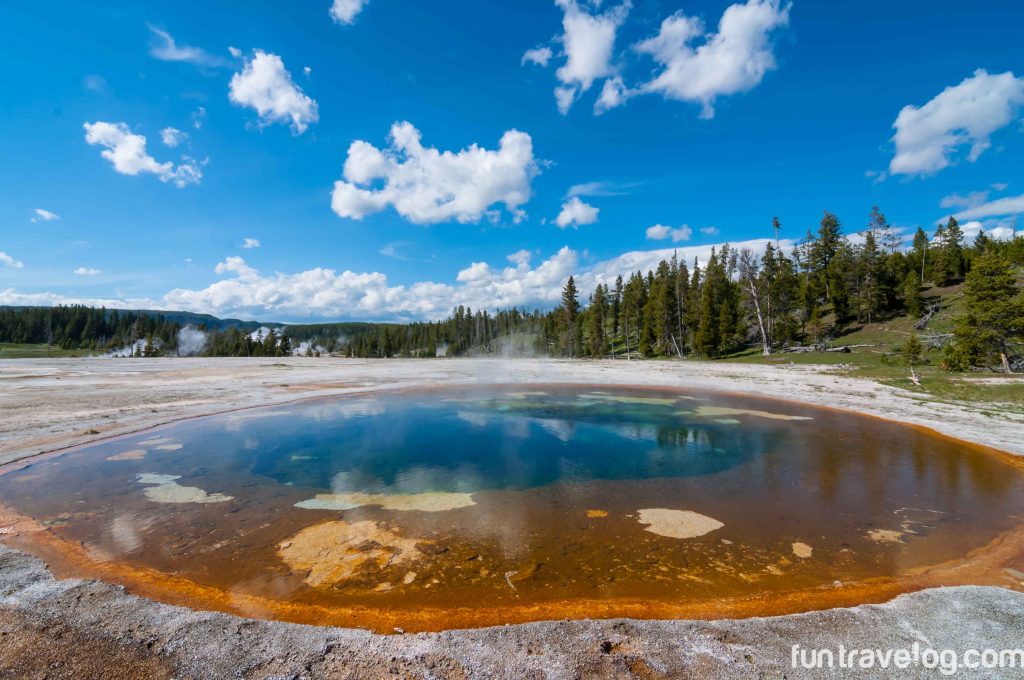 The walk to 'fading glory' hot pool was a long one, but the rewards were incredible.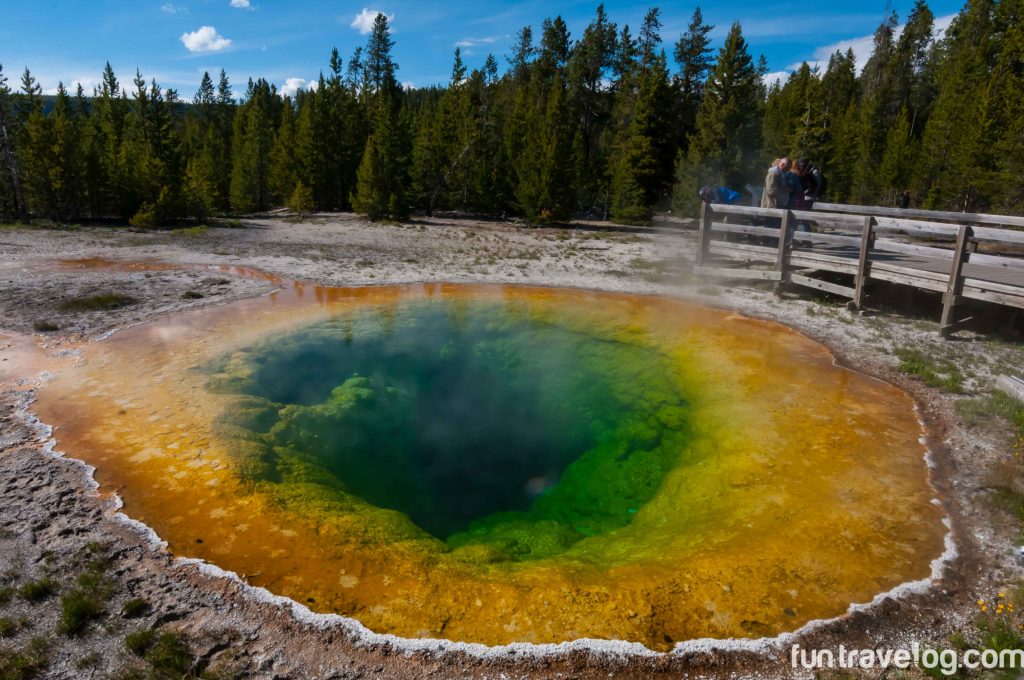 A huge draw for visitors, the Grand Prismatic in the midway geyser basin both amazed and shocked us. While its colors were stunning, it was disheartening to see the number of tourist caps that had fallen into the springs, especially because the nature of the land is such that any introduction of new material can be detrimental.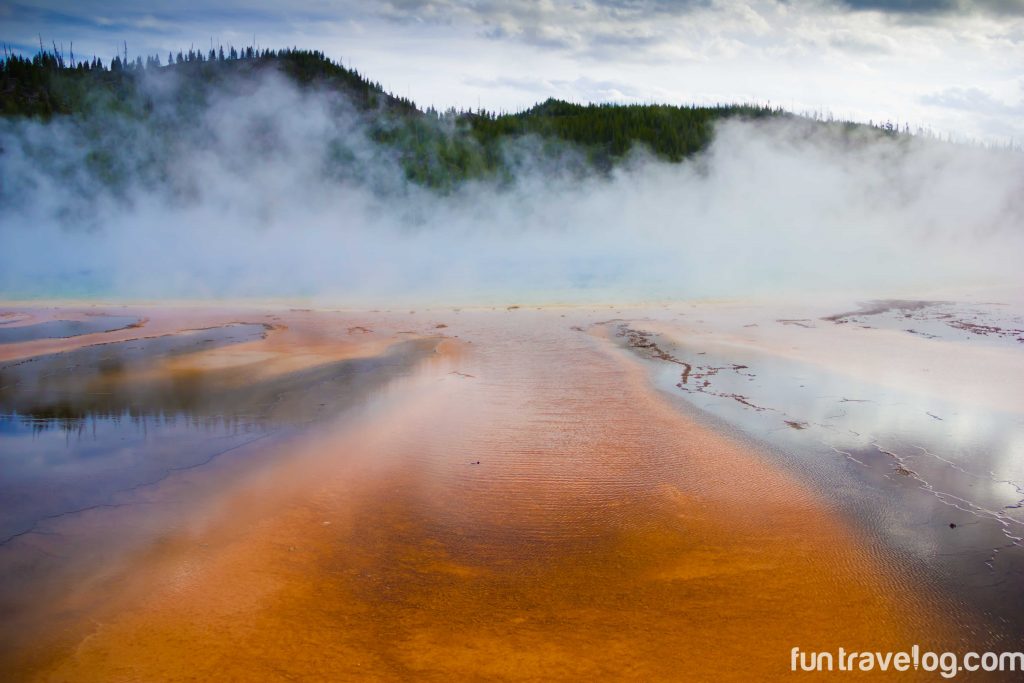 If there's something you must know about detours, it is that there's always a mystery hiding through those routes. That's how we convinced ourselves to take the Firehole Lake Drive in the lower geyser basin, before calling it a day at Canyon village. In case you're wondering where to stay in Yellowstone in order to explore this area, our suggestion would be to go with Canyon Lodge.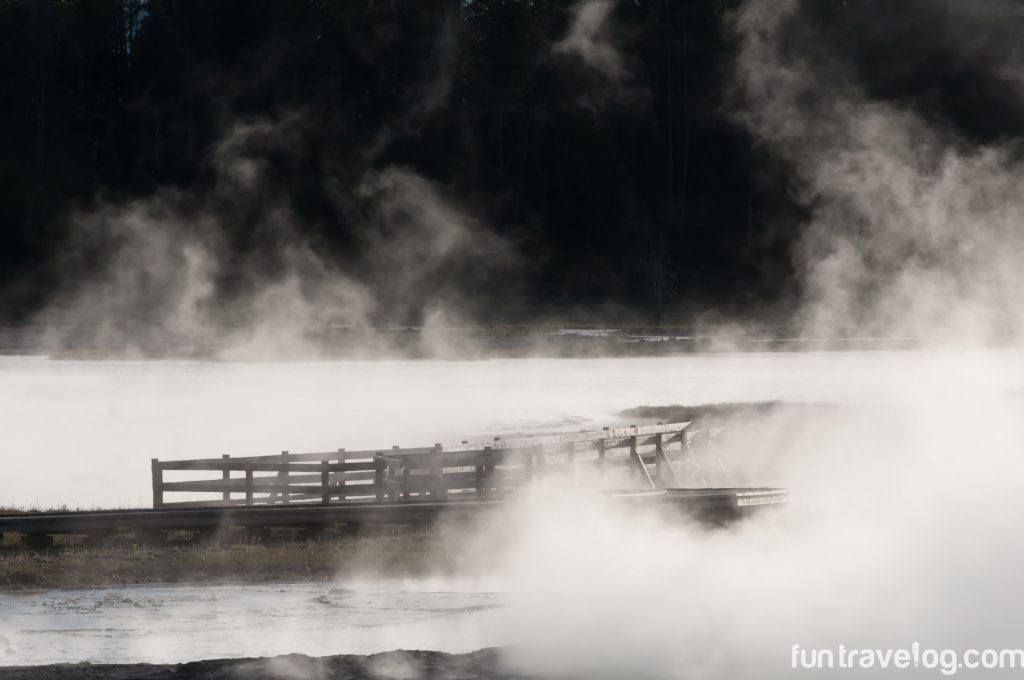 Day 3
After a day of exploring the park among a sea of visitors, I figured a rule of thumb for visiting the bigger and popular national parks. Start early. Bharat will tell you that I'm the worst at morning routines on a regular basis, but in Yellowstone – I was up before the sun!
In the wee hours of the morning, we nearly had the Grand Canyon of Yellowstone to ourselves. Also, #sunrise. (PS: staying at Canyon Lodge the past evening made this early morning visit so much easier). The Grand Canyon can be observed from the north rim and the south rim – both areas are accessible by cars, and you can get out and hike further from designated spots.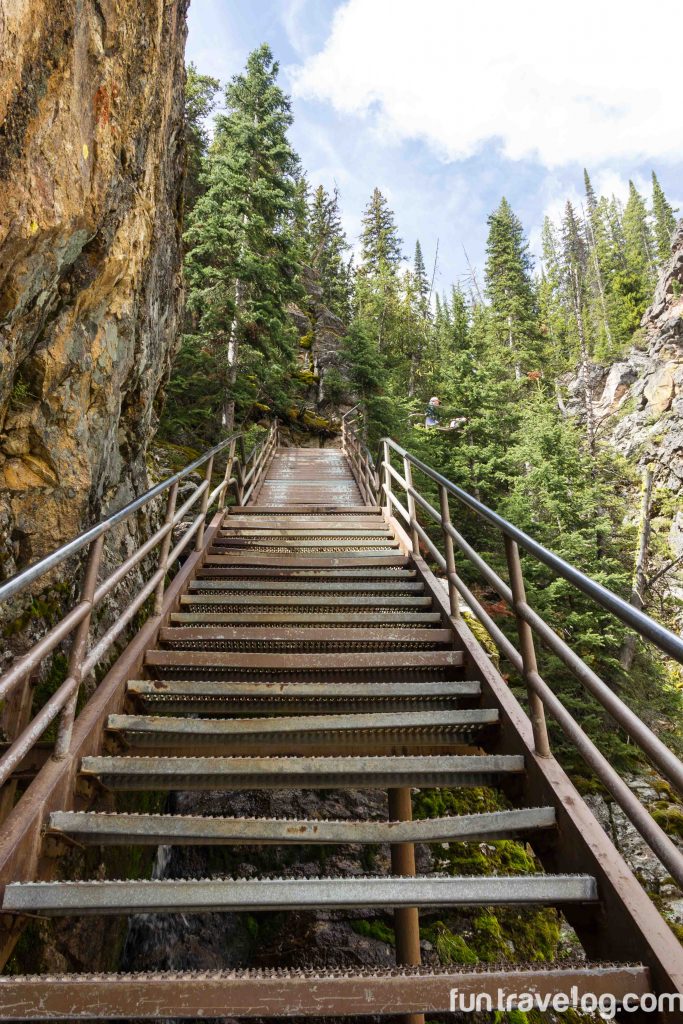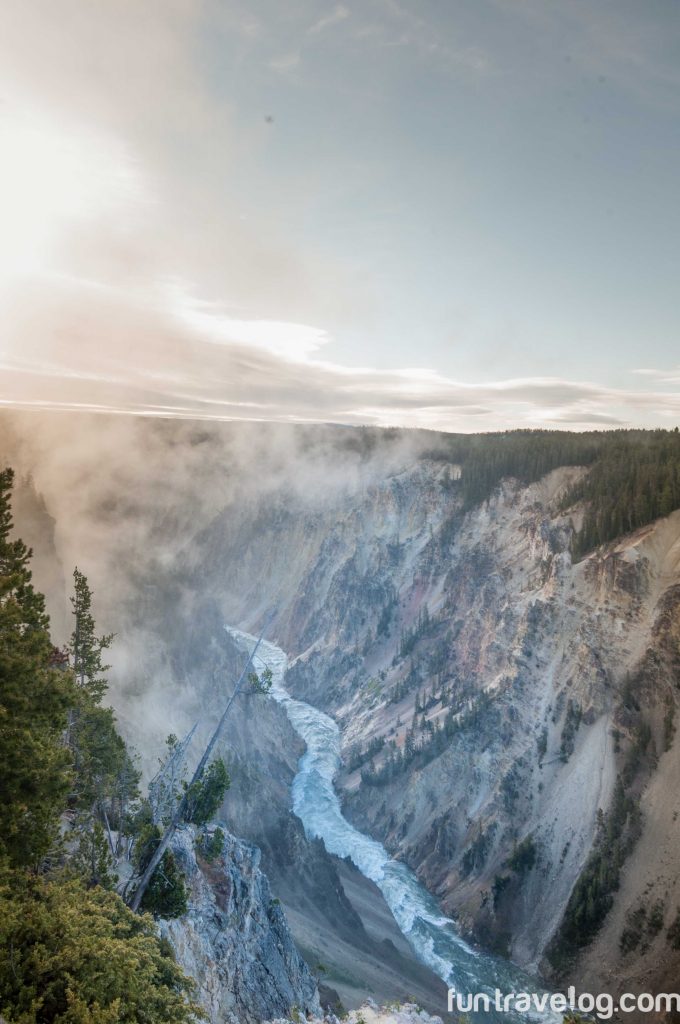 Follow that up with a free 9 AM ranger walk offered by the park and you'll be glad for their rich knowledge and inspiring stories. The ranger walks are planned for each season and the national park's website keeps the most updated information about ranger-led programs. If you miss checking the website, the park offers a free schedule at each entrance. Having walked most of the south rim with the park ranger, our sense of adventure was on an all-time high. Making a mental note to not linger at scenic sights for too long, we made our way to the famed Uncle Tom's trail which was luckily accessible from the spot where our ranger walk ended. Catching the waterfalls (pictured above) from up close is truly a Yellowstone must see.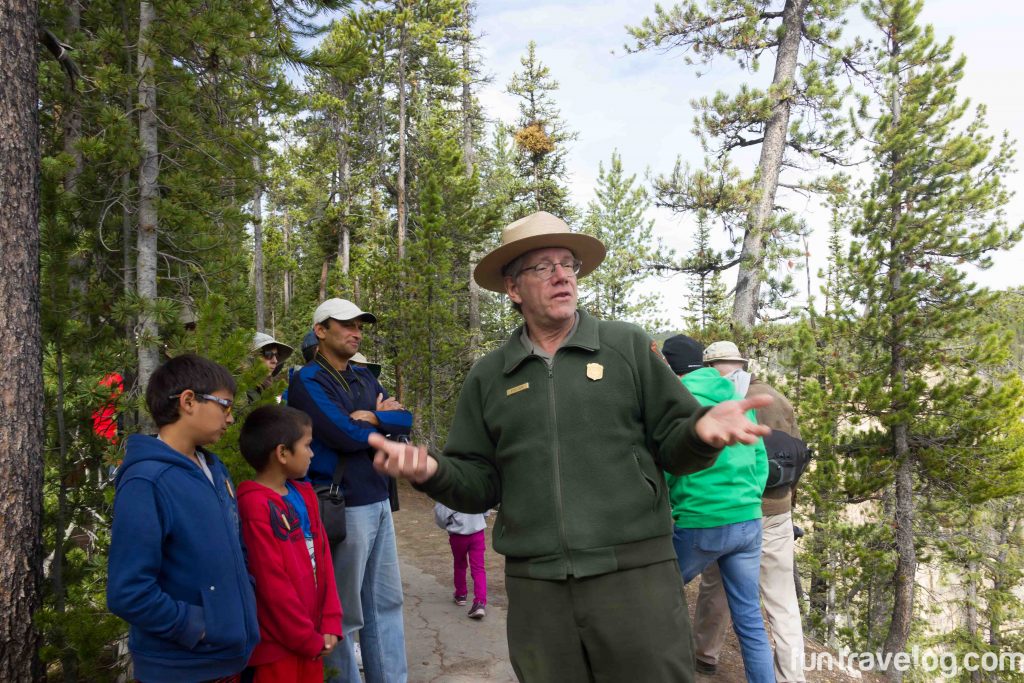 If you scroll up to look Yellowstone vacation planner map in this post, the park's accessible regions form a circular driving route. Driving down south along the Yellowstone Lake, we next headed to West Thumb, another geyser basin facing the lake. Look out for the black pool, a geyser facing the lake and surprise deer and elk visits 🙂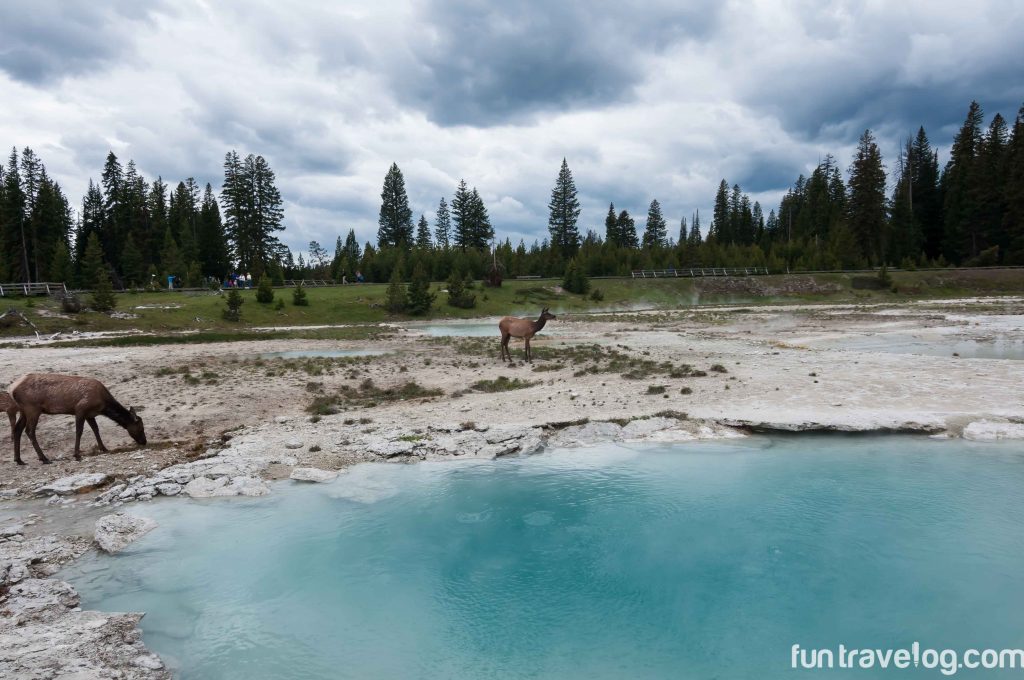 Day 4
Once inside the park, driving around isn't difficult. The routes are well marked and the roads are paved. Towards the end of Day 3, we made our way north to Mammoth Hot Springs, which was our base for the next two days.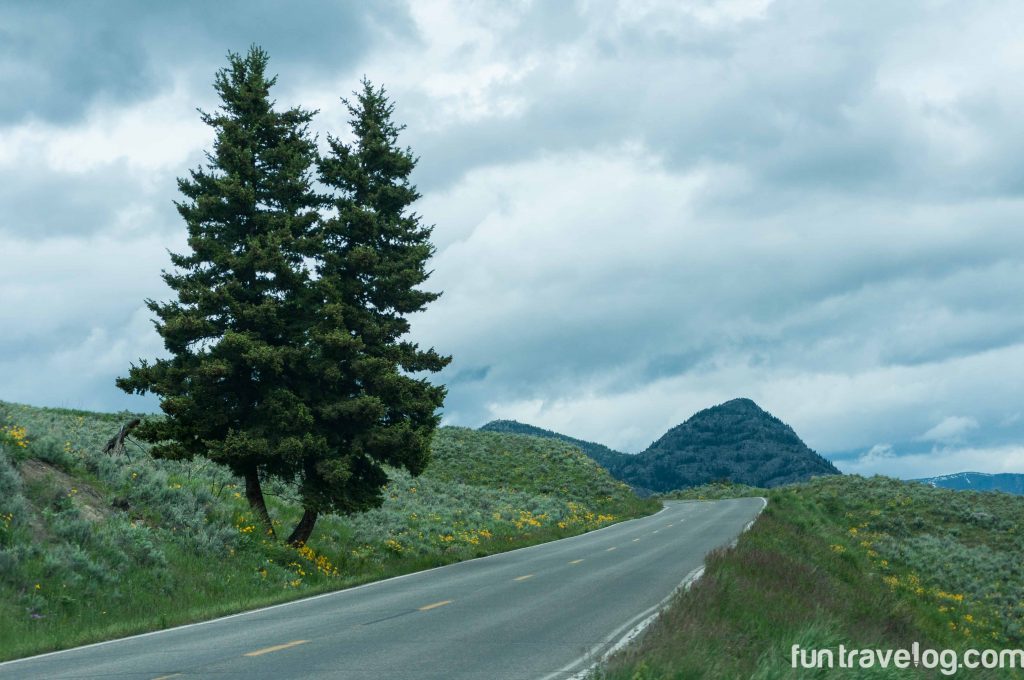 Pushing ourselves out of bed in the early hours was turning into a ritual. A few deer and bison were out for their breakfast on our way to Lamar Valley. We soared along the breathtaking vistas as dense grey clouds hovered over the skyline, waiting to drench the valley. Lamar valley is home to wolves, grizzly bears and bison, and we were hoping to spot some of these animals. On our return, we did get lucky and spotted a fox hunt (and eat) its prey.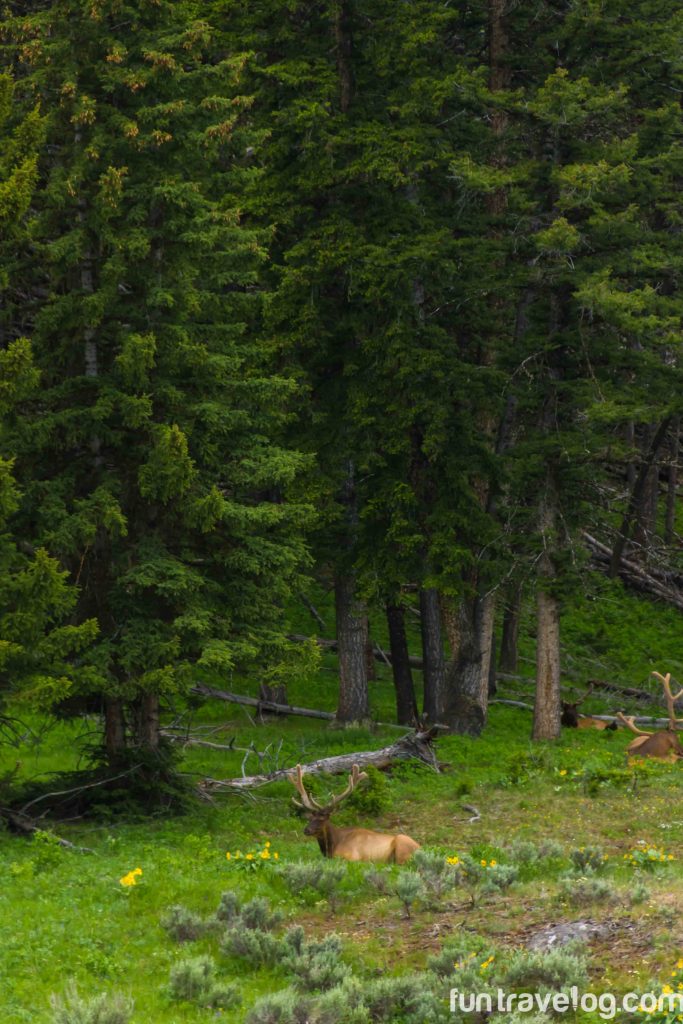 Weather predictions in Yellowstone, while extremely accurate, are not specific to a region. Initially, we were a bit disappointed with a 90% rain prediction for the day, but when you're visitor for a limited time, you take your chances and work around the weather. In the evening, we visited lower Mammoth Hot Springs, which was located close to our cabin.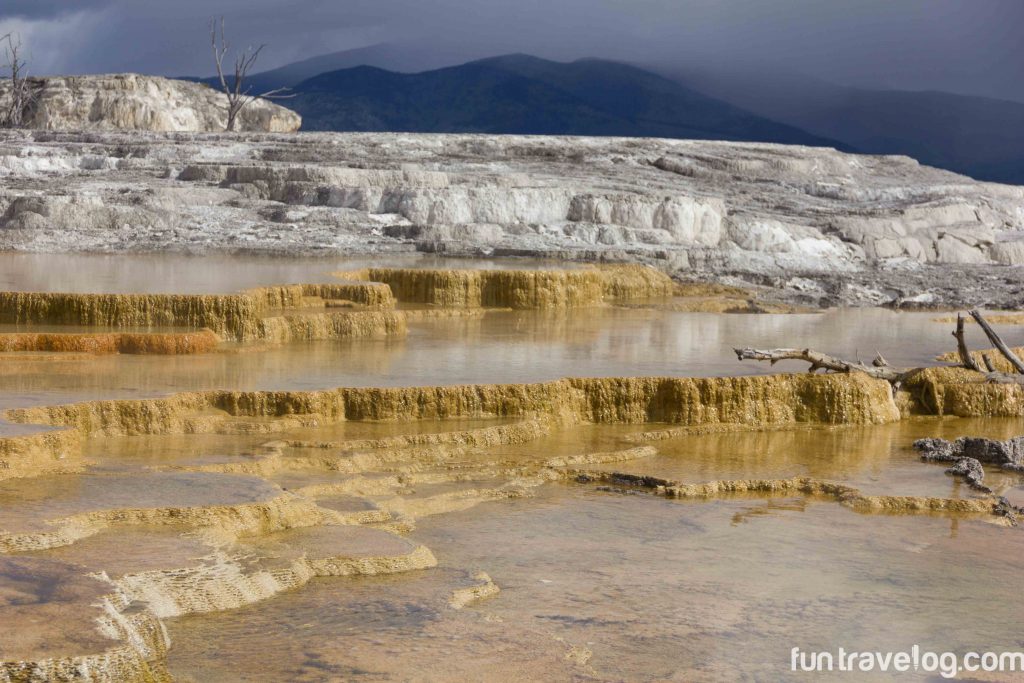 Day 5
On entering Yellowstone, the park officials are kind enough to hand a map with guides on exploring the park. What I found particularly useful besides the map, was a guide to the wildlife found inside the park. Illustrations of animals along with their names helped us identify the different species that we could encounter. By now, we were feeling utterly unlucky about not having spotted a single bear. So off we went again, almost all the way back to Lamar valley, to be disappointed on the wildlife front. But luck is a trickster. Just when we had given up hopes and were heading to upper Mammoth Hot Springs, we saw the elusive grizzly bear by the road in the bushes.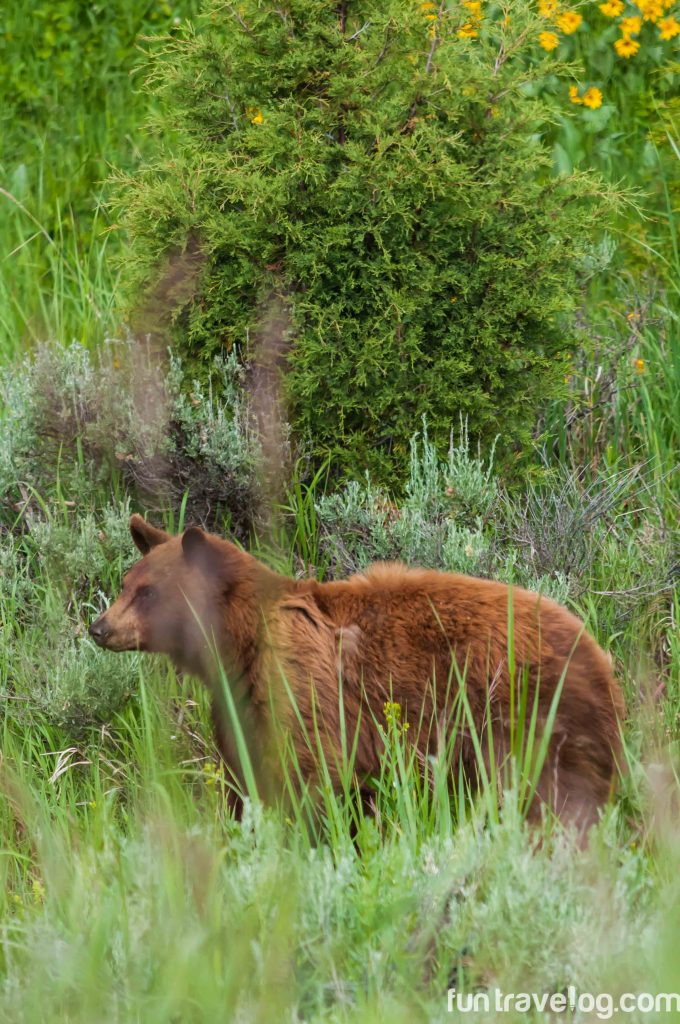 Some journeys deserve a grand ending. Ours was planned at a glamping tent in West Yellowstone. On our way out, we stopped to visit Norris geyser basin, the park's hottest, most acidic hydrothermal area.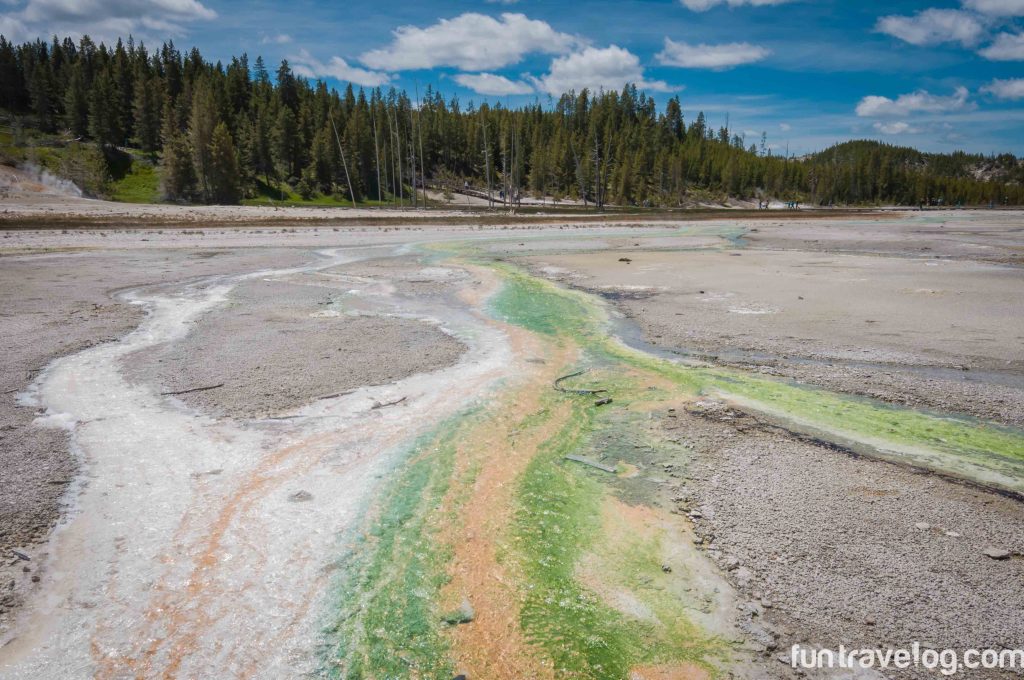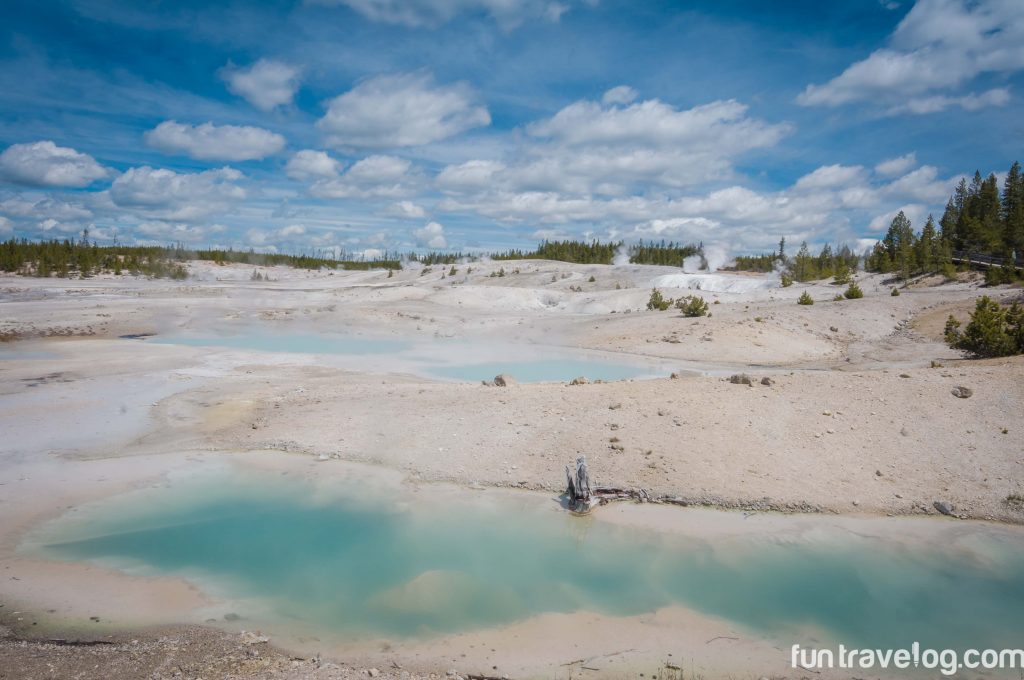 It's not difficult to visit glaciers, mountains, lakes and scenic landscapes. But very few surroundings are kept in a state that they were discovered in. The national park services have an enormous task on their hands. To educate visitors, manage an influx of tourists and maintain the natural conditions of the park is an immensely invaluable service. On a walk (seriously the best way to see Yellowstone) to discover the upper Mammoth Hot Springs, our ranger, a senior lady who is an environmental and ecosystems botanist shared that the greatest goal of the national park services is to let nature take its course. "If we conquer nature", she said, "we conquer ourselves." I couldn't have said it better.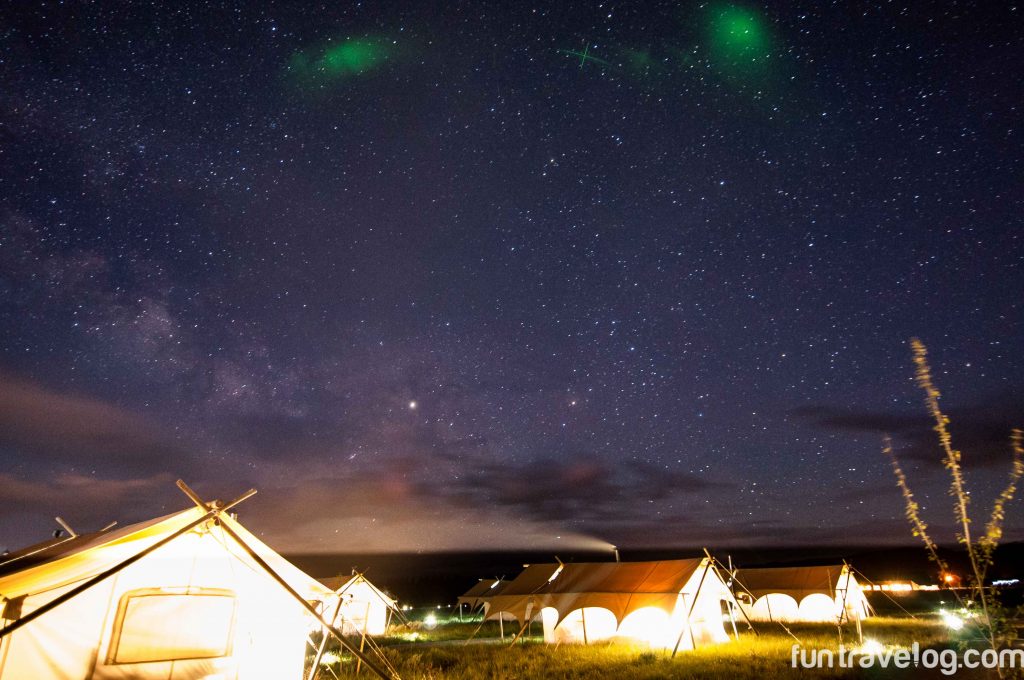 ---
We hope you enjoyed this Yellowstone travel itinerary. Find some more Yellowstone travel guides below:
Save
Save
Save