Just a heads up. This post may contain affiliate links, which means we may receive a commission if you click a link and purchase something.
Last Thanksgiving, Raahi turned five months old. We had been eagerly waiting to take her on her first flight. The big moment arrived when the three of us boarded a JetBlue direct flight to Las Vegas. At first when we mentioned Las Vegas, our friends + fam were like 'why would you take her to Vegas of all the places?'
Hang in there, folks! Vegas was just a landing pad for us to explore the mighty Death Valley National Park along the borders of Nevada and California states. We had also planned to explore Valley of Fire State Park on the east side of Vegas.
With our ErgoBaby 360 carrier, lots of baby stuff, and a 4×4 SUV, we drove towards the east entrance of Death Valley NP. No points for guessing, , whether traveling with a baby or not, staying inside a National Park (which requires multiple days to explore) makes the most sense. As it was our first time with Raahi, it was a no-brainer to make reservations at Stovepipe Wells Village Hotel for a night and then a couple of days at the slightly more luxurious Oasis at Death Valley. Here's how we broke down different days to explore this park (without losing our sanity and not subjecting Raahi to lots of discomforts).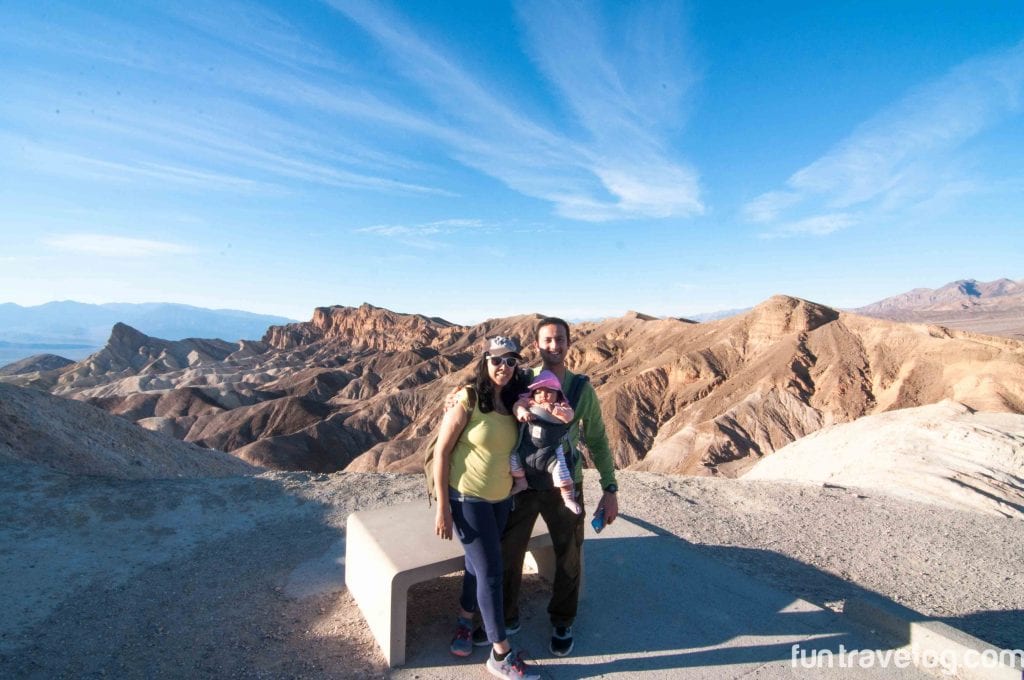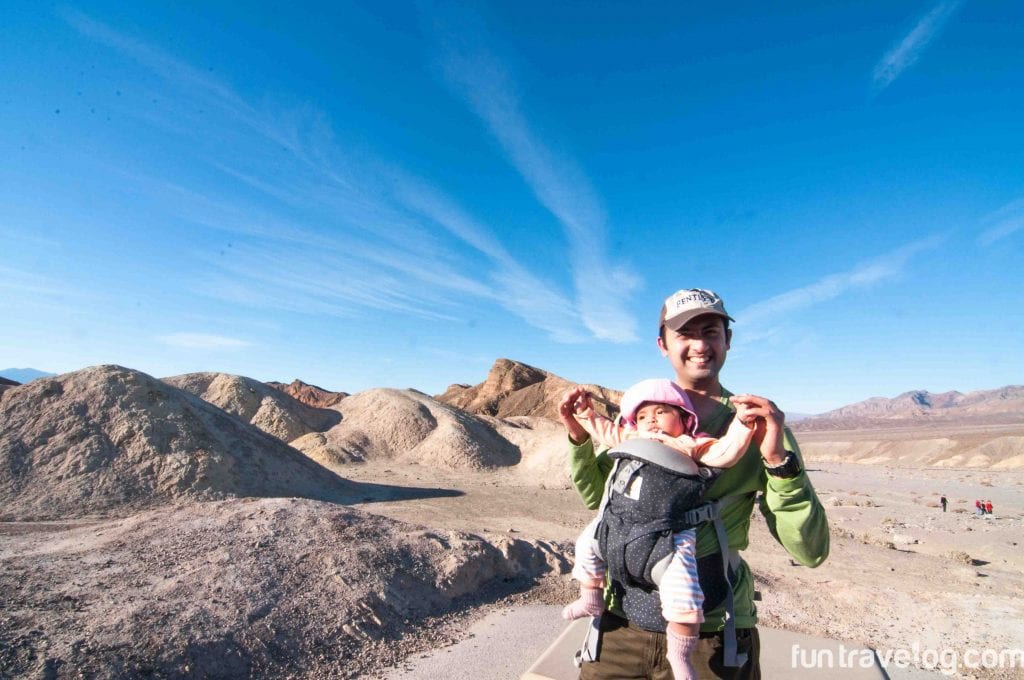 Day 1
We took the route via Amargosa Valley to arrive at the east entrance of the park. The first landmark, Zabriskie Point was close by, so we checked that off as soon as we arrived. Further on, while approaching Stovepipe Village, we stopped for a bit to briefly admire the golden light at Mesquite Flat Sand Dunes. Raahi was obviously getting tired from a day of travel, but she did quite well.
Tip #1: we divided our stays intentionally. Staying at Stovepipe ensured that we got a chance to see the sand dunes both in the evening and morning. Other major landmarks could be easily explored from Ranch Inn. Also, this reduced much driving from one point to another for Raahi's ease.
Tip #2: If you're taking the Amargosa Valle route, stop by at Area 51 Alien center for restrooms and break. We ensured that Raahi got to stretch herself constantly outside of the confines of her car seat.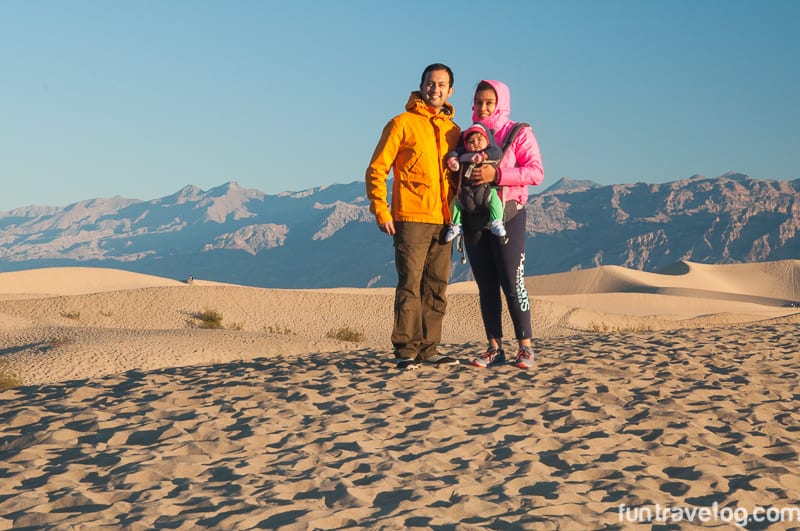 Day 2
One advantage of traveling with a baby is that you don't need a morning alarm (pun intended). We managed to get a good half an hour to explore the sand dunes during sunrise. We had a few more recommendations of spots that could be visited from Stovepipe (like Father Crowley Point and the ghost town of Rhyolite). But a baby on a road-trip will always make you realize that you need to slow down. And we welcomed that. Such travels are more about quality. We then packed up and headed to Mosaic Canyon. While we could only walk to a certain point inside the canyon with a baby strapped in a carrier, it was exciting to get a sense of the beautiful limestone crevices and explore the maze-like structure. Following that, we thought it would be cool to make her see some pupfishes. When we reached the trail, it got super windy. The sensible call was to check-in at Ranch Inn and give her some floor time in the cozy room.
The hotel staff suggested we visit the Artist's Drive during sunset. What a bummer! The surrounding hills ate up most of the golden light and we decided to give it a try again next noon. That's the perk of staying inside the Park where attractions are close by.
Day 3
We had our morning meals at the Inn itself, which was hearty and plentiful. Supriya and I decided to first visit the Badwater Basin since it was furthest out. The basin is one of the world's largest salt flats. Supriya carried Raahi in the baby carrier and it ended up being a bit of a walk. On our way back around 1 PM, we managed to make another round of Artist's Drive and this time it was stunning. Mom enjoyed using the sunroof to take pictures as our little nugget was sleeping. While we decided to skip Dante's view (remember, less is more!), we stopped by to admire the rough Martian terrain at Devil's golf course.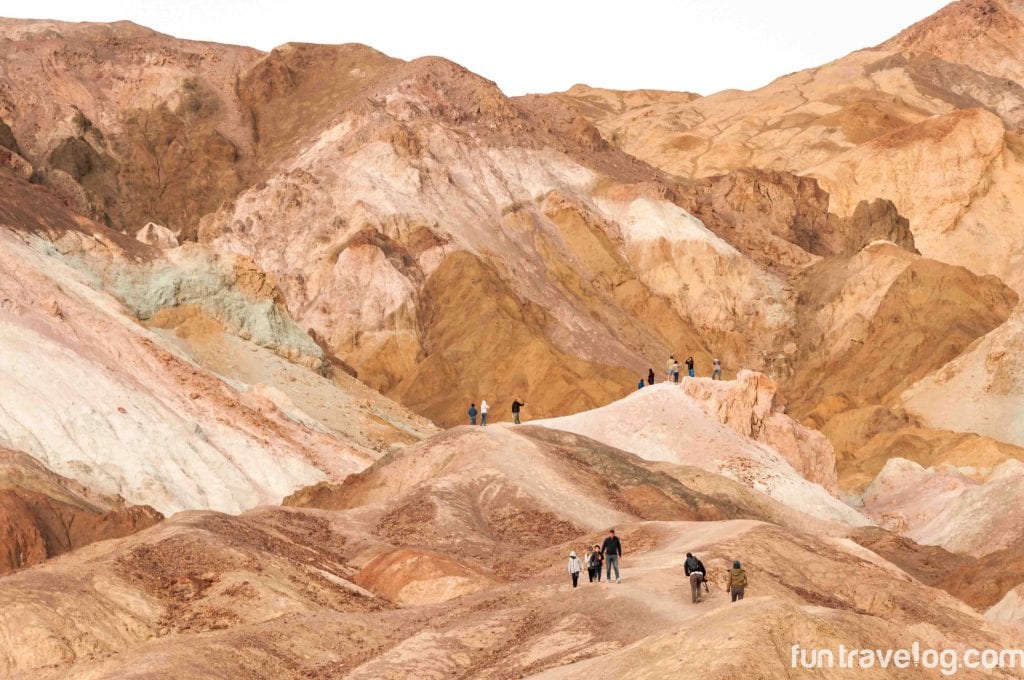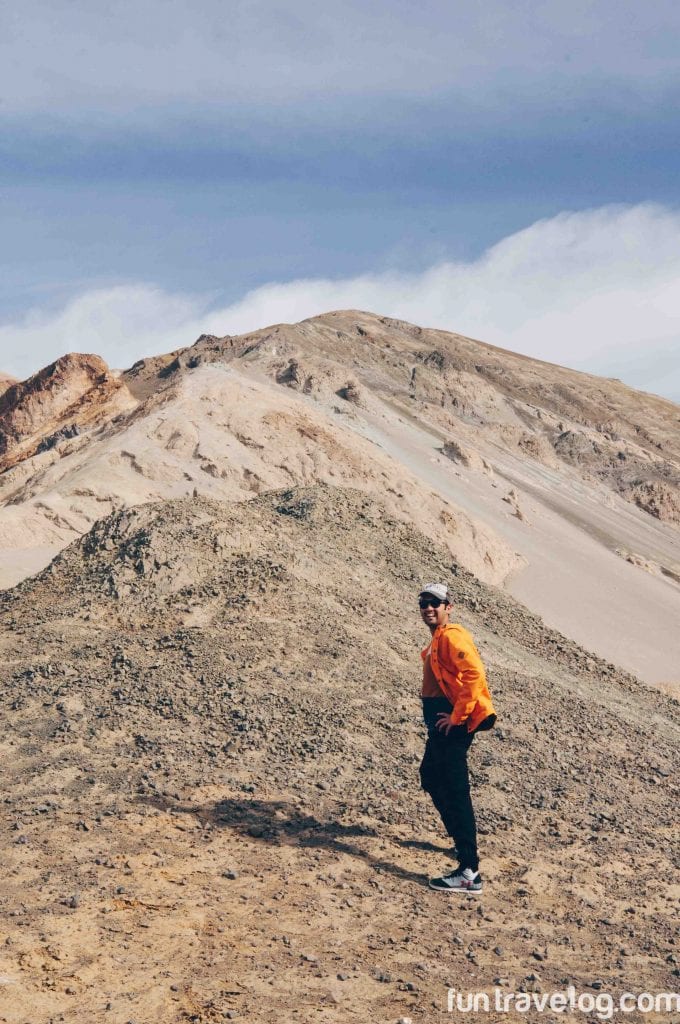 It was about early afternoon and we decided to call it a day. We chose to take Raahi around the property in her stroller, splashed in the pool and enjoyed dinner by the fireplace. On the final morning as we finished up breakfast, the weather forecast predicted rain and snow in the next 24-48 hours and we could not have been happier about our timing. Had we been a day late, our plans would have been quite washed out.
At the end, an obvious question pops up: could we have seen more? Probably yes if without a baby but honestly, we had learned to embrace the concept of 'less is more' even before Raahi was born. It never bothered us that we couldn't see a few places or as extensively. Instead, we look back at the time we spent together and the gorgeous vistas that we got a chance to admire, that's all we needed.
More tips:
#3: Plan your day according to your baby's schedule. We knew Raahi is most active and happy during the mornings and early afternoons. That is when we planned our little hikes or photography sessions.
#4: We packed water, lots of snacks and a few ready meal boxes on the way from Vegas. While we had breakfast and dinner at the lodging(s), we opted to eat lunch on the go. Plus, Supriya needed to refuel a lot more as she was nursing.
#5: If your car shows warnings of low tire pressure, make sure to check on it. The terrain at Death Valley results in that quite often.
#6: We kept information about pediatricians and children clinics handy at the places we were staying in. There is no clinic inside Death Valley but the nearest one we noted down was in Amargosa Valley.