Vermont greets you with rows of dense foliage shadowing smooth, chiseled roads. As we drove into the state, chunks of clouds parted to reveal a dramatic sunset. The sky lit up in hues of pink and purple and it was like viewing a painting in motion. Soon enough, it started raining. What a welcome it was to one of New England's vivid treasures.
The past nine months in the United States have taught me a few things about this country. For starters, one doesn't always need to go too far for a holiday. It could only be a drive away. Secondly, each place can be a new destination in a different season. And lastly, the roads in this country spoil you.
My family is currently visiting us from India. So we picked Vermont to show them the best of New England countryside over a weekend. While the state is beautiful in the fall season, we loved every minute of the sunshine and extended summer evenings.
Where is Vermont?
Vermont is approximately three or four hours north of Boston. It lies next to the Canada border and is a desired holiday spot for most Americans. We chose to visit the central part of the state, near the town of Stowe which is the base to explore Mt. Mansfield, the highest peak in the region. For a stay, we turned to Airbnb, our favorite new travel friend, and chose an apartment in the town of Barre. Barre is a small town, forty minutes before Stowe. From our visit, here's how we recommend spending a weekend in Vermont.
1. Visit Ben & Jerry's Factory, the home of ice-cream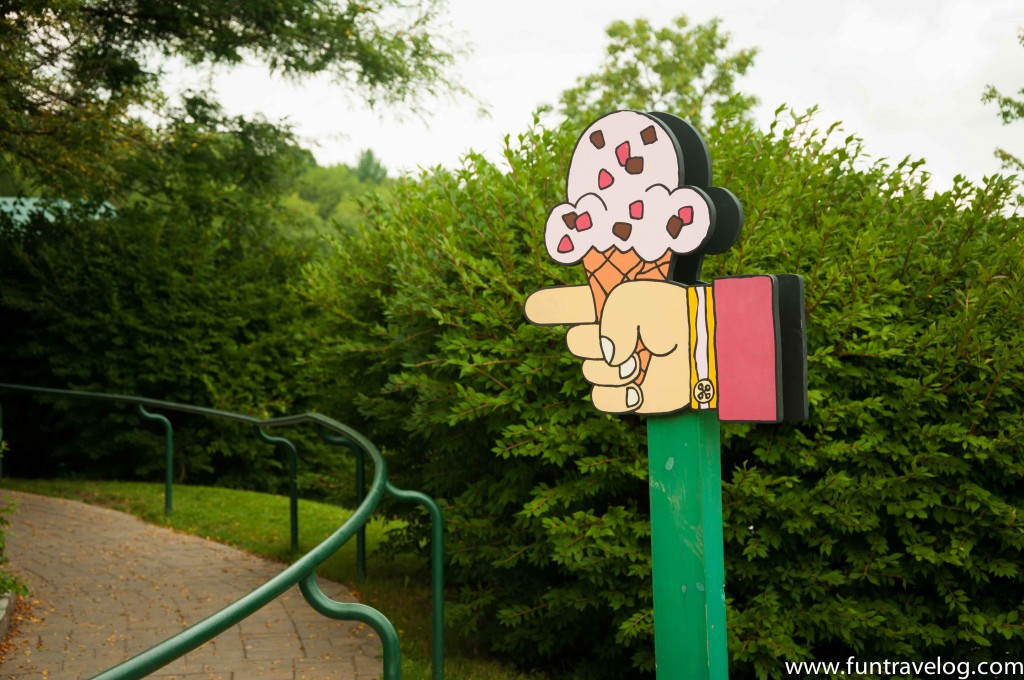 I must share that Bharat had vested interest in picking Stowe for a getaway. He's a typical New Englander when it comes to ice-cream. When he suggested traveling to Vermont, he had pretty much dreamt of a huge bucket of ice-cream from the Ben & Jerry's factory. The factory is in Waterbury that is on the way to Stowe from Barre.
The half an hour tour includes a short film, a look at the manufacturing process and free tastings of the day's flavour. Outside, they have a nice sitting area where one can order and enjoy sundaes and scoops. We tried and particularly loved a flavor called chocolate therapy.
2. Sample Vermont made cheese at Cabot's
As our day had already begun on a sinful note, we continued our pursuit of Vermont's indulgences. Cabot's, a name known for cheese in and around Vermont was next on our radar. As we entered the large outlet in Waterbury, I saw a line on one side of the premises. It was… *drumrolls*… the free tasting table.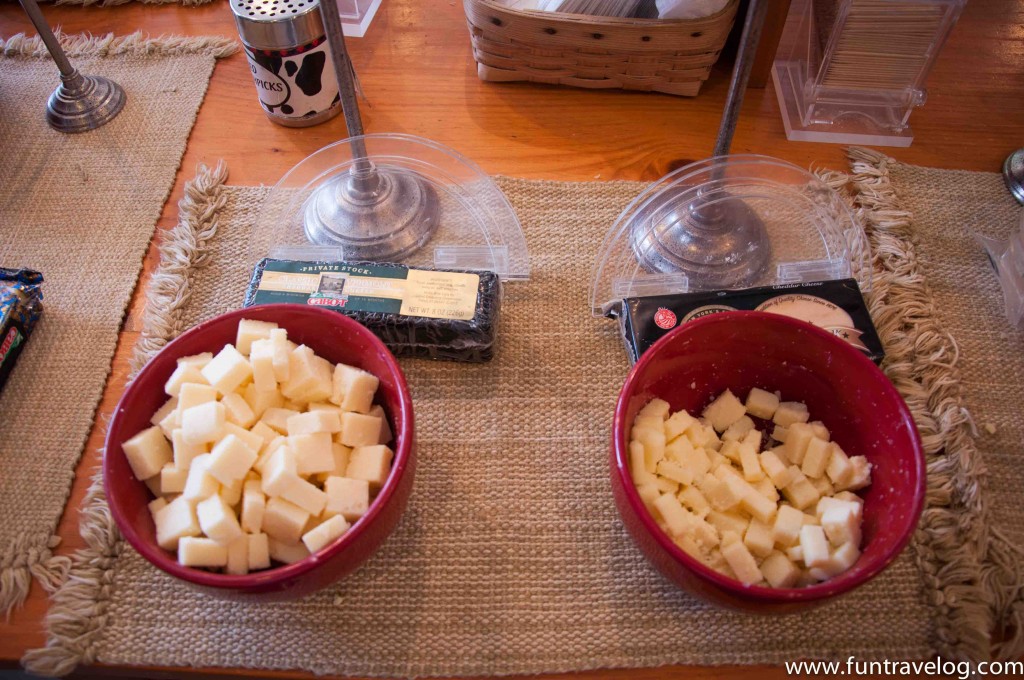 Over twenty varieties of cubed cheese, placed in labelled bowls, awaited us. I really liked the horseradish and tomato basil cheese. And it doesn't end at that. Maple syrups, barbecue sauces, jams, dips, spreads, wines, crackers, spices – we could pretty much buy (and taste) our lunch here. They also had an array of dips and crackers and even samples of how you could mix a spread with a dip. Our favourite was the sundried tomato spread mixed with cream cheese and it is currently residing in my fridge.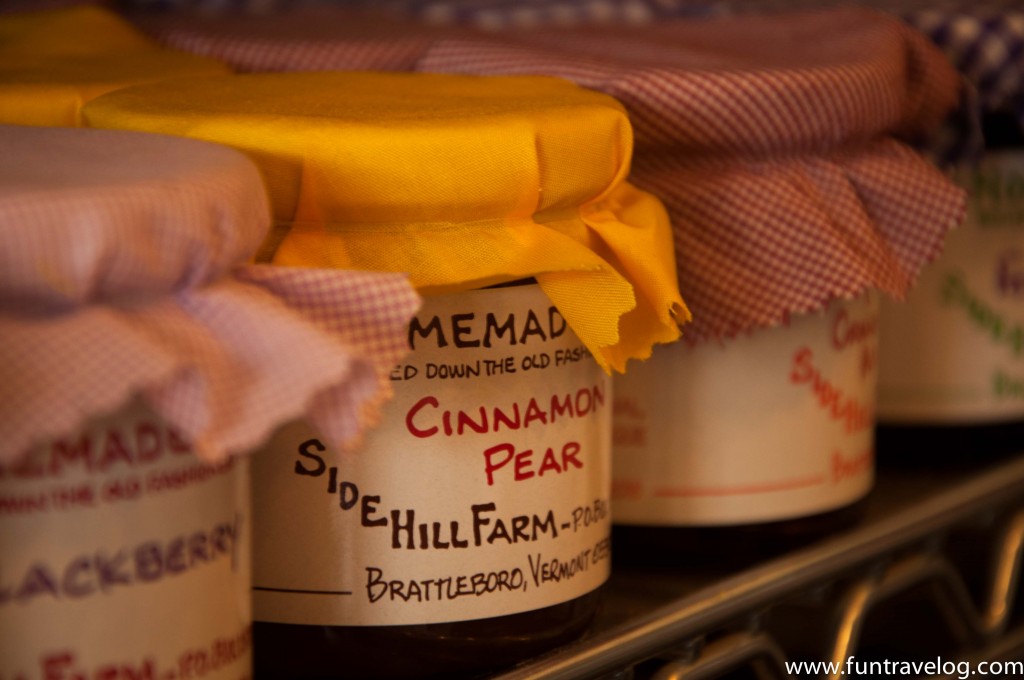 3. Indulge in cacao at Lake Champlain Chocolates
Hop across from Cabot's and you'll find yourself at Lake Champlain Chocolates. Don't even get me started about this place. Here, I barely managed to taste anything because I was so full. PS: Everything looked delish.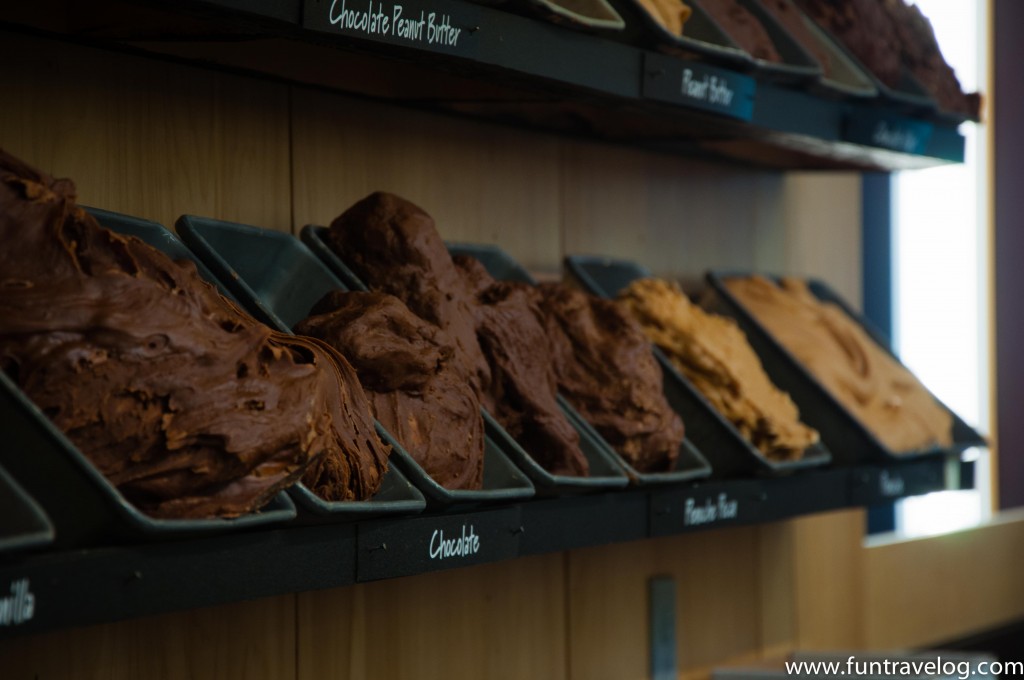 Another foodie recommendation in Burlington, VT
4. Visit cornfields
Having pretty much eaten our way through the morning, we skipped lunch and stopped at a rest area to snack. To avoid getting lazy, we took a walk following families on bikes. In no time, we found ourselves at a corn field across a bridge.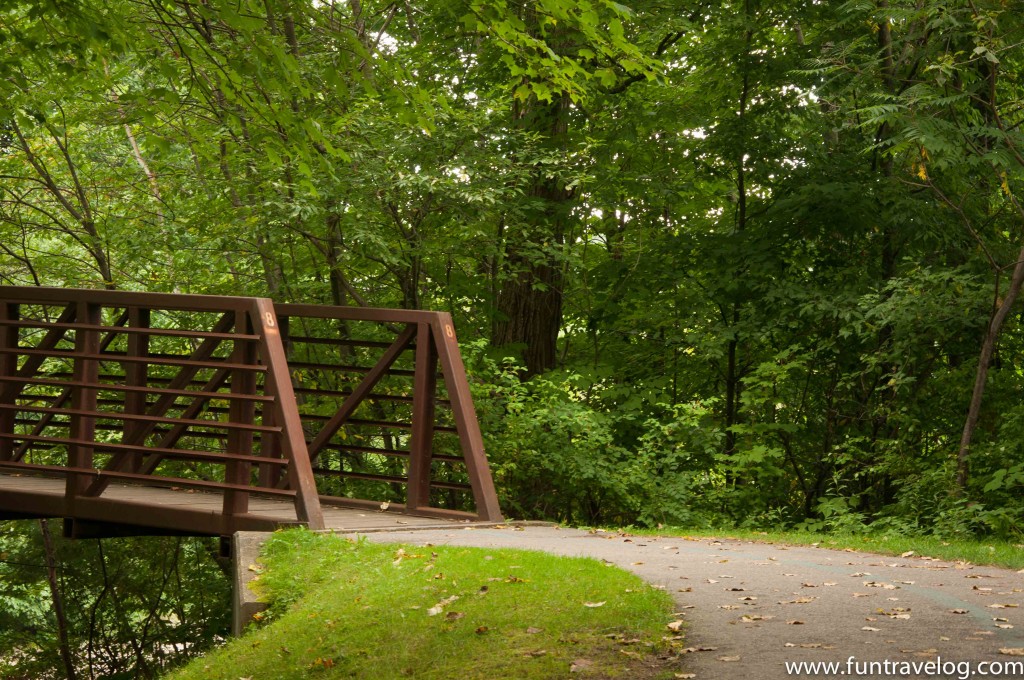 Two calves and goats peeked out of a little coop and families were lounging in the sun. They also had biking trails that looked rather inviting. To be honest, we didn't note the name of the corn maize. But I looked up names of corn maizes in the area and Percy Farm Corn Maize was one of the first names that popped up.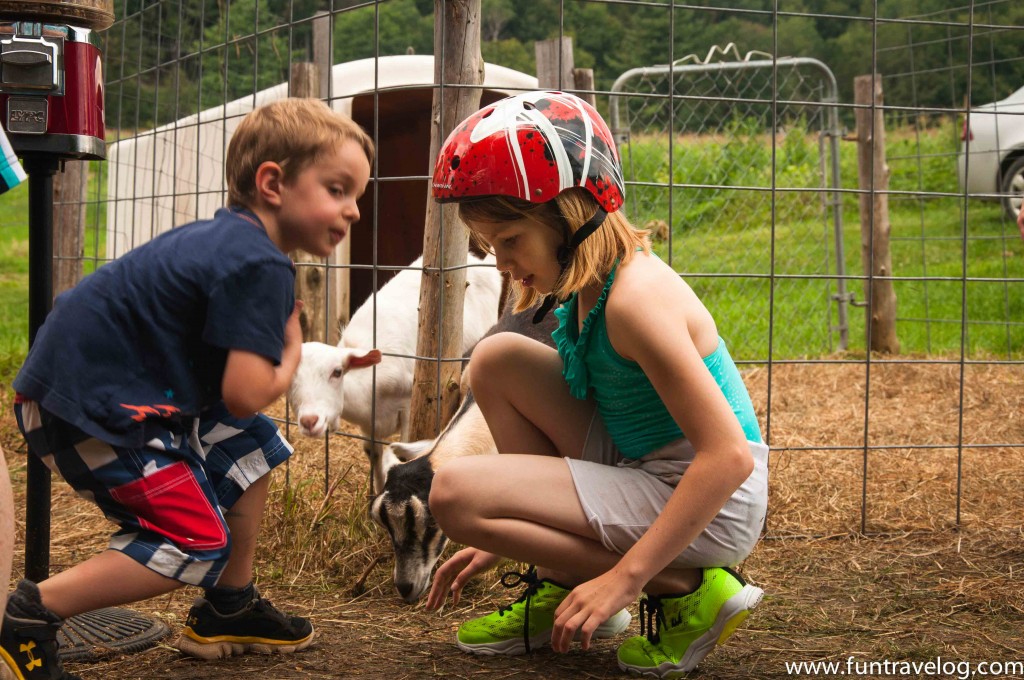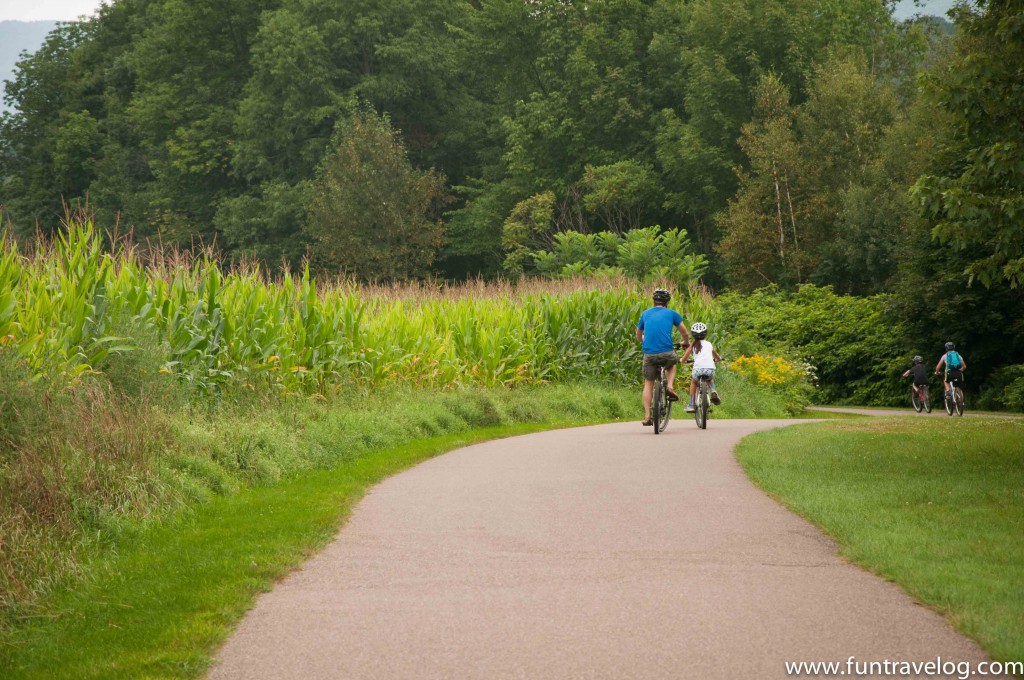 5. Drive to Smugglers' Notch State Park and Scenic Route 108
Once you cross Stowe and head north-west towards the town of Burlington, you'll find yourself on Route 108. On this beautiful route we drove by corn fields and ski lodges. The stately Green Mountains veiled by a layer of clouds made their presence felt too. Smugglers' Notch is a long, winding pass through the mountains. It used to be an illegal trading route in the 1800s allowing Vermonters to go to markets in Montreal, Canada.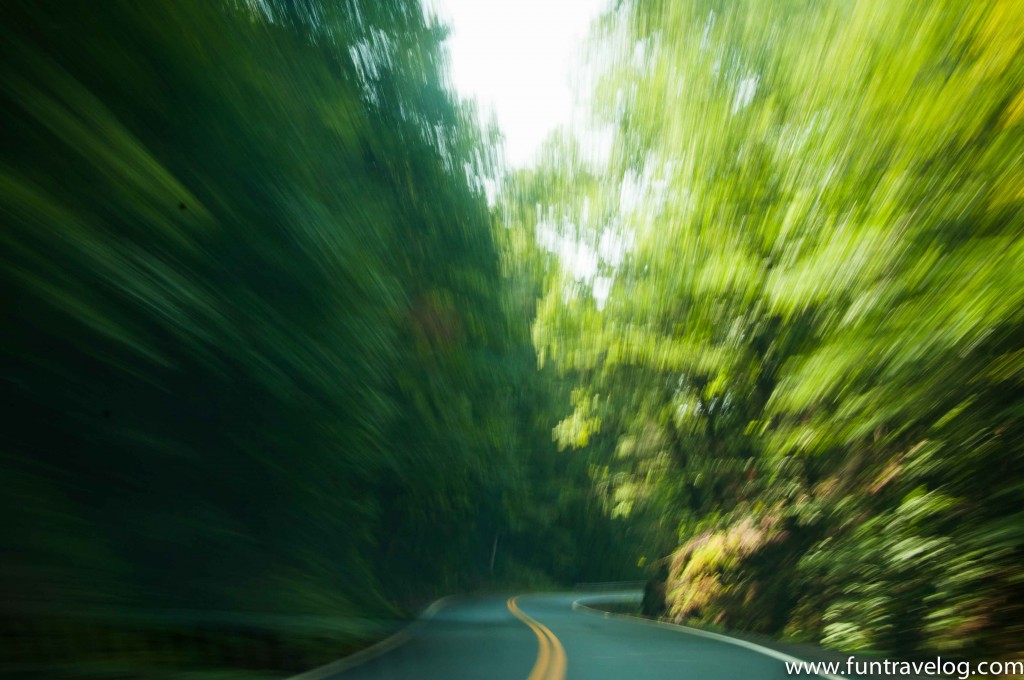 On our way back, we stopped by for a short walk into the woods to find Bingham Falls. Though we didn't see the falls, it was fun to dip our feet into the icy-cool river.
More suggestions for scenic drives in Vermont
6. Stop at Eagles Peak Farm for blueberry picking
On day two of our trip, we followed a recommendation from our AirBnb hostess. We were keen on blueberry picking as we knew it is a popular activity in Vermont during the summers. Eagles Peak Farm was on the route to Woodstock, our next destination. A small farm, it is run by a couple who live surrounded by an army of hens and rows of trees that they lovingly tend to. At the farm, they grow pears, plums, apples, and blueberries.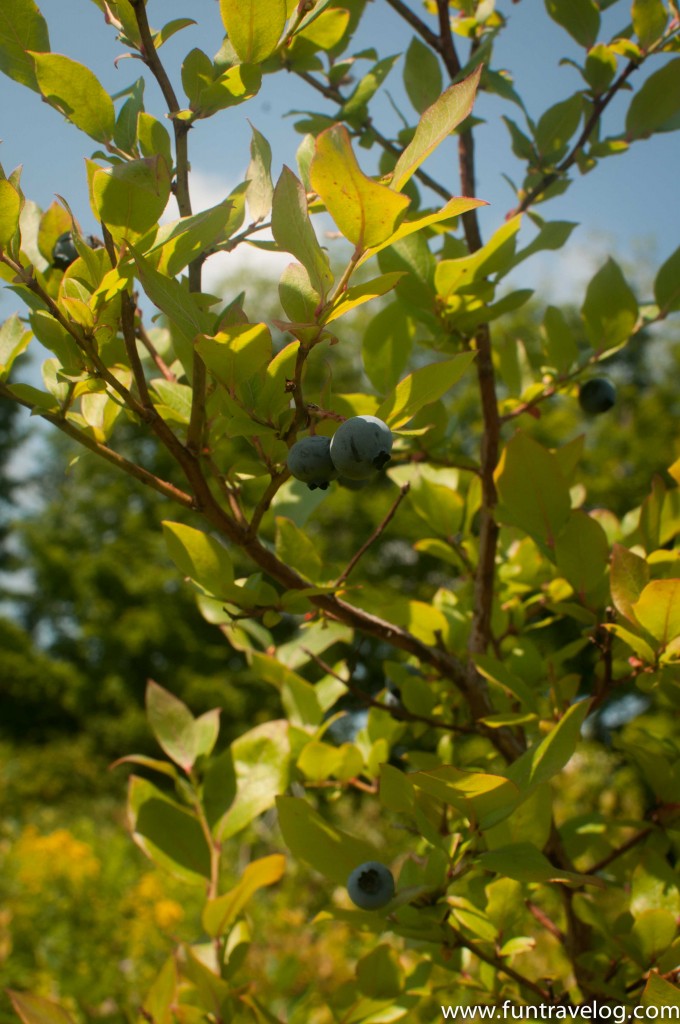 The owners, Bill and his wife gave us a bucket and an all access to their patches. We were instructed to taste before picking as each bush grew a different variety of blueberry. This was our first experience at fruit picking and it was thrilling to be able to spot the ripe kinds and pluck them fresh off the trees.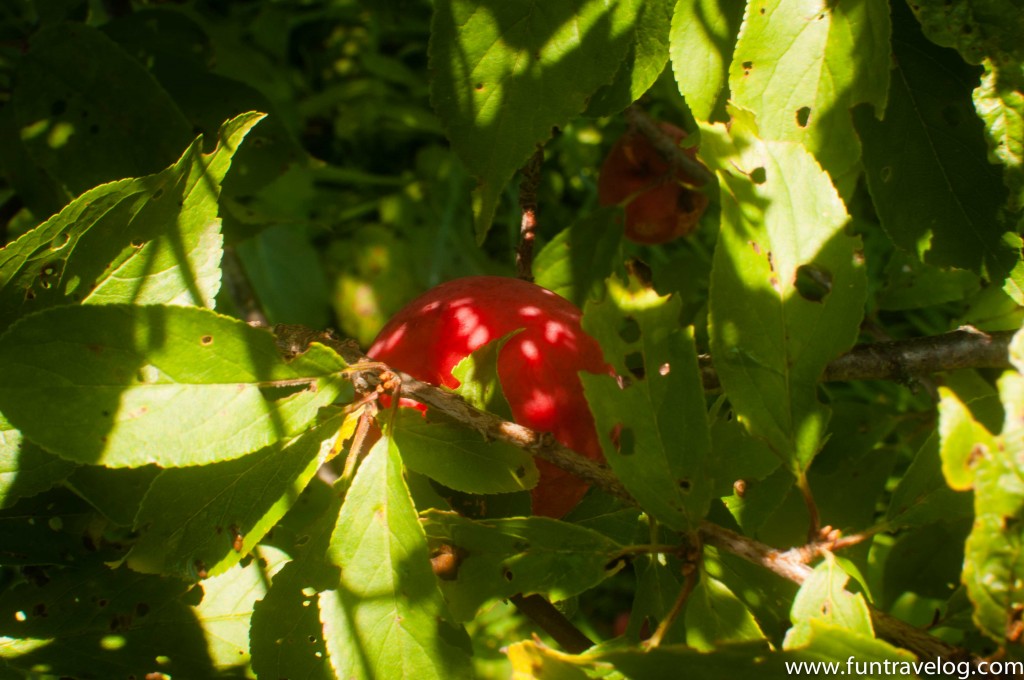 Another blueberry farm in Vermont
7. See the Simon Pearce Glass Factory
Quite the rage with lovers of quality glass and homeware, Simon Pearce's products are sold in their stores across New England. We visited their flagship outlet in the town of Quechee, which is set near a scenic wooden bridge and a dam. Here, one can sit in their outdoor cafe and sample delicacies made using local produce or watch live glass blowing demonstrations.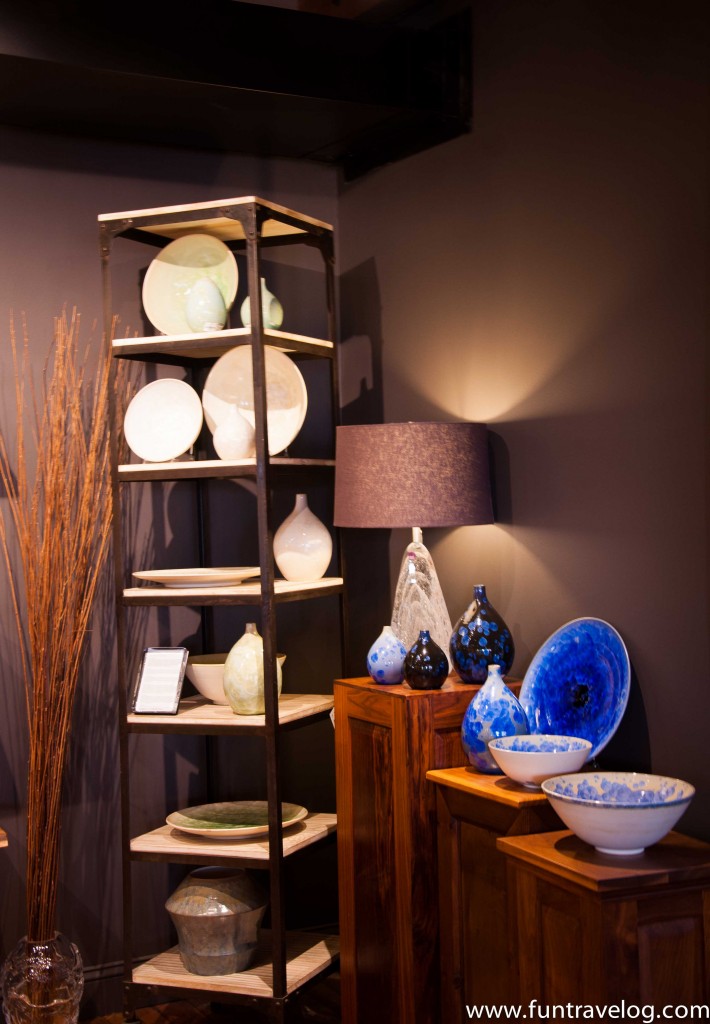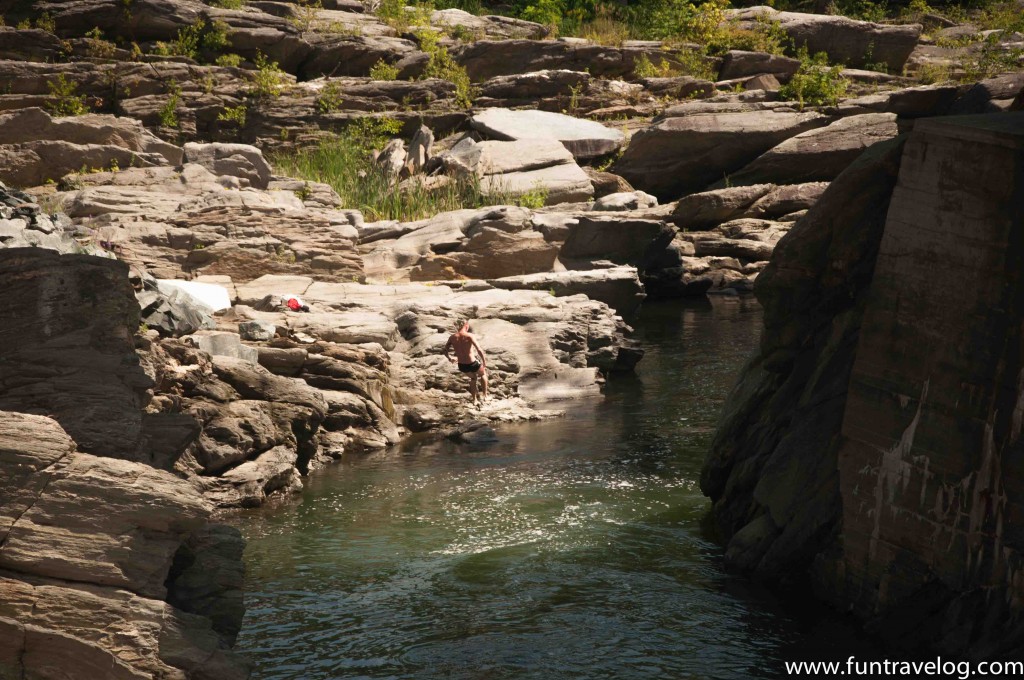 8. Visit Wooden Bridges
Perhaps Vermont's most symbolic structures are the covered wooden bridges that were built years ago to facilitate transport. If you are to pick up a map in Vermont, you will find little icons of wooden bridges in many parts of the state. We saw one such bridge right outside the Simon Pearce factory, the Quechee Covered Bridge. This one treated us to the most attractive views!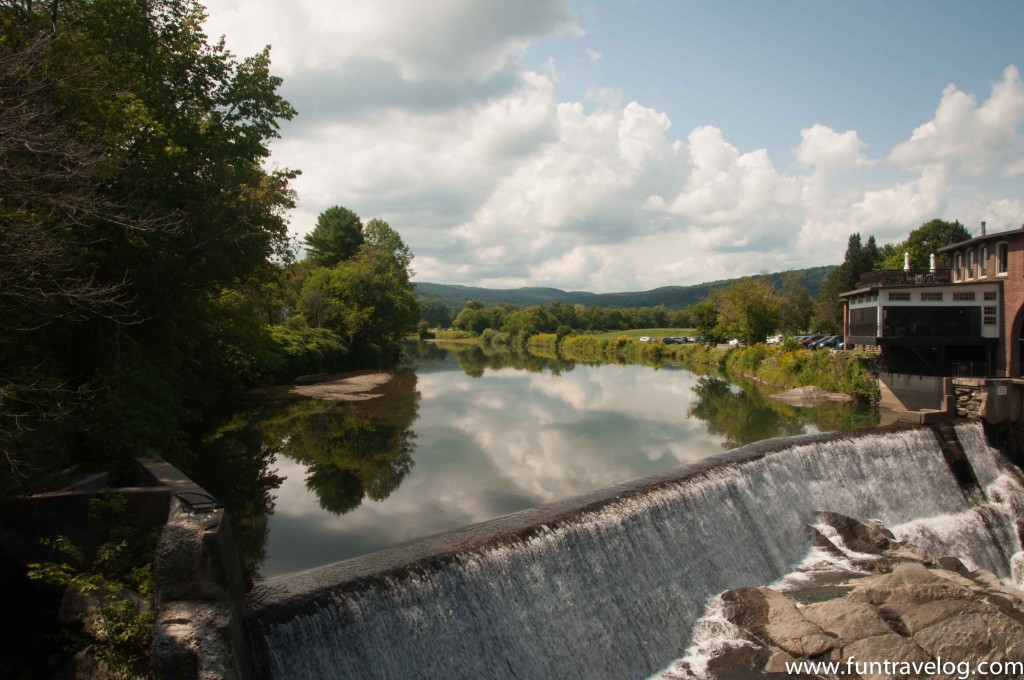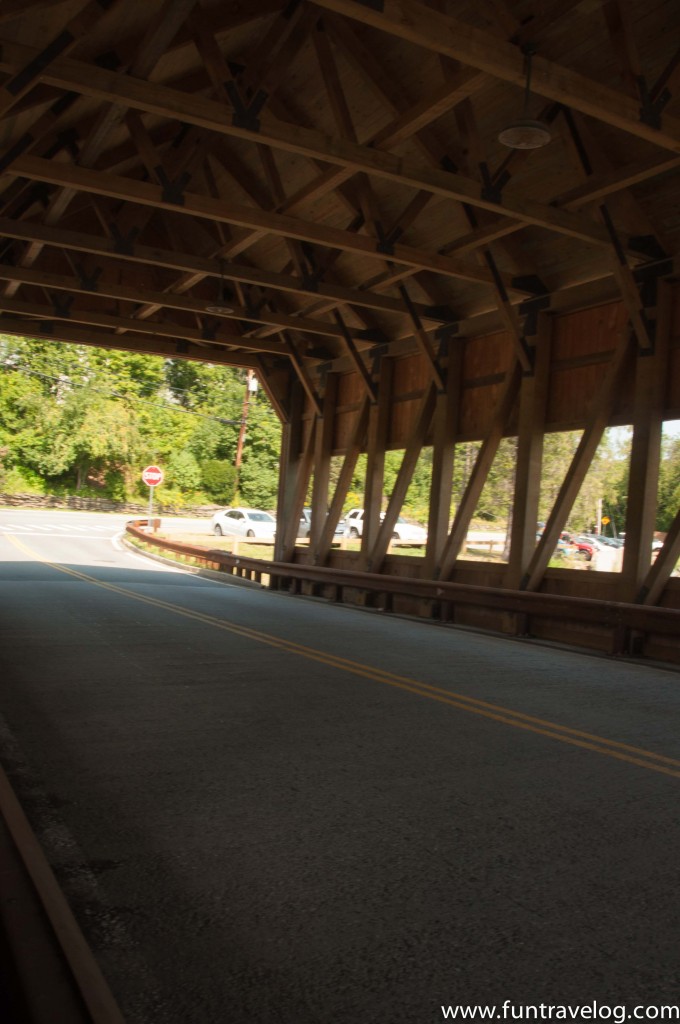 A favourite moment of mine from the journey was while we were relaxing outside the glass factory by the river. The sunlight was stark, a gentle breeze blew and the bank was dotted with wild flowers swaying in the wind. This simple moment played for a while in my mind and will continue to remind me of Vermont's little pleasures.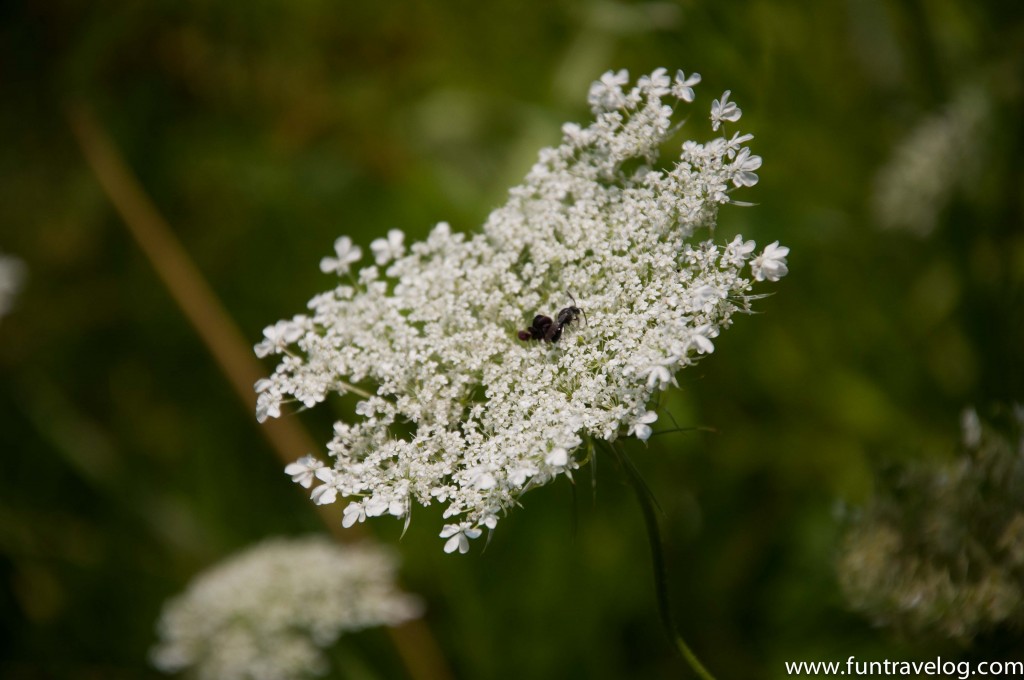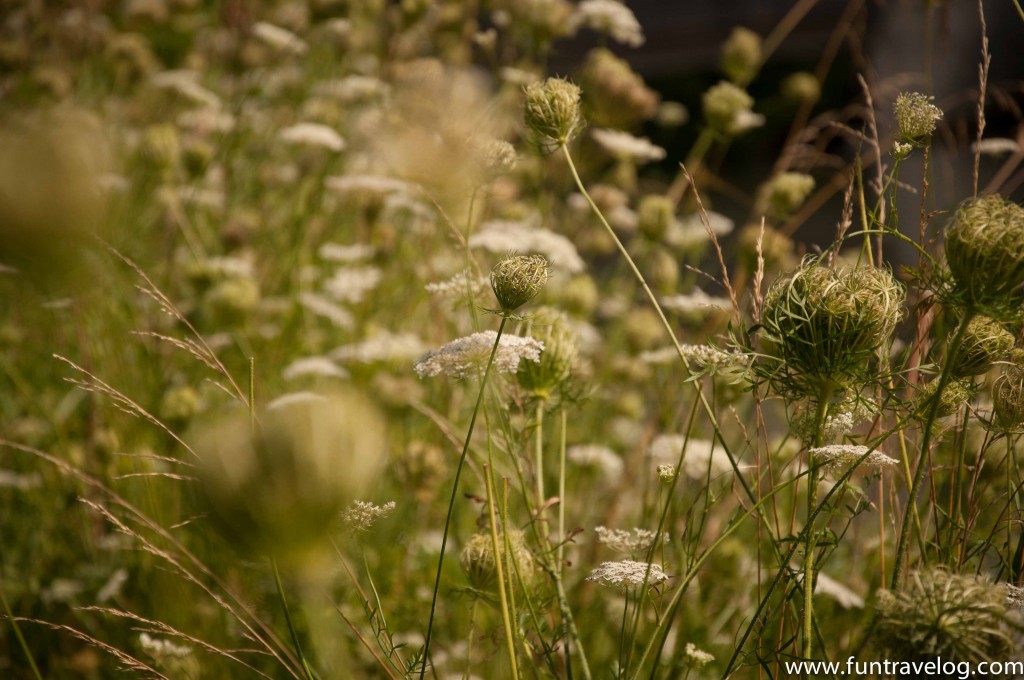 Vermont Weekend Getaway Map
Pin Away
Save