Mexico's Riviera Maya has every reason to be sought after. 365 days of sun, sand and sea makes it a desirable holiday destination during the winter months up north in USA and Canada. But we were hoping to avoid the glitz of all-inclusive resort towns and escape to the relatively small beach-facing town of Tulum. Four days in this boho, backpacker friendly town seemed like a good idea for our last holiday for this year…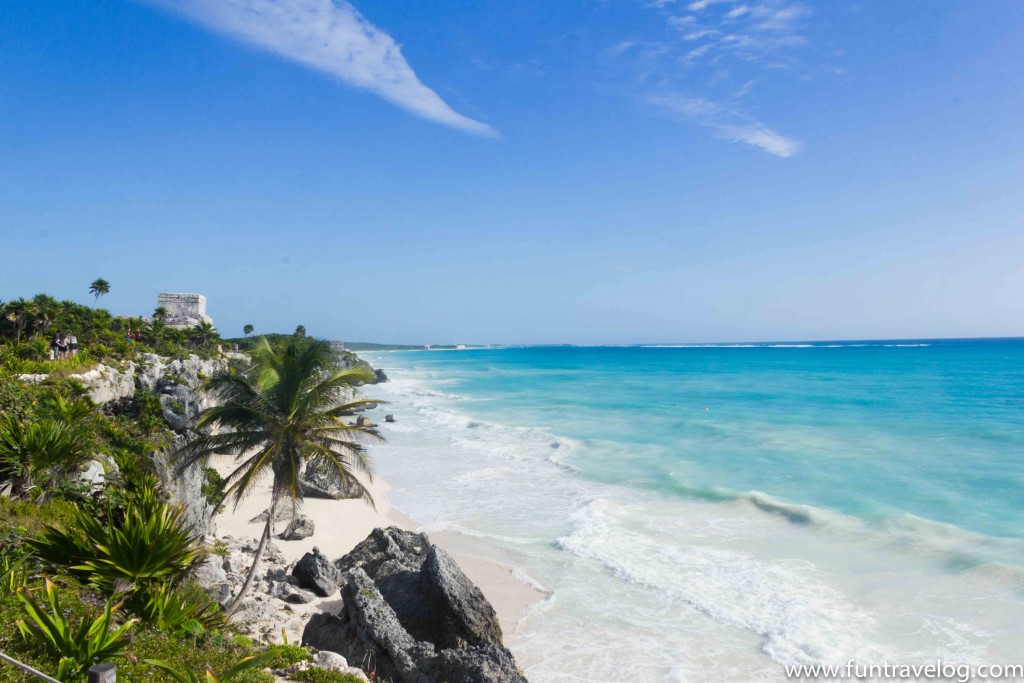 Except, it turns out that more travelers are discovering Tulum, but the tourism industry here hasn't kept up in pace with this growth. Here are a few things to know before you chase the beach and tranquility on this side of Mexico:
Stay
Tulum is a small town. The locals refer to its beach area as playa and the town as pueblo. Access to the beach makes a stay in the playa region naturally more expensive. Worth it? You bet!
While the playa and the pueblo region are only a short drive away from each other, there are few pros and cons to staying on each side. Staying on the playa gives you better access to the beach, but makes the meals more expensive. The pueblo on the other hand is slightly far from the beach, but has several inexpensive restaurants and street food carts making it cheaper for long term stay.
Since we were in Tulum for just four days, we preferred to stay in the playa to be close to the beach.
The playa is a strip of beach with a driving road separating it from jungle. Beach facing cabanas and cottages in the playa are more expensive than those in the jungle.
Looking for a budget stay in the playa region can be tricky, but we managed to save $80 a night by choosing to stay in a jungle cabana instead of a beach facing one. Our room was quiet, spacious and rustic chic (check it out below!). PS: we did meet a few iguanas outside too.
This side of Mexico is underdeveloped compared to Playa del Carmen or Cancun and electricity consumption is limited. We could access electricity from 5 pm – 8 am in our room and frankly, it wasn't much of a concern since the reception area had continuous electricity all day.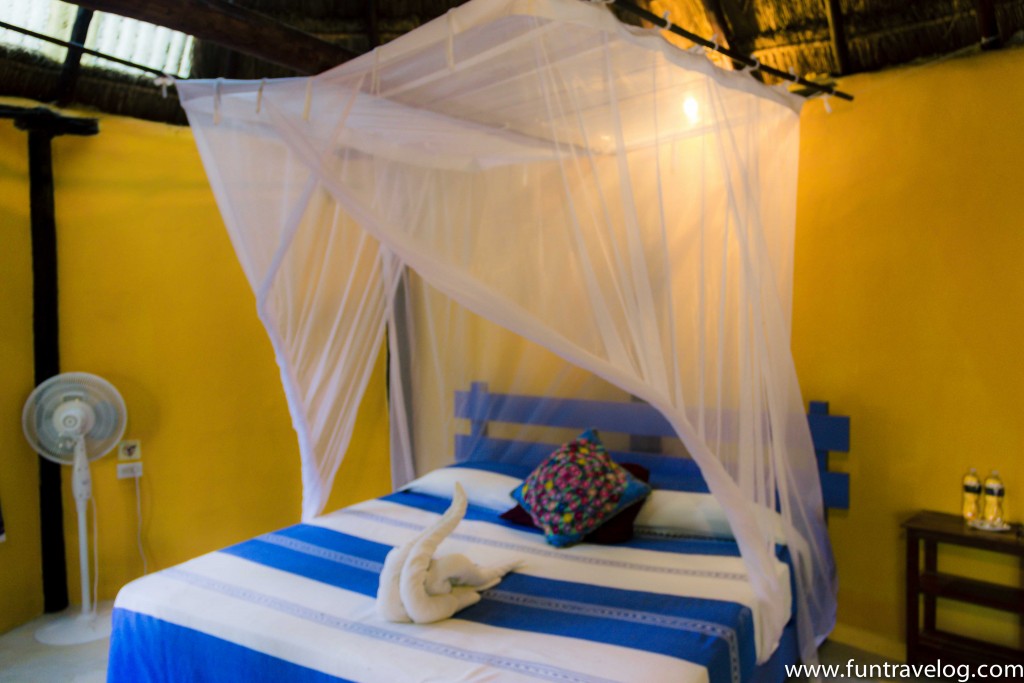 Transport

There are six ways to travel in and around Tulum – bikes, bicycles, rental cars, Ado buses, collectivos and taxis. But not all modes of transport are available on every route.
As travelers, we are usually well planned before we visit a destination. But this time around, we decided to keep our options flexible so that we weren't bound to a single mode of transport. (It's a beach, plans change)
Cancun is the closest airport to Tulum and is a 2 hour drive away from the town. For airport transfers, one can use Ado buses, taxis or rental cars. There are no direct buses from Cancun to Tulum and one has to change buses in Playa del Carmen. In Tulum, the Ado bus stops at the Tulum ruins and at the main bus station which is in the pueblo.
We bought tickets to Ado buses on the spot from Cancun airport and it was quite easy to find them in the parking area. There's a bus departing from the airport to Playa del Carmen frequently and timetables are available on their website.
There are many ways to get around in Tulum. One can rent bicycles, bikes, cars or use taxis. The approximate costs as of November'16 are:
Motorbikes: 480 pesos per day
Bicycles: 100 pesos per day
Car rental: Depends on pick up drop off and the chosen car rental agency. Could be around $45 a day, as quoted by our hotel.
Taxis: The government has issued rate cards that all taxi drivers carry, but be prepared to bargain. On an average, we paid 70-80 pesos from the pueblo to our hotel in the playa and vice versa.
My poor riding skills prevented us from renting bicycles 🙁 and we figured that our trips to town may be unplanned – so we chose to use taxis to get around and walked on the beach to get to nearby restaurants.
Day trips: Depending on distances, one can avail any of the above mentioned transport modes to get to ruins, small towns or cenotes. Along with those, there's also the option of Ado buses and Collectivos (shared vans) that ply on certain routes. Both Ado buses and collectivos can be accessed from Tulum town.
After testing the waters on the first couple of days, we managed to strike a good deal with a taxi driver to take us to the ruins and a cenote on a day and drop us to the airport on our last day. After all, growing up in a country that loves negotiating has its perks 😉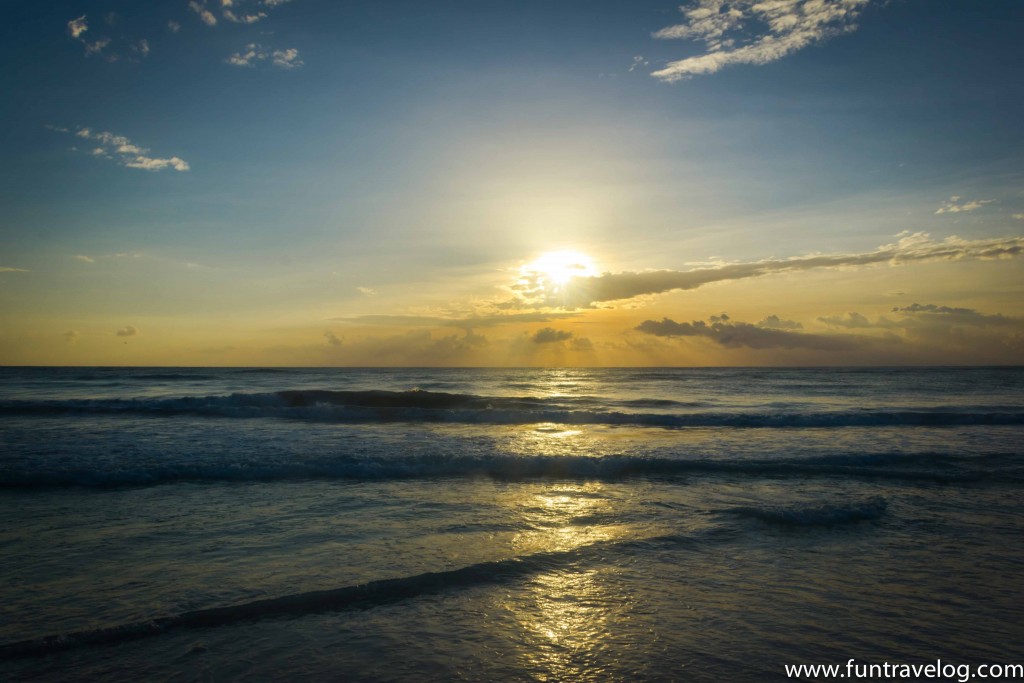 Eating Out
Tourism has only begun to boom in Tulum, and the restaurants in the playa are starting to cater to a global palette. The region is rich in local produce and as vegetarians we thoroughly enjoyed the quality of fresh food, both in playa and the pueblo area. We found a surprising number of delicious local restaurants in the town that were highly inexpensive compared to the ones in playa. Check out our list of some of the restaurants serving great vegetarian fare in Tulum.
Many restaurants on the playa don't publish their menu prices online, so walk around, check out prices and then make a choice.
It is cheaper to eat in the pueblo region.
If you're visiting Tulum for a short time like us, avoid drinking house water. Most restaurants offer bottled water for a price and some hotels include bottled water in their rooms too.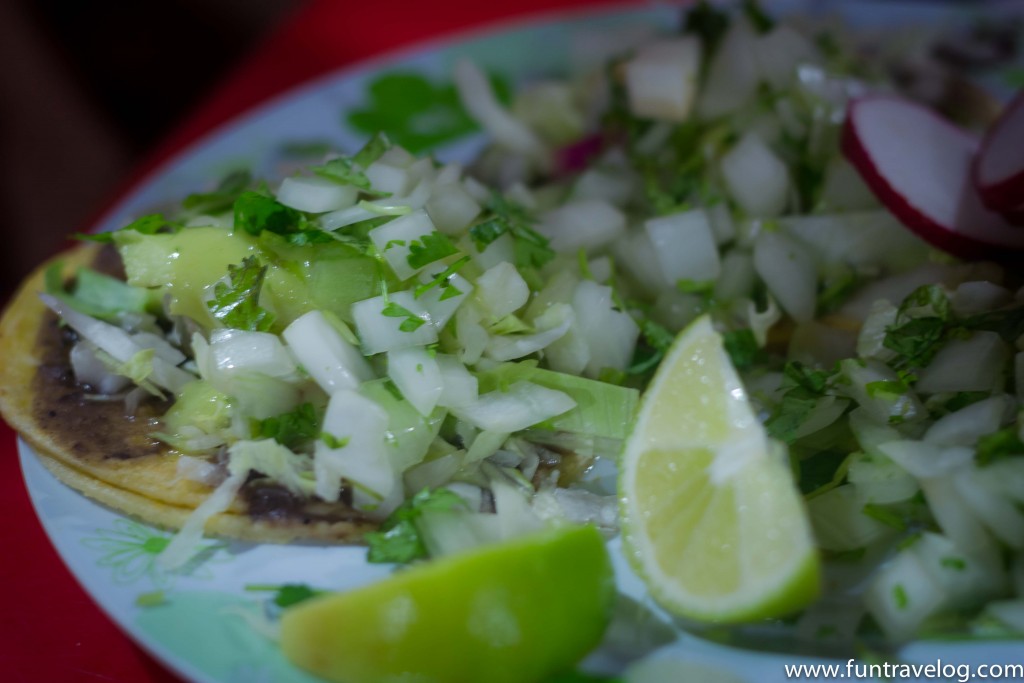 Money Matters
Carry pesos or USD – credit / debit cards are accepted in very few places.
If withdrawing money from an ATM, try finding one that is inside a bank. The Tulum playa has several standalone ATM booths but it's always safer to withdraw from the banks in Tulum pueblo (eg: Scotia Bank) as it is less likely that the booths in those banks will be compromised. Remember that your bank may charge a fee for using your credit / debit card in a foreign bank.
Shopping
The nearest supermarket to Playa Tulum is Chedraui. Another supermarket is San Francisco de Asis which is in town, only a few feet away from Chedraui.
We walked into Chedraui with the hopes of buying Mexican chocolates but found American chocolates being sold in abundance. So we walked out with coffee, hot chocolate, cooking chocolate bars and spicy Mexican savory snacks 😀
If you plan on visiting a cenote or snorkelling in protected beaches, be sure to buy biodegradable sunscreen.
There are various stalls selling local handicrafts and products near the Tulum ruins and in the playa region – but souvenirs are cheaper in the small shops in town.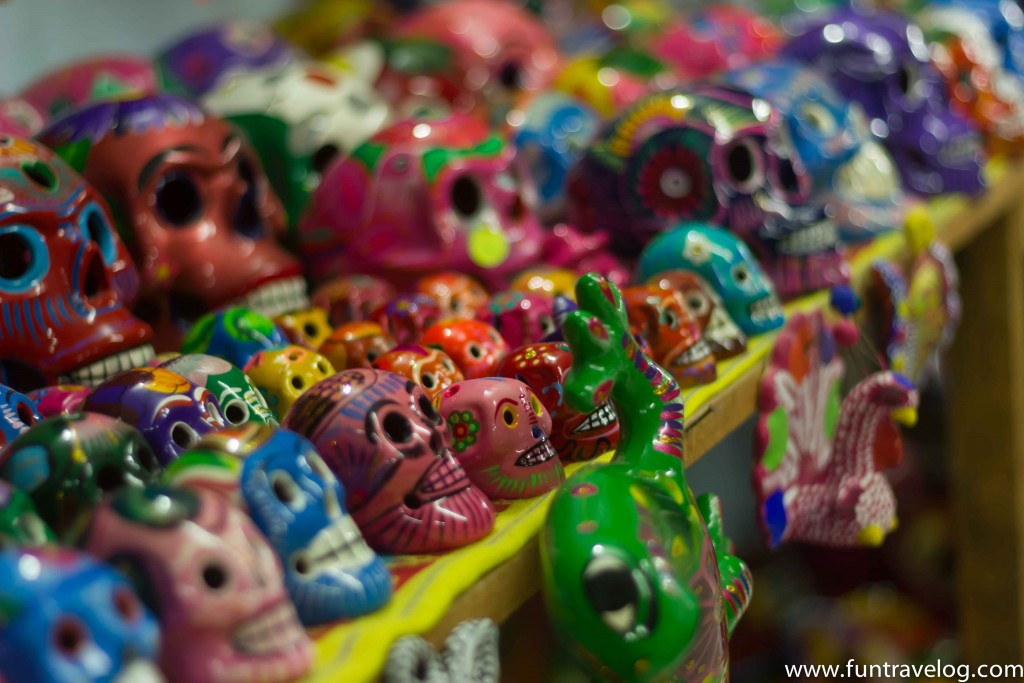 Safety
Safety in Tulum was never a concern, at least for the time we were around. There are police vans and guards monitoring the playa and pueblo areas for everyone's safety. In-fact, we walked around in the evening in both the playa and pueblo areas and didn't face any trouble.
Many people are concerned about renting a car in Mexico, and though we didn't rent one, we found two posts by Peanuts & Pretzels on driving and renting a car in Mexico to be useful guides.
Up for a long read?
Brittany Thiessen has a comprehensive blog on visiting Tulum, that was super helpful for us.
Retro Penguin has a bunch of posts on Tulum and her visit to cenote Nicte Ha totally inspired us! Unfortunately, the cenote was closed on the day we visited 🙁
Need more information? Hit us a note!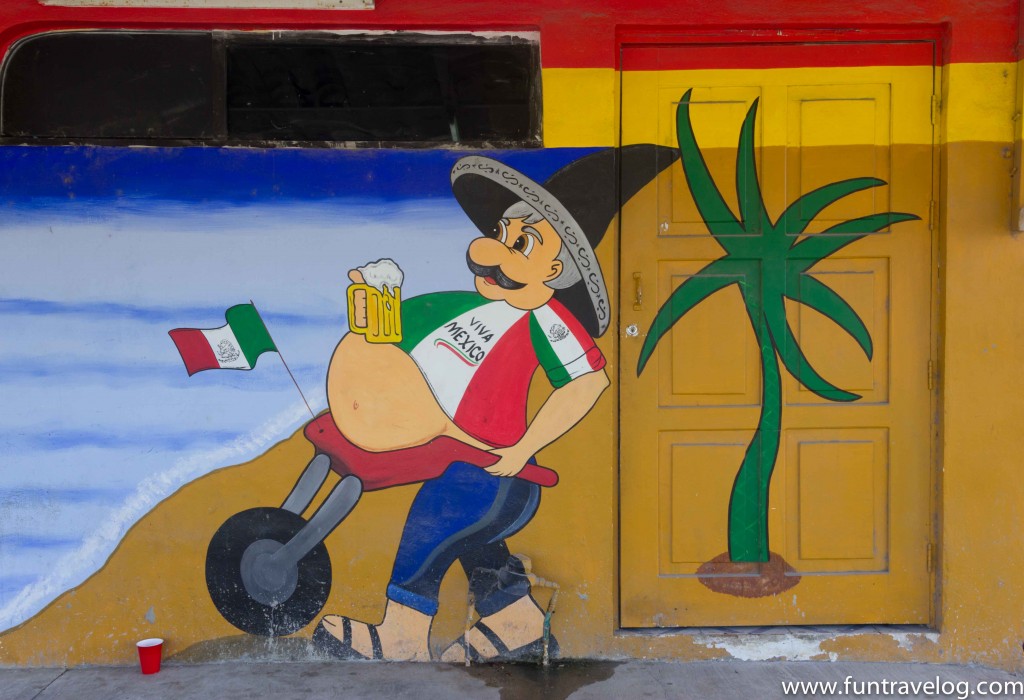 Save
Save
Earn some good travel karma, share along