2016 is the year Supriya and I touch a new age bracket. While *that* has nothing to do with our plans for the year ahead, we do feel more informed about making certain decisions and knowing when and where to splurge. Getting into a routine in the States (Supriya in grad school for now and me at work) has also made us value short getaways. Being here also gives us a chance to gain new experiences. That's kind of how our brief snowmobiling trip was planned. PS: it was also our anniversary!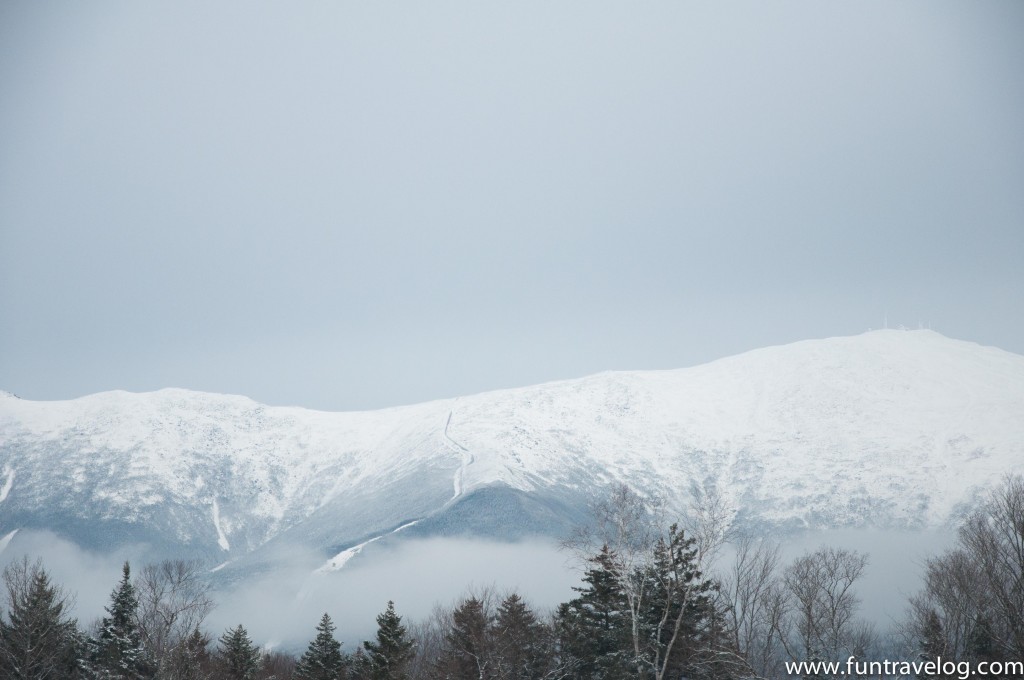 I can't stress enough on how lucky we feel staying in Boston and having opportunities galore for weekend getaways. The change of seasons is so distinct in the New England area that we literally count days towards our next flightless vacation. A few months back we poured our hearts out on how beautiful the Fall season is. This January, with white powdery snow (I like the way locals call it as 'white powdah' ) all around, we drove to White Mountains region in New Hampshire to try our hand at snowmobiling for the first time. We coupled that with a stay in a classic American B&B.
Besides being a delightful experience, I thought I'd share some useful tips just in case you're planning to ride before the snow gives way to the Spring and its cherry blossoms 🙂 .
1. Before I sat on the bike, I was hoping that the ride will be smooth. I have ridden a motorbike for many years along with driving a car, which certainly helped but snowmobiling is a slightly different ballgame. While there is lot of hard work put in every day during the season to keep the trails paved, the ride is eventually dependent on snowfall. There are patches where you have to ride on minimal snow that makes the ride a bit rough.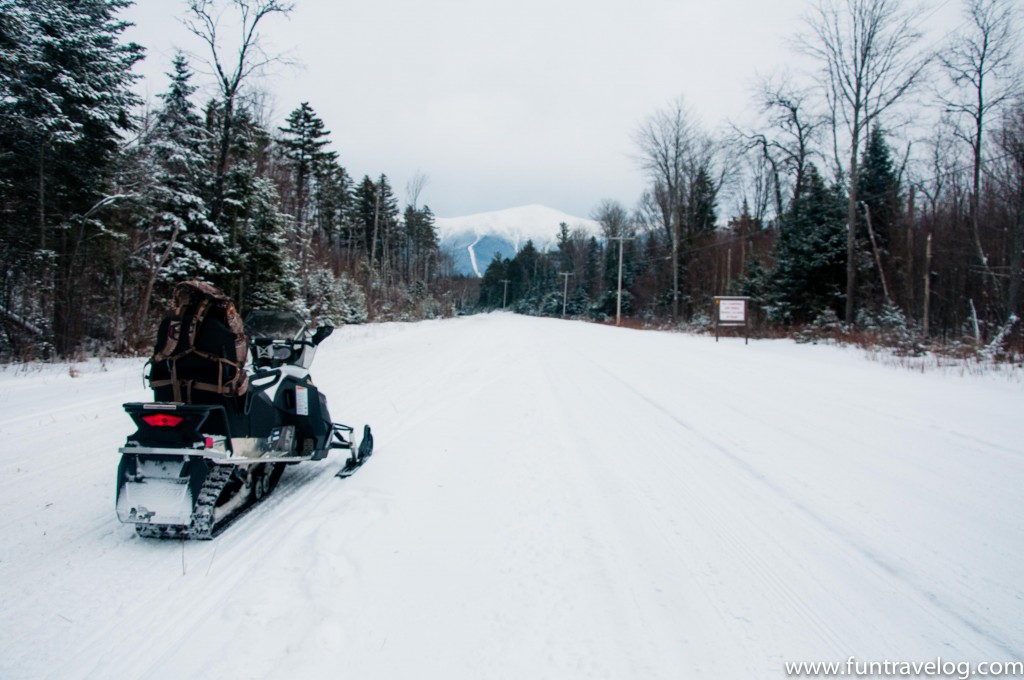 2. We took the double snowmobiling tour and the bike was accordingly bigger (and heavier) than it is for a single rider. Proper attention is required when the guide explains the balancing act, especially while making turns. Apart from me, Supriya as a pillion had to sway her body in my direction as we approached any curve so that it would be easier for me to make a successful turn.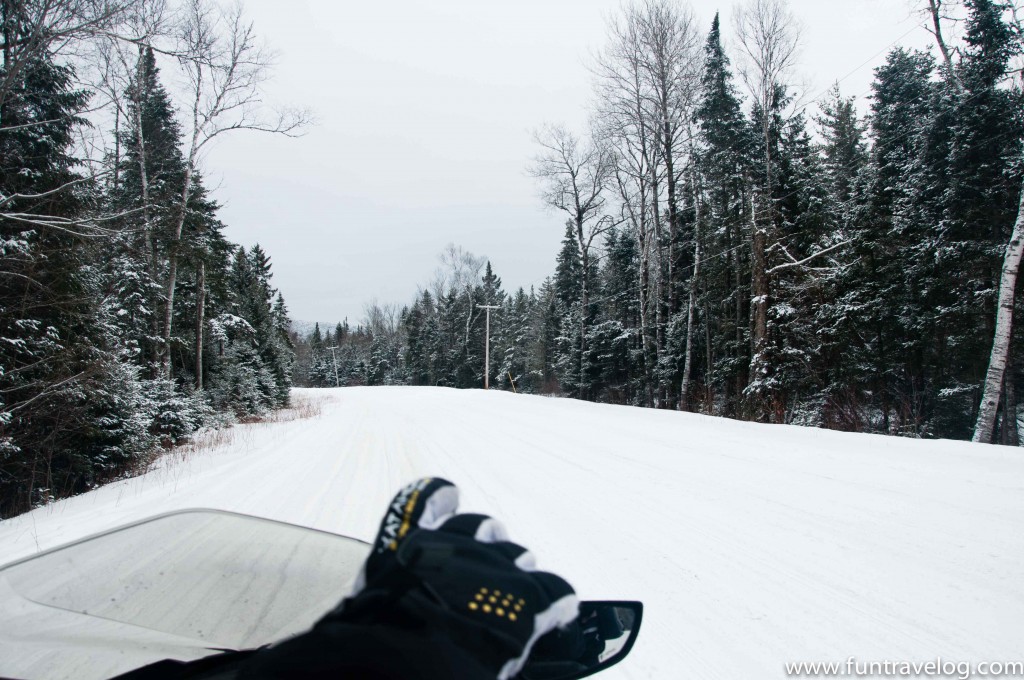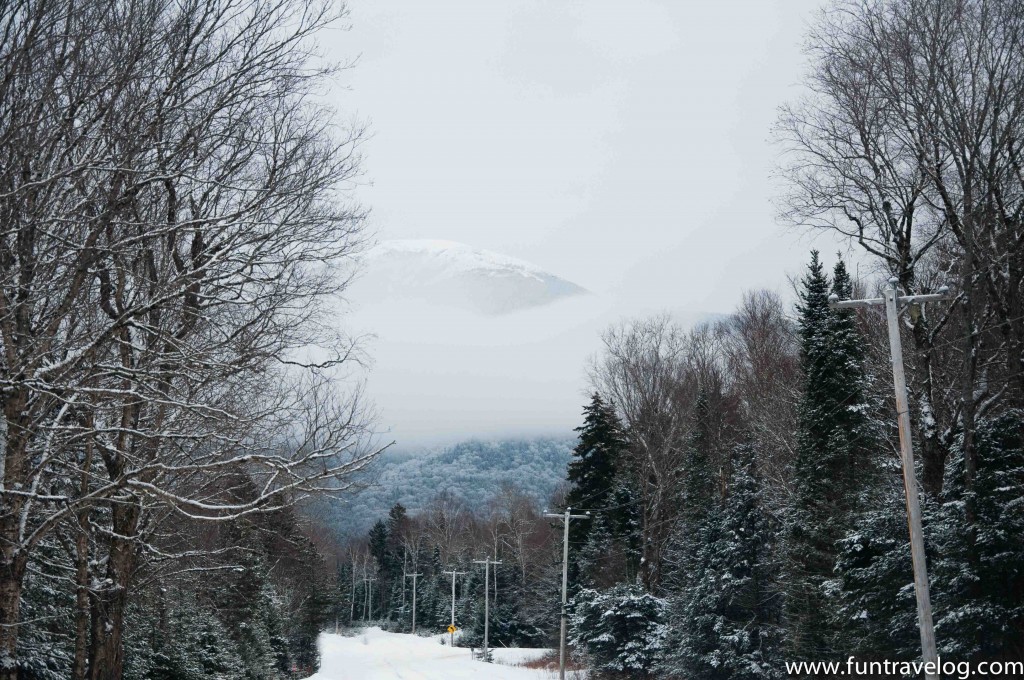 3. If you have any waterproof pajamas or ski attire, do take that along with snow boots. However chances are the tour guys will ask you to rent proper clothing if they feel it is needed. While the helmets were included in the price, we rented the the whole snowmobiling attire for $20 each. The owner was kind enough to reduce it by $5 once he found out that it was our anniversary (hah!).
4. Make sure you know how the different aspects of your bike operate before hitting the trails. Especially how to start, stop, give hand directions to riders coming from opposite direction etc. Our guide was extremely patient and awesome at answering our questions.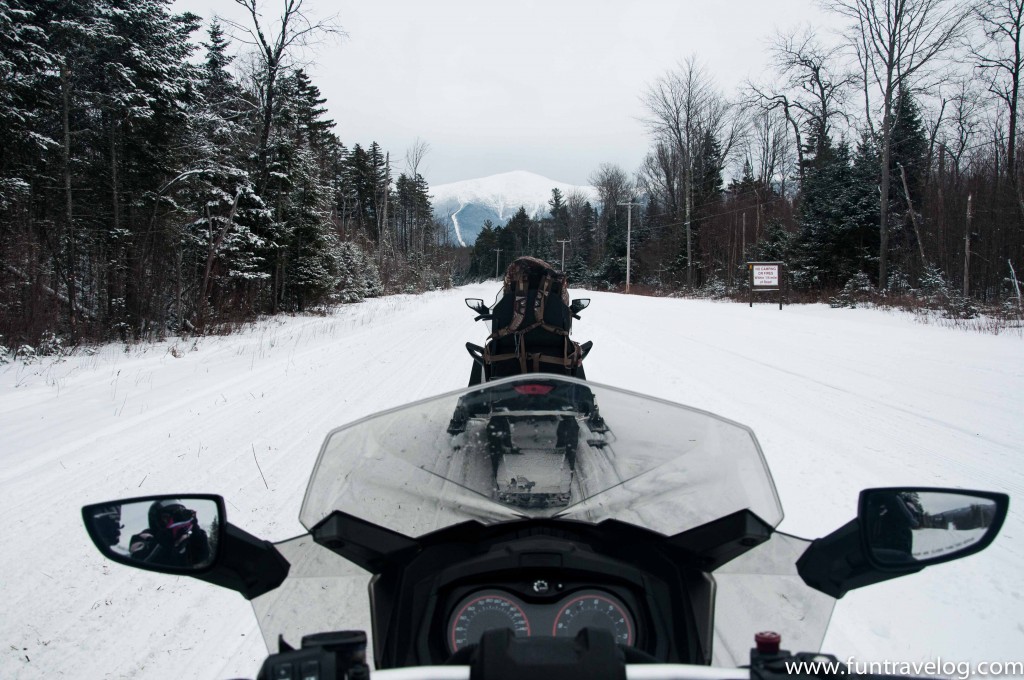 5. It is possible that you will be taking the tour in a group along with the guide. While the guide will try to cover as much as he can in the allotted time, he/she has to adjust to the pace of the slowest rider. I am not saying drive fast to keep up with everyone else or very slow to be safe- but do the best you can. There are lot of mishaps which happen in such tours and the bikes do not come cheap. Of course you can buy insurance to limit your liability but why warrant such an incident. Drive responsibly and whenever in trouble, as our guide mentioned, don't panic but just be calm and stop.
6. We took our DSLR which Supriya used to the hilt whenever we made pit-stops. However we kept our smartphones in the car since it was not convenient using them with thick gloves. Our guide knew we were very keen to take photographs and made sure we stopped at some of his favorite 'hidden' spots like these below 😀 .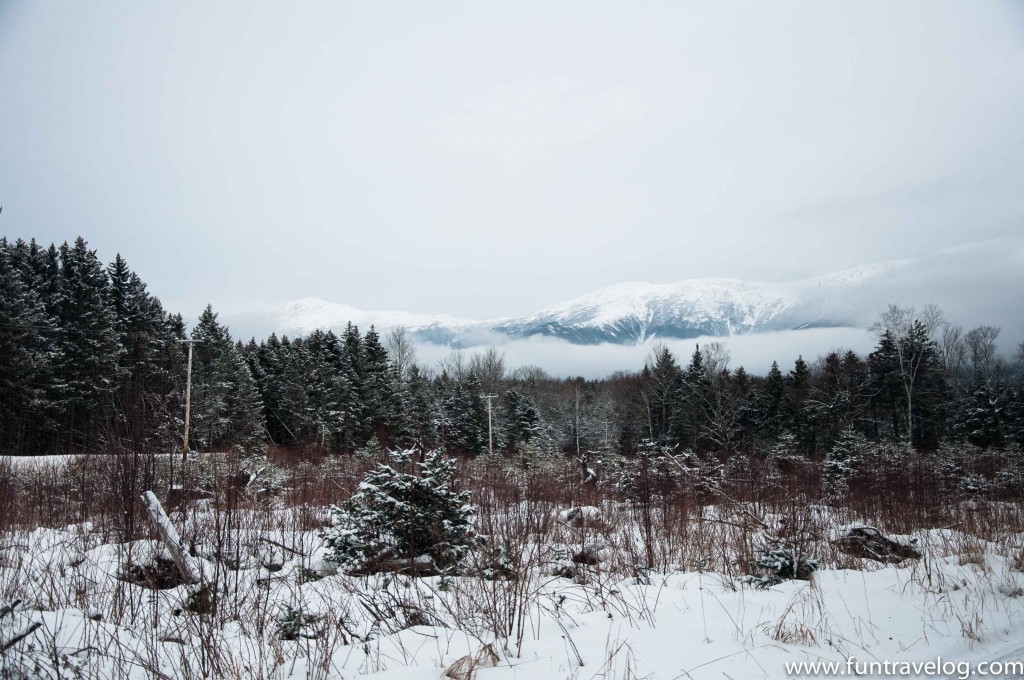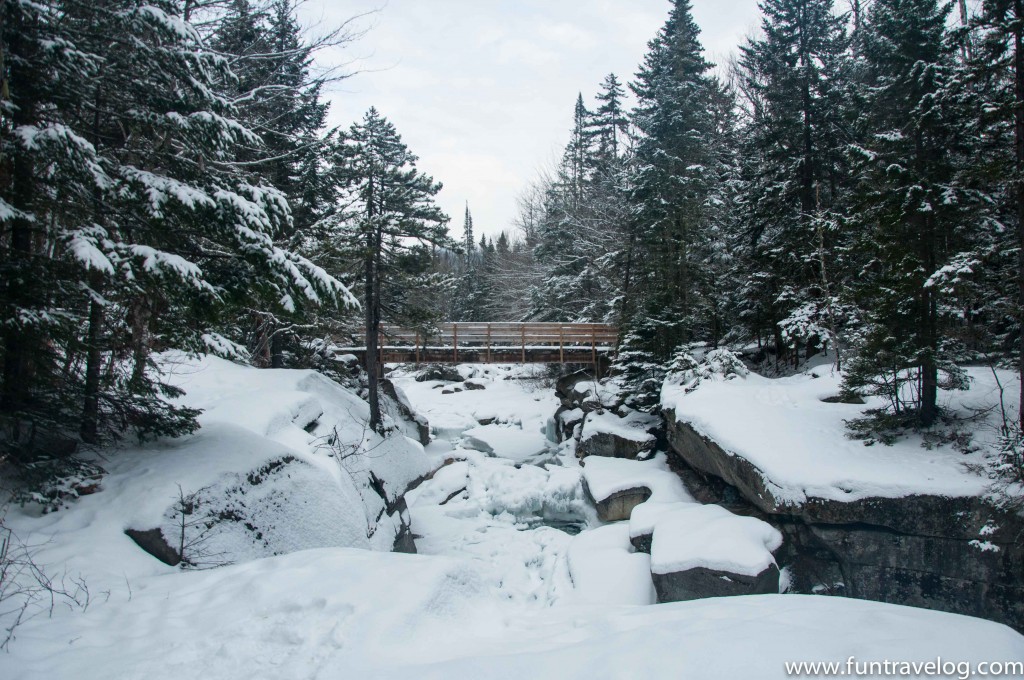 We took this tour with our friends at Northern Extremes who are really passionate about what they do and highly recommend them. Our guide was Olin and if you have read this far, you know we'd highly recommend him too! Oh by the way, we thank our lucky stars as we ended up having a private tour for those two hours as no one else had signed/showed up for that time slot. No wonder Olin said, 'go at your pace and feel free to stop anywhere you like, and don't worry I will be around you guys'.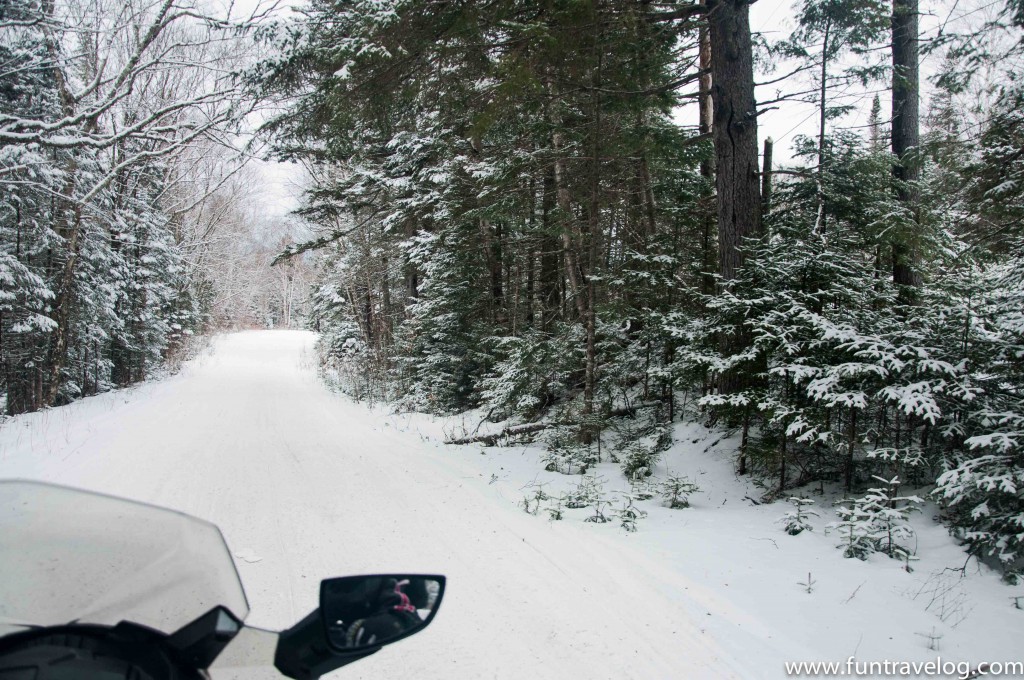 After cruising in the woods for two hours, all I needed was to head to a cozy lodge and rest my muscles in a hot tub. That's where Cranmore Mountain Lodge B&B came in. If you have been following us, you'd know that we love staying in small, boutique places with a touch of personal attention. Soon after we reached the lodge, our hostess checked us in and told us to help ourselves to hot cocoa and freshly made cookies (mmm!). The lodge has a living room with plenty of books and DVDs. There is also a common room with a piano and guitar with a fireplace. Our ideal setting for a cold winter night! The rooms were smartly made with a neat use of space. We stayed in the Parisian room which had a cute charm to it.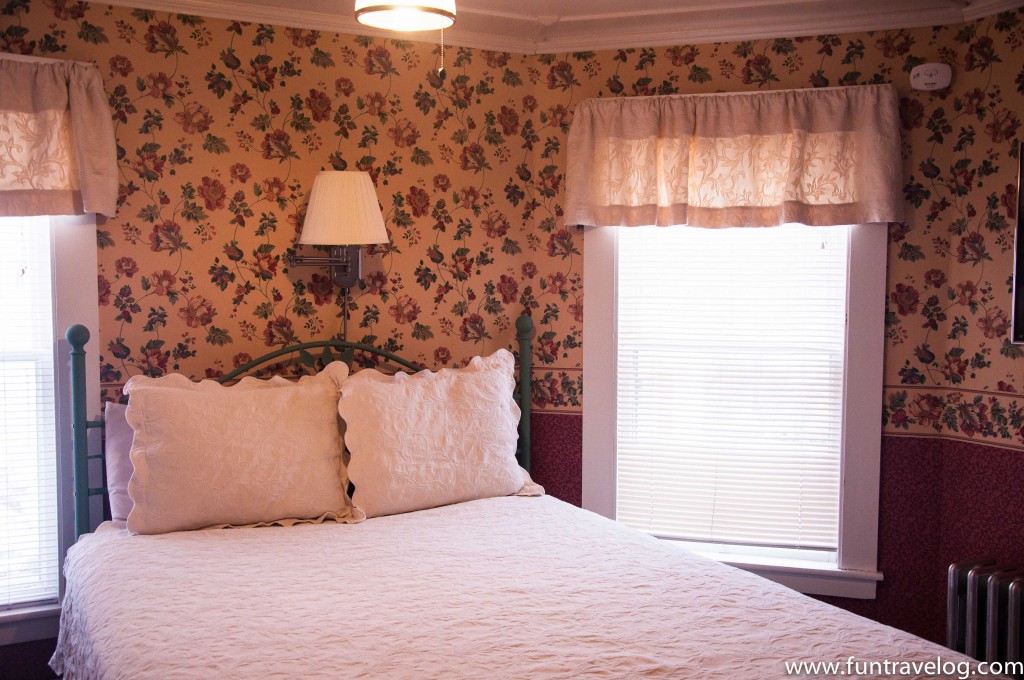 Following tons of online ratings, we headed to Moat Mountain Smokehouse & Brewing Co. that evening and tried their spicy black-bean flatbread pizza! Upon return, we were greeted with the sounds of a lady playing the guitar in the common room. It all seemed like a perfect end to the day.
Cranmore Mountain Lodge had great reviews for their breakfast and we were anticipating a feast. The moment I had my first bite of their Mediterranean ricotta eggs with home fries, I was bowled over. The morning was blessed with warm sunshine and the hosts kept the coffee (made from freshly sourced beans) free flowing. It was very sweet of them to put candles on our breakfast to celebrate our anniversary.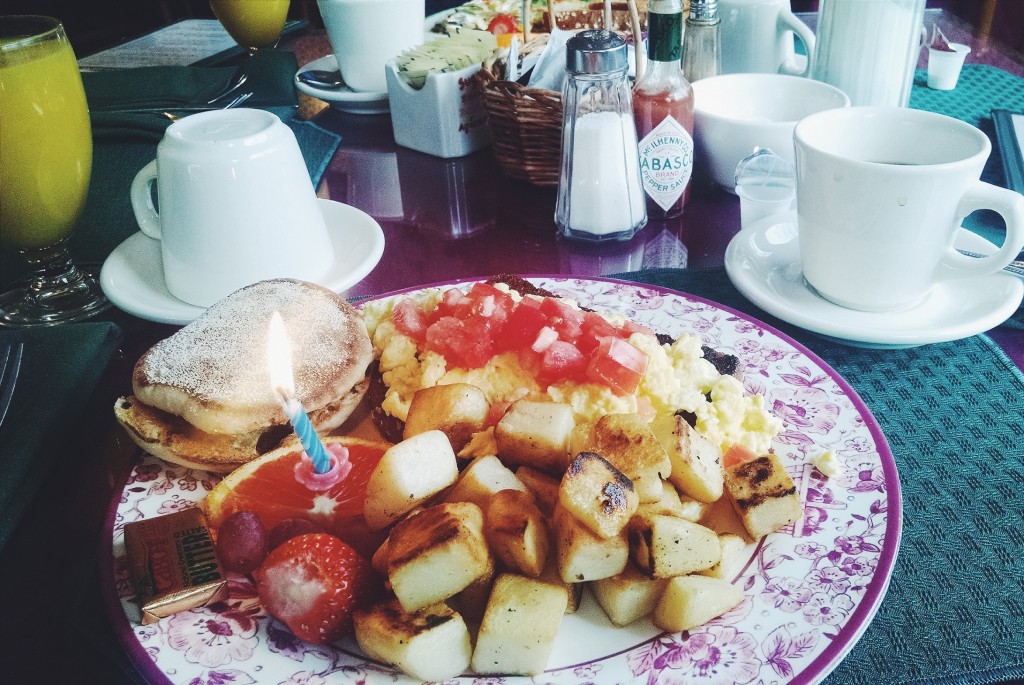 If we ever head back to North Conway in NH, we know which door we would be knocking on again!
Have you tried any winter adventure sport? Tell us about it!
Save