Last Updated on
October is an exciting month to be in New England. The days begin to shorten but glorious sunshine continue to fill our days with warmth and radiance. Leaves are on the verge of changing color and the air is cooler. The region celebrates this change of season by fusing local activities with festivals. Apple, pumpkin picking and cranberry harvesting are huge draws among local and domestic visitors. But as a nature lover and photography enthusiast, my favorite activity is leaf peeping aka looking for scenic locations that are rich in fall foliage.
Having visited a few such spots last year, we'd been eagerly planning a getaway to the state of Vermont, known to be at its brightest in this season.
Leaf peeping is a mix of spontaneous planning and careful tracking. Because the foliage colors depend on nature's will, sighting depends on smart timing. The weekend we picked turned out to be a cloudy one, but that only made the colors appear richer. Moreover, while researching, we found that back roads and dirt roads are hidden Fall gems, replete with stunning foliage displays. So here are six suggested driving routes in central Vermont, that will help you discover the magic of Fall:
1. Stowe Hollow Road, Grandview Barn, Gold Brook Bridge
This is a long stretch of road that begins once you enter Stowe town. Look out for the Gold Brook Bridge on your left if you're driving up north. Take a right turn into the road opposite the bridge. You'll find the barn as you keep driving on. The section of Stowe Hollow Road leading up to the red color barn is especially beautiful with private farms and views of foliage covered mountains in the background.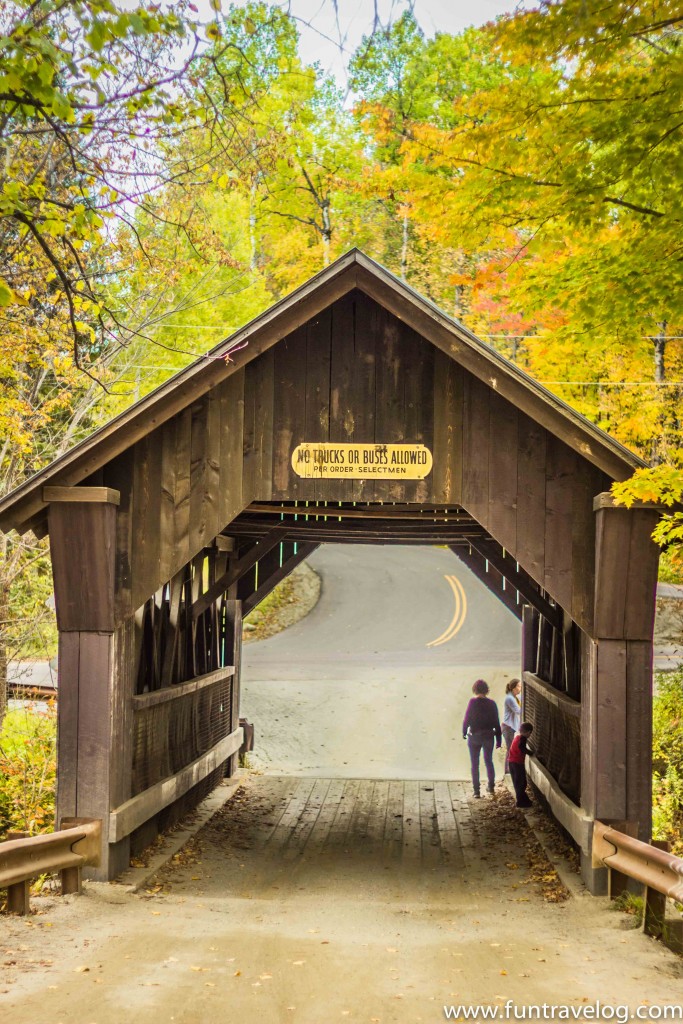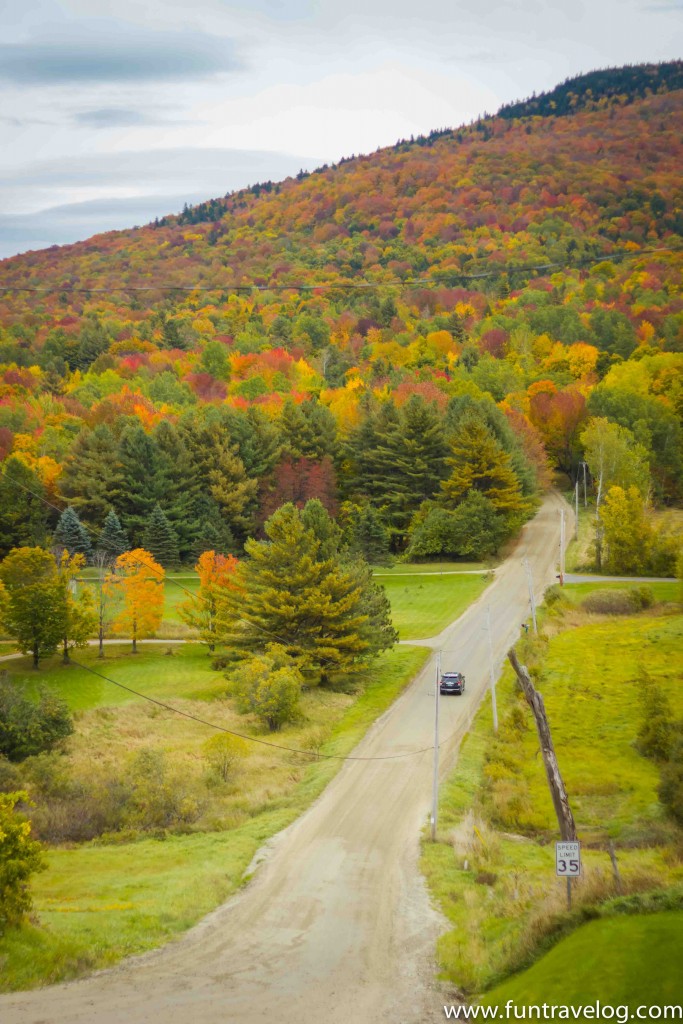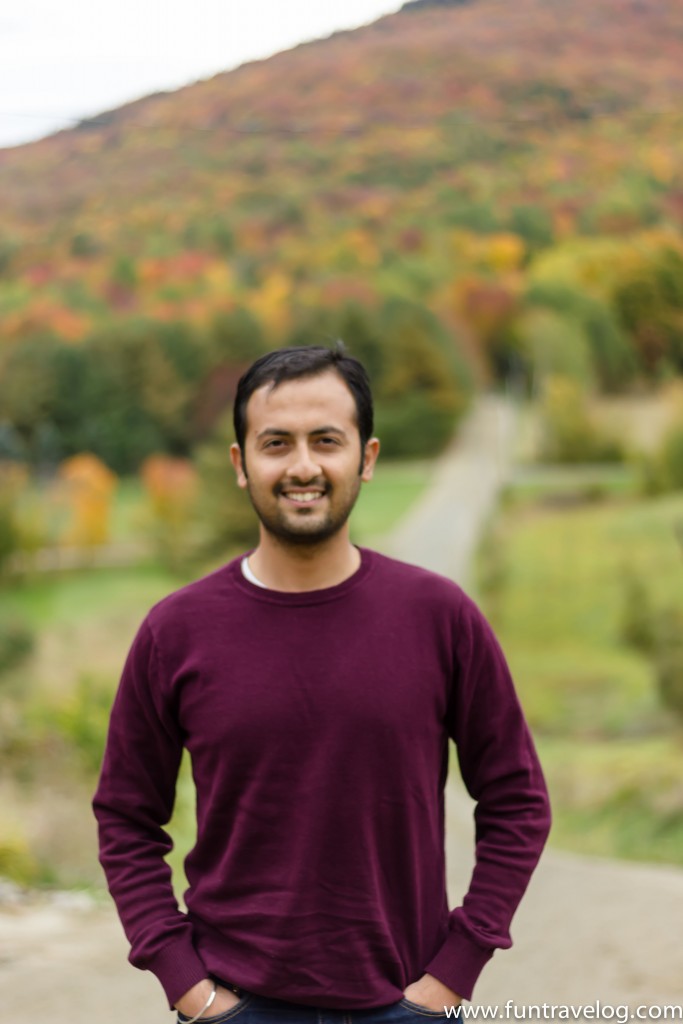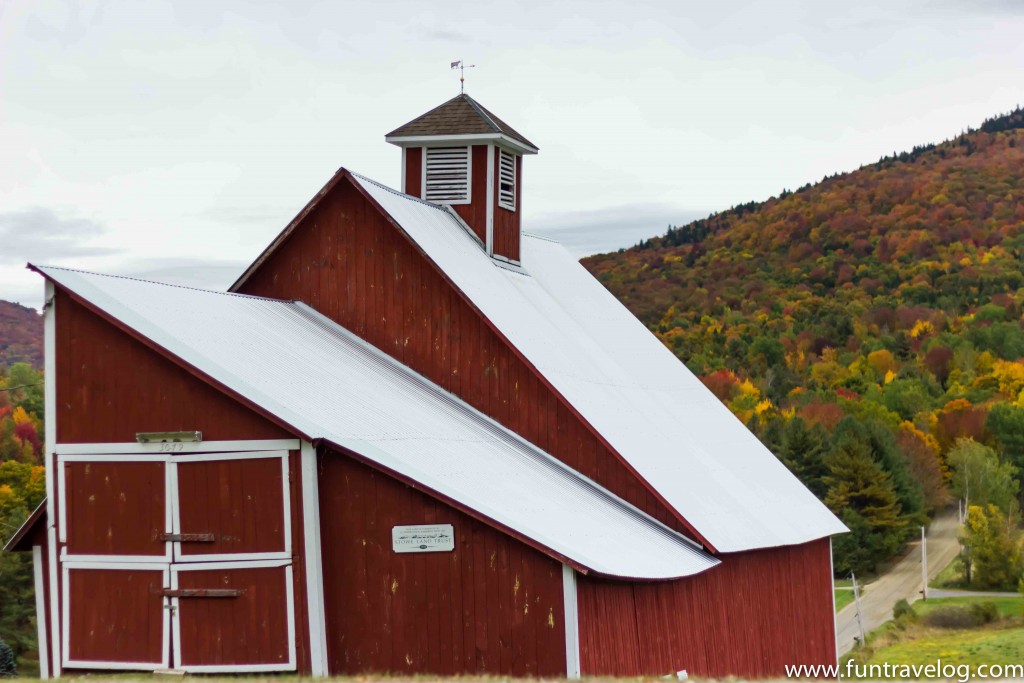 Tip: Drive through the dirt road right next to the barn. You'll pass by a few private properties that are off limits, but the sights are pretty.
2. Lake Elmore, Worcester
This is an alternative highway that connects Stowe and Montpelier that we're so glad we found thanks to the Tourist Information Center in Stowe. The distance is roughly the same as the main highway, but the views are wonderful. If you're departing from Stowe, continue on the historic Route 100 towards Lake Elmore. Look out for multiple photo worthy spots on this section of the route. Google Maps actually throws you outside private cabins near the lake – but just keep driving. When you're about to exit the narrow road, look to your right. A foliage covered road will take you to a spot with sweeping views of the lake. Perfect for a picnic, and zero crowds.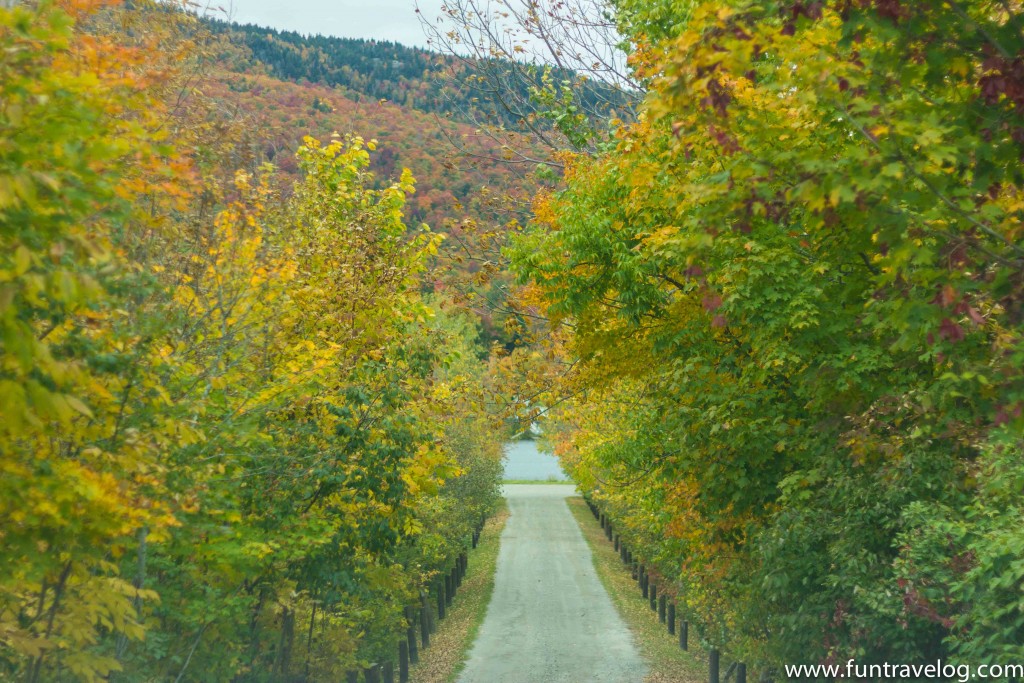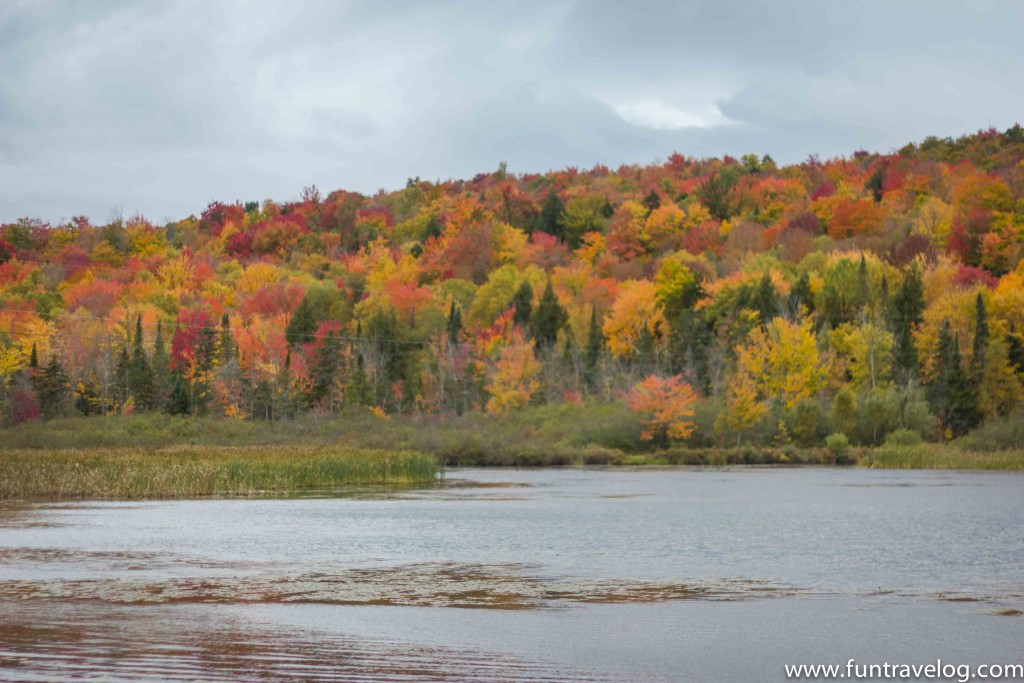 Set your GPS to Montpelier and drive further ahead through Worcester. You'll notice the Worcester range on your way as you cruise through a network free road that is bursting with colors.
Tip: This route can be done in the reverse direction as well. So you'd do the same thing driving north from Montpelier towards Stowe.
3. Sparrow Farm Road, Montpelier
I had read about this route in Happy Vermont's guide on foliage drives. Luckily for us, this drive was connected to the route from Worcester. We took a quick detour as soon as we found network and set the GPS for Sparrow Farm Road. Once we entered this road, we found a few people walking around, which was rare but understandable because of the sights that surrounded us. You'll cross a section of the farm with lush meadows and orange-red trees. We also spotted cows at a distance. To get to Montpelier from here, you'll be connected to North Street, which is a steep drive down or up depending on the direction you enter from.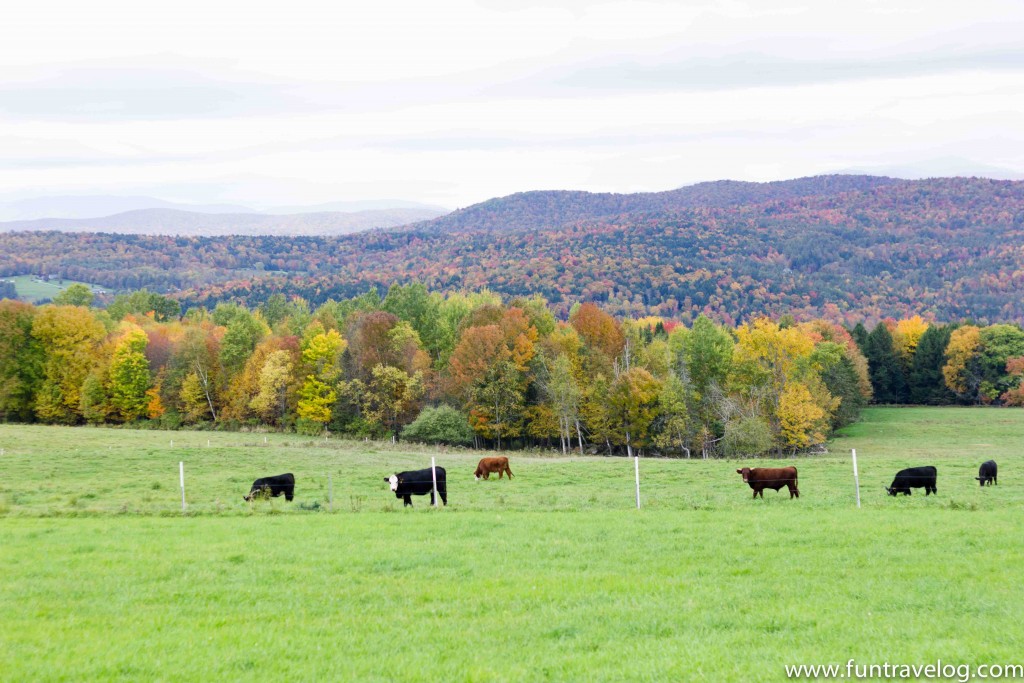 Tip: Get out and walk like the locals! Also, stop by at the Statehouse in Montpelier later.
4. Beaver Meadow Road, Sharon-Norwich
Imagine a never ending road with yellow trees and no cars or people. The trees form a natural canopy and leaves fall by your window as you drive along! Further south of Montpelier, this road connects the towns of Sharon and Norwich. The foliage on this route is dramatic. It's a spot made for portrait shots!
Tip: Stop by a small lake on the route, for a moment complete silence.
5. Sleepy Hollow Farm, Cloudland Road, Woodstock
You'll never find Sleepy Hollow Farm on Google Maps or your GPS! Enter Cloudland Road in Woodstock on Google to get to this location. This route is a photography lover's dream. Since we were driving from Norwich, the route took us through a red colored covered bridge called Taftsville, followed by a narrow stretch of dirt road by a river (again, very scenic). Cloudland Road begins with signs for farms and continues all the way up a mini hill. Fallen leaves and orange, yellow trees transform the road into a welcoming carpet. Keep driving along and the at the end of the road, you're likely to see photographers with tripods. Get off and look to your right – that breathtaking view is Sleepy Hollow Farms.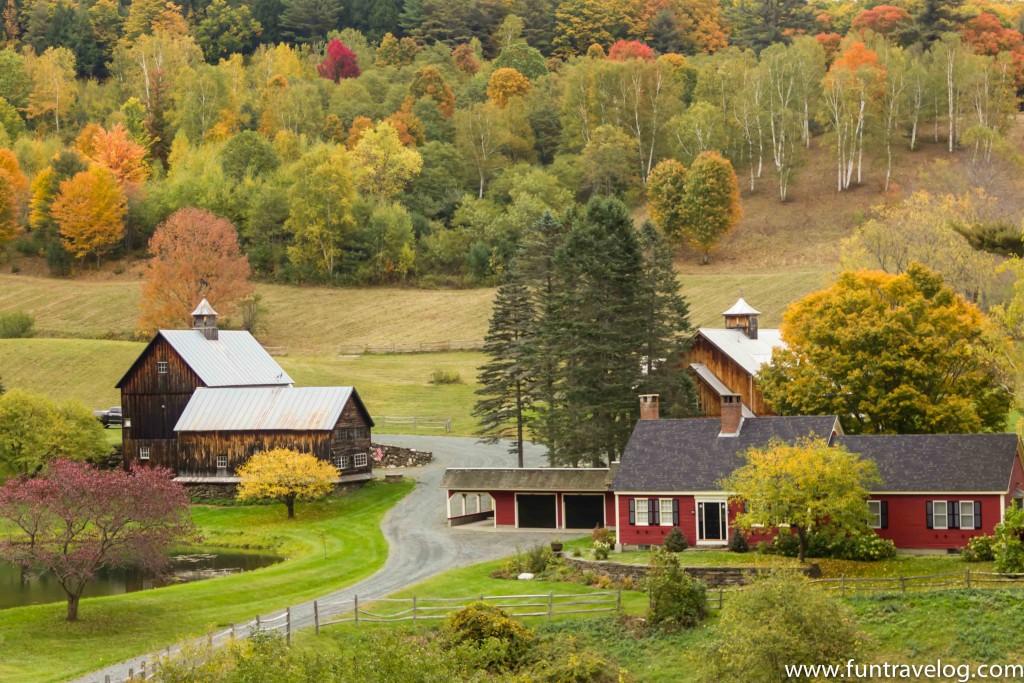 Tip: Stay! Soak in the views.
6. Jenne Farm near Woodstock, Jenne Road, Reading Hill
Fifteen minutes south of Woodstock, in the town of Reading is a dirt road leading up to the Jenne Farm. As you enter, stop your car and walk around. Panoramic views of hills, foliage and farms will leave you awestruck. This also happens to be one of the most photographed farms in New England. Drive through the winding road and the only souls you'll encounter are fellow travelers and some cows. The end of this road is connected to various private properties – again off limits, so turn around before you venture too far.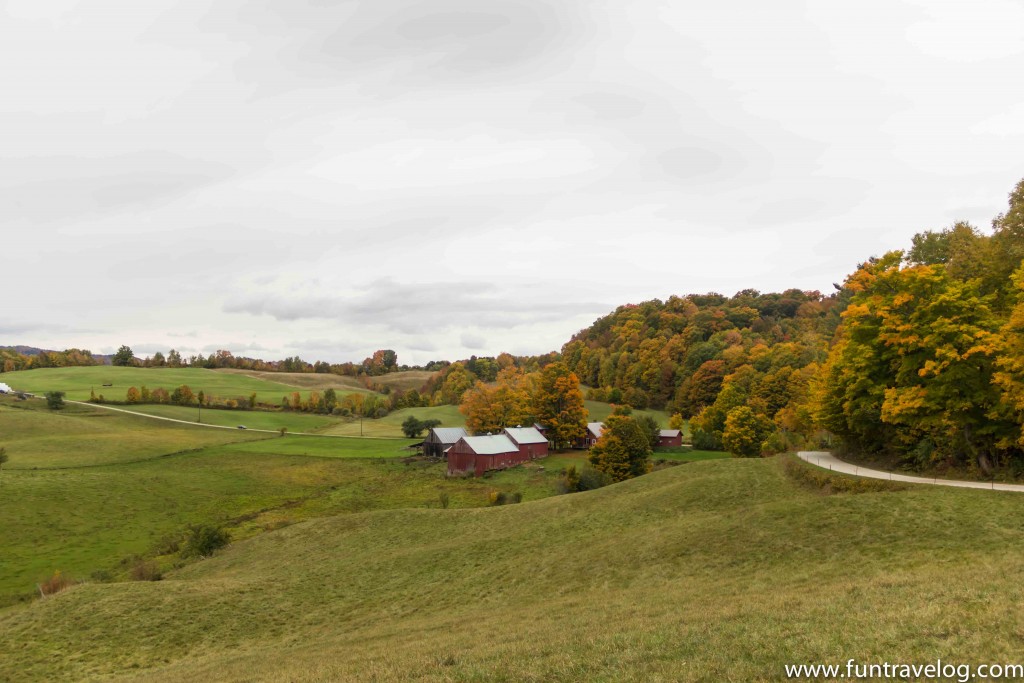 Tip: Look before you walk to avoid cattle poop! #truestory
Further resources on Vermont:
Happy Vermont: Erica Housekeeper's blog was my bible when I was researching driving routes. We found the Stowe Hollow Road, Beaver Meadow and Montpelier routes on her blog!
Steve Carroll's Photos: For general inspiration for Vermont. His photos have a few scenic spots labeled.
This site dedicated to Vermont was super useful in tracking the peak timing for the foliage.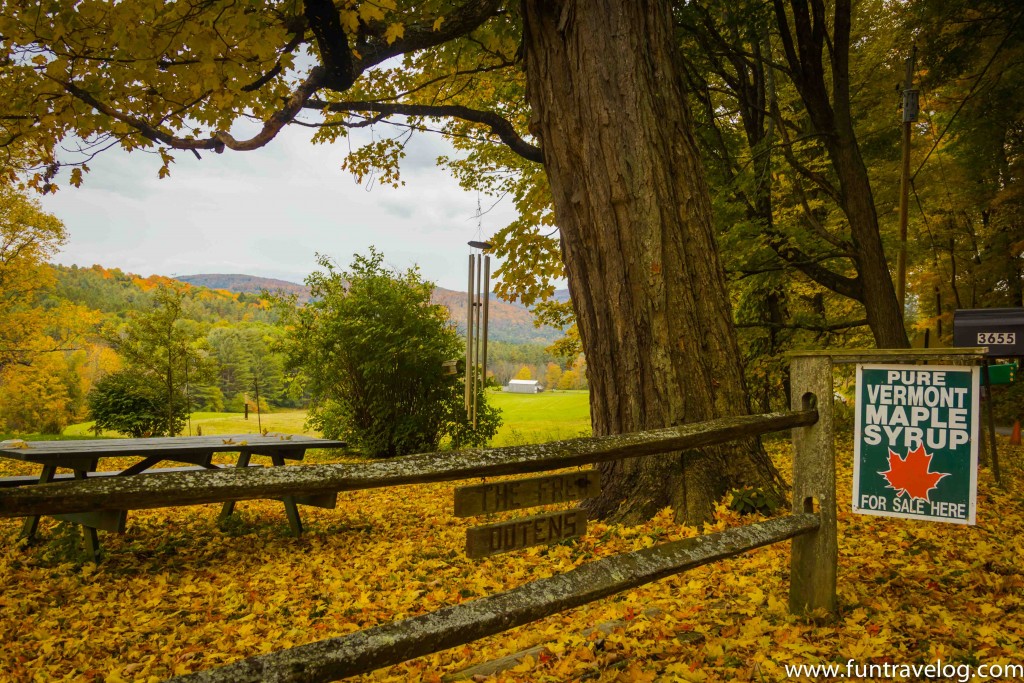 More leaf peeping ideas:
Look up this post we wrote last year about foliage in Berkshires, Western MA and suggested day-trips around Boston.
If you've been leaf peeping in another state or country, do share your favorite spots!
Save
Save
Save
Save
Earn some good travel karma, share along