As a couple that travels light, our biggest concern while planning our baby's shopping list was, funnily enough, all of the products that popular parenting sites suggested we would need for our baby. In all honesty, we grappled with the following questions:
Are most of those recommended must have items for traveling with a baby genuinely required?
How can we minimize the number of products we needed to haul along when we travel?
Packing smart > packing it all
While babies don't need all of this stuff, we as parents need to make our family travels safer, convenient, and smooth. We realized this after a year of putting some of our baby products to test.
Our hours of research spent on trying to find the most practical, long-lasting, and occasionally price-sensitive products have thankfully not been worthless. We've used and reused some items on our baby travel checklist and swear by them.
With the number of precautions that are necessary to take during Covid-19, it is all the more imperative that we travel smart. It also helps to keep our checklist for traveling with a baby on hand.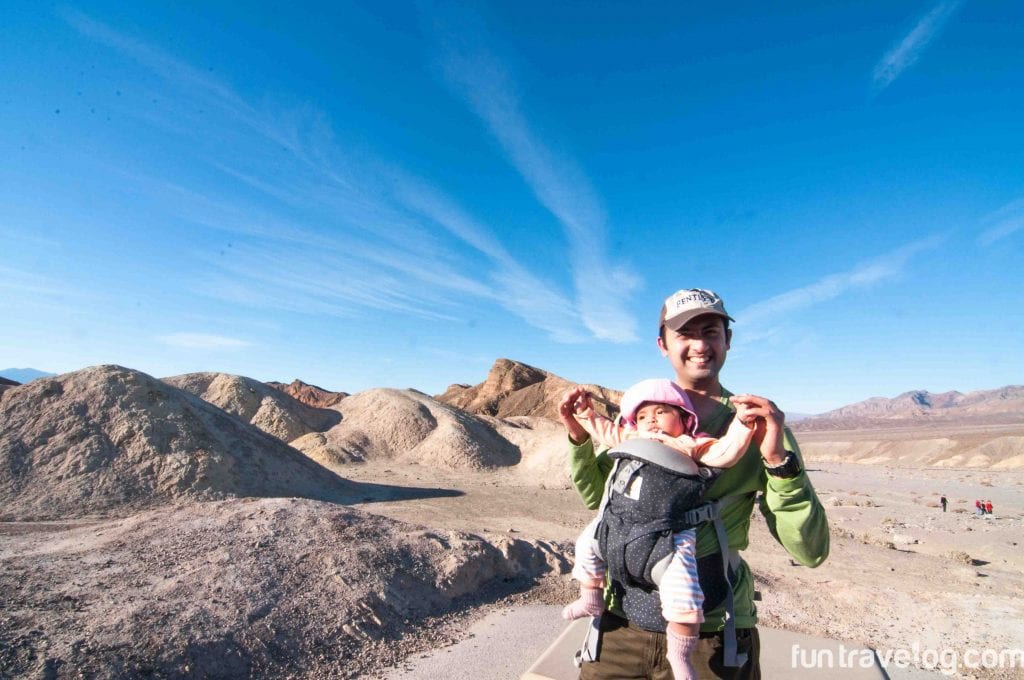 While road tripping does allow parents to carry more items, we've realized that, with babies, the number of items that have to be included keeps adding up. We haven't packed this meticulously for ourselves, as we have with a baby!
In this blog post, we'll be sharing why you need certain baby travel gear and necessary items and the situations in which these gears are useful. We will also list the necessary benefits provided by the product. To make things simpler, we've divided all items listed below into the following categories:
Diapering
Transportation
Feeding
Play / Entertainment
Sleep
In no particular order, here is our recommended list of 15+ essentials for traveling with a baby.
Must have items for traveling with a baby
Diapering
1. Diaper bag
If you're wondering what to bring when traveling with a baby, then the answer starts with a diaper bag. Think of it as the swiss army knife of your baby's travel tool kit. It's all-inclusive and possibly the most necessary item that you will be carrying around.
Whether it is a trip to the pediatrician, a road trip, a flight journey, or an outing for a few hours, this handy sack is going to be your go-to mate.
You will be rushing for your diaper bag during many unforeseen situations, either on a road trip or while traveling internationally with a baby. You'll quickly realize that it is one of the must have baby items. Be it a quick diaper change, a sudden dip in temperatures, or a throw-up, the diaper bag is a rescue station.
To deal with such situations, you often need small little things, like a wipe or mittens – most of which, if packed in a large suitcase, can take longer to find. A dedicated bag for your baby's immediate necessities prevents you from wasting time, keeps all the items organized, and makes carrying around convenient.
What should you consider while buying a travel diaper bag?
Size
Make sure that your diaper bag can be taken as a small carry on and will fit an overhead compartment in flights. Most airlines allow cabin baggage sizes of length 56 cm (22 inches), a width of 45 cm (18 inches), and a depth of 25 cm (10 inches). You should also ensure that your bag is roomy enough to accommodate all your baby's necessary items.
Construction
Choosing a sturdy fabric that won't tear at the seams if you stuff an additional item or two is what you're looking for. You also want a fabric that is dirt and stain-resistant, and ideally a dark color that will survive your travels. Those pastels look so inviting but you don't want to be stressed about maintenance when you're out and about.
Pockets
We find pockets to be super handy (our diaper bag has 3 pockets outside and 4 sectionals inside). If you're an organization buff, you'll realize that having dedicated areas for certain items is supremely helpful. For example, I always use the front chain to keep Raahi's hair ties or socks, for quick access.
Weight
Having a light diaper bag will allow you to cram in an item or two extra should the situation prevail.
Straps / Handles
Those who use backpacks as diaper bags swear by the straps. Choose a diaper bag that you are comfortable carrying around. If you prefer to be hands-free, and that is most helpful if you have to carry a baby, opt for a bag with straps. Alternatively, pick a bag that has both straps and a handle. This way, you have the option to switch depending on your comfort.
While we ended up getting a custom diaper bag from India (we were keen on something personalized that can be used as a regular travel bag later), we had also shortlisted the Skiphop diaper bag and Fjallraven Kanken as backups. We think a diaper bag is an investment that goes a long way.
Skiphop Diaper Bag
Why we loved the Skiphop diaper bag:
It comes with packing cubes. That's a huge plus, especially when you're thinking of diaper changes in an airplane or the middle of a road trip. You don't want to haul an entire bag along.
Straps attach to the stroller
Roomy, with lots of pockets, and side pockets – one Amazon reviewer even said that she could include a sweater and a blanket for her baby – that's space-saving!
Sturdy construction – will survive a lot of lugging around
Fjallraven Kanken
Why we loved the Fjallraven Kanken backpack:
If you want a regular backpack that will hold all your baby's items, instead of a diaper bag, then this is for you. You can pack things the way you want, using cubes, smaller pouches, etc.
The Fjallraven Kanken zips down completely, making it easy to find and organize everything kept inside.
It is stylish and can be used by your little one or you one in the future too.
PS: While packing our baby's clothes, inners, and layers in suitcases, we've realized that packing cubes are an absolute MUST. These 8-pack packing cubes have helped us keep our luggage organized through our recent trips. They're reasonable, durable, include several sizes, and get the job done.
Transporation
2. Baby carrier or sling
Depending on the kind of journey you're planning, a baby carrier or sling is essential. We've found our baby carrier or sling to be extremely useful particularly for day trips, road trips, and flights.
What is the difference between a baby carrier and a sling?
A baby carrier is more structured with buckles and inserts. A sling, on the other hand, is more fluid. Baby carriers are heavier weight-wise, but many parents find them to be more comfortable and safer since they have buckles and a prebuilt form.
We've used both a carrier and a sling to carry Raahi during our various trips including in Death Valley National Park and Jaipur, India, and feel that depending on the kind of travel and weight of the baby, one can use one or the other, or both!
The best baby carrier for traveling: Ergobaby Omni 360
If you're looking for a solid baby carrier that will stand the test of time, opt for the Ergobaby Omni 360. This carrier can be used from newborn until toddler years (7-45 lbs) and has a great hand-me-down value. It also supports front and back carrying positions.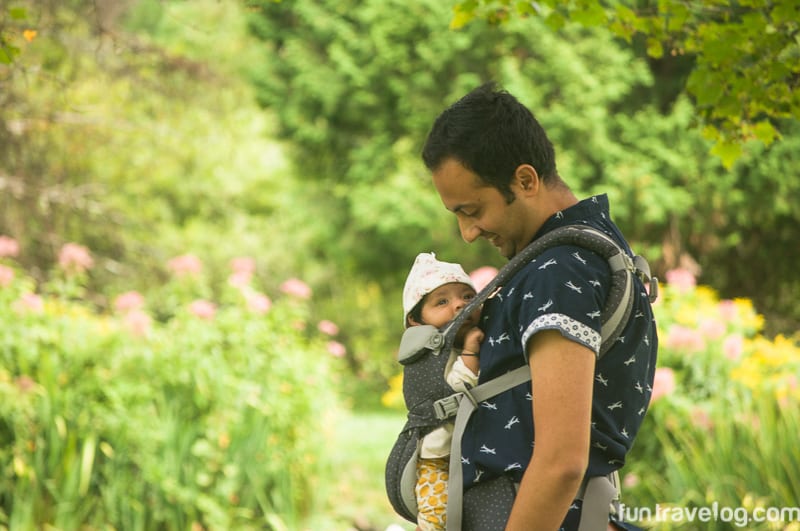 Pros
Structured, is easy on the back and comes with thick shoulder straps
Buckled and adjustable straps allow babies to be carried well into toddlerhood
It comes with a head support panel for younger babies
Front & back carry positions
Cons
Not super compact in comparison to a sling
Occupies more space than a baby sling while packing
We've used our Ergobaby for hikes, strolls, and even to put our baby to sleep when she was young. To us, it is indispensable and among our must-have travel items for a new baby.
Invest in a carrier that will last you through multiple kids.
Get the Ergobaby Omni 360 carrier now.
The best baby sling for travel: Baby K'tan
We've had the good fortune of also using a Baby K'tan Breeze sling and found it to be extremely comfortable. Unlike some slings, the K'tan doesn't need to be tied from scratch. It's pre-stitched in a way that it has to be looped around and adjusted depending on the type of position you intend to carry your baby in. The Baby K'tan breeze variant is made of 100% cotton and is almost ready to wear, like a t-shirt! Their guidebook and instructions were super helpful in demonstrating the various positions you can try.
The best part? It's lightweight, comes with a cover, and can potentially fit in a big diaper or carry-on bag.
Pros
Lightweight
Semi-structured
Easy to pack, can even fit in a medium sized handbag / diaper bag or purse
Super compact
Cons
Requires a bit of learning to use
3. Umbrella stroller
A stroller or pram is one of the most essential (and occasionally expensive) items on every baby registry. There are reasons to opt for a full-size stroller system but as parents, if you intend to travel with your baby, an umbrella or a lightweight stroller will be your go-to, especially during road trips and on flights. We've breezed through our daughter's first year with a lightweight stroller, and wherever the terrain hasn't been stroller friendly, we've preferred to carry her in our baby carrier.
What should you look for in a travel stroller?
How lightweight is it?
What is the ease of folding
How compact is it?
Whether your baby is comfortable in it?
A basic level of sturdiness
Is it easy to open it up with one hand?
The best umbrella stroller for travel: Mountain Buggy Nano
We're huge fans of Mountain Buggy Nano, one of the most popular travel/umbrella strollers in the market. For starters, it comes at a price point that is comfortable for most pockets. We were not looking to spend $400-$500 or even upwards for a stroller. The Mountain Buggy comes at an affordable price of $200 without accessories. That was a big factor for us.
The second most important factor was its weight and travel-friendly size. The Mountain Buggy Nano weighs 13 lbs, making it extremely convenient to lug around in the car and overhead compartments of flights. The stroller also comes with a super useful travel cover that you can utilize for flights.
Mentally, we never feel burdened with the idea that we'd have to lug a heavy full-sized stroller around. We also went to a baby store to see the stroller firsthand before making a decision.
Some parents do find it tricky to open the Nano with one hand, but a little bit of practice and we were able to pop open our stroller conveniently. Another great feature with the stroller is that it is compatible with our choice of a car seat, and has straps that loop through the car seat (more on that below).
Pros
Lightweight, perfect for airports, easy to transfer and fits in the airplane overhead compartment
Narrow, will slide through airplane aisles easily and is great for tight spaces and Ubers / taxis.
Folds up compact
Comes with an ample storage area underneath
Easy to manuever and apply break
Comes with its own travel bag for easy packing
Deep recline, for naptimes
Cons
Learning to fold and open the stroller takes a little practice initially
Some optional, but necessary accessories that we purchased included the bassinet attachment with the sunshade. Our baby was born in the summer and we were looking forward to taking her around from early on. While some parents may prefer to use the car seat in the stroller directly, we chose the bassinet as we didn't want our baby to be in an incline position for long hours when she was super small.
We're next hoping to purchase the:
We feel that these accessories have been worth the extra spending, as we've continued to use them time and again. To us, our Mountain Buggy Nano is a gear we use daily, and one of our top must have baby travel items.
Buy the Mountain Buggy Nano stroller for your child.
4. Car seat
Having a car seat for your baby is mandatory for any baby travel if you live in a western country. This is the one travel accessory you'll be using from the beginning of your baby's arrival into the world, every time your baby is in the car.
The best car seat for travel: Chicco Keyfit 30
Many parents opt for a travel system that includes a stroller and car seat from the same brand or manufacturer. Thankfully, our stroller, the Mountain Buggy Nano is compatible with the Chicco Keyfit 30 car seat, which was our choice.
The Keyfit 30 is sturdy, easy to attach, and accommodates an infant of size 4-30 lbs and size 30″ or less in height. It comes with a base that has a bubble level indicator, which helps you check whether the seat has been attached correctly or not each time. For our day-to-day use, we place the car seat on its base which needs to be purchased separately.
We loved how comfortably we could attach it to our stroller. Also, don't forget to use the included head and body support inserts for extra cushioning during those first few months.
Pros
Safe and sturdy design
Clicks in easily, even when your baby is sleeping
Easy to install, with clear bubble level indicators
Easy to use lever at the back to remove the car seat from the base
Made of good quality materials
Not bulky, making it super travel friendly
Cons
Some babies outgrow it quickly, because of the 30lb / 30″ height weight restriction
Buy the Chicco Keyfit 30 car seat for your baby.
Do you need to carry your baby's car seat base when you fly?
No, it's not necessary. Traveling with a baby car seat is enough. We never carry our car seat base when we fly. The Chicco Keyfit 30 is sturdy enough to be used in cars that have a rear seat belt (which pretty much all cars do). Slide the belt through the slots on the car seat arm handles and secure the buckle as you would if a person were sitting.
Sleep
5. Travel Bassinet
Rest is essential to travel. Babies are creatures of habit, and travel is a break from routine. The best way to transition your baby to a new travel routine is by working his/her schedule around your trip and easing them into the change.
Sleep is necessary before, during, and after a trip – for both the baby and parents. It can be quite nerve-wracking to be up all night and rushing to take a flight on the next day. When Raahi was just born, we received the Baby Delight Snuggle Nest Portable Infant Sleeper as a gift, and she napped in it for the first seven months of her life!
Here's why this portable sleeper is a great travel product for babies younger than 6 months:
It's portable with handles and folds up compact, making it a great gear to carry on a road trip.
The protective wall units prevent the baby from rolling over and promote safe sleep.
The Snuggle Nest plays soft music. To date, our daughter continues to love the same soundtrack that we've played for her from the sleeper.
The soft inner foam mattress comes with a washable sheet
We've used this cosleeper not just for travel, but at home for naps as well, daily. After six-seven months, we've chosen to cosleep during our travels once Raahi outgrew the Snuggle Nest. Cosleeping is common in many countries around the world and can be practiced safely. Besides, it saves us the hassle of carrying one more large item when we are traveling.
If your baby is in a habit of sleeping without you, reviews suggest that the Lotus travel crib is a great baby bed for traveling babies.
6. White noise app
We also recommend downloading a White Noise app on your phone – in case your baby is used to a white noise machine. We've been using the White Noise Deep Sleep app and it comes with a variety of sounds that you can adjust based on your needs. Sleep can sometimes be disruptive if your baby is in an unfamiliar environment. To maintain a sense of consistency, if you use a white noise machine in your daily routine, having the app accessible on your phone helps.
7. Small night light
"Less is more" is our mantra. But with a baby, we've often found ourselves scrambling for a dim light in the middle of the night. Just enough light to allow us to see, but not harsh enough that it wakes our baby up.
Research has proven that babies sleep better in the dark. What's a parent gotta do if they need to check on the baby in the darkness? The light from smartphones, for example, can be too bright. Take a look at this nifty night light (which is a great camping accompaniment as well). This no-frills night light is easy to turn on and off and provides 8 different levels and colors of light. From dim red to bright yellow, it's got a spectrum that is ideal for different scenarios.
Here's why this night light is ideal for traveling parents of toddlers and babies:
Lightweight – will not eat up a ton of space too.
Taps to turn on and off
Multiple light colors that are ideal for use in different scenarios at night (we regularly use the red light at night to check on Raahi, and it does not disturb her sleep)
USB charging feature
Get this rechargeable night light for your baby.
Play / Entertainment
8. Small foldable playmat
As adults, we need to stretch our legs while we're on an airplane or a road trip and babies too, need a space to sit, crawl, move around, and indulge in play.
Traveling with a baby on an airplane or car can be confining for the baby. Foldable playmats will save your sanity on multiple occasions, as they have for us. We've used them in hotels, airports, or even in outdoor spaces where we've stopped for picnic lunches. Do note that once your baby is crawling or walking, it may be harder to contain them on a mat as they'll be curious about exploring their surroundings. This is when a baby carrier or a stroller might come in more handy if you don't want to chase your little one all around.
The advantage of having an all-purpose playmat is that it can be used for picnics, beach trips, or even hotel rooms.
Here's what you should look out for in a foldable mat:
How compact it is – so it is easy to pack and folds/fits well
A fabric that washes easily
Whether it fits at least a couple of people with the baby
We've used a foldable mat similar to this one from J.J. Cole to the hilt, since before our baby was born, and today it's in a bit of a torn state but is still extremely handy for our getaways. Unfortunately, the one we have is from a European brand that doesn't sell online. This J.J. Cole mat folds up easily, is portable, and is easy to clean.
Even if you don't use one for travel, a good play mat is a must have for a baby.
9. Teether
Babies can have teeth as early as three to four months. Teething is a common ongoing occurrence in the first couple of years of life. Most babies develop the tendency to chew on things due to the teething urge. Naturally, it makes sense to keep at least one or two teethers on hand to help satisfy this urge.
With Raahi, we've tried a variety of teethers can she continues to use them at 15 months. You could opt for a traditionally shaped teether or a teether that's also a toy.
Pros of the traditional teether:
Easy to pack
Does not occupy a lot of space
Easy to clean
Cons:
The child may get bored of it easily
Pros of a teether that's also a toy:
Multi-sensory. These teethers can provide multiple experiences like touch, or sound
Can be used for play as well as for teething
The child may be occupied with it for slightly longer
Cons:
They take up more space as they're typically not small in size
Based on our experience, here are some teethers that you could choose between, depending on your need and budget. These are all tried and tested by our kiddo!
The veggie-shaped teethers and bunny teethers are more of traditional teethers while Sofie the Giraffe and the Skiphop elephant teethers are sensory teething toys.
10. Toys
There's a reason it's easier to travel with a baby younger than six months. They take frequent naps and don't require a whole lot to stay busy. And besides rolling over, they haven't developed a whole lot of movement, a.k.a. you don't have to chase them around.
Closer to the 4-6 months mark, babies develop more interest in things around them. From then on, there's no looking back. If you're on a road trip, you will realize that they need to be entertained while they're awake. As much as we are for traveling light, we also realize that our little one is not at an age where she can keep herself busy at all times. That's why traveling with a few small toys turns out to be a wise decision. Flight delayed? Spread out that mat and throw in a couple of toys. Cranky or upset? Distract them with a toy that will calm them down.
During their formative years, play is a serious business for kids. While you can't carry bulky play gyms, you can be creative with your options. In the first year of Raahi's life, she has enjoyed using toys that she can interact with. A hand puppet, balls, dangling toy, and rattles are our tried and tested favorites.
11. Books
Books have always made it to our baby's travel packing list, whether it is for a road trip or a flight. Raahi first started seeing books from her second month and there's been no looking back for us. Board books are the norm for the pre-one age group and it can be bulky to carry too many of those around. By carrying just a few favorites, including a couple of books that can't be torn, you can ensure a neat rotation for your baby.
Here are some travel books that are Raahi's favorites: Indestructibles (chew/tear-resistant), The very hungry caterpillar, Mr. Brown can moo, a touch & feel book.
Feeding/eating
12. Nursing cover for mom
Before the baby hits 6 months, mama's milk or formula is all it needs. This doesn't necessarily mean less to pack unless the baby is exclusively breastfeeding. Since little babies nurse frequently, a nursing cover can be handy for moms who are breastfeeding on the go. A light, breathable, and roomy nursing cover can be a savior in situations when your baby may need to snack while you're traveling.
This Bebe au Lait Premium Muslin Nursing Cover is lightweight, fits well, and can be strapped on easily. Additionally, it also prevents your baby from getting distracted while nursing on the go.
13. Bottles & Pumping Supplies
For one reason or another, some parents end up needing to pump and feed their baby, either partially or fully. In such situations, one has to carry bottles, a breast pump, and related supplies. Often, babies are used to a particular brand of bottles. We've personally used Dr. Brown's & Phillips Avent bottles for the small amount of time Raahi took to bottles (she decided otherwise later, haha). The Phillips Avent ones were definitely easier to clean while Dr. Brown's bottles had a comfortable flow.
Our Medela breast pump has accompanied us on some of our travels, and it is compact and fast.
Alternatively, if you're traveling with baby formula, you'd need to carry that in an appropriate dispenser.
If you're traveling with a breast pump and bottles, you'll end up needing to wash them frequently. Personally, we had put together a little pump and cleaning kit that we'd dump into our suitcase. The kit included:
14. Portable feeding chair
By the one-year mark, Raahi was on 3 meals and one snack. At this age, many babies take their first steps, and it can be tough to contain them, especially during mealtimes. Besides, with COVID-19, most families are eating indoors or in a picnic setting. That's primarily why we too decided to buy a portable feeding chair for Raahi. Side note: We took one weekend trip without her booster chair and realized what a mistake it was! She would barely sit still and we were cleaning food all over the vacation rental unit.
We picked this summer infant portable booster chair, and it has been handy in restaurants where there are no highchairs, or even at vacation rentals.
Pros
Lightweight and can be carried around easily
Packs up tight in accompanying bag
Straps are adjustable
The seat fits most chairs
Cons
There's a slight learning curve with the tray. It needs to be carefully slid in to be fixed correctly.
15. Small spoon, bowl
Once your baby crosses the six-month mark, solids accompany breastmilk or formula as meals. Babies this age don't eat a lot and gradually move towards taking multiple meals that include a variety of food. But it's important to include your child in your meals, even while you're traveling.
Carrying a dedicated spoon and bowl ensures that you are prepared to offer solid food to your baby on any given occasion. Whether it's at the airport, an Airbnb, or a restaurant – you will always have appropriate, and clean equipment for your baby to eat out of. If you're traveling with baby food, make sure to carry it in airtight containers too.
We've used and loved this bamboo plate, spoon, and bowl set from Avanchy. It's a fixture for our meals inside or outside the house.
Pros
Made of bamboo, which is a safe material to use for a baby
Lightweight
the plate is divided, meaning you can include different items separated from each other
The suction is strong
Con
It's not dishwasher friendly and has to be hand washed.
16. Washable Bumkins full-sleeved bib
Whether it's a meal, a road trip, or a vacation – we don't step out without our baby's long-sleeved bib. Over time, our smocks have become one of our baby travel must haves. It's one of the most useful meal accessories that has proven its importance for us over and over again. We often eat outdoors, indoors or picnic-style, and the bib has always been so handy – it prevents clothes from getting dirty, is easy to pack, and can handle any kind of a mess. The best part? It's machine washable.
The baby travel product industry is a vast and confusing one, and it can be tempting to invest in multiple items. Over a year now, we've realized that some of these items are those that our child is using every single day and will continue to do so in the near future. Besides, if you maintain some of these items well, they can be resold or passed along to another child.
Happy travels with your little one 🙂