Hi there, this post may contain affiliate links, which means we may receive a commission if you click a link and purchase something.
It is no secret that Yellowstone National Park is huge. I mean which park covers almost three states, has five entrances, and nearly 470 miles of roads? As you look towards planning a visit to Yellowstone, driving long distances can sound intimidating especially if you are strapped for time.
To begin, you could take a leaf out of our book. While you're here, you could also check out our blog about an itinerary for Yellowstone National Park to know what's in store.
In this blog, we will share our perspective on what is truly the best way to get to Yellowstone. We'll share why you should follow a particularly scenic route if you decide to fly into Utah and drive from Salt Lake City to Yellowstone, as we did.
If you read our previous post, you might have noticed that we flew into Salt Lake City but departed out of West Yellowstone airport. This helped us avoid a long return drive, save time, making the one-way drop-off fee for car rental totally worthwhile.
Where to fly into for Yellowstone?
Before we begin, let me put it out there: there is no one best airport for Yellowstone. Depending on where you're flying from, you can play with various flight and road trip permutation combinations.
Yellowstone is spread over parts of three states: Montana, Wyoming, and Idaho. If you are planning your trip to Yellowstone and are looking at flights, you have the following options.
Airports near Yellowstone
Airports in Montana:

Bozeman to Yellowstone West entrance (97 miles, 2 hours)
Billings to Yellowstone North Entrance (172 miles, 2.45 hours)
West Yellowstone to the Yellowstone West Entrance (this is the closest airport to Yellowstone and operates only seasonally. The airport is only 3 miles away to the park, a 7-minute drive)

Airports in Wyoming

Cody, WY to East Entrance (52 miles, 1 hour)
Jackson, WY to Yellowstone South Entrance (57 miles, 1 hour)

Airports in Idaho

Idaho Falls to Yellowstone West Entrance (108 miles, 1.48 hours)
Pocatello Yellowstone West Entrance (158 miles, 2.32 hours)

Airport in Utah

Salt Lake City to South Yellowstone (300+miles, 4.5-6 hours)
Unless you arrive at West Yellowstone airport, you will end up renting a car and being on the road for at least an hour.
You may be keen on saving on flights, and arriving at an airport which is a bit further away could be the right choice for you. Or, you may be the sort who doesn't mind multiple flight connections (a note of caution though: a flight delay could seriously affect your plans). Lastly, you may be planning your trip with kids and may need to consider activities and stops according to their age group. A bunch of these factors could affect your decision on where to fly into for Yellowstone.
We're here to tell you why you should take the slower route. More below.
What are the different driving routes from Salt Lake City to Yellowstone National Park?
Enough talking, now to the point. If you search for routes from Salt Lake City Airport to Yellowstone National Park South Entrance, Google suggests the following options (click to open map in Google Maps):
Route I-15 which goes via Ogden might be the fastest, but that is not what we are after. We took the route I-89 North. This is arguably the most scenic route. The distance to Yellowstone from Salt Lake City is 300+ miles.
Additionally, you also have the option to drive to the West Yellowstone Entrance from Salt Lake City, which is about 323 miles. Here's a comparison of the two routes to the south and west entrances. If you prefer maps, I've also embedded both routes below.:
SLC to Garden City, Afton, Jackson, Grand Teton, and Yellowstone South Entrance (distance 355 miles)
SLC to Pocatello, Idaho Falls, Mesa Falls scenic byway, West Yellowstone (distance 323 miles)
Adding another 15-20 miles to your route improves the experience of the journey considerably. Following this highway will eventually make you reach Yellowstone.
Also, don't worry about the tolls as there are none (even though Google says so). I will also highlight the major stops along the way before we entered the south entrance. You can take a look at them on this map as well, though all our tips and sidenotes are mentioned below.
Why should you fly into SLC to go to Yellowstone?
With so many options on hand, choosing one particular route over another can be a tad bit confusing, especially if it takes a few hours extra. But Salt Lake City isn't just a starting point for Yellowstone. Drive southeast from the city, and in three and a half hours, you'll reach Moab, the gateway to Arches National Park and Canyonlands National Park. Head out an hour west of the city, and you'll reach Bonneville Salt Flats. In four and a half hours southwest and you'll find yourself in Zion National Park and Bryce Canyon National Park. To sum up, the city is strategically located between so many natural wonders!
To give our example, we decided to fly into Salt Lake City to visit Yellowstone because:
We wanted to fly direct. It turned out to be more cost-effective and allowed us to minimize the chances of delays since we had no additional flight connections. Do note that we chose to fly out of West Yellowstone. It wasn't a direct flight – but that was at the end of our trip. We were comfortable taking that risk as we knew we would eventually end up getting home, even if there was a delay.
The scenic route was hard to ignore, especially as we were also getting a chance to see Grand Teton NP on the way. If you take the SLC to West Yellowstone route through Idaho Falls, you miss out on seeing one of USA's most beautiful parks! Secondly, you may not end up planning a trip in the near future just to see Grand Teton separately.
We wanted to maximize our chances of seeing wildlife. Though we didn't spot a moose in Grand Teton, as we had hoped to, it was worth taking a shot.
We love road trips. The thrill of getting into the car, watching the scenery change, and stopping along the way for nature's little treats is incomparable. It's a travel style we New Englanders have ended up adopting in our home region.
Salt Lake City to Yellowstone National Park road trip
Salt Lake City, UT
Our arrival was a late-night one, so we stayed in one of the hotels near the airport. There's not much much to rave about except that we got a free shuttle ride to the hotel and a basic breakfast to start with. We picked up the car rental close to the hotel and set off.
Pro-tip: You save quite a bit of money if you rent a car from the city instead of the airport.
However, one thing which we do need to rave about is the meal at Red Iguana which was delicious beyond words! We've had Mexican cuisine many times, but this has to be one of the best. Their moles are to die for and you can even request for the sampler plate before ordering your entrees. Normally we hate stopovers, but glad we had a 5-hour stopover in Salt Lake on our way back to Boston 😉
Bear Lake, UT
Two hours north of Salt Lake City is the town of Garden City, home to the gorgeous Bear Lake.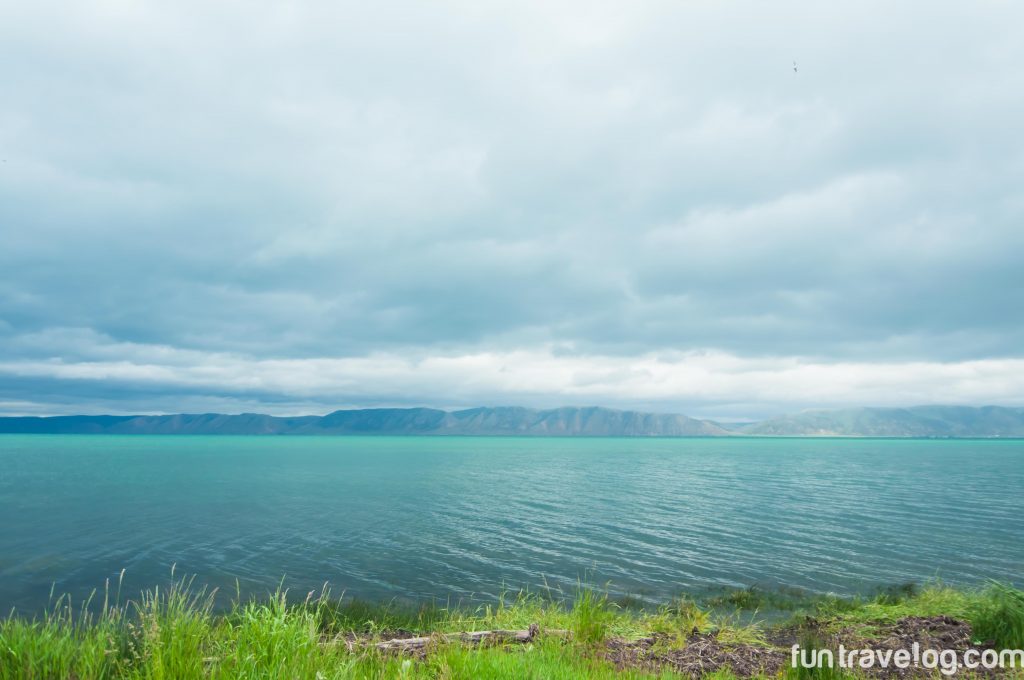 Have your fellow passenger be camera-ready as you start descending down. On a clear day, the shades of blue on this lake look too good to be true! Most likely, Google Maps will lead you to the marina center where there is a parking fee, but you can park for free at the state park and walk to the lake. We had our first picnic lunch of the trip at this spot 🙂
Pro-tip: Do not miss pulling over when you see the sign of Bear Lake Rest Area and Overlook. It comes right before you start taking the curvy roads down to the town center.
Besides the lake, this town is famous for its raspberry shake. Head over to Raspberry Square and get yours! With the views of the lake and the yummy shake in hand, life will seem good. Count some more time in as you start driving north, as the vistas on the right side will urge you to pull over constantly.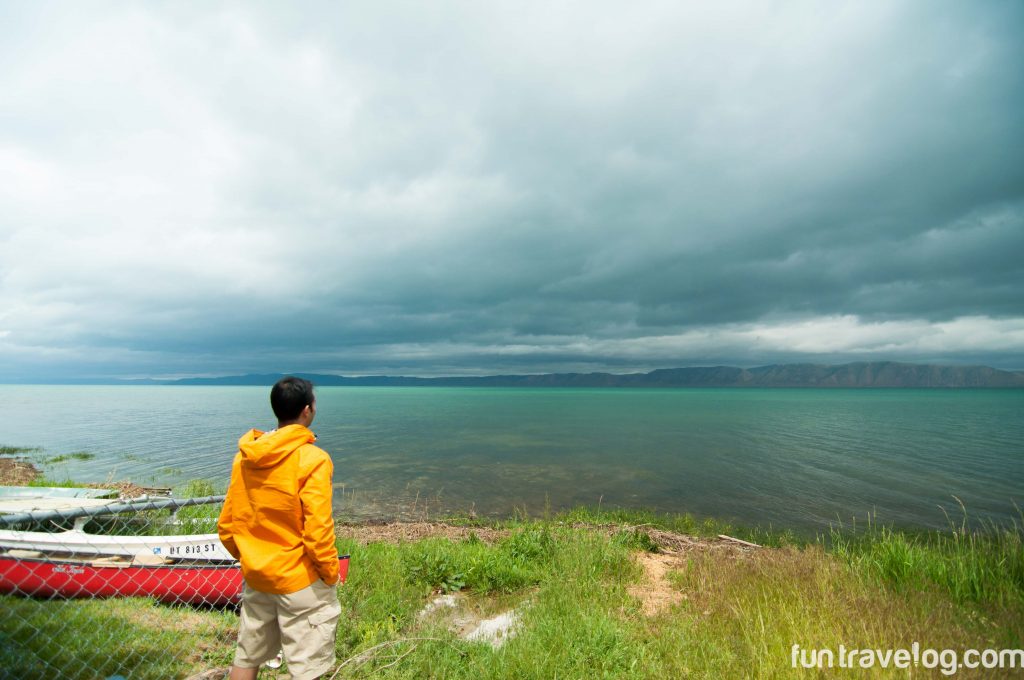 Star Valley Scenic Byway
The 80-mile Star Valley scenic byway stretch is one of the most pleasurable drives that you will encounter on your journey to Yellowstone. The byway begins along the Idaho-Wyoming border on US-89 and continues till the Teton county line till Snake River Canyon up north.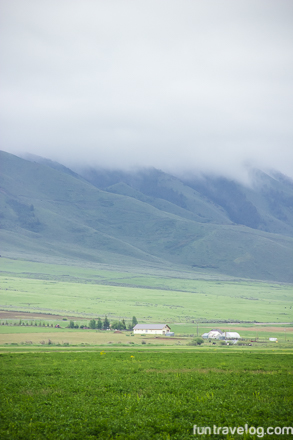 Afton, WY
In about 90 minutes, you will reach the wild west town of Afton, Wyoming in Star Valley. We considered this as a quick stop for stretching our legs and getting a glimpse of what Wild West towns look like. The biggest attraction here is the world's largest arch made of elk antlers. The quirky cafes and bars made for good photo ops too.
Things to do near Afton
Go for a horseback ride at one of the nearby ranches
Go flyfishing by the Salt River
Whitewater rafting on Snake River
See Snake River Canyon
Visit Melvin Brewery in Alpine, WY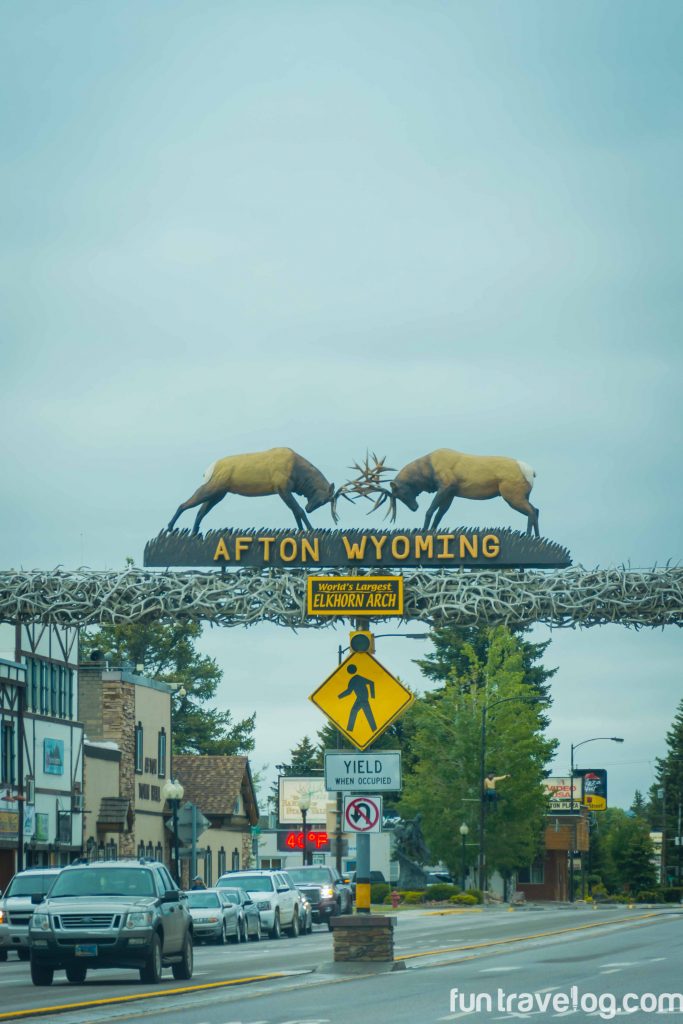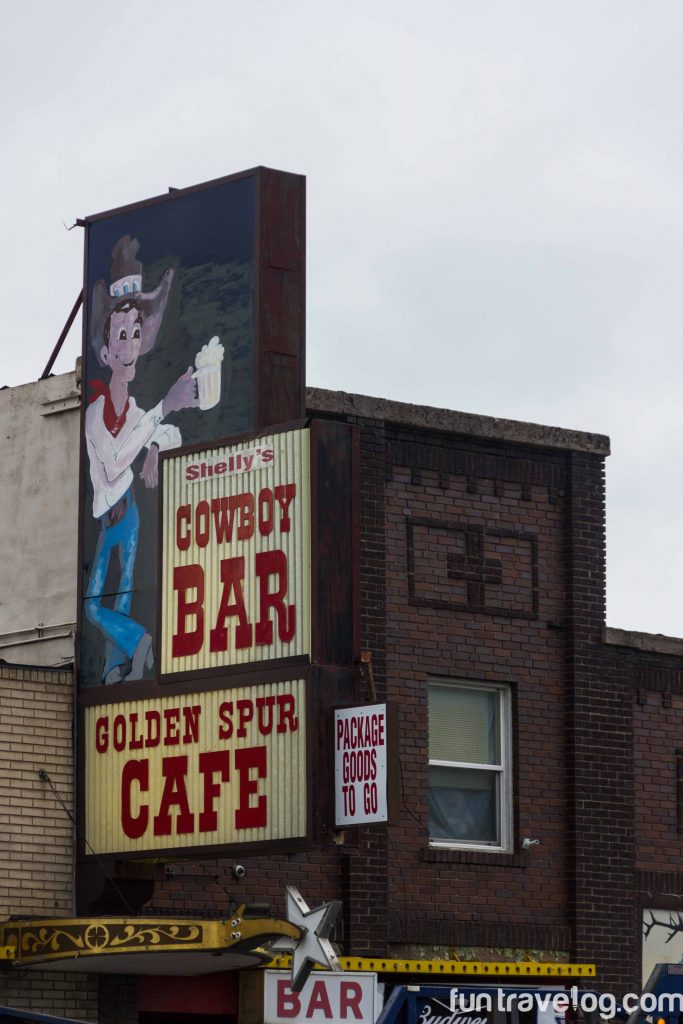 Jackson, WY
About 70 miles north and you will reach the most commercial town in the Jackson Hole valley. However don't rush but enjoy the drive up till here, as the panoramas just begin to showcase what this valley and the national parks hold for you.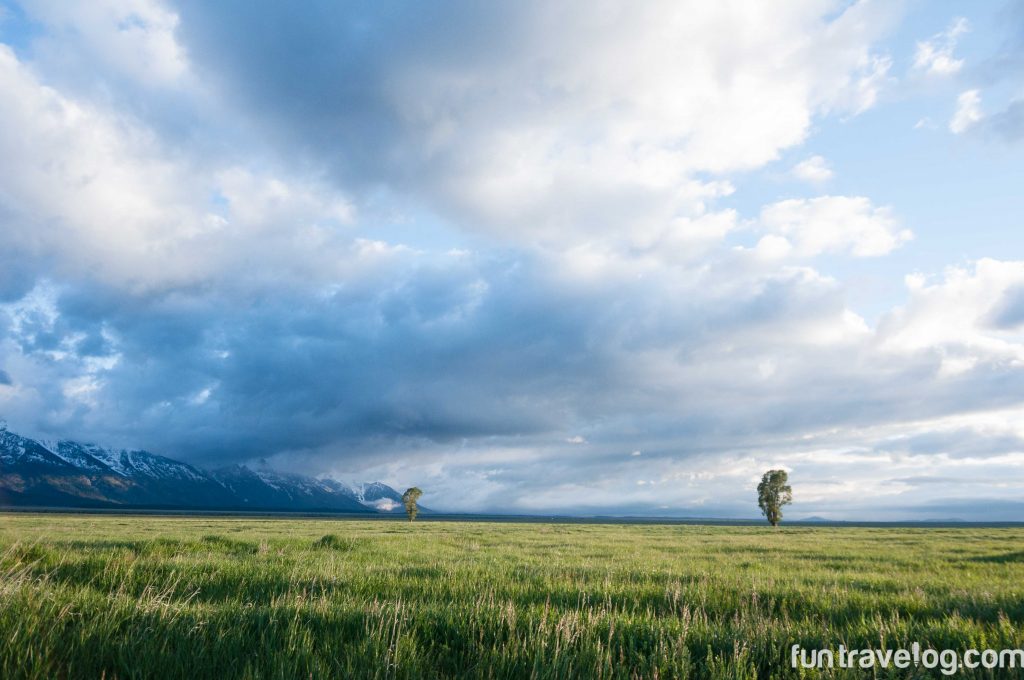 Jackson is a nice, well-planned ski town and base for exploring Grand Teton and Yellowstone. You might opt to reach Yellowstone from Salt Lake City directly, but I would highly recommend planning a night stay. Here's why:
You've had an exhilarating day of a drive today- why not celebrate it with a nice meal and a few drinks?
Besides stocking up on snacks, waking up early the next day will enable you to explore the jewels of Grand Teton NP with no crowds. It is literally a 20-minute drive away!
Enjoy scenic driving routes? Read our post on six stunning driving routes inside Yellowstone National Park next.
Hotel recommendation in Jackson, WY
We stayed at Ranch Inn in Jackson and would rate it very fair for the price. Besides the location and free parking space in the heart of town, the staff was very friendly.
Eating & Drinking Suggestions in Jackson, WY
Spur Bar for drinks with a view
Million Dollar Cowboy Bar for live music, entertainment, and iconic saddle stools to sit on
The Organic Lotus
Pro-tip: Walk to Persephone Bakery to have a coffee or grab something to go! It is clearly a local's favorite. Their croissants are delicious
Grand Teton National Park
This remarkable national park is known for its alpine terrain and mighty Teton range. Normally I am an early riser but Supriya is not. But on this trip, she was up and pushing me to get in the car before sunrise. So next morning (and every morning thereafter in Yellowstone), we were driving around to the scenic spots or trails before the 10 AM crowd barged in.
In this case, we drove to the most photographed places in Grand Teton, only to find the company of a few like-minded travelers with their tripods set up. It is also the best chance to view elusive wildlife, though we were not lucky that day. However, it was great to breathe in the crisp mountain air. Also, Grand Teton is only 31 miles away from Yellowstone.
What to see in Grand Teton National Park in a day
Moulton Barns: Two picturesque barns on Mormon Row that are a favorite with photographers. To get here get on highway 191 from Jackson and take a right onto Antelope Flats Road. You will be on a dirt road in 1.5 miles, where the barns are located.
Schwabacher Landing: A popular spot to see wildlife, and catch a reflection of the Teton mountains on the waters of Snake River. This landing can be accessed from highway 191, north of the barns. Get here early in the morning.
Snake River Overlook: A breathtaking overlook made famous by an Ansel Adams photograph. Continue on highway 191 from Schwabacher Landing and you'll reach the overlook on the left side of the road.
Oxbow Bend: To get a panoramic view of the Tetons. The bend is also on highway 191, and a popular spot to watch sunrise and sunset.
Jenny Lake: If you have time for a hike, explore Jenny Lake which is at the base of the Teton mountains.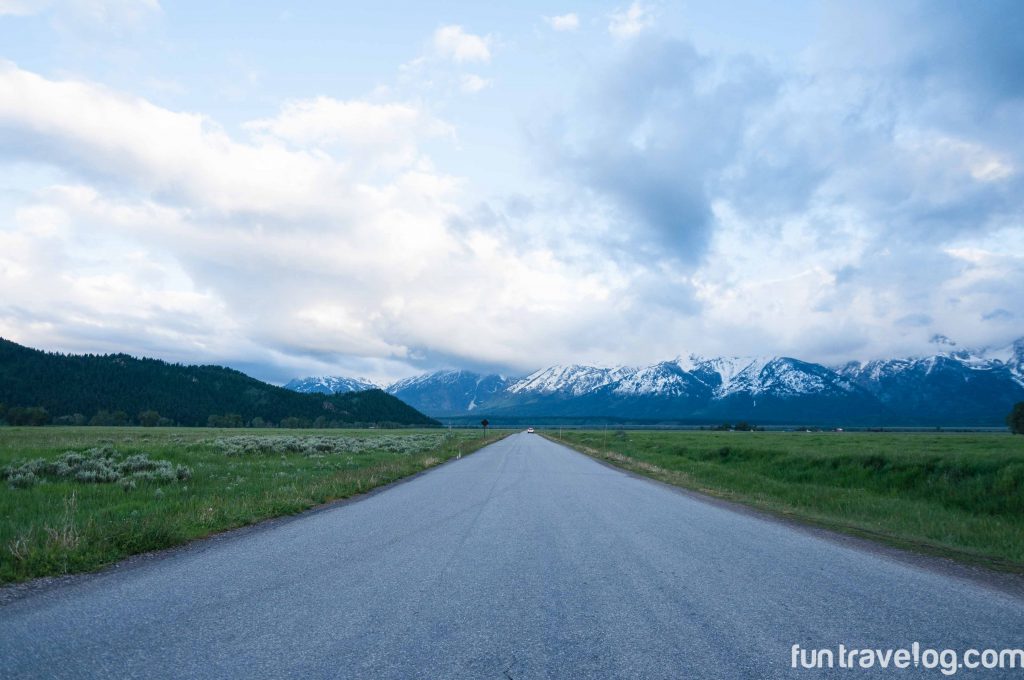 We got back in time for breakfast at the motel, packed up, and followed our route to the South Yellowstone entrance. Our Yellowstone journey continued thereon.
Is it worth a long drive to get to Yellowstone National Park?
We traveled as a couple to Yellowstone, and for us a scenic road trip was irresistible. Though your situation may not be the same. First off, prioritize your goal for the trip. Ask yourself the following:
Do you have flexibility in terms of time?
Are flight prices and timings of concern?
Does arriving into Salt Lake City save you a big chunk in $$, despite paying for car rental and gas for the said number of days on the way?
Are you willing to spend more on flights over an extra night along the way if need be?
Are you taking a baby or kids along? Would breaking up the trip over a few days work for them and you?
Do you absolutely love scenic drives and want to visit two parks in one trip?
Hopefully, these questions will help you get closer to your decision. If the answer to most of them is a yes, then you know how to begin planning!
I am not kidding but we literally witnessed how weather can be such a drama-queen on this drive from SLC to Jackson. Would we do road trip from Salt Lake City to Yellowstone again? Yes, absolutely!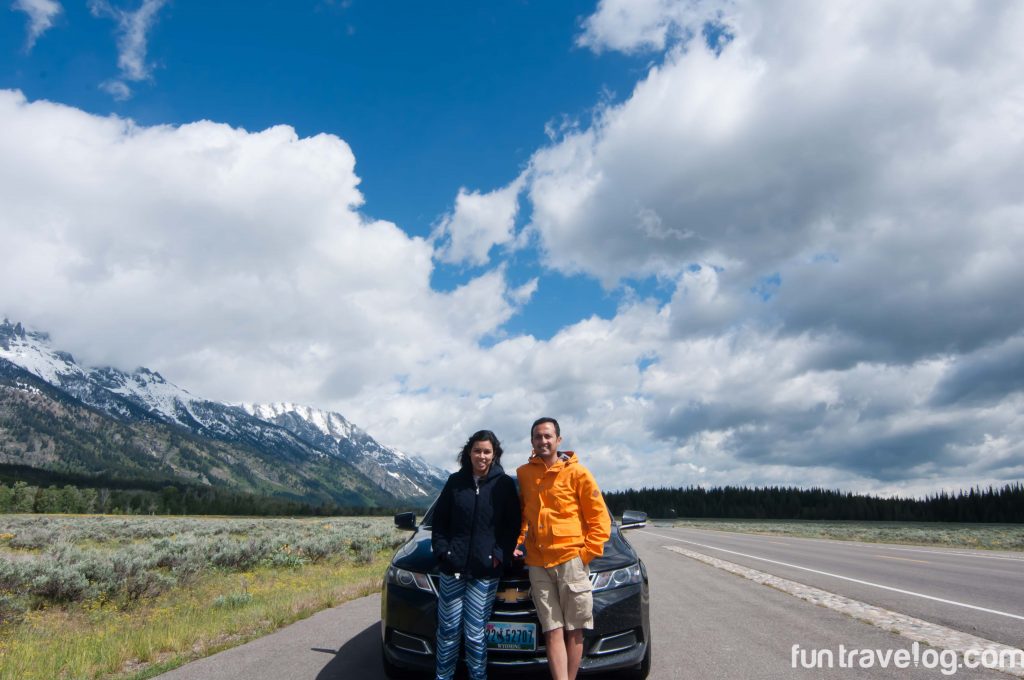 Found this post useful? Pin it!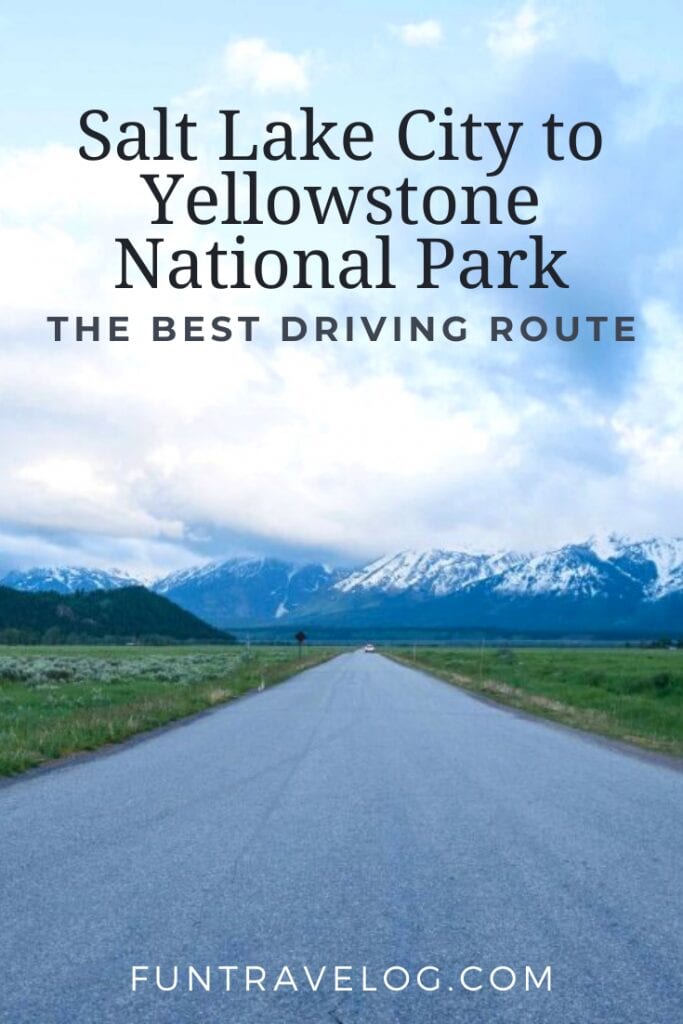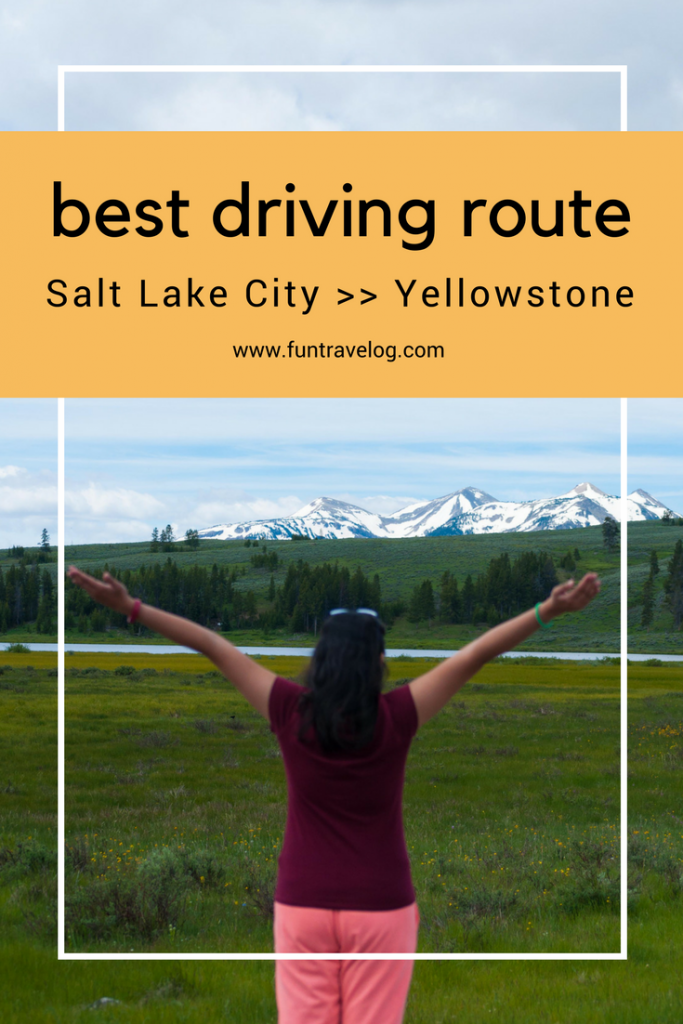 More US National Park Inspiration
Save
Save