I had read somewhere that once you start traveling to National Parks, it becomes an addiction. I'm not sure if this is an addiction, but our love for the outdoors has increased tremendously since the start of the COVID-19 pandemic. We had explored Death Valley National Park when our bub was under six months old. This time, almost a month before her second birthday, we flew six hours west to California, the Golden State, to explore the mighty Yosemite National Park and Sequoia National Park. We will publish a separate post on Sequoia soon.
In this post, we will share everything we have gathered about visiting Yosemite with toddlers and how to plan a family vacation to the park, one place at a time. Yosemite National Park is one of the oldest national parks in the United States and is best known for its wilderness, giant cliffs, gushing waterfalls, and serene meadows.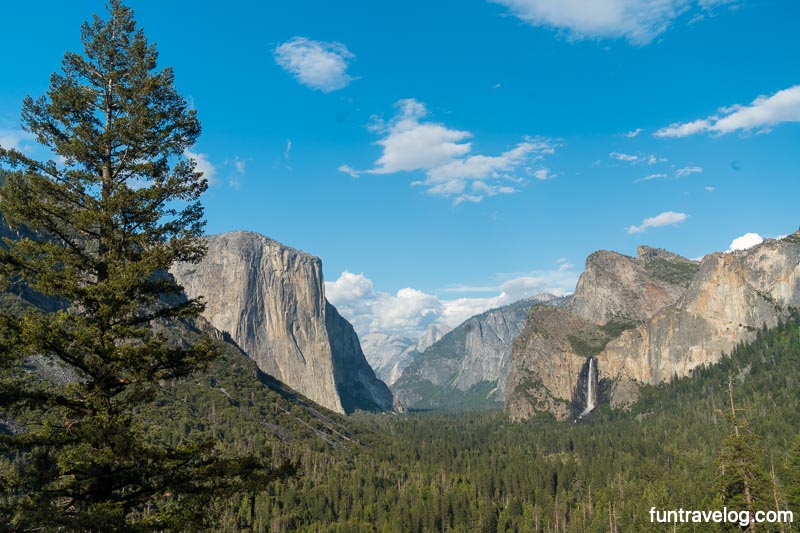 We are keen to show our two-year-old daughter Raahi tons of outdoors in her early years. So we chose to visit national parks as the ultimate way to expose her to our beautiful world.
Read on to learn more about ideas on things to do in Yosemite with kids.
How to get to Yosemite
Drive time
Exploring the USA means lots of driving. While there are a couple of airports relatively closer to Yosemite, like Fresno- FAT and Merced- MCE, our best bet was to fly direct to San Francisco International airport (SFO). From SFO, the drive to the park is about 3.5 hours east. You will likely get better deals on flights and rental cars if you fly into SFO. We did not want to rush to the park immediately upon arriving, due to the three-hour time difference. So we took a breather in the Bay area to adjust to the time zone and get the necessary supplies before heading to the National Park.
Since we were coming from the San Francisco area, we entered via the Arch Rock Entrance or the Big Oak Flat Entrance in the park.
Timed entry to visit Yosemite National Park
Since the pandemic began, many of the National Parks have started a timed entry system. This is in addition to the National Park pass or Annual Park Pass needed to enter the park. When we visited in May, the timed entry system had not commenced for the season. Check this Recreation.gov website to know the dates and secure the timed slots if needed.
You would also need to buy an annual national park pass or pay the one-time park entry fee of $33 to enter the park. This is valid for 3 days.
3 days in Yosemite: Toddler-friendly Itinerary
National parks offer so many opportunities to experience nature. The park is open all year round (some sections are closed in the winter). No matter when you go, you will be rewarded with scenic vistas and unique things to do in Yosemite.
We typically avoid strenuous hikes (maybe occasionally attempt intermediate ones 😀 ) and plan our days keeping our toddler's comfort in mind. So our family vacation to Yosemite included a few easy hikes and scenic drives/walks while we were inside the park. If you're wondering about what to do in Yosemite with a toddler, I've shared some ideas in our itinerary below. I'll also include some suggestions on what you can include in your plan if you have more time.
Day 1
After arriving and checking in by late afternoon, we used the rest of the day to stretch our legs and visit nearby attractions that did not involve major hiking. The upper & lower Yosemite Falls were in their full glory since it was the early summer season. We spent our afternoon exploring the following areas of interest.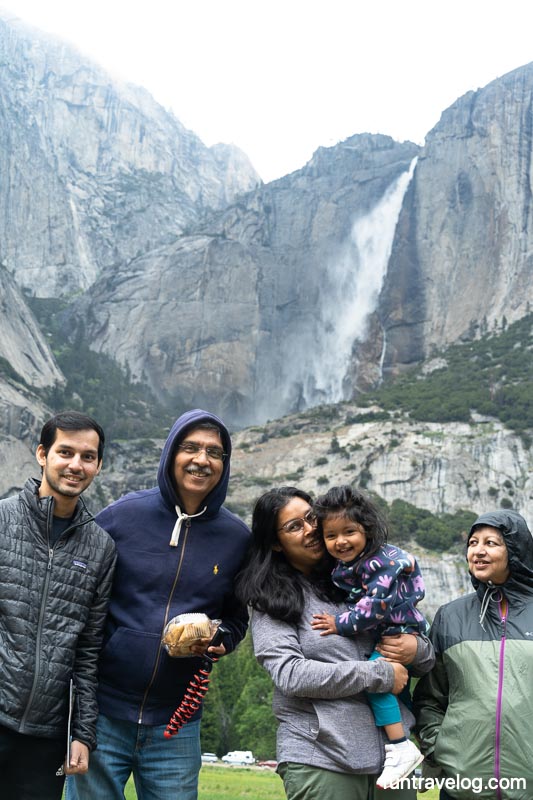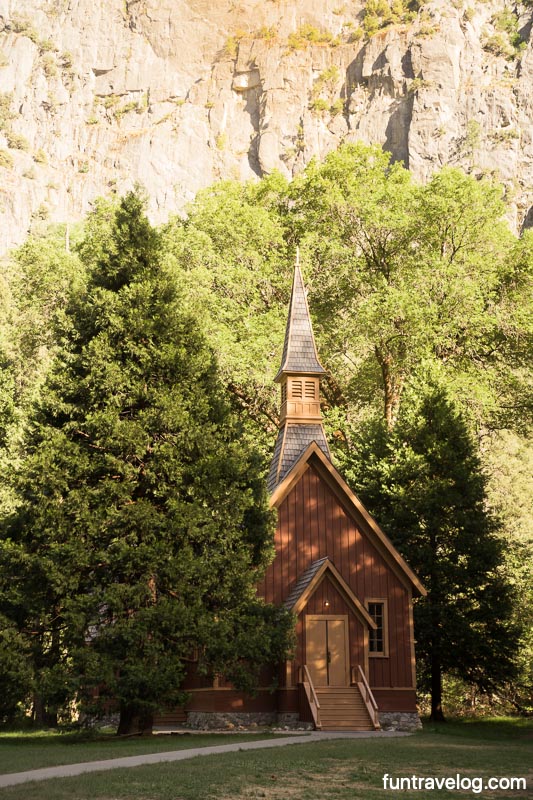 Sentinel Meadow
One of the most beautiful meadows providing views of the Yosemite Valley, Sentinel Meadow lies west of the Yosemite Chapel and has a small parking lot and a paved walking area. From here, you can see both upper and lower Yosemite falls and admire the surrounding cliffs.
Yosemite Chapel
Designed in "New England" style, Yosemite Chapel is the oldest structure in the valley. It was originally located was near the current four-mile trailhead. Now it has been rehoused in Old Village, due to the disappearance of the surrounding "lower village" area. The Chapel is constructed very simply but manages to look very attractive.
Yosemite Falls
Upper & Lower Yosemite Falls are in their complete glory in the spring or early summer. Luckily, the falls are visible from many parts of the valley so we got several glimpses before we hiked to see them on our second day there. It is a fairly easy 1-mile loop to walk the Lower Yosemite Falls trail. If you stay inside Yosemite Valley Lodge, you are literally across the street from the start of the trail.
Day 2
Since our toddler is most active during the mornings, we opted to hike to Mirror Lake in the first half of the day.
Mirror Lake
This beautiful trail starts at bus stop #17. The best place to park your car is at Curry Village. Once you park, walk outside the parking lot to the start of the trail. The entire loop to the lake and back is around 2-2.5 miles if you don't want to go all the way around the lake. However, the last bit is uphill. We carried Raahi in our baby carrier for the most part. Once we reached the lake, she was immensely excited to run into the freezing water and play with the stones around. This lake is famous for reflections of Half Dome and Mt. Watkins. It is also one of the best Yosemite day hikes.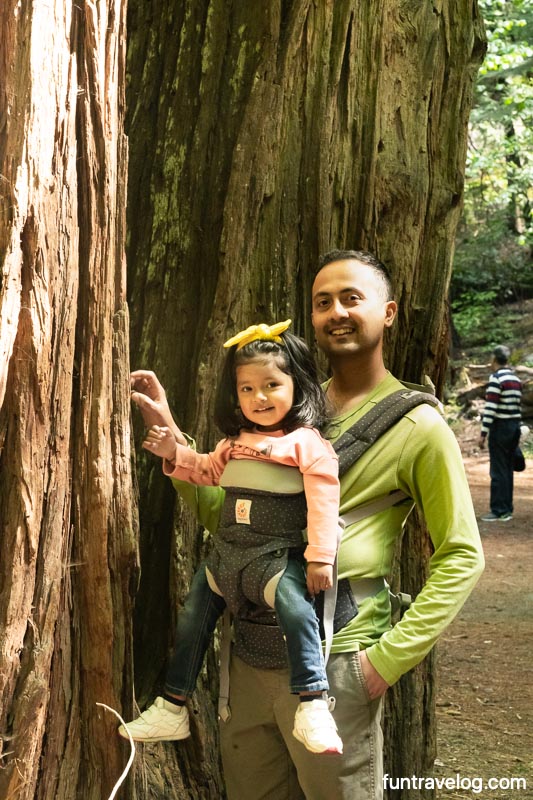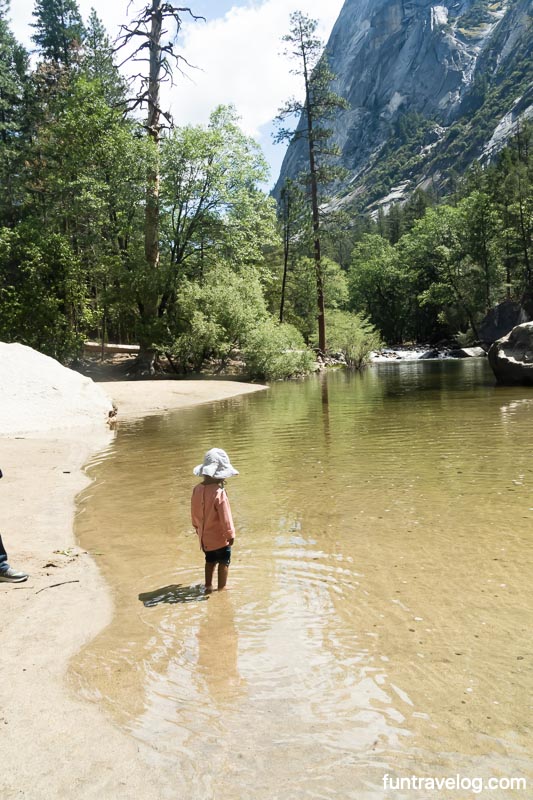 Tunnel View
In the afternoon, we decided to drive to see the famous Tunnel view. This is a historic site that provides sweeping views of Half Dome, El Capitan, Yosemite Valley, and Bridalveil Falls. The spot is breathtaking, to say the least. Although the views were fantastic, the crowds even in mid-May deterred us. We opted to come back the next morning.
Since Lower Yosemite Falls was right in 'our backyard', we strolled the one-mile loop to view the roaring falls. Raahi could not stop clapping looking at those views.
Day 3
As is the case with all National Parks, we always check with the park rangers to learn about which sections are closed and which viewpoints do they most recommend.
We started our day by returning to the tunnel view. Although we missed the sunrise, the views of the valley were better in the morning. During our visit, Tioga Pass was closed, so instead, we used our time to drive to Glacier Point Overlook.
Glacier Point Overlook
Another stunning overlook with panoramic views, Glacier Point is worth the hour-long drive from the main valley. The drive was filled with sub-alpine meadow views filled with wildflowers. From here where you can walk to see impressive views of Yosemite Valley, Half Dome, Yosemite Falls, and even Vernal Falls. There is even an amphitheater built on the overlook. We used this place to relax and have our packed lunch.
As you drive to Glacier Point or exit the park, make a stop alongside the Merced River at Valley View. This popular vista is located just after a view of Bridalveil Fall.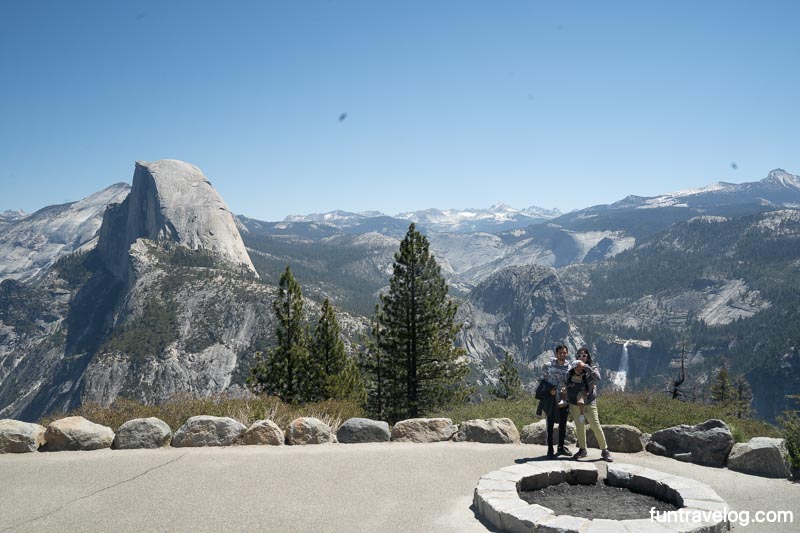 Cooks Meadow
Keeping our last evening easy, we walked around the Cooks Meadow one-mile loop to admire the views of the valley. The views of Half Dome at sunset were unforgettable, to say the least. The best part, we did not need to rush back for dinner as our dining hall at Yosemite Valley lodge was close by.
Cooks Meadow and Sentinel Meadow are some of our top Yosemite activities for toddlers. The trails aren't too long and it is fairly safe for a small child to walk alongside parents.
Staying in Yosemite
We have stated this before and will do so again, if there are accommodations available inside the National Park, please do your best to grab them. We have experienced how it saved us immense time when exploring other National Parks (Yellowstone, Death Valley, Bryce NP to name a few).
If you want to book accommodations inside the park (we can't stress that enough), use this official site.
Luckily Yosemite has several lodging options available, and we were able to get three nights booking at Yosemite Valley Lodge. The lodge is perfectly close to one major attraction- Yosemite Falls, and has multiple dining options – Base Camp Eatery, Mountain Room Restaurant, and Mountain Room Lounge. We were extremely satisfied with our stay there. The rooms were spacious, well furnished, and well-stocked. Plus, we had access to the dining areas and the gift shop too. They also have a swimming pool and bikes for rent.
Places to stay near Yosemite
However, all is not lost if you're unable to find lodging inside Yosemite National Park. There are plenty of lodging options near the entrances. Use this map below to find the nearest accommodation to Yosemite National Park.
What to see if you have more time in Yosemite?
Here are some spots to visit if you have more time in Yosemite. Some of them involve a longish drive from the main valley.
Mariposa Grove
Located in the southern section of Yosemite, Mariposa Grove is home to 500 sequoia trees, the largest number of giant trees in that area. Because we were visiting Sequoia National Park too, we chose to skip this area in Yosemite. It's about an hour's drive from the main Yosemite Visitor Center.
Toulumne Meadows & Tioga Road
Toulumne Meadows is a vast scenic sub-alpine surrounded by peaks and domes. The Tioga Road is a 47-mile scenic drive between Crane Flat and Tioga Pass. Unfortunately, Tioga Road was closed when we were visiting Yosemite. It's about 2 hours away from the main valley.
Hetch Hetchy
If you're looking to see wildflowers and spring waterfalls, and remote lakes, head to the park's northwest section to Hetch Hetchy. This is another hour away from the main valley and would likely be a day-long affair. There's a trail, a waterfall, a dam, and a strenuous Smith Peak hike.
What to pack for Yosemite with toddlers
With each national park visit, we're getting better at planning what we need to carry for our toddler. For a week-long trip to national parks, here's a quick list of what to bring to Yosemite with a little one. (see below photo).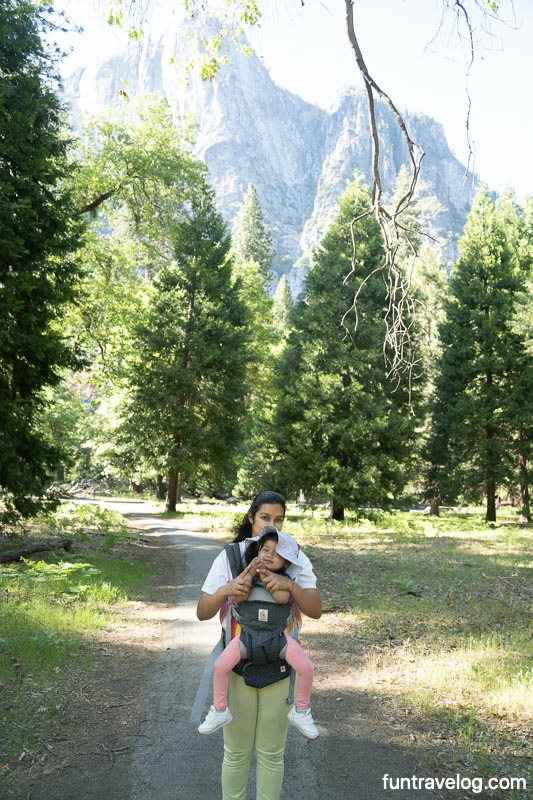 Diapers, wipes
Warm jacket
4-5 pairs of bottoms
6-7 t-shirts, a combination of short and long sleeves
2 pairs of nightwear
2 dresses, as we were going to spend a couple of days in Bay Area too
3 vests, underwear
Sunscreen
Shades, sun hat
Toys and books
Sneakers, 3 pairs of socks
Toiletries
Medicine kit
Sippy cup
Baby carrier
We packed in a lot of snacks before entering the park. Although we went to the dining halls for most meals, having enough snacks on hand for her helped us on the go immensely.
Additionally, we did not carry our stroller for this trip, as we were trying to save space in the car. It would have been helpful, since there are several stroller-friendly trails inside Yosemite, but since we had our baby carrier, we more or less managed. If you're visiting Yosemite with a baby, then carrying a stroller is a must.
We also usually order diapers/wipes into our first-night destination hotel rather than carrying them in our luggage, keeping only a few to last us a day or two upon arrival. We ordered diapers to be delivered to our stay in Bay Area before heading to Yosemite Valley.
Besides food and our baby carrier, there are other essentials we carry for our munchkin to have her busy on flights, cars, and lodgings. This is a list for babies, but some of them are still relevant for her as a toddler.
Hope this blog serves as a good starting point for your Yosemite National Park trip, especially if you're with kid(s). If you'd ask us that if we see it all, the answer is a flat no. But embracing slow travel and enjoying moments together is what we cherish the most.