High up on the Atlantic Ocean, giant clouds hover above mountains on a set of eighteen small islands inhabited by more birds and sheep than humans. This country, known as the Faroe Islands, is a landscape far reserved from others. Water from a lake flows over a cliff and drops into the ocean. Narrow roads cut through mountain slopes and sweeping valleys. The weather changes from sunny to cloudy to rainy to windy in sudden bursts. As one drives around by the ocean, smaller surrounding islands fall into view, some which are only inhabited by birds. This land is uneven, with jagged edges that dramatically rise up into the sky or drop towards the ocean. I may be gushing a little bit, but can't help being glad that the islands are not on the regular tourist trail. As a small country, the Faroe Islands can only sustain a limited number of guests each year – and car rentals and guesthouses sell out quickly. Because of their remote location, the islands remain ruggedly simple and exploring the stunning vistas involves a great deal of hiking and walking.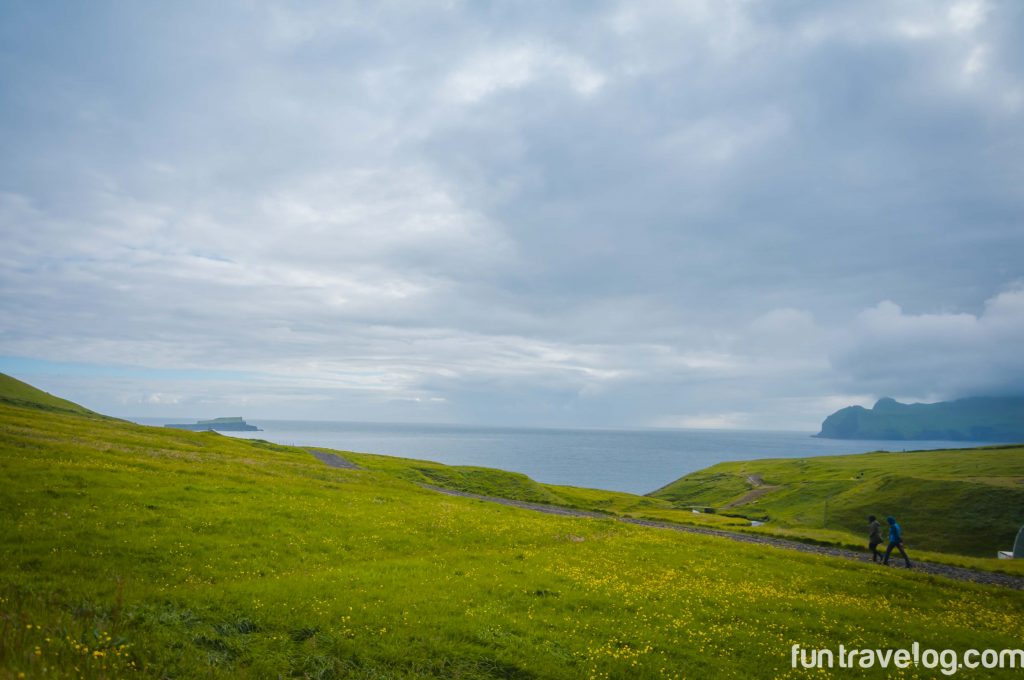 But that was not going to affect our plans of seeing these incredible islands. The only mental preparation needed was a realization that we'd have to push ourselves beyond our regular limits. That was that. With careful navigation and occasional trudges, we managed to complete four fairly long hikes on different islands. These hikes were the highlight of each day while we were there. Let's revisit them so you know that these are attainable goals – ones that you'll cherish forever.
Sørvágsvatn (mirror lake) hike
Situated on the southern coast of Vagar Island, Sørvágsvatn lake meets the ocean in the most dramatic fashion. This is the biggest lake in the Faroe Islands and might appear unassuming from a distance. But the hike turned out to be the longest one (according to my Fitbit) among the four that we took. Knowing that there would be sufficient light in the evening, we started walking by the road near the lake on Highway 11. There are no clearly marked parking spots barring a parallel road where we found a few cars parked. A little brown door was our entry way to the lake side. It had been raining all day since we arrived and the vast mountainous expanse was soaked aside from the stony patches that had dried out. Walking over wet grass, rocks and tiny streams that gently seeped into the lake, we carefully made our way to what appeared to be a cliff at the end. When the walk is pleasant, one tends to miss out on a few details. We met many people on their way back from the hike on our route and didn't realize at the moment that we could possibly be taking the reverse route. By the end of nearly two hours, we had reached a surreal spot. Standing on top of gigantic boulders, we saw a bright glaze from the evening sunlight behind a mountain at a distance. To our right was the lake, to our left was the ocean at a sharp descent. We couldn't estimate the height of this drop from the spot we were at. A strip of land stood between the lake and the edge. Water from the lake made its way over the strip, and possibly into the ocean.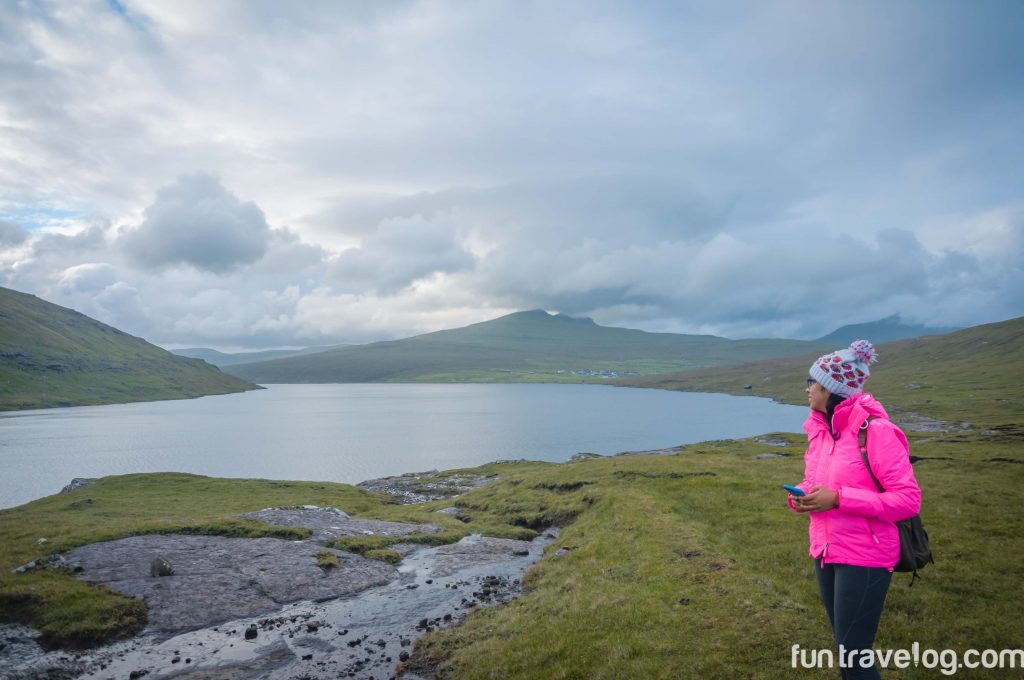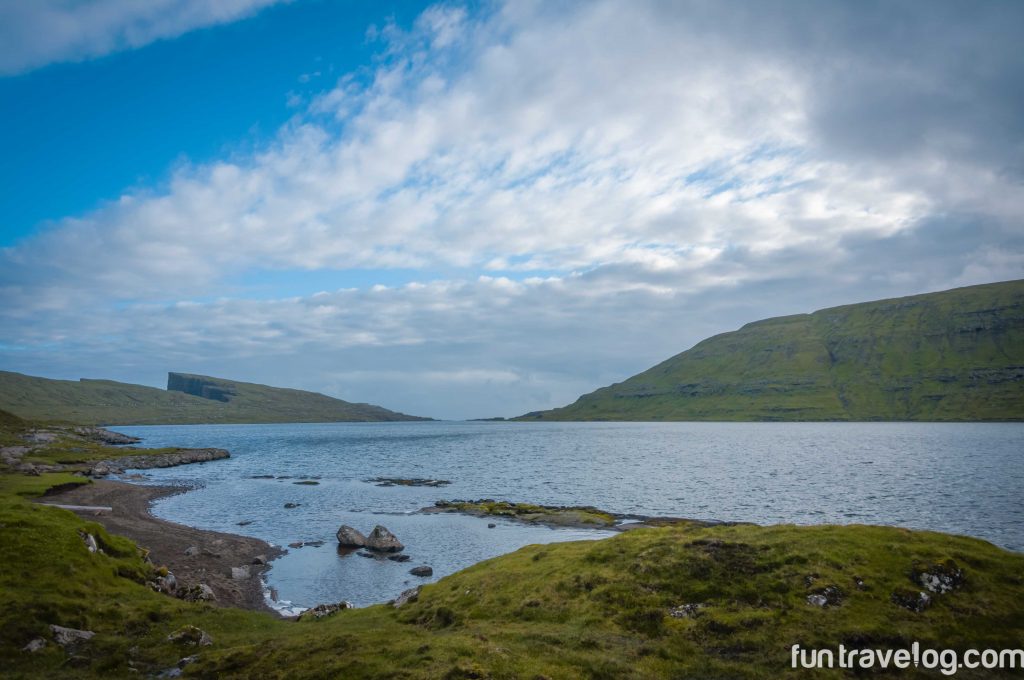 PS: We ended up missing the famed spot that most people visit, possibly because we took the reverse route. Hiking up a cliff to the left of the lake would have ensured views of a waterfall with the lake in the background. Instead, we chose to walk by the lake, assuming that the spot was at the end. Three days later, we found another door at a short distance from the parking spot on the highway, which was likely a possible entryway for the hike. Many blogs that we had read talked about the confusion on this route and the fact that others too had missed out on the waterfall view was some sort of a consolation. But hey, how many people manage to see sights like this one?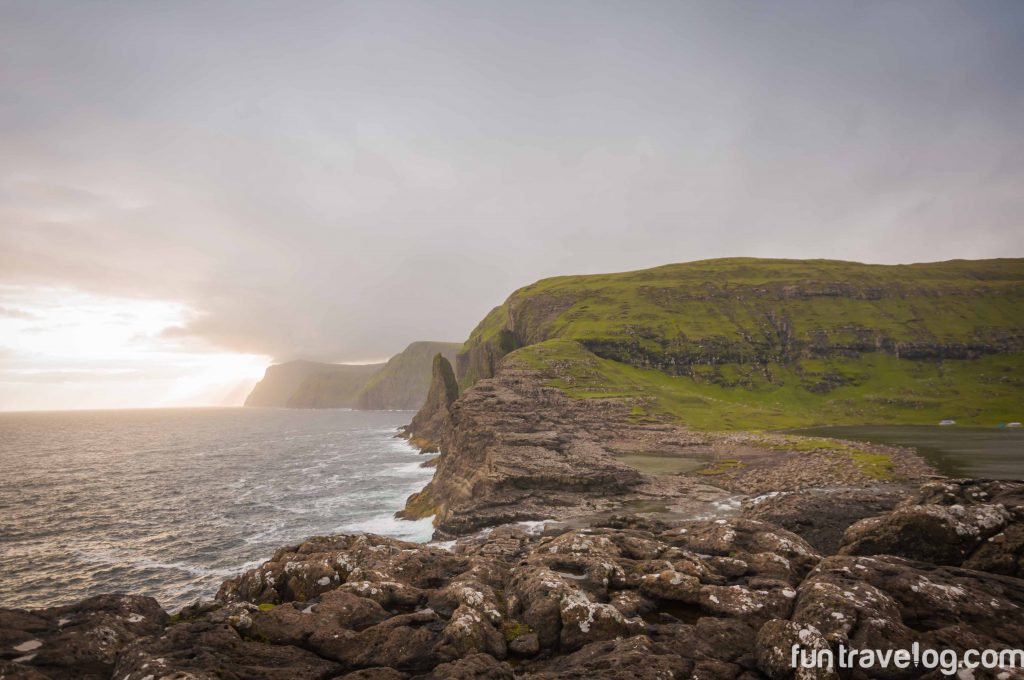 Ambadalur Valley, Gjógv
The town of Gjógv (pronounced Jefv) is located at the northern tip of Esturoy island. A small but vibrant village settlement, the town's gorge is its primary attraction. Staying here for two nights allowed us to explore nearby areas at a slower pace. The drive to Gjógv is a spectacular one with hairpin bends and fjords.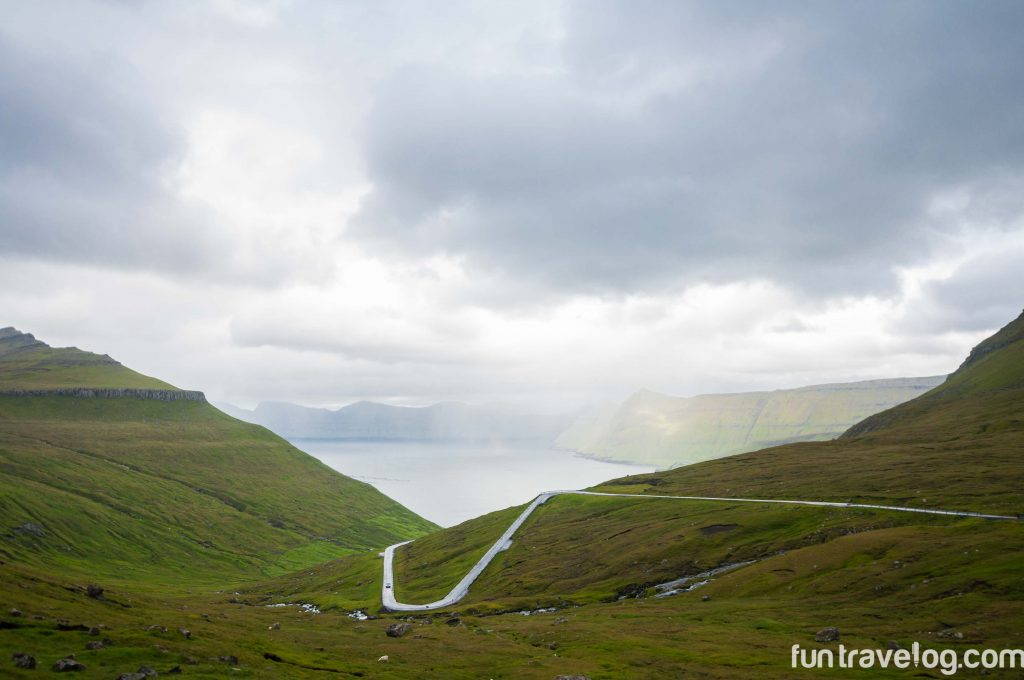 For our second hike, we took suggestions from the Gjógv guesthouse manager and took the hiking path above the gorge that leads to Ambadalur valley. Fulmar birds nesting in cliff pockets caught our attention. It had rained during the day too, and the path was muddy. The hike began at a comfortable pace until we reached a sharp ascend that allowed us to see birds flying in and out of the cliff side. Our hopes soared. Standing on an incline, with our eyes tracing the movement of the birds around us, we suddenly saw a puffin fly in to rest on a rock protruding from the cliff. Out came the cameras.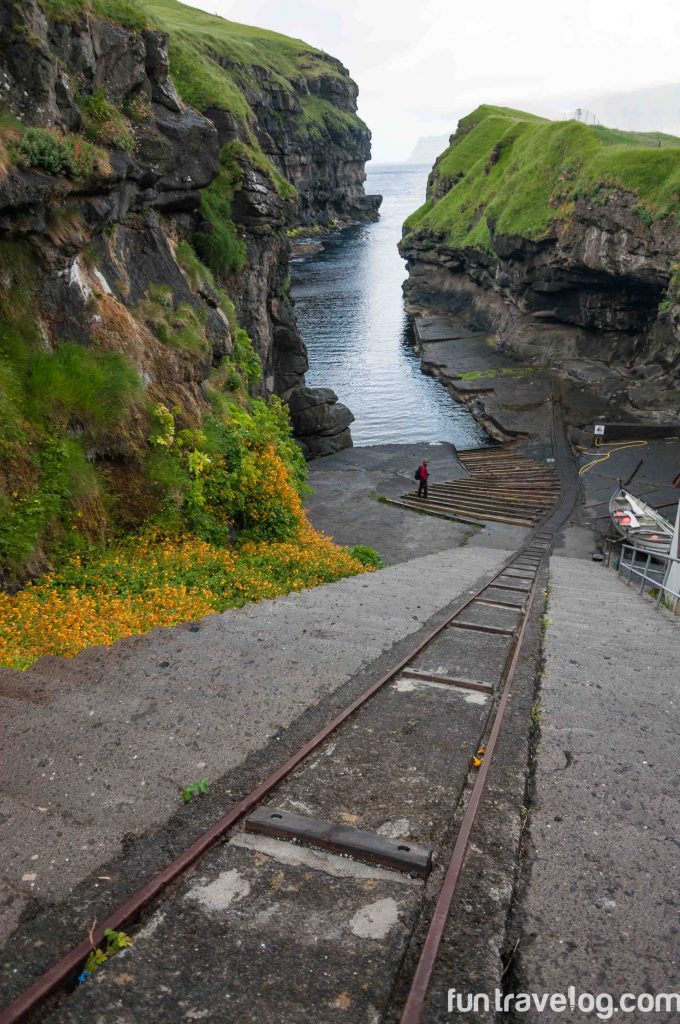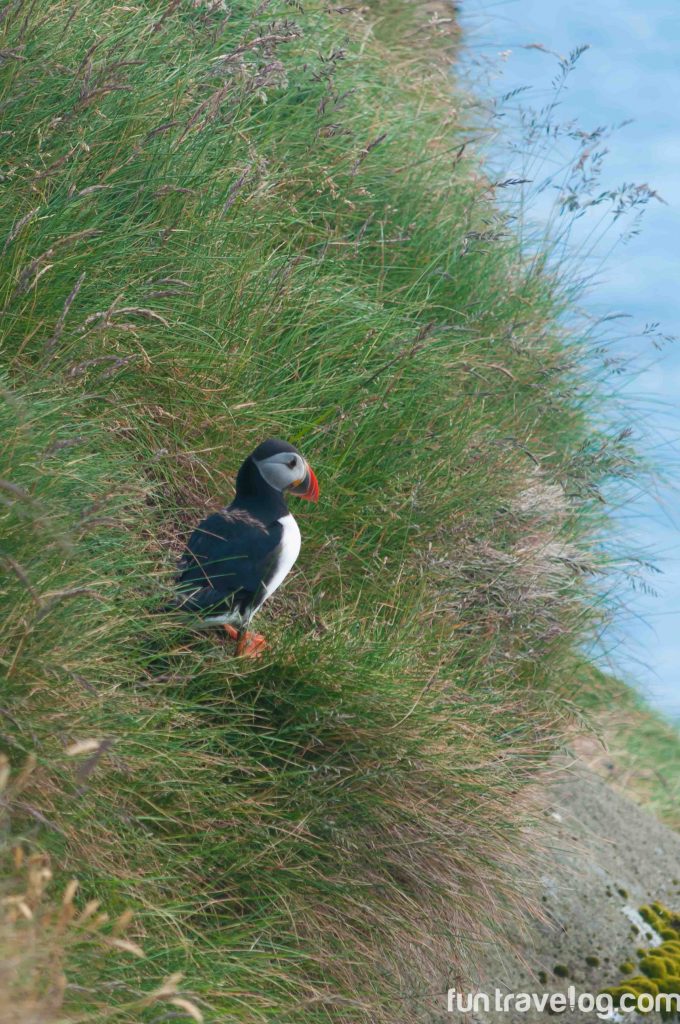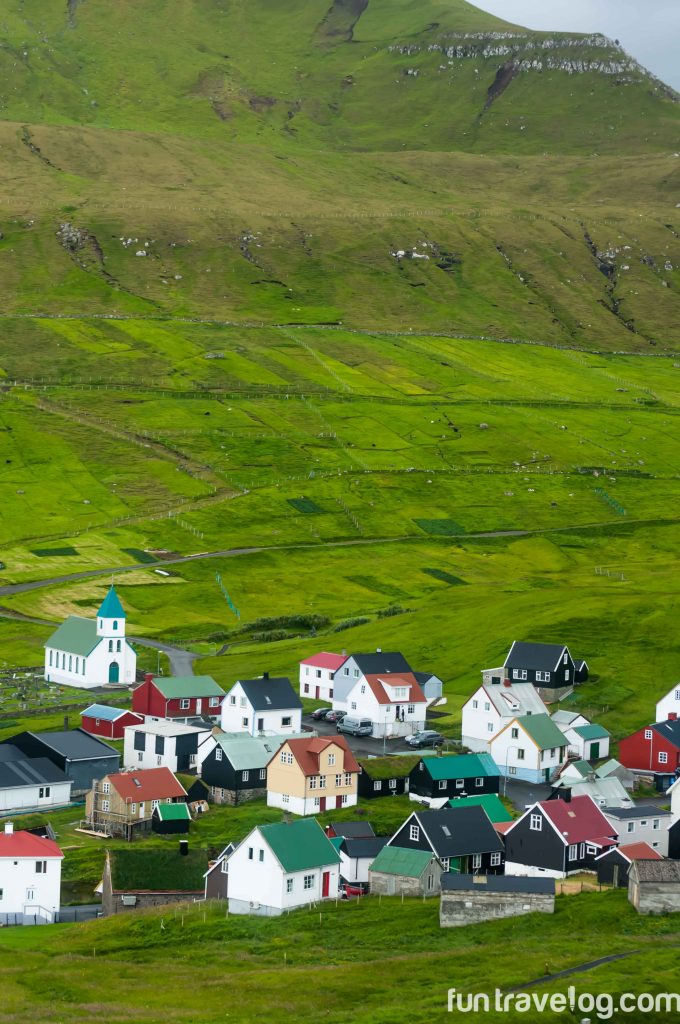 A few other hikers were around too, and we spent almost half an hour gazing at the two puffins that our group had spotted. Once we were atop the cliff, strong winds and a sudden downpour forced us to turn around. A huge rainbow over the Atlantic Ocean emerged in the sky – never has a return journey been more beautiful.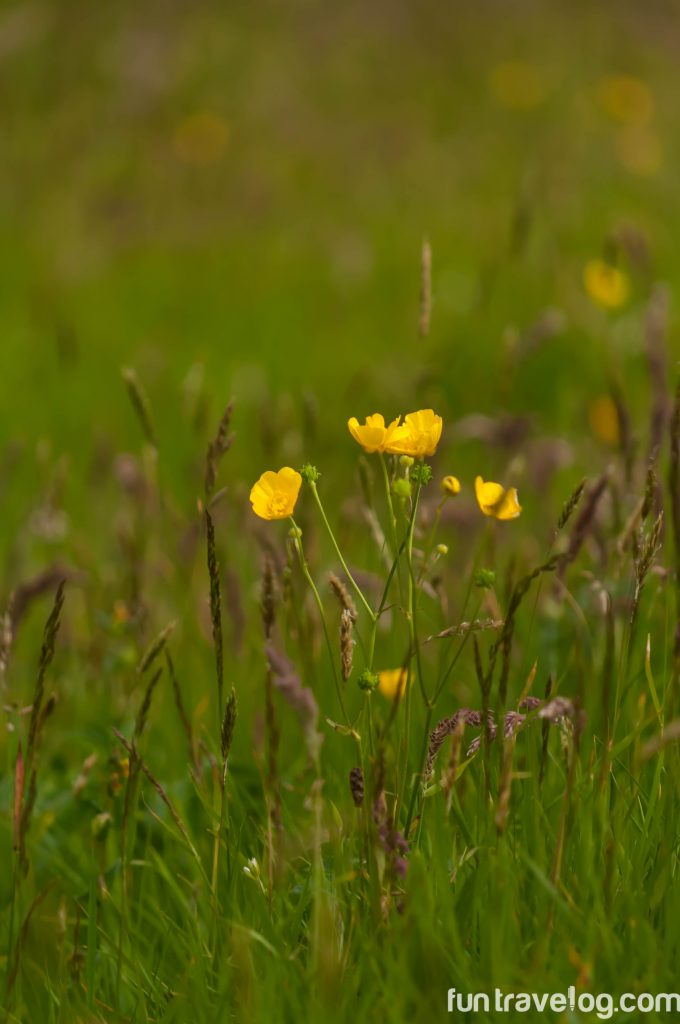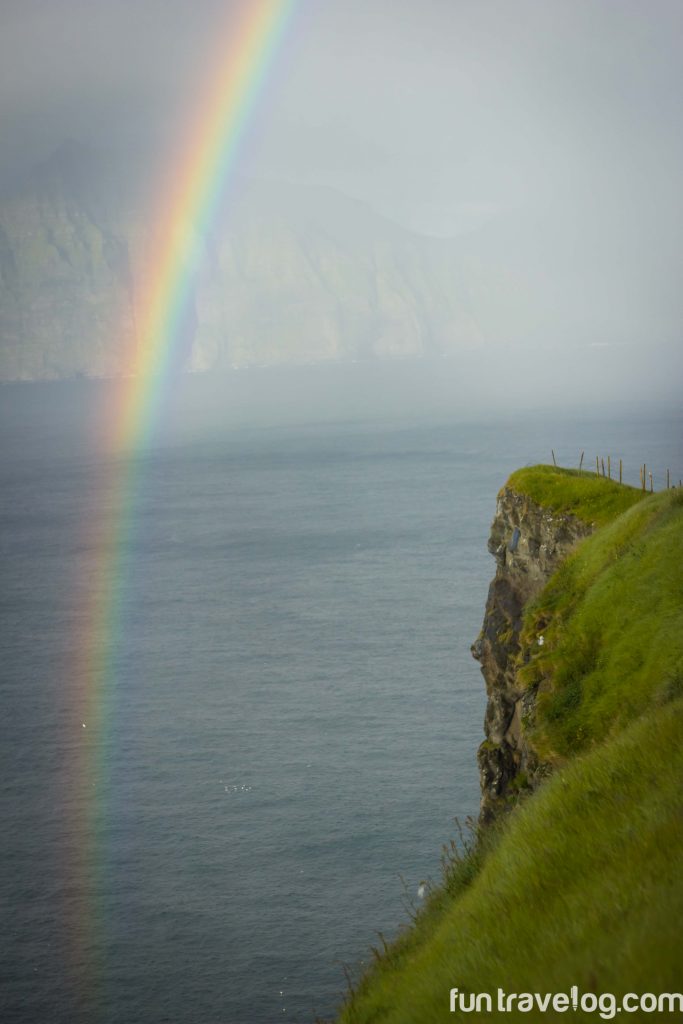 Kalsoy – Kallur Lighthouse Hike
The northern island of Kalsoy is directly visible from Gjógv – that's how close the Faroese Islands are to each other. To reach Kalsoy though, one has to drive over to the port in Klaksvik and take a twenty-minute ferry. We took our car along on the ferry. Kalsoy is made up of five villages, and the last village of Trøllanes is where the Kallur lighthouse is located. Despite having been on hikes for two days in a row, we were raring to go. This hike begins through a small red door at the base of a mountain on the left side of the village (from the road you drive into). By now, we were getting accustomed to ascending, finding the right rocks to step on, avoiding sheep poop and stepping over wet patches on the trail. Overcoming the first leg of the hike was fairly simple. Following which we found ourselves on a flat mountain top occupied only by grazing sheep. Each time we stopped to look around, the infinite ocean, breathtaking green mountains and the bluest of blue skies seemed to usher us along.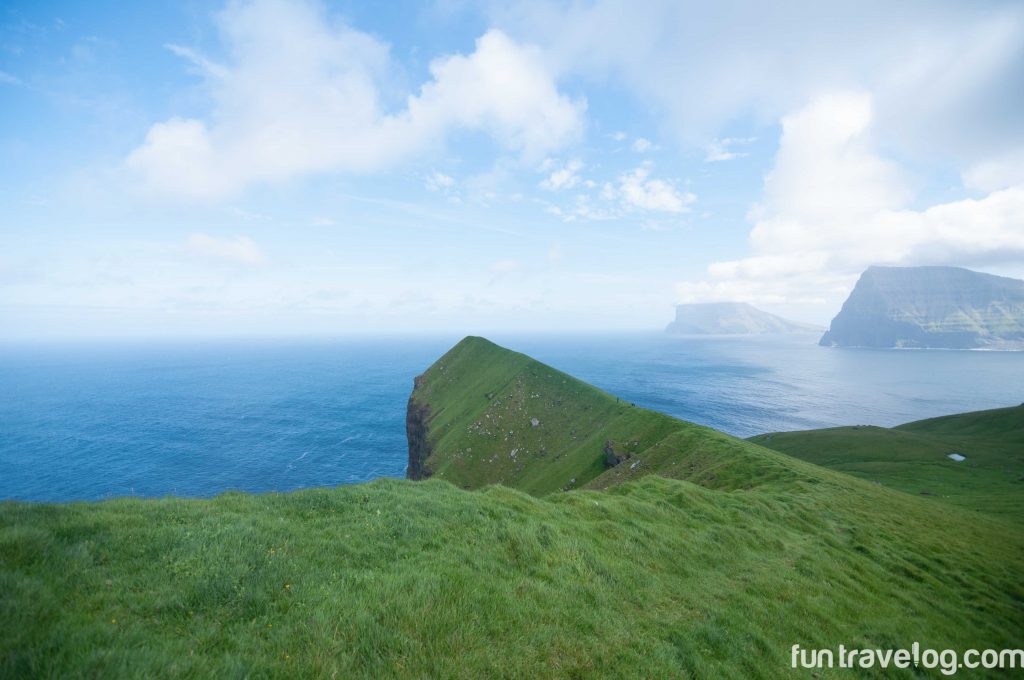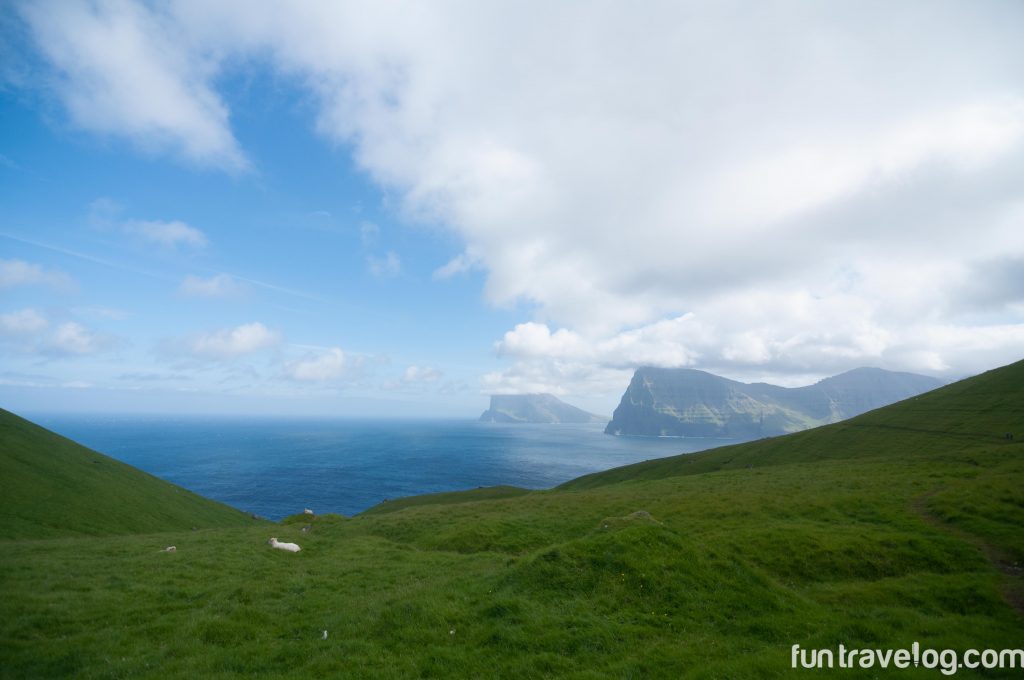 We stopped atop a boulder for a quick bite and to soak in the sights. The vast mountain top soon gave way to a thin trail cutting through a slope that reminded me of rice fields and terrace plantations. Walking on this trail was tricky as the path was way too narrow.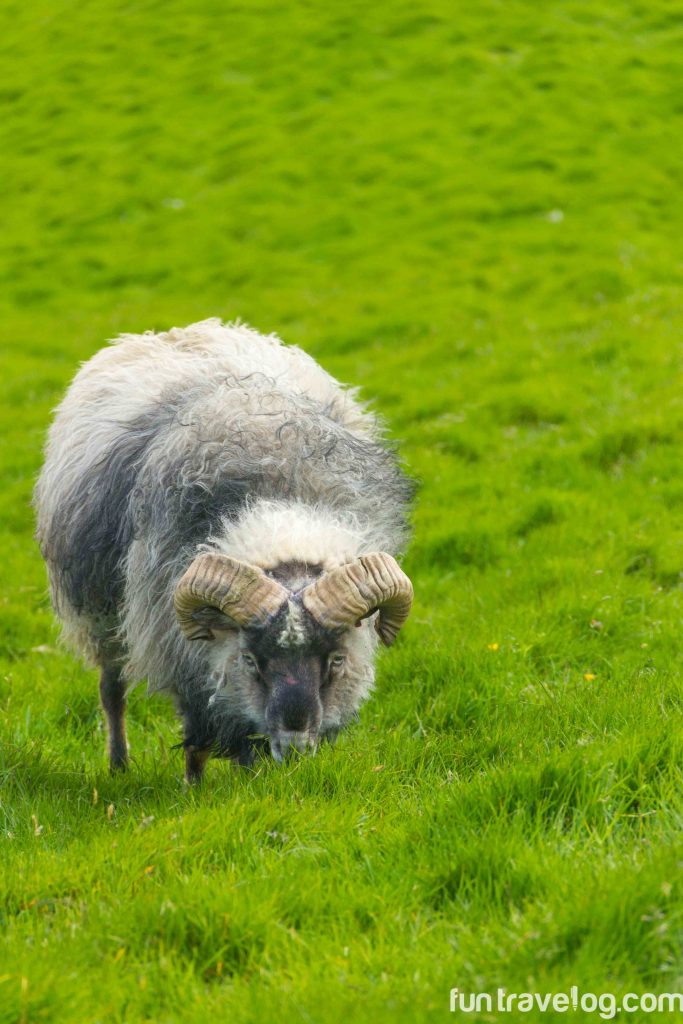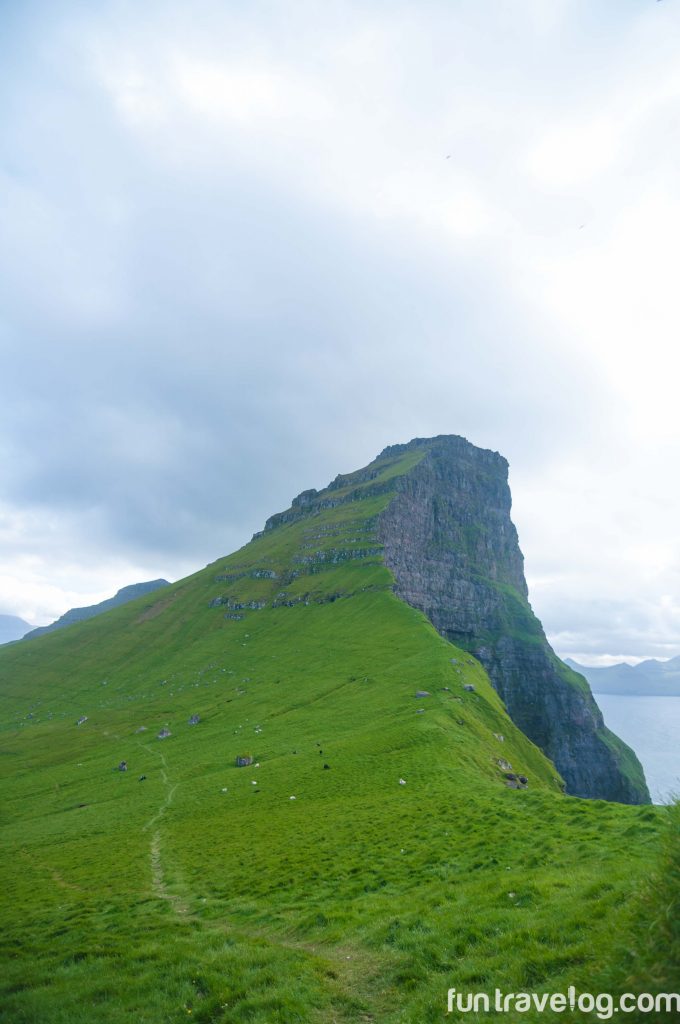 At this stage, the shining red and white lighthouse turned out to be my inspiration. And guess who made it, all the way?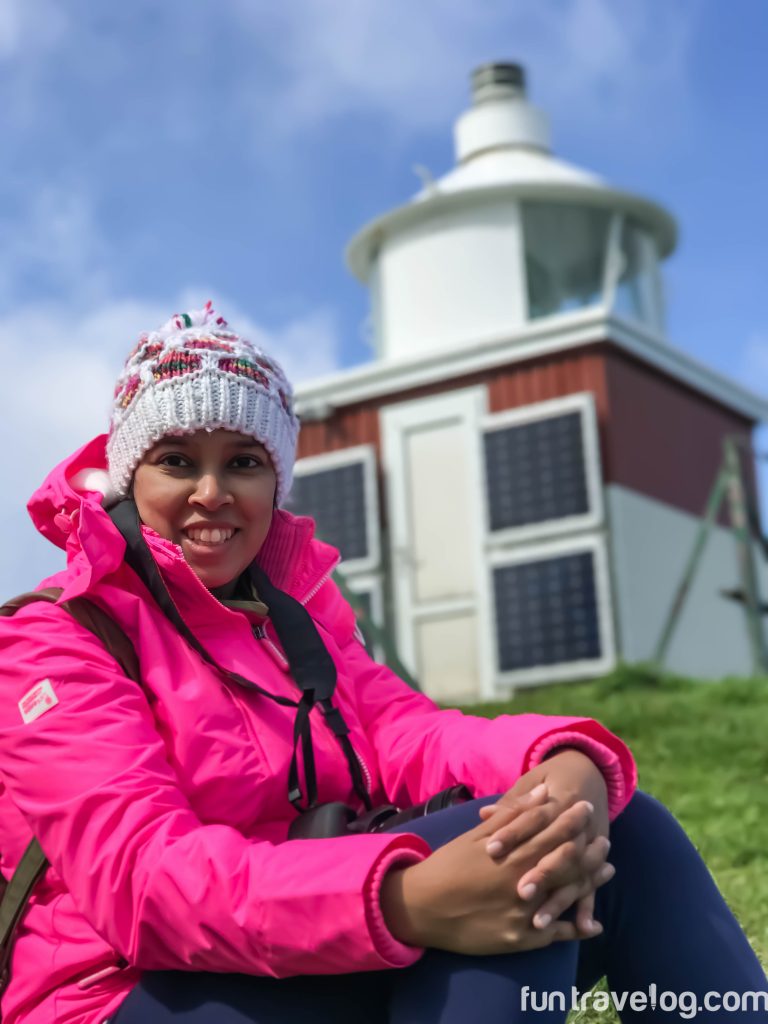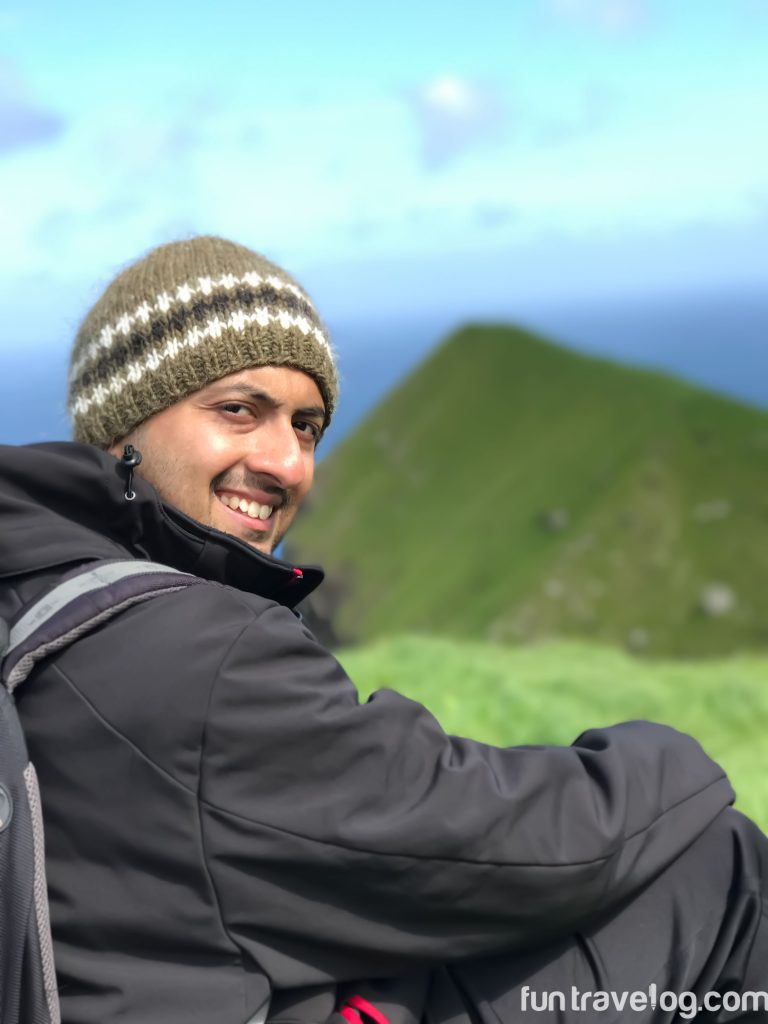 Mykines – Holmur Lighthouse Hike
I would have been sorely disappointed had I returned from the Faroe Islands without visiting Mykines. Reaching this tiny island off the south west coast of Vagar Island can be tricky because of the rough sea weather. Which is why, we feel very lucky to have made it there. I strongly recommend checking the
Mykines ferry
website multiple times a day while you're there, as additional ferry services are added at the last minute. The unforgettable hike on this island begins with an incredulous sight.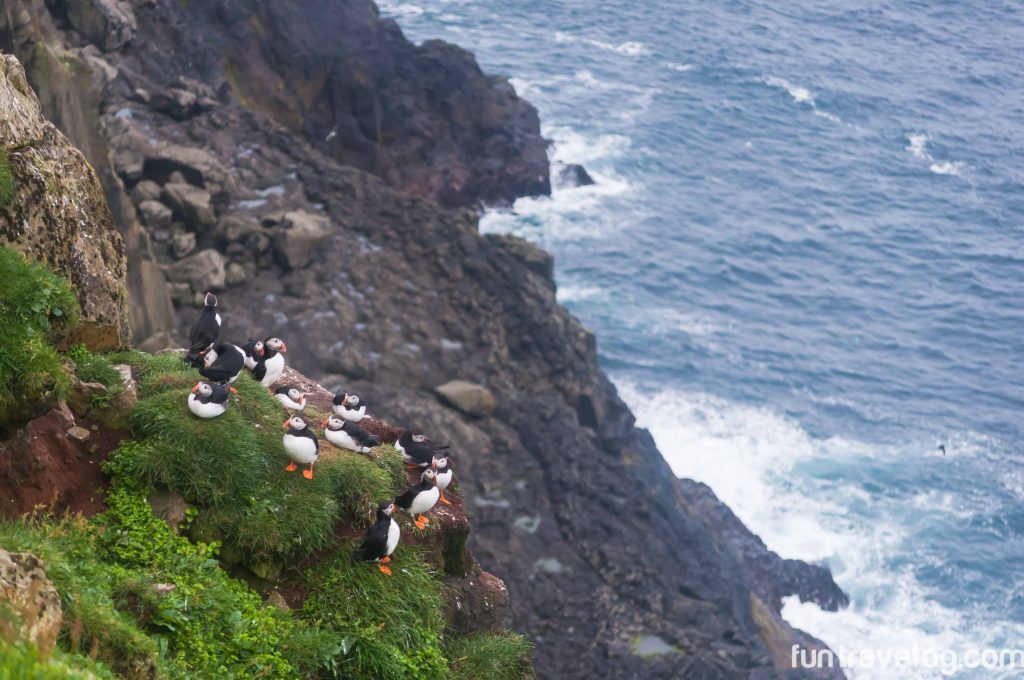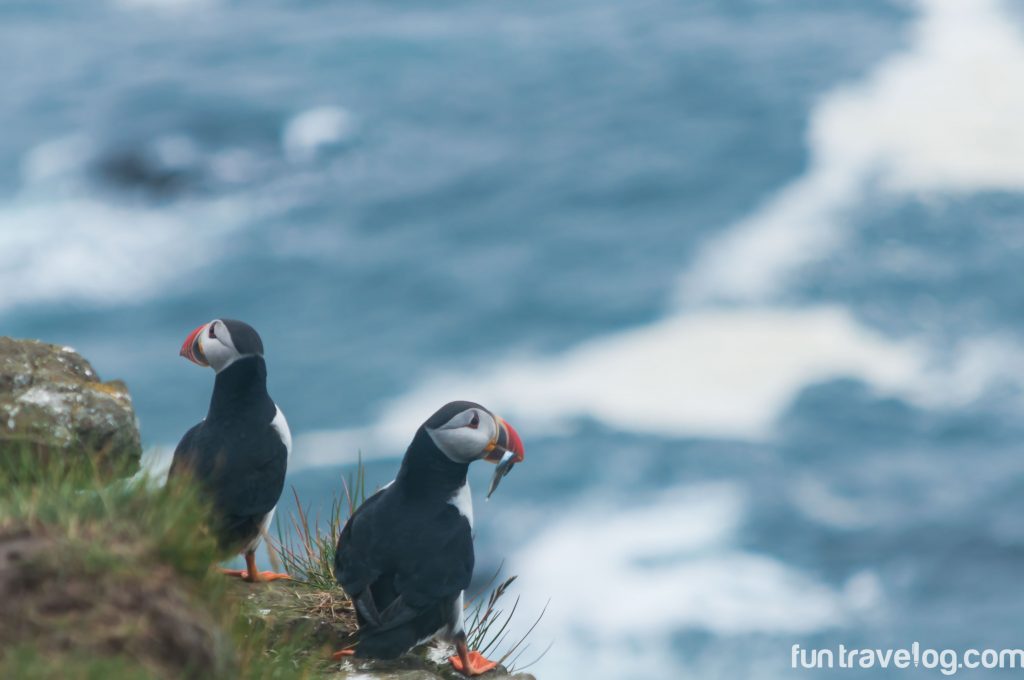 By the cliff-side, after a short and steep mountain climb, a colony of puffins totter about, oblivious to human presence. The rest of the hike is a treat to the eyes. We felt like we had walked into a bird's paradise. I'll save the details for a dedicated post on Mykines.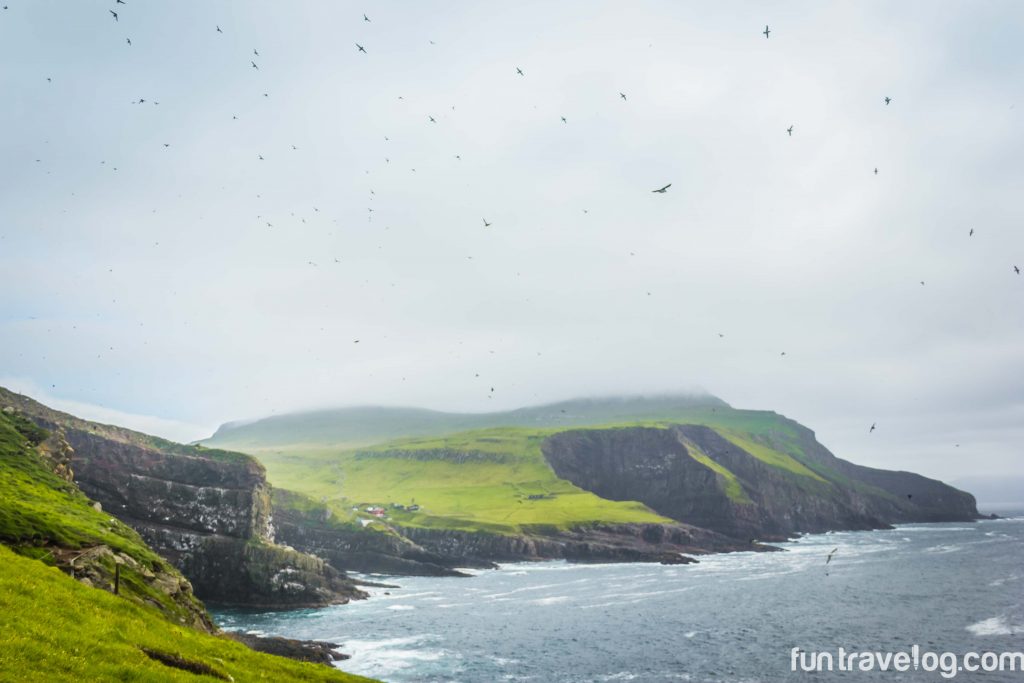 Getting to the Faroe Islands is actually as convenient as it is to get to any island in Europe. Well connected from Denmark and Iceland, the islands are also a stop on some Scandinavian cruises. Thankfully, it is possible to rent cars, though they require reasonable advance booking.
Tips for non-hikers headed to the Faroe Islands:
Don't be daunted by the lengths of these hikes. Once you complete your first hike, you'll feel confident about the rest.
There are no marked trail-heads for any of the hikes. Trust your instincts – check where other people on your trail are going or returning from and get a sense of direction from them. Keep notes or a paper map about the trail you're heading into.
Keep Google Maps handy for a general idea. Google doesn't give a proper indication of trails but will give you an idea of the area.
Respect nature – don't litter or disturb animals
Gear:
Carry a good wind/chill jacket – I never took mine off!
Dry fit clothes will be helpful as it can rain anytime in the Faroe Islands. I regretted not carrying waterproof socks.
Arm yourself with a sturdy pair of hiking boots.
If you carry an SLR and lenses, make sure you have a waterproof bag handy to store them.
Food
There are a few supermarkets in the larger islands (Vagar, Esturoy, Torshavn) – stock up on fruits, yogurt, and bread before you head for a hike.
We've been carrying Trader Joe's trail mix on our trips off late and think that they make for perfect snacks.
---
I'm still reeling from the fact that we actually visited the Faroe Islands. Each of us has a reason to travel. In this instance, mine was to discover nature in its isolated, undisturbed state and to challenge myself. Though we're back, every day my mind wanders to this faraway land. I can sense the strength of the winds, the soft sounds of my hiking boots against wet grass and the road ahead. That enough would be my reason to return.
Save
Save
Save
Save
Save
Save
Save
Save
Save