Burrito Amor
A tall glass of coffee shatters by my feet as we wait to step inside Burrito Amor. I frantically save the carry-on bag I've been dragging with me from Cancun airport. After two flights and one bus change, the early breakfast we treated ourselves to in Boston appears to be a thing of the past. Our server smiles as he lets us in after mopping the mess away. We're starving, but I make it a point to comb through the entire menu. Fresh juice at modest prices. Pineapples, oranges, limes. Oh hey tropics – I have missed you. We're quick to order, only to realize that we have dinner reservations in three hours. Our language barriers cause some miscommunication and we end up with two huge vegetarian burritos instead of one. Looking at each other, Bharat and I proceed to top them with avocado and jalapeno sauces. What a burst of flavors! This was so good, and filling – we returned for the vegan version with cactus and chaya leaves (tree spinach).
Burrito Amor faces the street with open corners and casual seating. It has a few veggie / vegan burritos and burrito bowls, and is good value for money located close to the Ado bus station in Tulum town.
Prices: $$
Hartwood
I don't know about others, but my first thought when I hear of farm to table restaurants is "will there be enough vegetarian options?" We were very excited while booking a table at Hartwood (founded by a New Yorker) two months before traveling to Tulum. Their menu is seasonal, all the ingredients are organic and the food was said to be oh so delicious. Turns out, we ended up stuffing ourselves with burritos just hours before making it to the restaurant (read above). Our frantic emails and calls to delay the reservation go unnoticed. So here we are, not quite hungry – but eager for a taste at one of Tulum's most coveted restaurants. After all, we're on holiday, and it's okay to stuff ourselves. We take it slow, and start with appetizers, both of which were brimming with texture, and surprising tastes (think empanadas stuffed with papaya!). Not a bite goes wasted. We skip mains for the creamy dessert. Hartwood also has an array of cocktails on offer.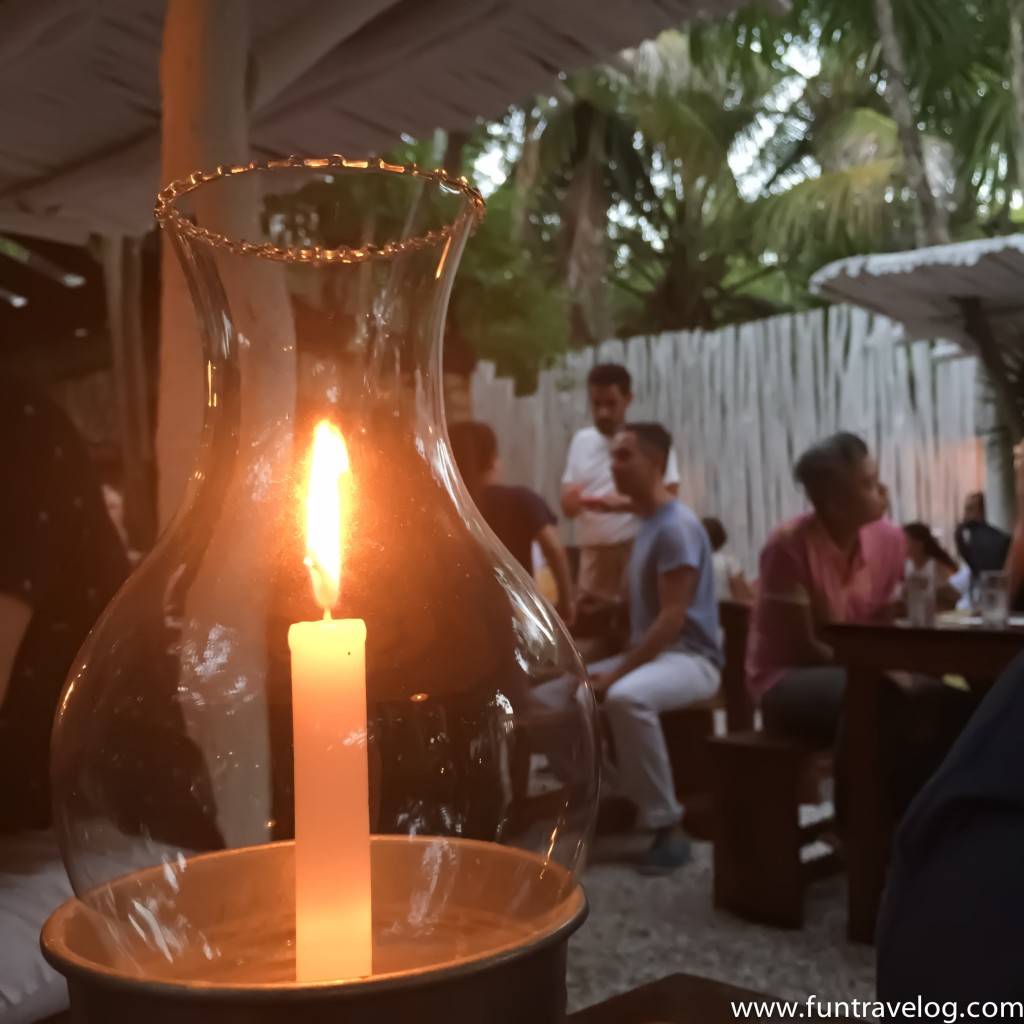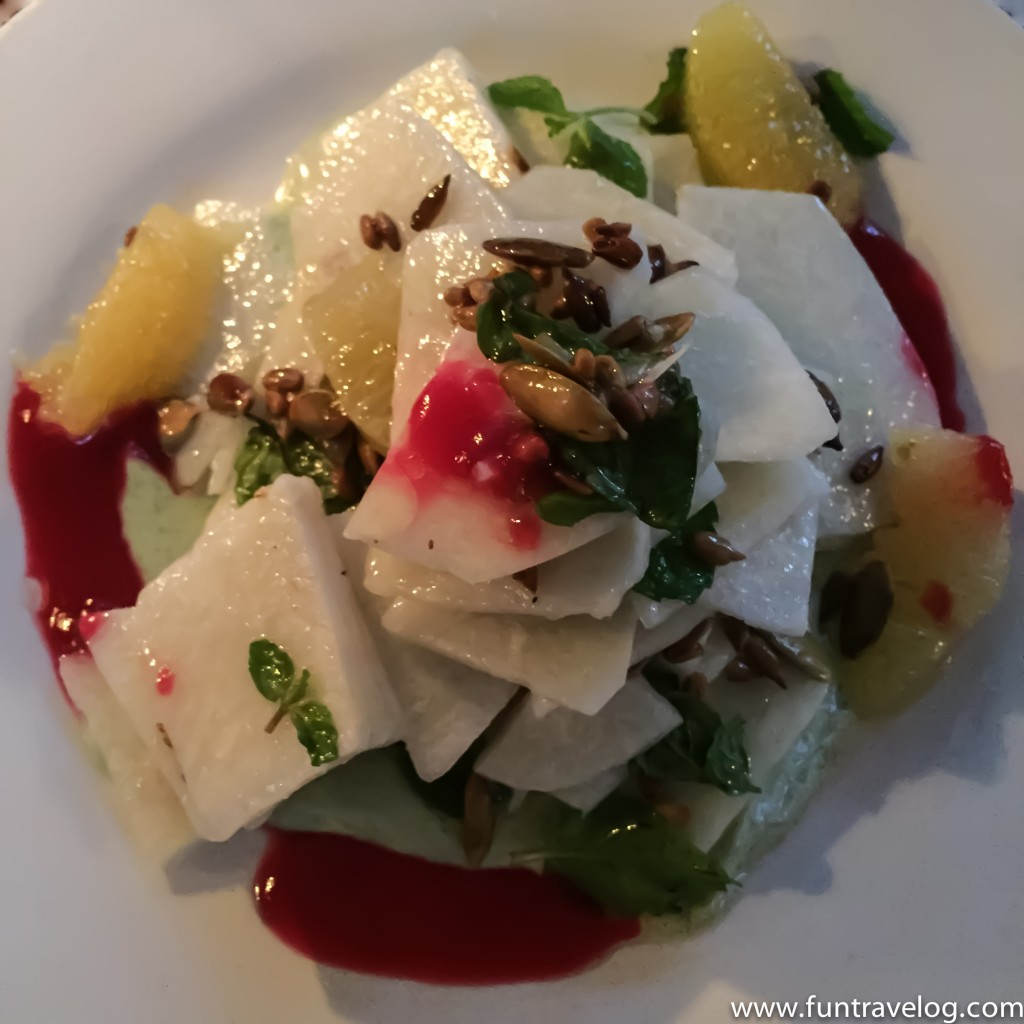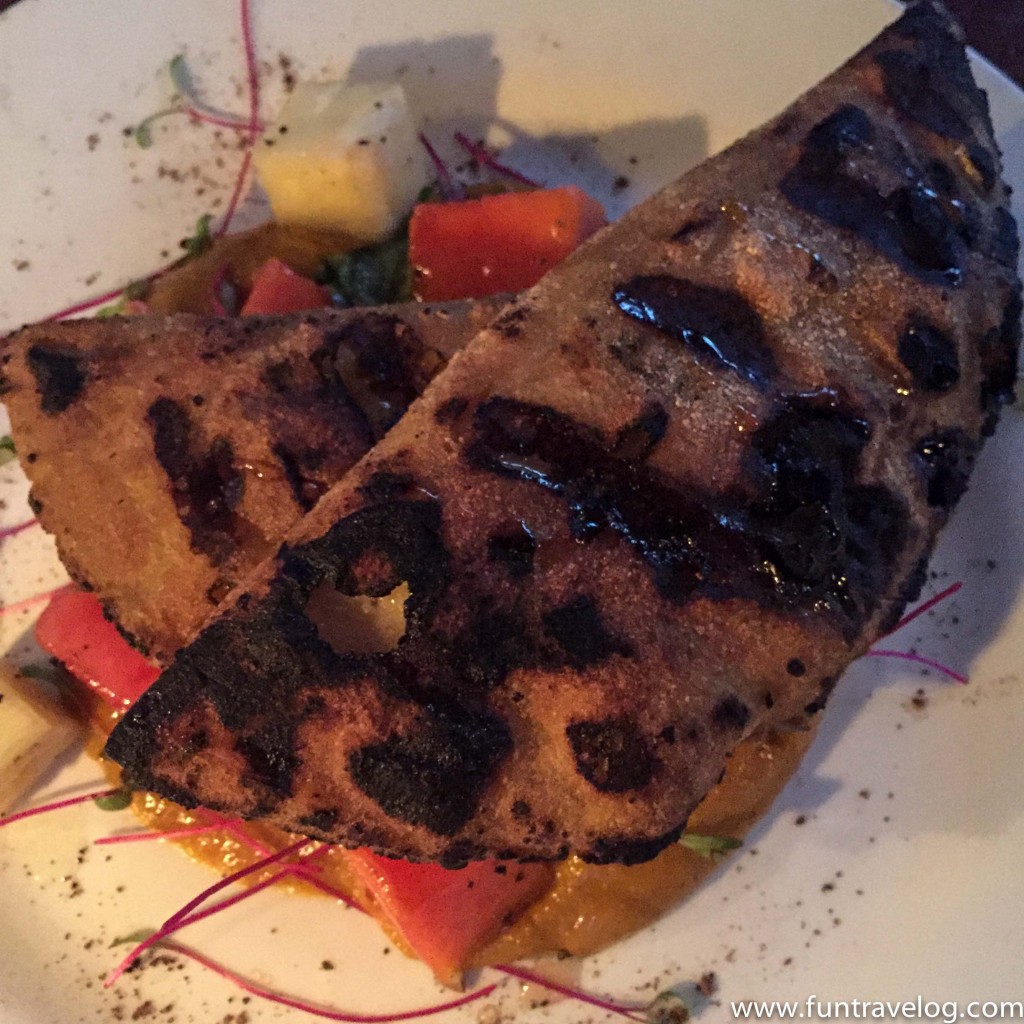 The restaurant is casual chic and the ambiance is lively too. During our visit, they had several vegetarian appetizers on offer, but only a couple of non meat / seafood options for mains. The portions for appetizers were wholesome though.
Prices: $$$
La Coqueta
At times, a restaurant's exteriors are enough to catch your fancy. But we wouldn't have known about the carnivalesque La Coqueta had it not been for a friend's recommendation. And even before we had settled in, we knew our meal here would be memorable. Their reasonably priced menu, creative cocktails (please order the tamarindo margarita) and helpful staff represented Mexico's friendly and relaxed vibe. My favorite bit was definitely their complimentary make your own salsa plate!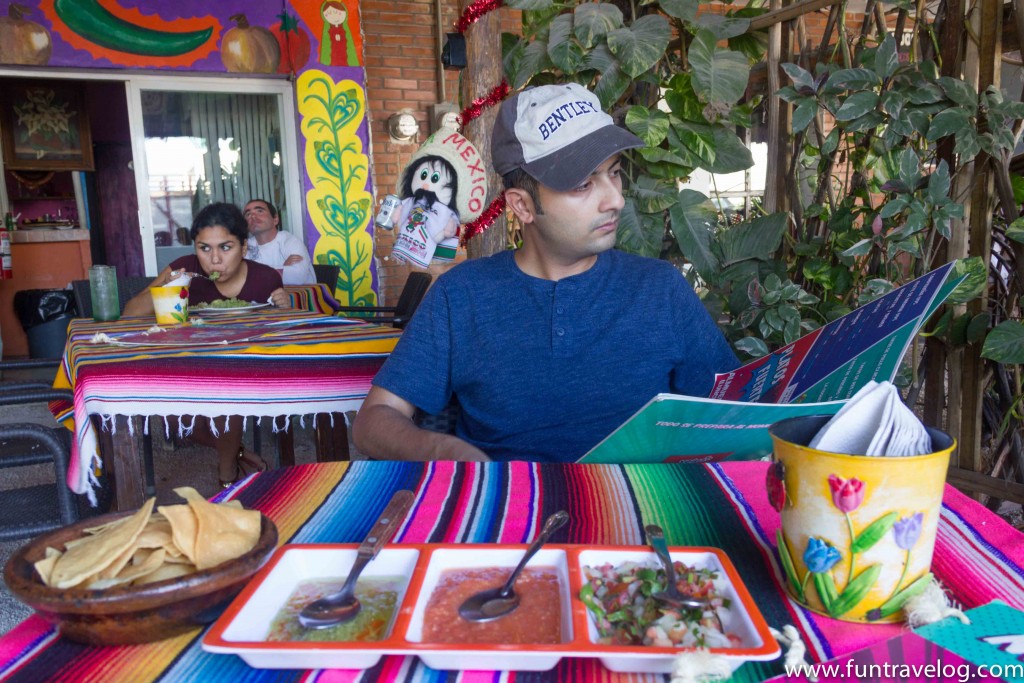 This is the kind of place I'd visit straight from the beach, in my flip flops and hat except it's near Tulum town, though right before the main streets. Vegetarian options? Many!
Prices: $
Restaurare
This upcoming vegan restaurant was set in the middle of the jungle right across the eco hotel we stayed at in the beach area. A rocky path lit with lanterns and candles welcomed us into the cozy sitting area. I had read about Restaurare's vegan mole in LA Times and I wasn't leaving Mexico until I had had my fill. Mole, an authentic Yucatan dish is traditionally made with over 52 ingredients, including cacao, peppers and chicken broth, and is considered to be one of the most complex, rich sauces. This vegan version includes mushrooms, eggplants and pumpkin seeds. As our server mentioned – "this one's a typical grandma's version – mean and rich, very non-Americanized." I may not ever taste traditional mole, but I can assure you this one was as close and delicious as the meat version!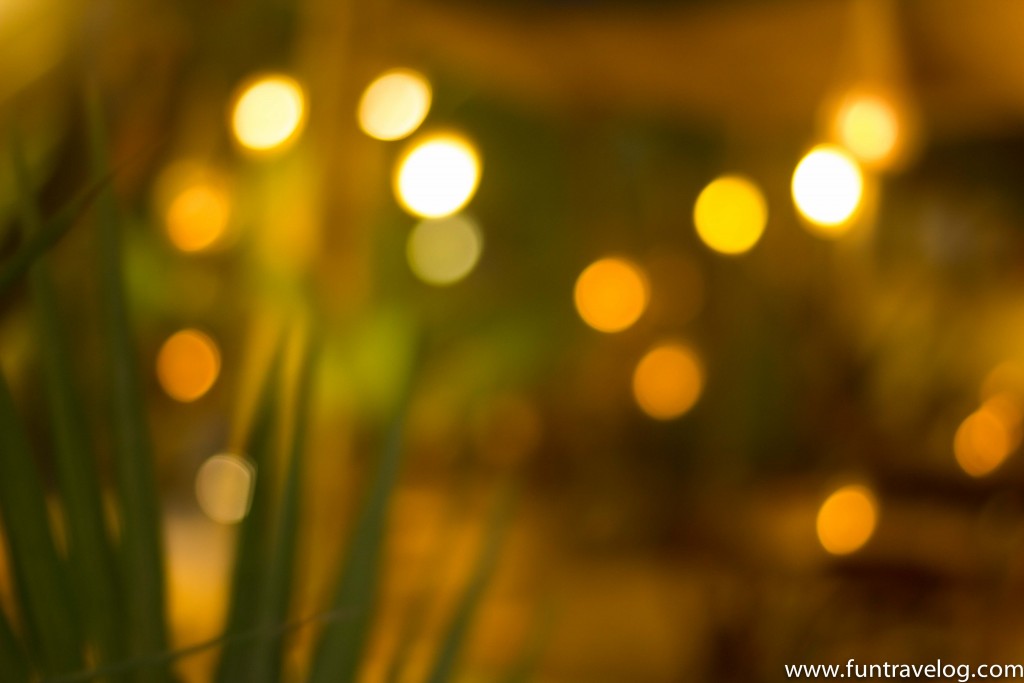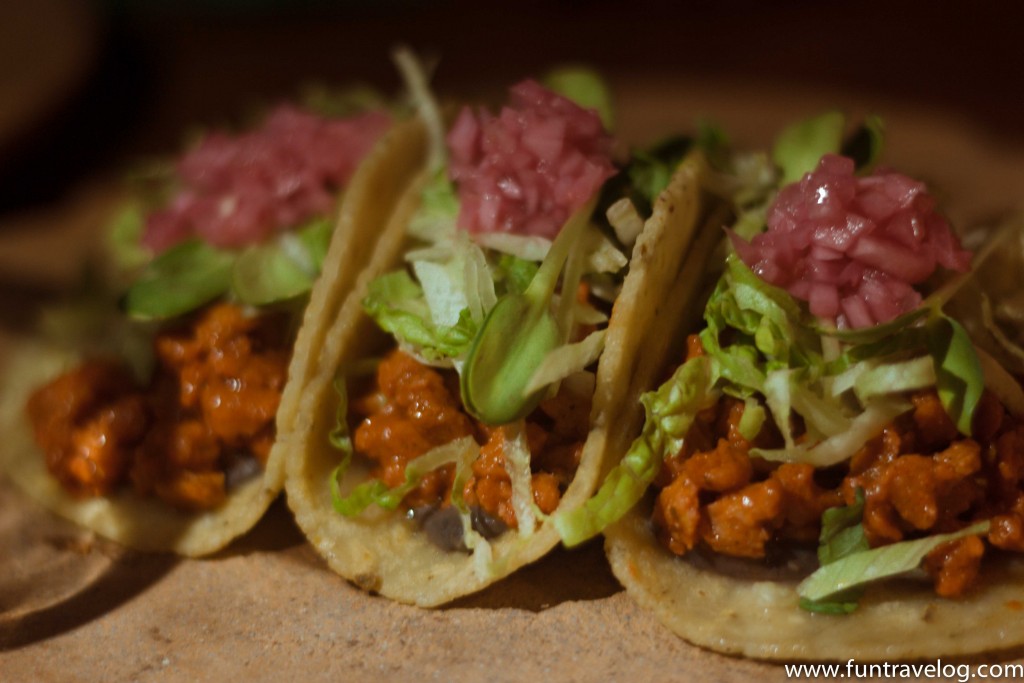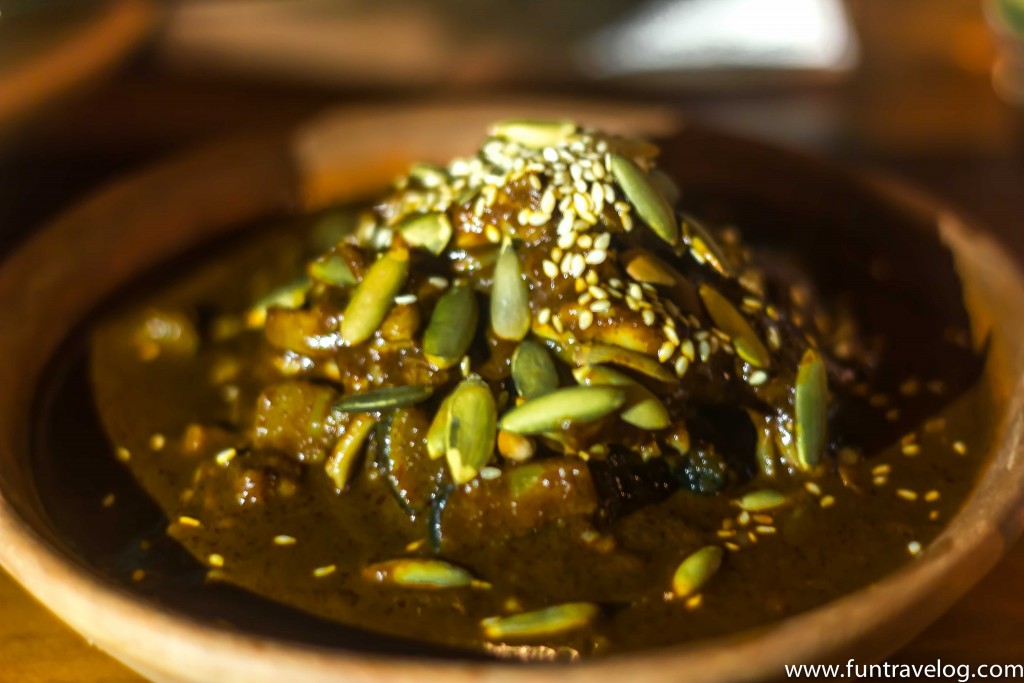 Prices: $$$
Antojitos La Chiapaneca
A huge crowd, a bustling live kitchen and a chalkboard menu – Antojitos reminded me of an Indian dhaba. I sat down and scanned the menu for vegetarian options. 7 pesos for a veggie taco and 9 for a cheese empanada sounded like music to my ears. Fuss free warm tortillas stuffed with shredded cabbage, carrots and radish, served simply on plastic plates. What made it fun was the freedom to customise the toppings from their buffet style counter. Tip: Go easy on the red hot sauce. I'd recommend multiple visits including a stop at the nearby Panna e Cioccolato for gelato thereafter.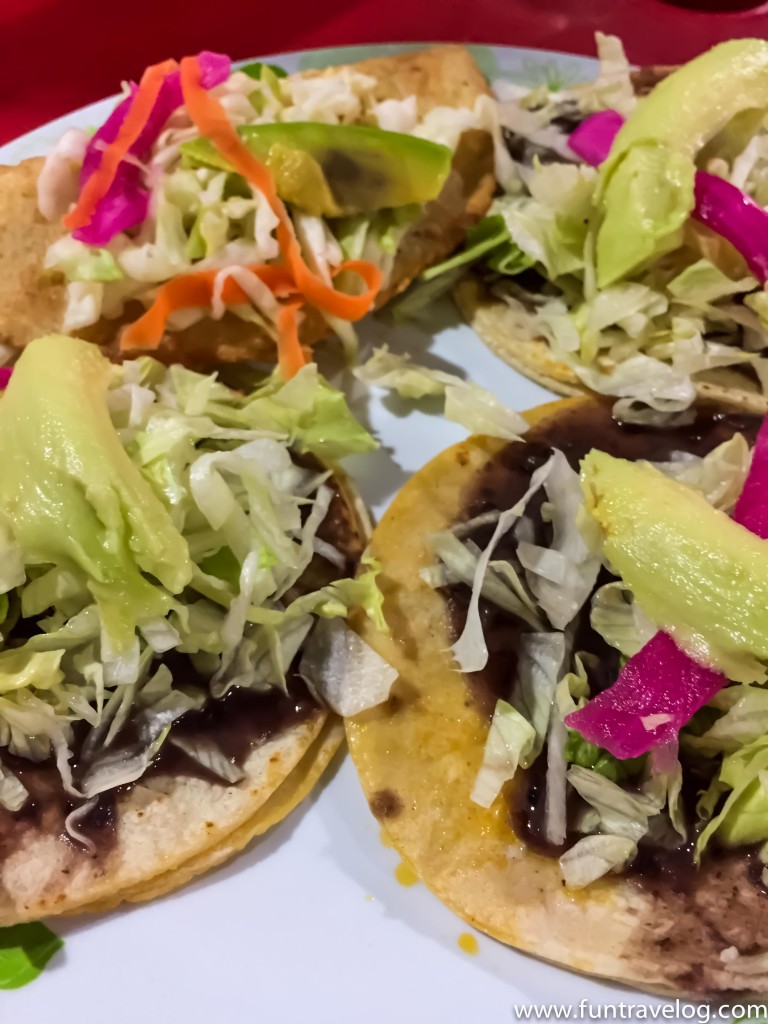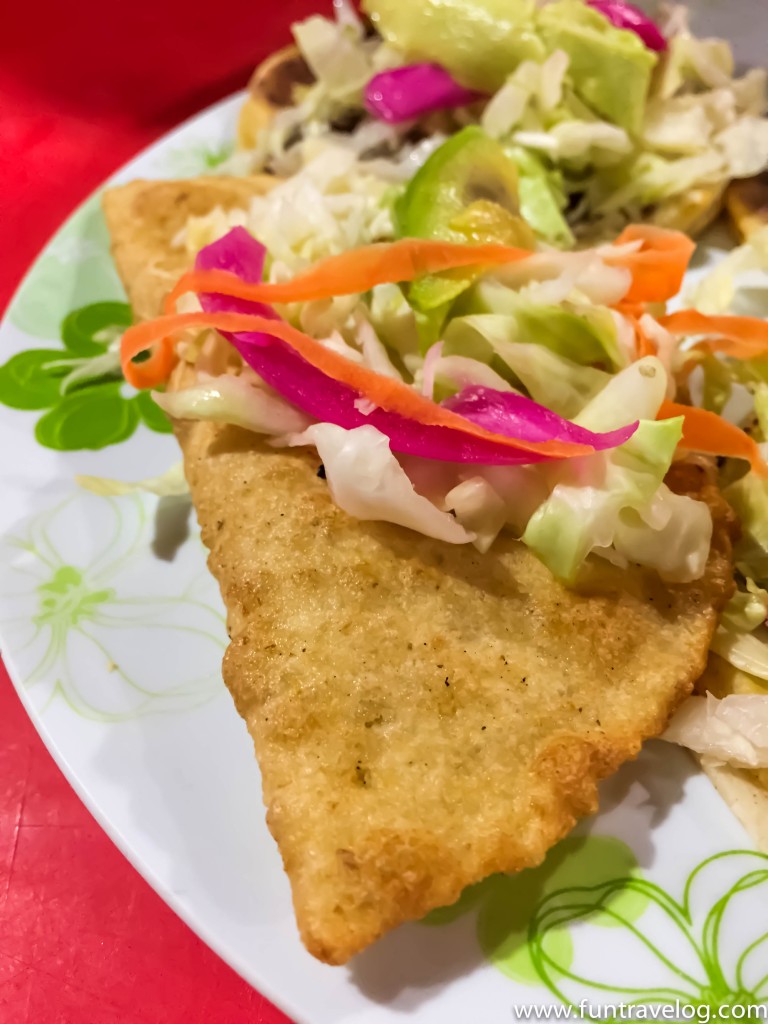 Prices: $
El Vegetariano
We stumbled across El Vegetariano while roaming the main streets of Tulum town. What a discovery this has been! Their menu features the usual Mexican fare (quesadillas, salads, soups) with genius vegetarian twists! Our enchilada arrived bathing in green tomato sauce and stuffed with hibiscus (I can't even …!). This boho street facing restaurant also has a live kitchen where we could see the two chefs prepare our meals right in front of us.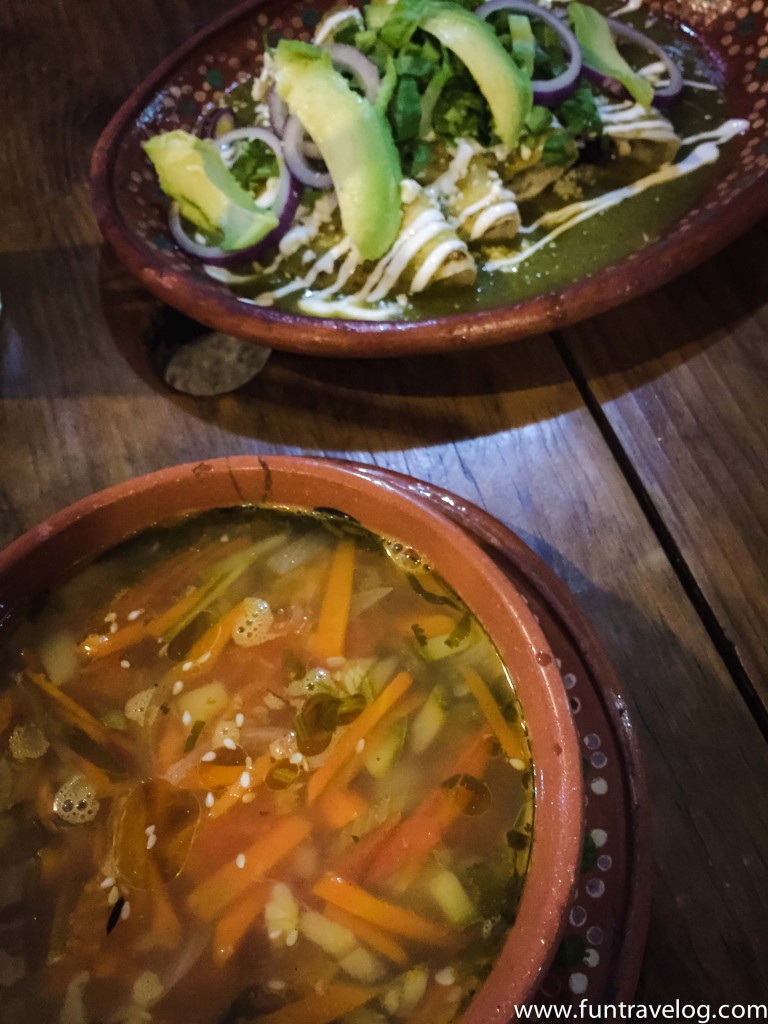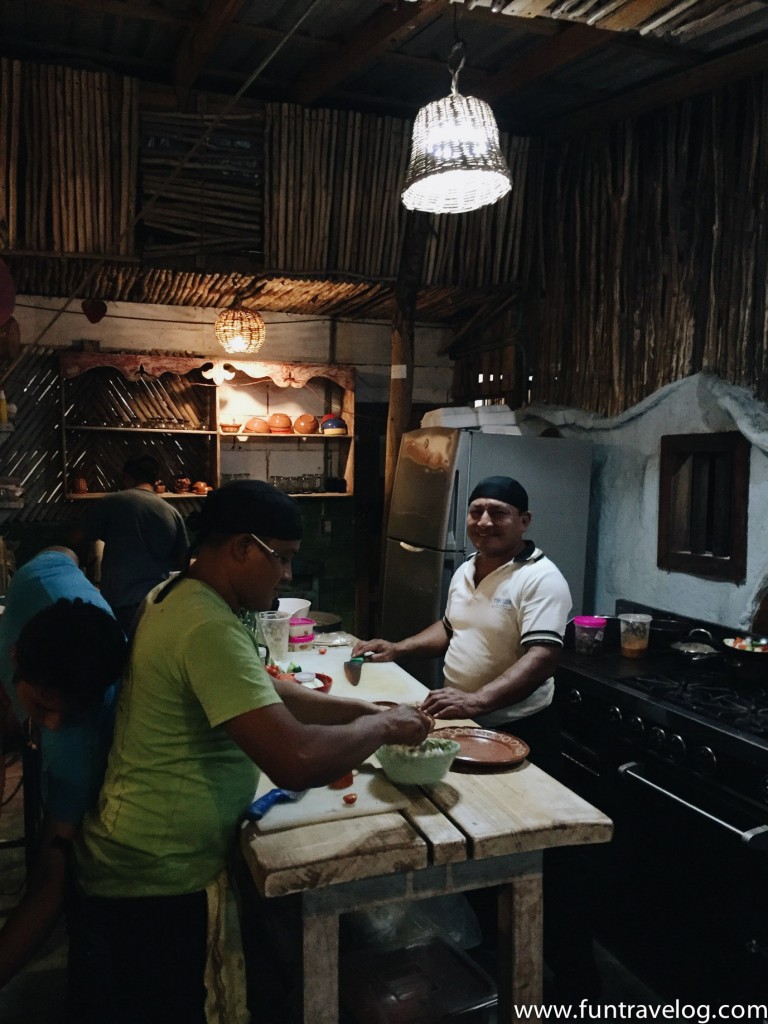 Prices: $
Juanita Diavola
A craving for wood-fire pizzas drove us to Coco Tulum's Juanita Diavola. Their pocket friendly Italian menu has several vegetarian dishes that are well portioned too!
Prices: $$
PS: If you're strictly vegan or vegetarian, it may be a good idea to read up further or try and make calls before you visit any restaurant. We find Happy Cow to be quite helpful at times!
Save
Save
Save
Save
Save
Save
Save
Save
Save
Save
Save
Save
Save
Save
Earn some good travel karma, share along