Have you ever stayed somewhere that you wished the world wouldn't ever find out about? A secret stay that may not necessarily drip with luxury, but delights without compromising on comforts? Small boutique hostels and alternative stays have given travelers a strong reason to rejoice. And today, we want to rejoice over Boutique Hostel Forum, Zadar where we stayed during our road trip in Croatia.
1. Room for your car
Croatia's coastal cities offer a vibrant mix of history, culture and gastronomic experiences and we had chosen to stay in Zadar for one night. Naturally, we wanted the convenience of staying inside the walled town in that short span of half a day and half a morning. When we found Boutique Hostel on luxury hostel lover Kash Bhattacharya's feed, we were on the lookout for a stay with parking space, which is hard to come by in walled towns. Zadar is bustling with narrow lanes, heritage structures, restaurants, stores and tourists. Despite having a designated parking spot, it took us almost half an hour to park due to the limited accessibility for cars in the town. +1 to the hostel though, for managing to secure parking spots for their guests.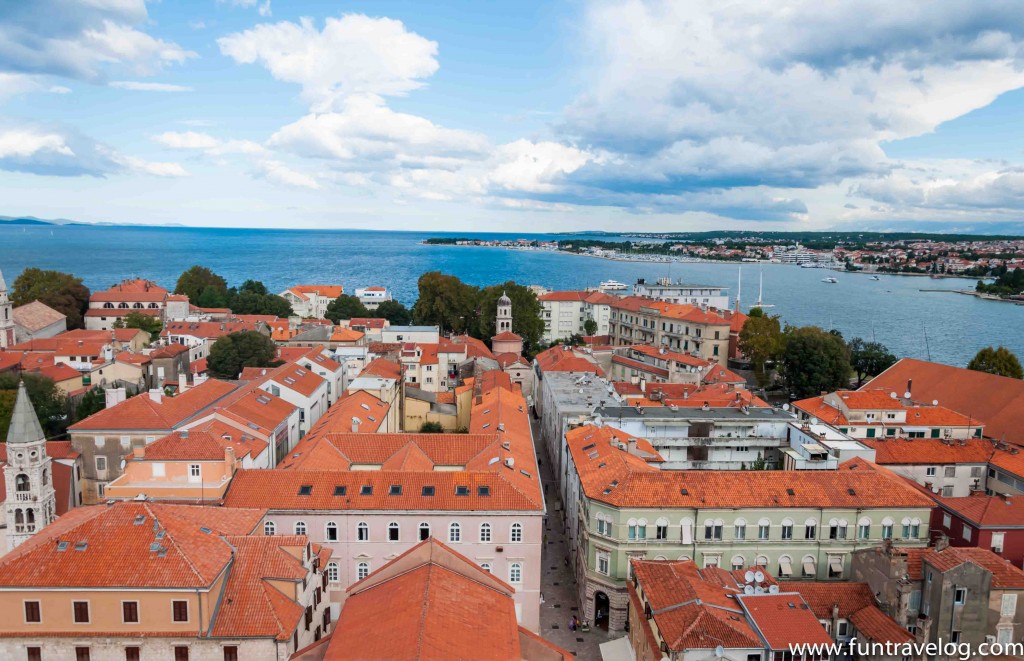 2. Slasticarna Donat
A queue that stretches onto a square might seem daunting, but join right in if the storefront reads "Slasticarna". This is Zadar's best gelato and luckily for us, it was right next to the hostel. What's not to love? Countless flavors and combinations awaited. We picked a lime flavor and almost considered getting back in line for another one.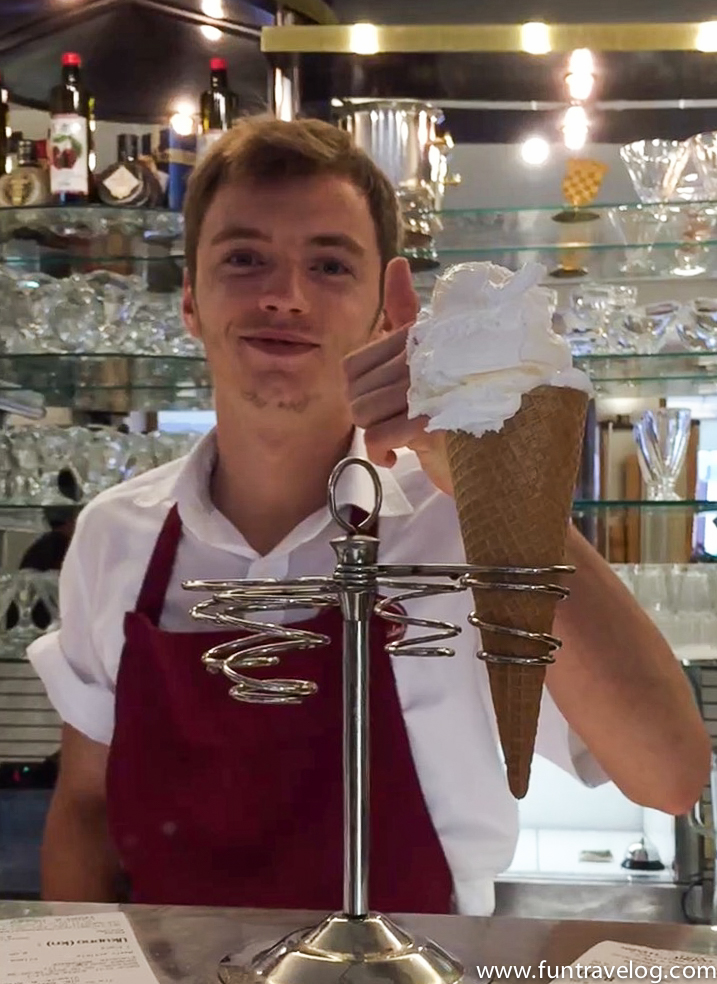 3. Walking distance to the best of Zadar
Destroyed heavily during the Second World War, Zadar's restorative projects occupy equal importance in the town's physical and communal landscape as the heritage buildings. The Sea Organ, designed by Croatian architect Nikola Basic, is a set of tubes built under marble steps on the edge of the town, facing the sea. When the waves hit the shore, the tubes create a harmonious melody. In the evenings, locals and tourists gather on the steps for a glimpse of the fiery sunset. A few steps from the Sea Organ, is a neon lit installation called Greetings to the sun. Once the sun sets, crowds move from the Sea Organ to the installation, to walk over the multitude of colors.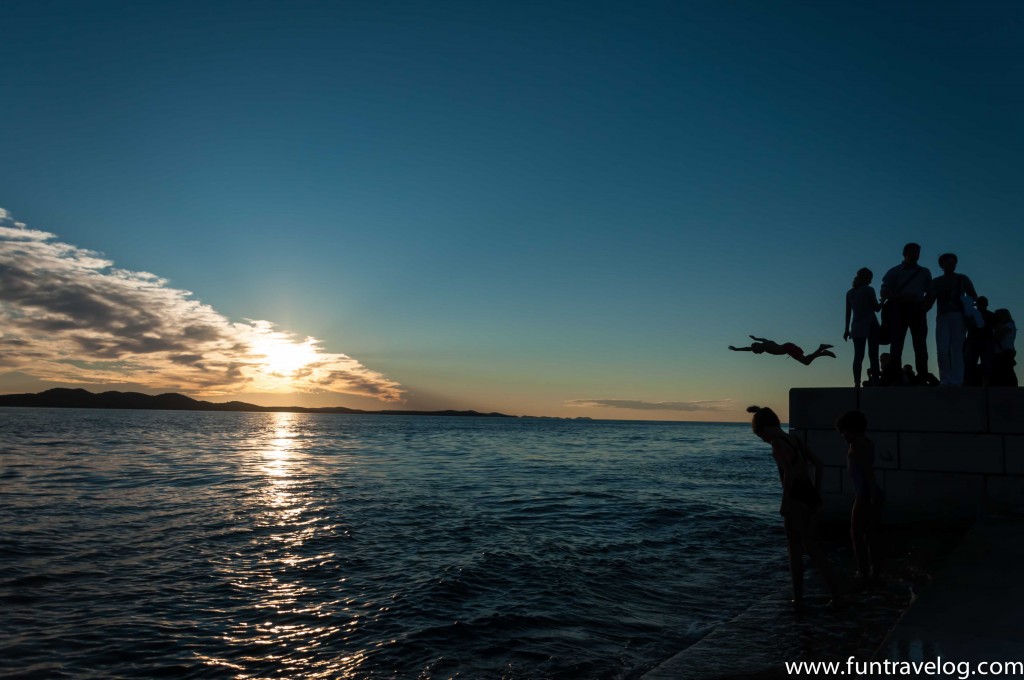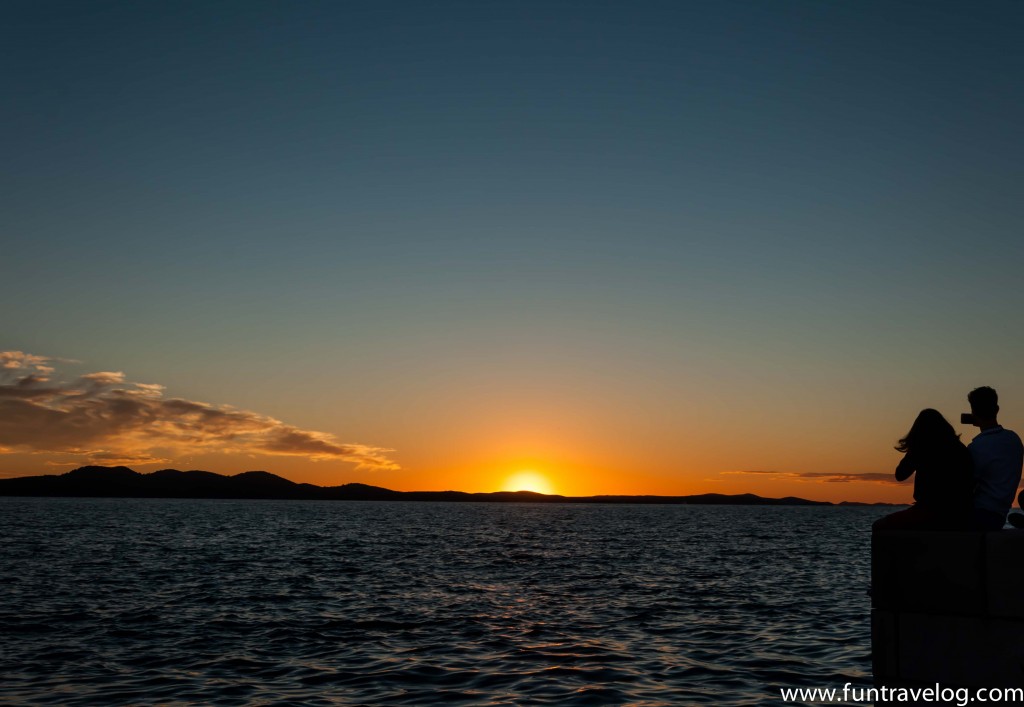 While all visitors to Zadar make it a point to visit Sea Organ & Greetings to the sun, not many manage to make it to Zadar's local market. Though our arrival in this town was delayed due to an afternoon of heavy downpour, a stay with Boutique Hostel Forum Zadar helped us budget our limited time judiciously as all three locations were within walking distance.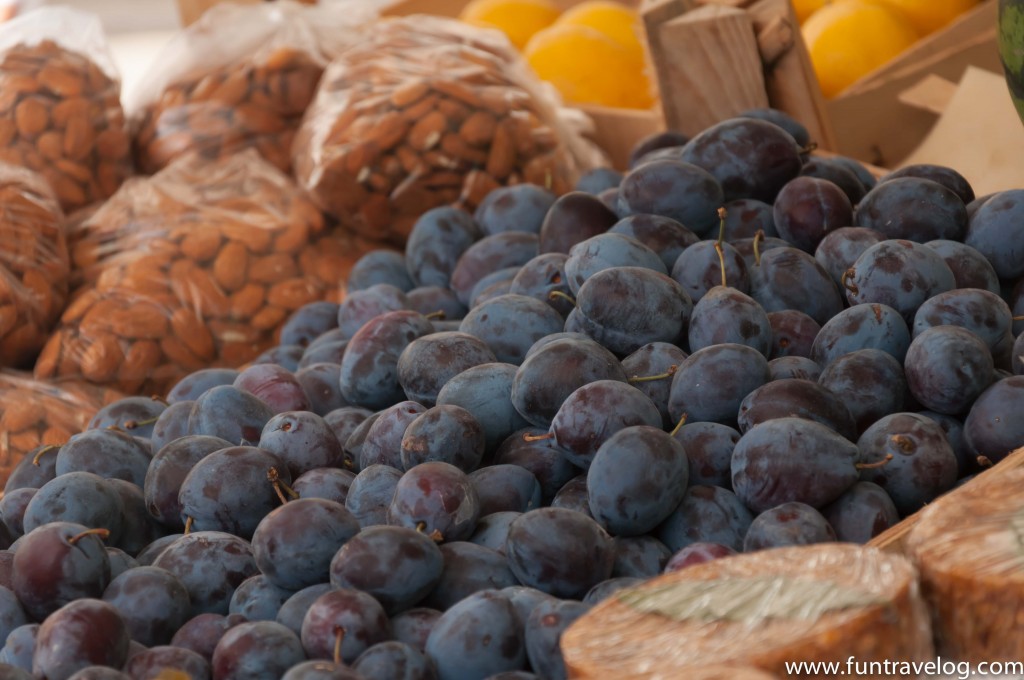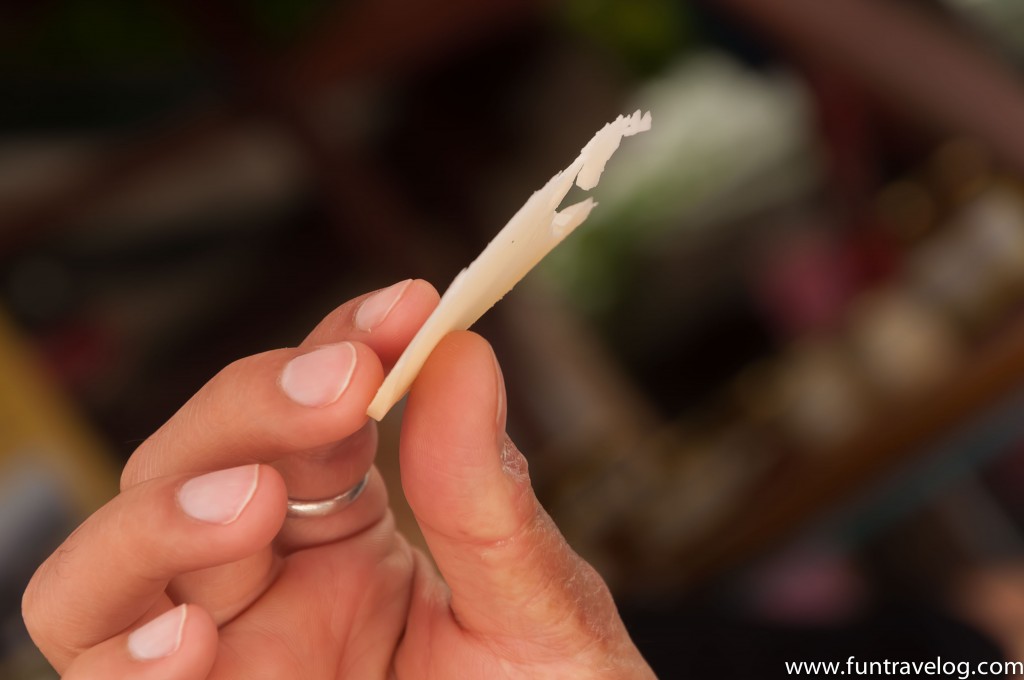 4. The Lux Room
When we stepped inside our room in Boutique Hostel, for a moment we were astonished at its minimalistic appearance. A dark ceiling and end to end glass walls – I thought such rooms exist only on Pinterest! Slowly, we examined the walls to discover the room's smart use of space. There was storage for additional bedding, luggage, utensils, and literally a mini kitchen hiding behind those walls. But our favorite aspect was probably the white, high bed. Take a look 🙂
We've had a streak of good luck with hostel breakfasts in the past, and the run continues with this one. I was especially impressed by the array of dry fruits and healthy choices available.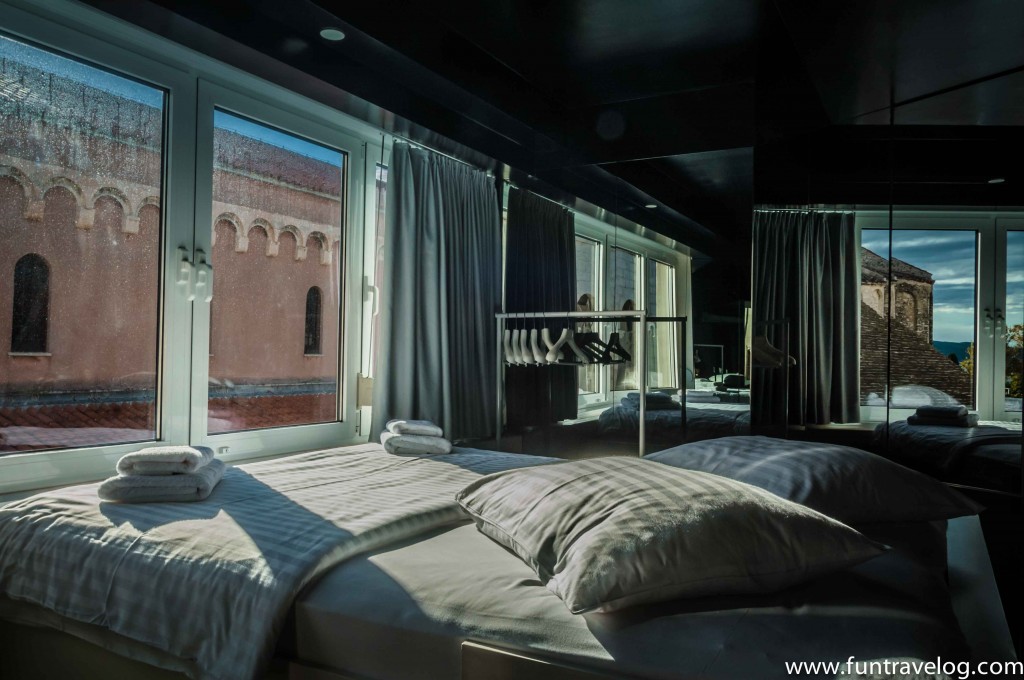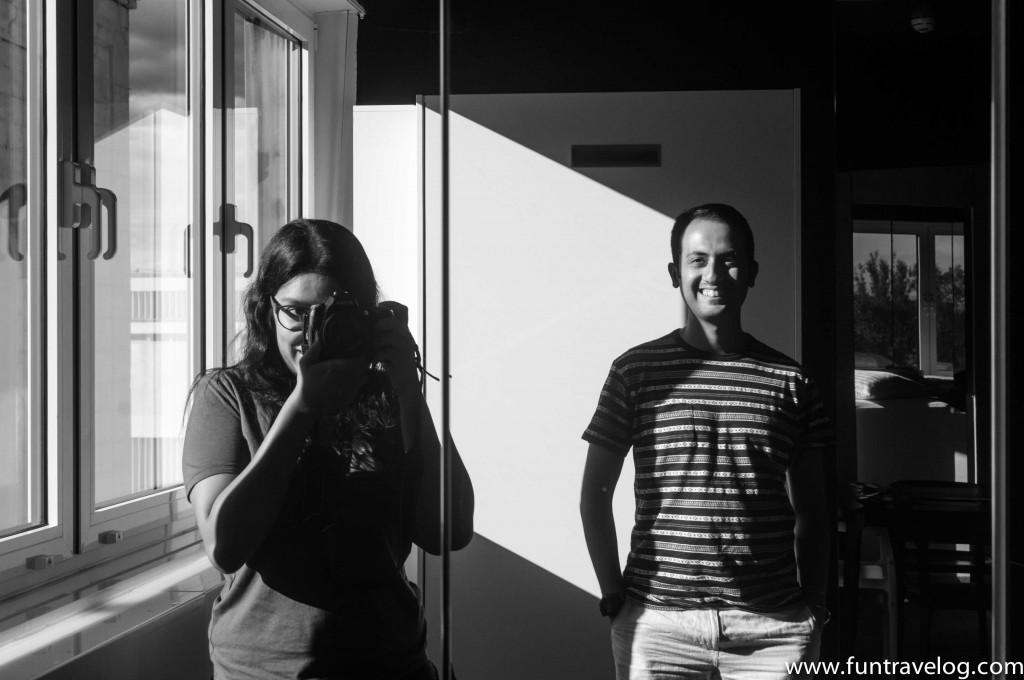 5. The view
Don't get me wrong. Our room was splendid, but when we saw Zadar's Bell Tower from our third floor window, we were sold. We couldn't have asked for a better mix of modern living and traditional sights. Having the sun shine through the large windows and waking up to views of orange tiled roof tops and medieval architecture was the ideal way to spend our short time in Zadar.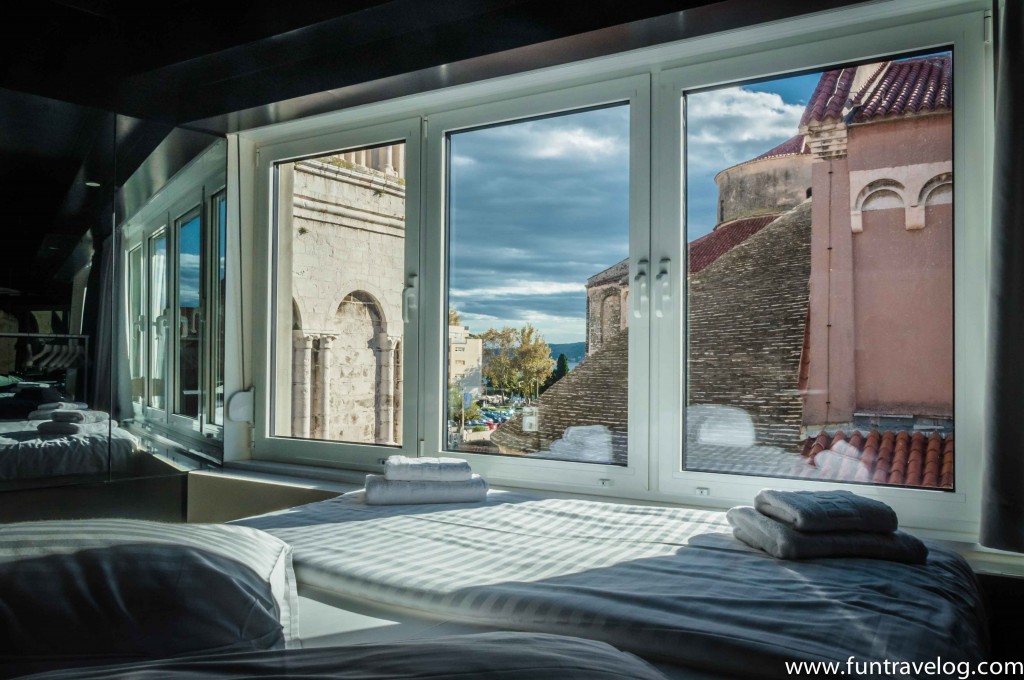 Stayed in a hostel that matches up to this one? Share your secret!
---
We collaborated with Boutique Hostel Forum by reaching out to them. The views expressed in this post though are entirely our own.
Save
Save
Save
Save
Save
Save
Save