Hobbies have a strange knack for inspiring people to push boundaries. Between busy schedules, planning and reading up on travel is not just a pastime but sometimes a great respite too. One evening over a pitcher of sangria and travel conversations with our friends, we realized that visa information is kind of scattered and needs some kind of documentation. That's when we dusted the cobwebs off our months old spreadsheet. (Oh you know, just pretending like we're back in the days!)
Please note that this post is directed towards our fellow readers/travelers who are Indian passport holders, living in the US either on a valid student or working H-1B visa (including a Green card). We did not account for those who are in the States on a tourist visa, so exercise your discretion accordingly 🙂
Also this by no means is an official guide, but just an informative post which we have compiled by researching through embassy websites and other travel blogs. I would recommend touching base with concerned consulate to confirm individual travel requirements as rules change quite often. Having said that, I hope this post excites you enough to stop staring outside your office window and hop on to one of the flights to these destinations.
Now on to the good part!
If you're one of those Indians who has traveled across the world to call United States your home (even for the time being) and have a strong desire to explore countries beyond the 50 States (yes, including Hawaii!), let's first give each other a high five for sharing that spirit!
But reality can be a bit frustrating at times. Be aware that the Indian passport does not give you the same traveling privileges as an American or a British passport. We also know that the path to get an US citizenship is tedious and one cannot afford to lose these precious years by holding travel plans until permanent citizenship. In such a case, we have two options:
Do not get discouraged while making visa applications to countries one wants to visit.
Use the travel benefits which a valid US visa provides.
So without further ado, here's a snapshot of travel opportunities that are open for those who are looking to get more out of their existing US visa.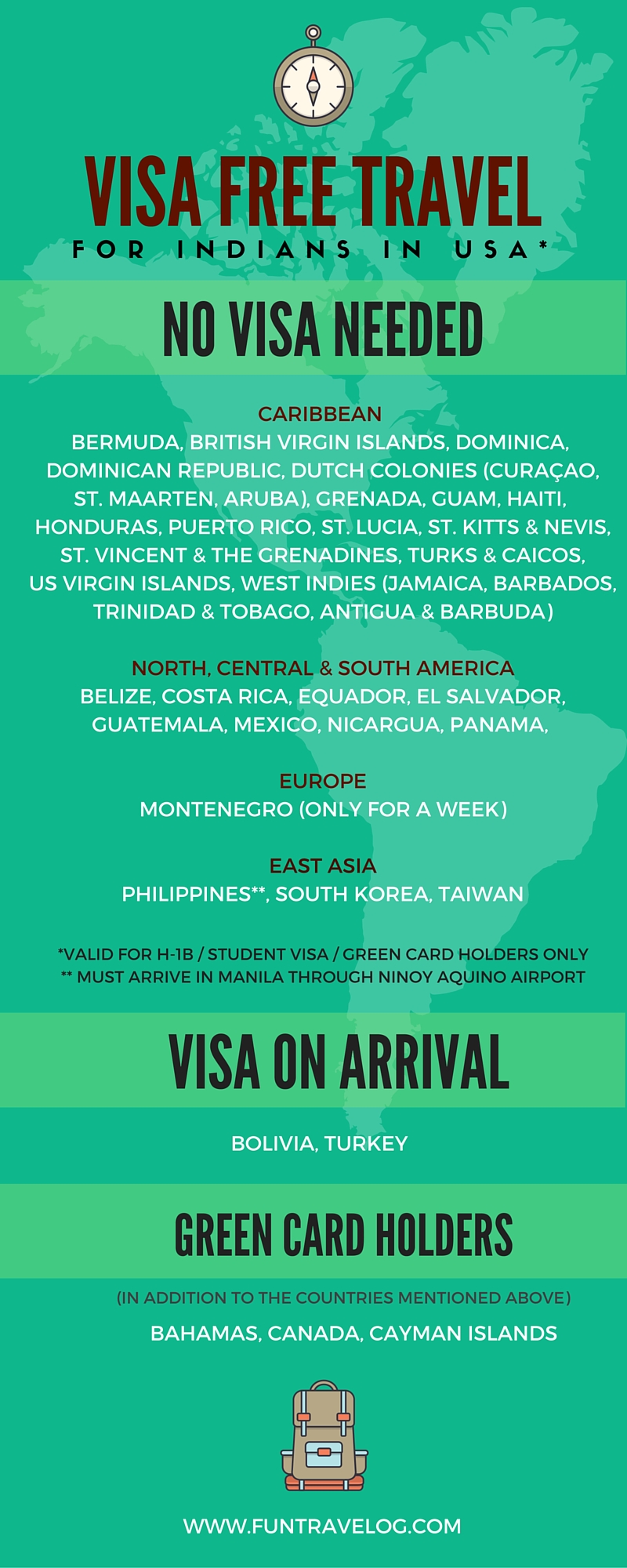 Among the countries, Montenegro was definitely a sweet surprise, considering Europe requires a Schengen visa. However if you travel internally to other countries in Europe, make sure to have the valid Schengen/applicable visa on your passport.
Besides there are countries like Tanzania, Seychelles, Maldives, Bhutan and some more which either require NO visa or provide visa on arrival for Indian passport holders. Look up this post that Shivya wrote which details it out!
One thing which we learnt from our travel to Ladakh last year is to value whatever little resources life provides you with. Also, consulates can sometimes be very helpful so do reach out to them when in doubt. With low cost airlines and exciting travel friendly opportunities, there's much to gain with that stamp on your passport. Get it and soar!
PS: We absolutely loved our time in Jamaica (read our posts here and here). Mexico and Guatemala are high on our radar. How about you 🙂 ?
PPS: Do drop in a comment if you have any relevant information to add to this. After all, we are here to inspire each other to travel!
Update: as Shivya mentioned in her comment below, Belize apparently charges $250 visa fee for Indian/Chinese passport holders, though their website states that no visa is required for US Permanent Residents/US multiple entry visa holders. Yet again we recommend touching base with the concerned Embassy before making travel plans.
Another update as of 06 March 2017- Indians with valid US visa or Green card (minimum validity of 6 months) can now visit Peru visa-free starting 27 March, 2017. This also applies to Indians if holding a similar visa or PR from Australia, Canada or a Schengen country. More info here: http://www.indembassy.org.pe/english/media/exemption.pdf. I have also read about similar hassle-free travel to Colombia 🙂