During our visit to Japan, there were instances when the food was so exceptional that we nearly considered moving there. How could a steaming bowl of miso broth, with a generous helping of noodles paired with thinly sliced greens, cabbage, onions, mushrooms, ringlets of spring onions, juicy cherry tomatoes and a spicy concoction that hinted of garlic and chilies be this special? Was it the combination of vegetables or the quality of ingredients? The recipe of the broth? We couldn't quite put our finger to it. All we did was marvel at how a dish as simple as ramen could taste wholesome, fiery and comforting at the same time.
While traveling within Japan as vegetarians, we experienced several such euphoric moments. We also had our share of utterly disappointing meals (don't bother ordering a pizza in a small town). My biggest advice if you're looking to eat out as a vegetarian? Do prior research. This seafood loving nation has its share of vegetarian gems but don't expect to walk inside a casual cafe to find meat-free sandwiches.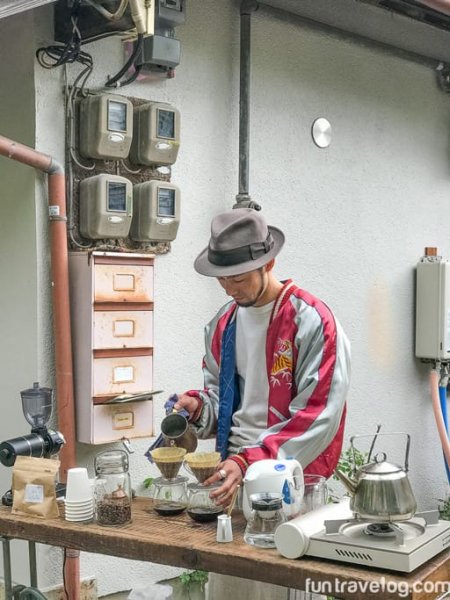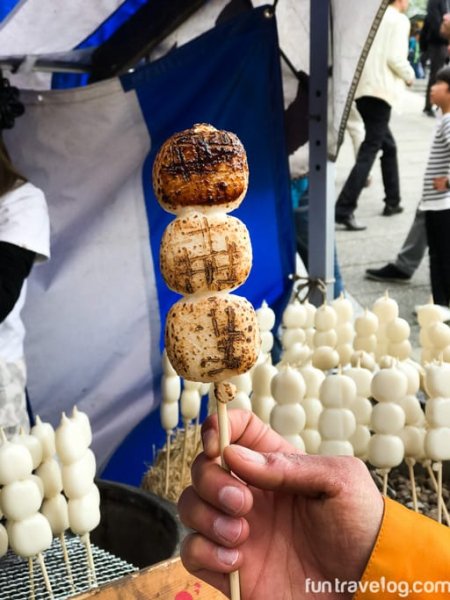 Convenience stores = Disneyland for foodies
From the time we stepped inside a nondescript looking 7/11, there was no looking back. A quick glance at the aisles stocked with assorted baked products was enough to help us overcome doubts about finding vegetarian options. Strawberries and cream neatly layered inside slices of bread found their way into our shopping basket every other day. Pillowy buns, moist spongy cakes, cream rolls and delicately shaped croissants were tough to resist. Each product was packaged impressively, a testament to the country's care and attention to detail.
By far, my favorite item in the prepared meals section was the onigiri. Priced at less than $2, these palm-sized triangle-shaped rice balls often came stuffed with pickled plum, seaweed or wasabi. And they were addictive! Think of them as convenience store versions of sushi, only fish free. Another item that made for a delicious pick me up was mochi, Japan's favorite rice cake. Available in flavors such as plum or raspberry, these spongy sweets are a common accompaniment to matcha tea. If you manage to walk away from the lineup of chocolates, chips, cookies and varied snacks without hauling everything on the way, take a look at the grab and go drink section. The different types of brews, chocolate milk, and to-go green tea cans will be your saviors.
Supermarkets and convenience stores were a constant fixture in Tokyo, Kyoto and Lake Kawaguchiko. With time on hand, and if you can survive the smell of seafood, a hunt for vegetarian food inside food halls in shopping centers could be an interesting project too.
Paradise for snackers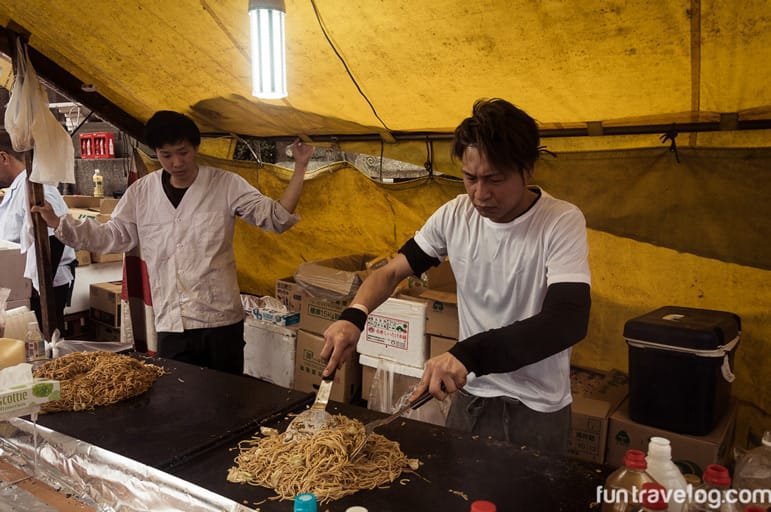 Japan's obsession with snacks reminded me of India, and I was certainly not complaining. Grilled rice cakes and crispy sweet potatoes outside Fushimi Inari shrine in Kyoto were just what we needed after a temple run. Further ahead, our group of four pounced on a stir-fry noodle dish that the vendor very kindly customized for us. Matcha ice cream was available at every other mom and pop store. I am also convinced that devoting a few hours to taste treats like 'New York Perfect Cheese' could be a fruitful way to spend half a day at Tokyo's JR Station 🙂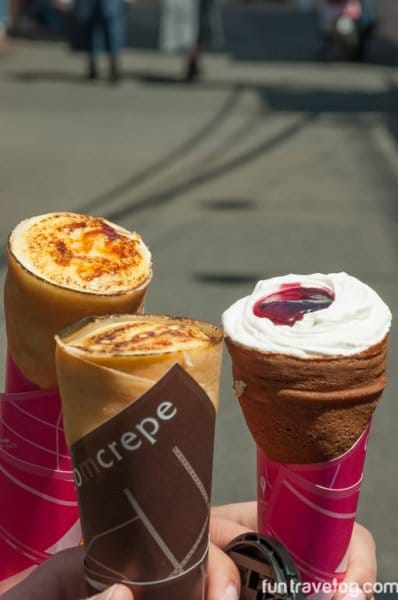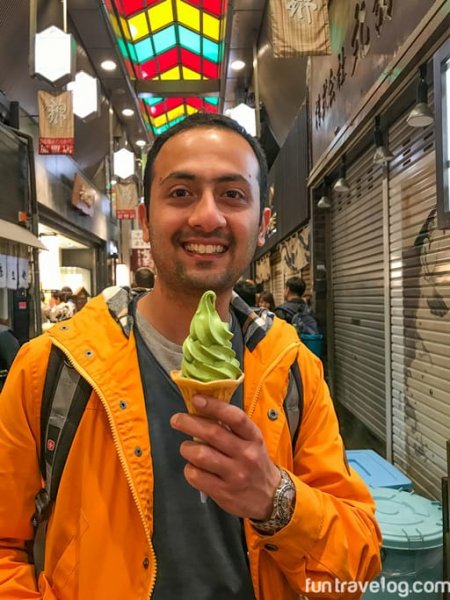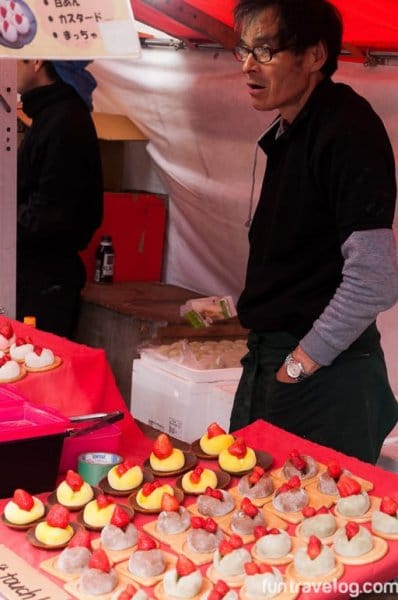 Japanese breakfast
We've all grown up with notions of what breakfast can include. A vegetarian Japanese breakfast platter, consisting of a combination of silky soft tofu, a steaming bowl of rice, a light soup that was never bland, a salad, and an assortment of pickled condiments was a revelation for us.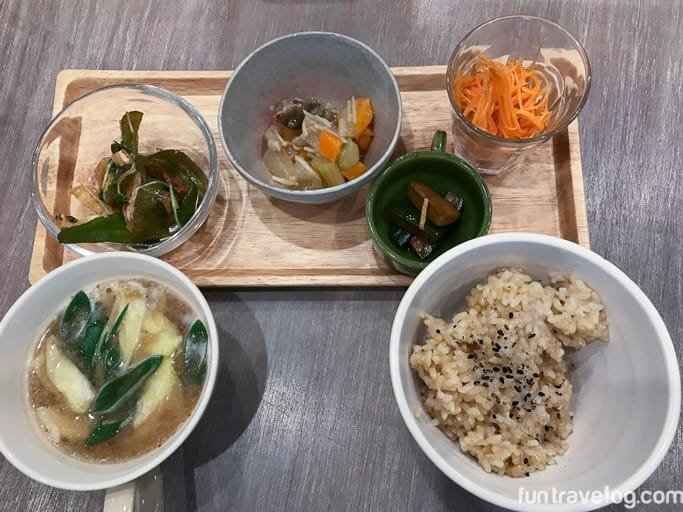 A Buddhist vegetarian feast
Thanks to Chef's Table on Netflix, shojin ryori meals are now on the wishlist of even meat-loving visitors to Japan, Korea, and Taiwan. This multi-course vegan or vegetarian meal prepared in Japanese temples is the traditional dining style of Buddhist monks. At 5 pm around sunset in Koyasan, one of Japan's temple towns, I sat facing two trays. Portions of tempura, pickled vegetables, an eggplant dish, bamboo shoots, salads, a soup, tofu, numerous condiments and steamed rice were laid out in bowls. In a brief introduction to our meal, we learned that the two trays represented meals for our ancestors and us. We ate from both trays and ended up eating for an hour, savoring every bite. Shojin ryori meals are no longer confined to temples and cafes, restaurants serving this meal are also cropping up in Japan.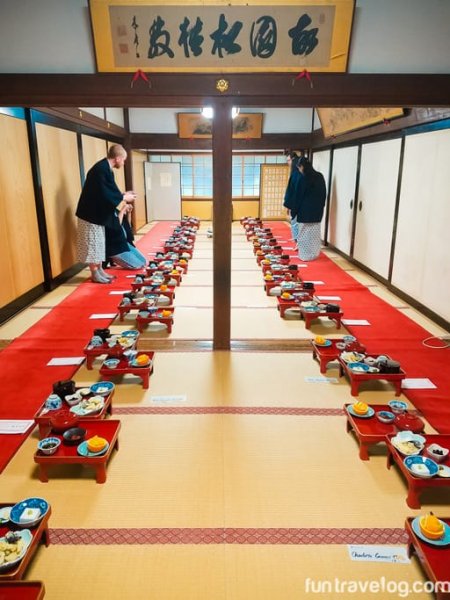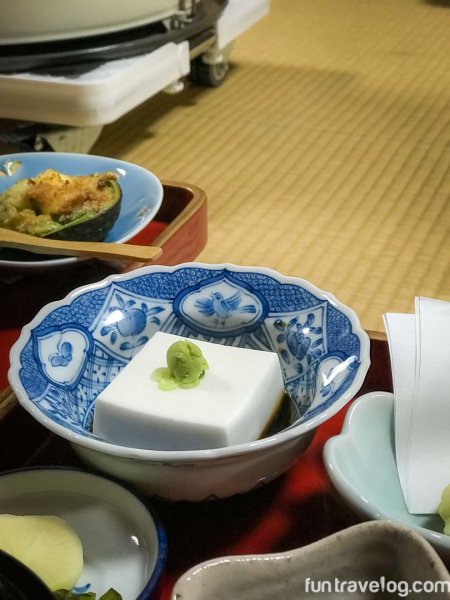 Airline food: the litmus test
Each time we fly, our first impressions about a country invariably begin with the airline and the country's airport. We flew back to the United States on Japan Airlines, and from our arrival, we were already in awe of the deeply systematic Narita Airport. In flight, when meal trays arrived, we noticed that they were bigger than any standard airline tray. Like every Japanese meal, this too was served in bowls of different shapes and sizes (accompanied by green tea that wasn't from a bag) and was among the best airline meal we've tasted in economy class.
Resources/tips
Print and carry these vegetarian meal cards with dietary preferences written in both Japanese and English
Download Happy Cow
Stock up on fruits and snacks in supermarkets or convenience stores. We found that 7/11 and Lawson's were located most conveniently.
Never Ending Voyage's vegetarian food guide to Japan
Pablo from Tokyo's snack recommendations on his YouTube channel (he has several videos)
Vegetarian-friendly eats
Tokyo
Com Crepe (try their creme brulee crepes- it's heavenly)
Coco Ichibanya Curry House (multiple outlets in Tokyo, Kyoto)
Kyushu Jangara Ramen, Harajuku
T's Tan Tan Ramen, Tokyo JR Station (this vegetarian only eatery has the ramen of your dreams, and you can only visit this outlet if you have a valid JR pass)
Tofu Ryori Sorano, Shibuya (go only if you enjoy tofu and are willing to splurge a bit to see how it is prepared)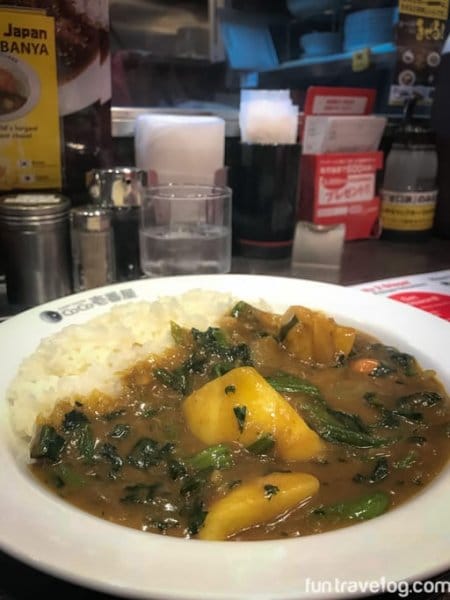 Kyoto
Nishiki Warai, Nishiki Market (ask for their noodles and okonomiyaki without meat and fish flakes)
Kerala Indian (to satisfy any craving for tasty North Indian food)
Arashiyama Yoshimura (this restaurant makes their own soba noodles and their set vegetarian meal is a combination of soba, soup, salad – yummy!)
%Arabica Coffee (as you explore Kiyomizu-dera)
Drip & Drop Coffee Supply
Lake Kawaguchiko
Pizzeria Onda
Nakai's Coffee (this is a tiny little rather cool coffee truck that doesn't seem to have much presence online. Walk through the lane in front of the Lake Kawaguchiko bus stop to find his truck along the way. He parks near a supermarket in the evenings)
Koyasan
We ate dinner and breakfast at Kumagaiji temple, our place of stay.
Nibbles to bring back
Malebranch Kyoto: Delicate cookies made of white chocolate and matcha
Tokyo Milk Cheese Factory Cookies
Royce's Nama Chocolate (a true melt in your mouth) (for extra 100 yen, they will gladly wrap with an ice pack to prevent it from melting during the flight journey)
Anything matcha (I'm serious!)
Save