The lady at the specialty store in Son Bou may have led us to our second best discovery in all of Menorca. A dessert called Terrina de helado elaborada con queso d.o. Mahon. This creme brûlée-like dessert is prepared with Spanish Mahon cheese. Each portion was set in flat earthen bowls, placed in a cooler that also contained ice cream. While dessert wasn't high on our travel agenda, it's comforting to know that no matter where in Europe, one is never too far away from cultural treats. Which brings us to the island's primary (and equally delicious) pièce de résistance: beaches.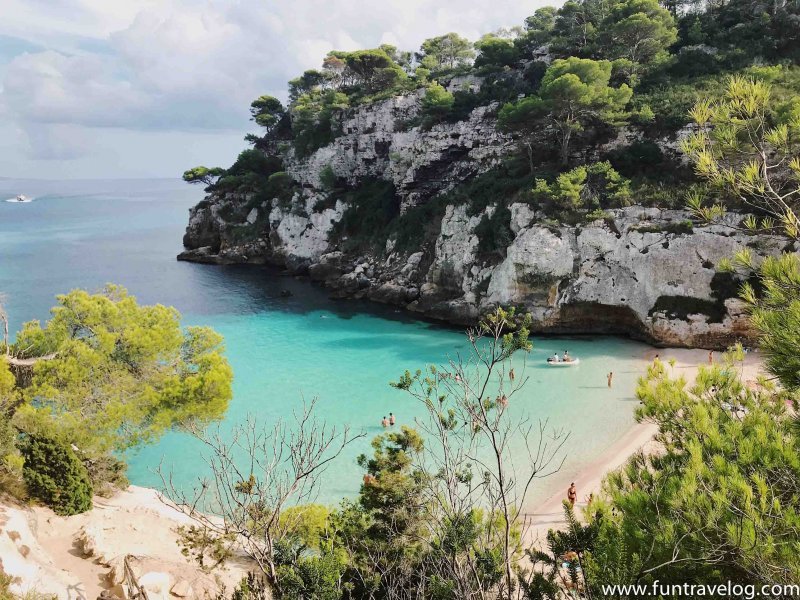 Where's Menorca, again?
Menorca is one of the four Balearic Islands sitting in the Mediterranean Sea off the coast of Spain. The island has about 365 clear, and occasionally challenging to reach beaches, more than the combined number of beaches in neighboring Mallorca and Ibiza islands that are much larger in size. And they're all accessible after a breezy 50-minute flight to Mahon, the island's capital, from Barcelona. Cautionary note: Once you have your rental car, don't waste time on banter as we did. Else good luck getting out of the airport exit that only recognizes timed parking tickets or number plates.
Driving through the steep, undulating roads we wondered how the next six days would unfold for us. We had a fair idea of what we wanted to do and see but were also seeking surprises. That can be tough to orchestrate on short trips.
Our first surprise came in the big fat form of the rental villa itself. A day or two before we were due to fly in, the rental company decided to "upgrade" us. In a different country, this may be looked upon with suspicion. But here in Menorca, the offer turned out to be a palatial one. We walked inside admiring the tiled flooring and the size of the pool. We cracked jokes about how we could have invited the rest of the family with some advance notice. Seriously, the villa was large enough to accommodate my parents, grandparents and could have possibly my brother on the couch too!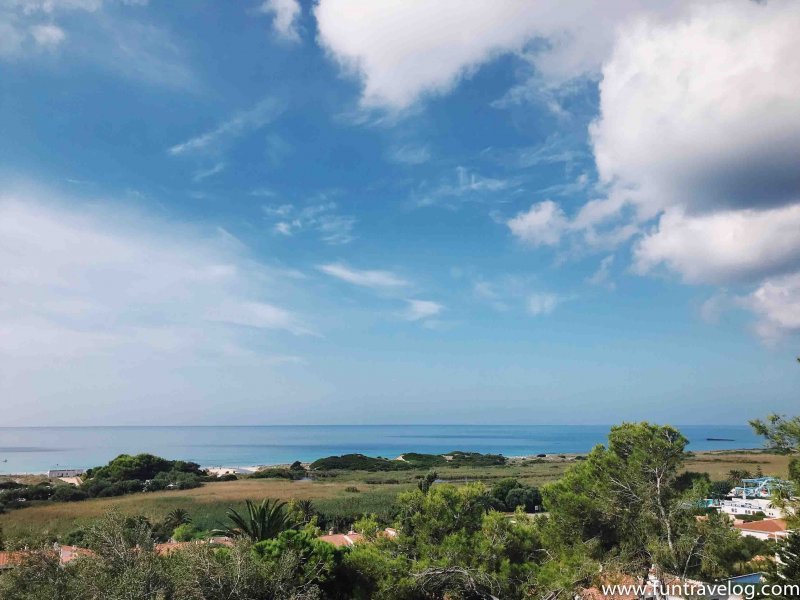 Rain or shine, when's a good time to visit?
If you must go, pick a month before or after peak summer i.e. July & August (spare a thought for a tiny island that has to deal with European, British travelers and visitors from cruise ships simultaneously). Whether you live in the tropics or on the arctic circle, once you step foot on the island, you will realize that the Mediterranean region has received a special boon from the weather gods. On a day that was going to be rainy with thunderstorms, we lounged in the giant pool, getting drenched by the out pour. In the afternoon, when we finally made our way out, the thunderstorms had subsided and the sun shone intermittently. Even on a cloudy day, small islands off the coast of Menorca were visible from Mount Toro, a mountain in the central region that one can hike or drive up to.

Beach hopping in Menorca
Pretend that you live in the New England region like us. Imagine being granted 100 days of summer out of which some constitute as rainy days (which is nowhere close to the Indian monsoon, for all my romantic Indian friends). Now, how you would feel if someone took you to warm, turquoise beaches towards the end of your yearly quota of summer days? That indescribable feeling, my friends, was what I experienced upon our first glimpse of Cala Mitjana beach after a hike of thirty minutes from the parking lot.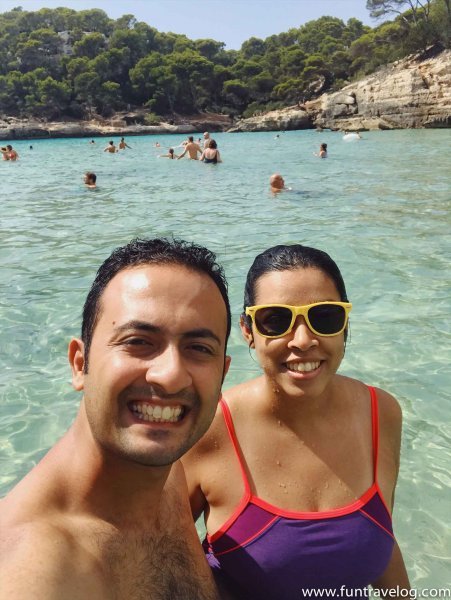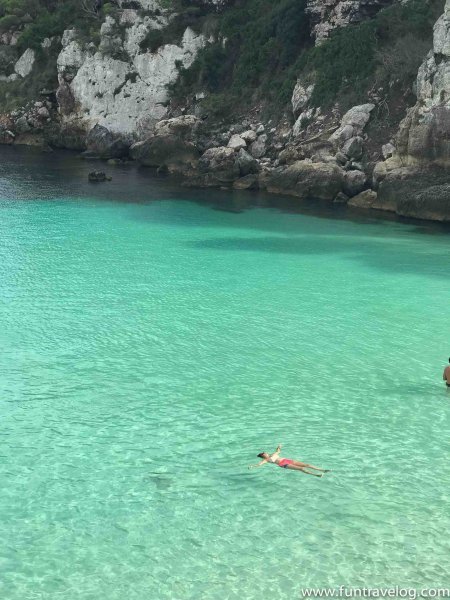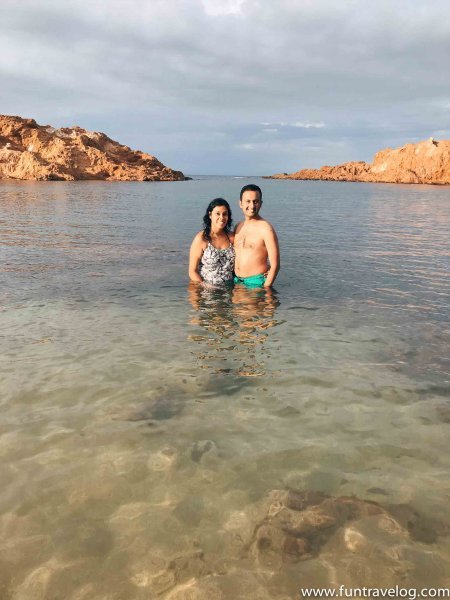 Cala Mitjana, Cala Macarellata, Cala Pregonda (L to R)
Every Instagram cliche that we've scrolled past on our feeds came true within the first hour. A couple was literally falling off the edge of rocks in attempts to get the perfect selfies. Those who didn't have babies on their arms had a GoPro. Right in front of the beach, two nifty women had decided to set up a pop-up shop for sarongs and beach cover-ups. A crowd of women swooped over the pile like seagulls descending on food. The transparent water dazzled in the aura of the afternoon sun.
If time wasn't a constraint, we'd have stayed longer than six days and visited a few more beaches. Upon careful consideration, and keeping driving distances and time for hiking in mind, we picked the following beaches. The related map also has the beaches marked We had based ourselves out of Son Bou, on the southern coast. This area has a large concentration of beaches.
South
Son Bou beach: Easy access, family-friendly, clean, fairly crowded, water sports
Cala en Porter: Stunning location, easy access, close to Cova d'en Xoroi (a bar known for its sunset views)
Cala Mitjana: 25-30 minute hike from parking, family-friendly, small, gets crowded in the afternoon, stunning waters
Cala Macarella: 20-25 minute hike from parking, family-friendly (in Europe, we've seen semi-nudity in family beaches)
Cala Macarelleta: 25-minute hike from Cala Macarella through the Cami de Cavalli hiking path, nude beach, spectacular turquoise waters, less crowded
Cala Galdana: Easy access, town beach, family-friendly
Many beaches in Menorca are hidden coves and can be better accessed by private or chartered boats. Some of the additional beaches we visited by boat are:
Both beaches were beautiful and Cala en Turqueta also provided some snorkel opportunities.
North
Cala Pregonda: 20-25 minute hike from parking, a red sand beach surrounded by rocks, small cliffs
East
Beaches around Es Grau National Park and Islands
Tips for a smooth beach run in Menorca
Car parking around popular beaches is limited and finding a spot can be difficult. Visit them during the early hours of the day.
Wear walking shoes or sturdy flip-flops for beaches that require hikes.
Car rentals can be tricky or expensive during summers. We opted for a manual transmission car with a local rental agency (Poppy Cars)
Some of the beaches don't have restrooms or have restrooms only in the parking lot – so plan accordingly 🙂
Like in other parts of Europe, it is common to find people baring it all on some of the beaches in Menorca. The beaches with easy access were the more family-friendly ones.
Some beaches have designated areas for benches with trash cans. For the most part, expect to clean up after yourself.
None of the smaller beaches have shacks or shops of any sort. Carry your own food/drinks. Occasionally, fresh fruit sellers pay a visit – which is a delight!
Swim, snorkel, kayak
Thanks to an upbringing that comprised of numerous hill station holidays in India, I have longed for beach travels for a greater part of my life. Despite my mother's unwavering efforts in trying to get me to learn swimming, I pretty much got nowhere with it. None of that kept me away from the water – I was and am happy to flap around in the shallow ends. The sporty husband managed to teach me basic strokes for survival and in Galapagos, I discovered the magic of snorkeling thanks to a generous guide who dragged me around in the middle of the Pacific Ocean to see baby sharks and turtles.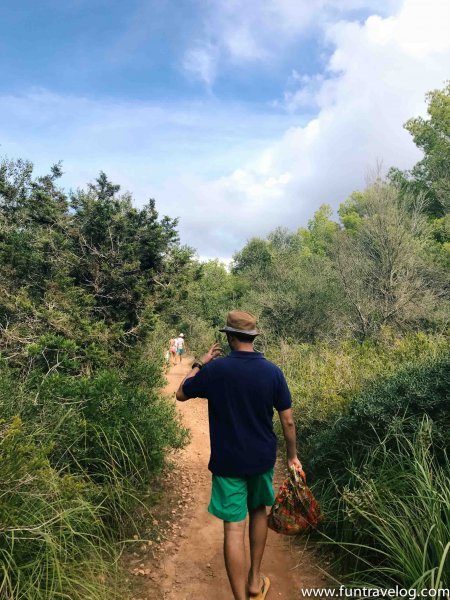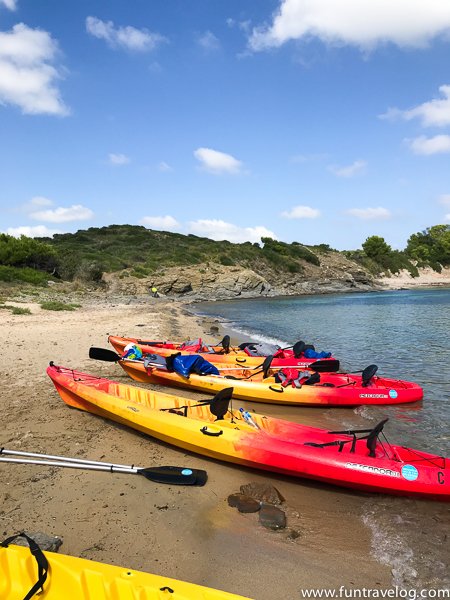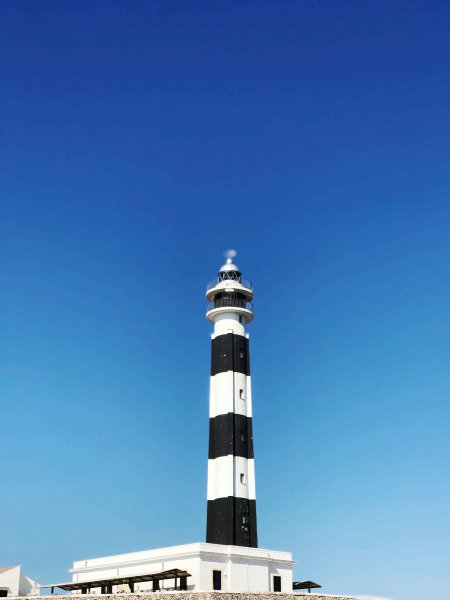 On a sailing day trip in Menorca with OceanCat, we jumped in the water close to the island's southern coastline with float noodles and two child-size life-jackets among the four of us. Let's just put it out there – there's no better way to truly "feel" the ocean unless you're staring at the coastline, completely surrounded by the water, taking a dip with a snorkel mask and observing the parallel reality of the underwater kingdom.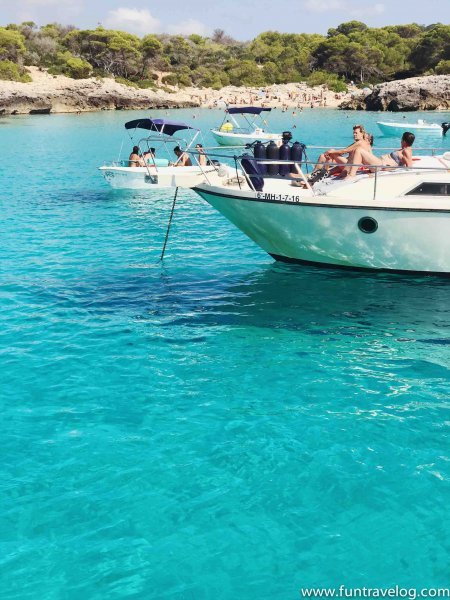 On another morning, I undertook my first ever kayaking excursion with Menorca en kayak. Bharat and I opted for a double seater. While our island hopping journey was invigorating, here's a parting word of advice: if you love your husband, just don't ever go kayaking on the same kayak. Or simply plug in some music so you don't have to listen to each other's instructions. One last tip: don't book activities in advance if you're visiting in the lean season like us. It's better to check the weather and try to bargain for a good price from vendors offering sea activities.
Is there another island that you recommend for a week-long beach getaway? Tell us how you'd plan your journey there!