I looked at what lay beneath my shoes and noticed pebbles and rocks in various shapes and sizes. Sharp and slippery, they were almost misleading. Pockets of damp red soil awaited us on our path every few steps ahead. The slope was steep and unmarked for the stretch that we were on. This is going to be interesting, I thought.
We are in Lake Bled, a forty minute drive from Slovenia's capital, Ljubljana. What's unique about the lake is not that it is crystal clear or warm enough to swim in September but, it has a small island with a bell tower church sitting on it. History suggests that the island has been witness to settlements as early as 8th century. As an eager traveler, deciding between pursuing history versus staring at those views can be difficult. There are many things to do in, on and around the lake. Paddle boarding, swimming, boating, kayaking, walking, or sitting by the shore. But we had to pick a hike – for better or for worse, up on a mountain to see the lake.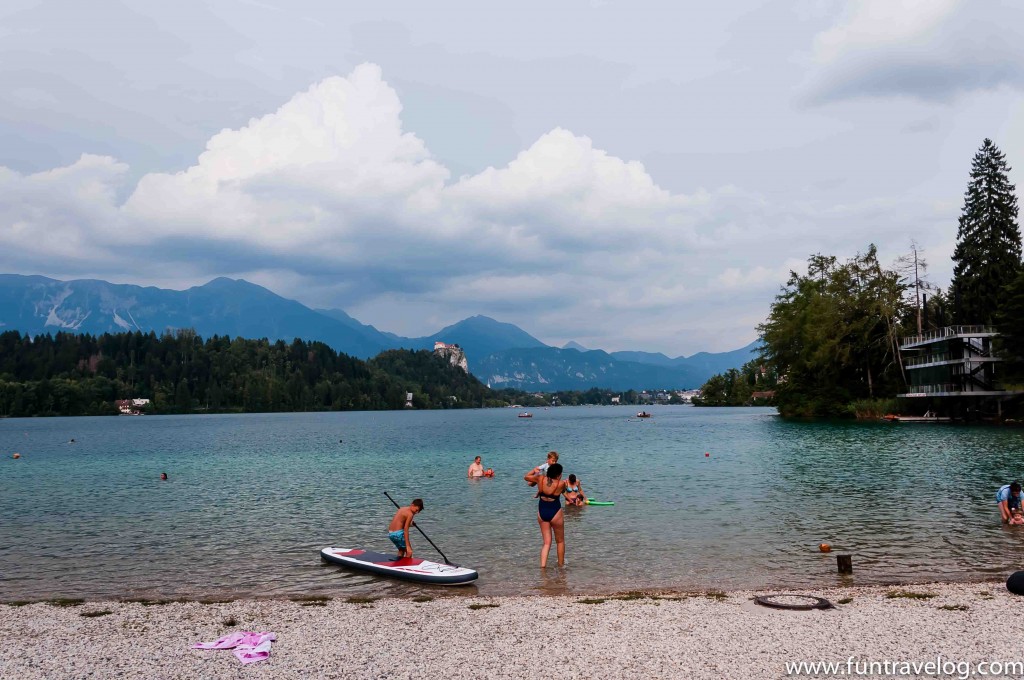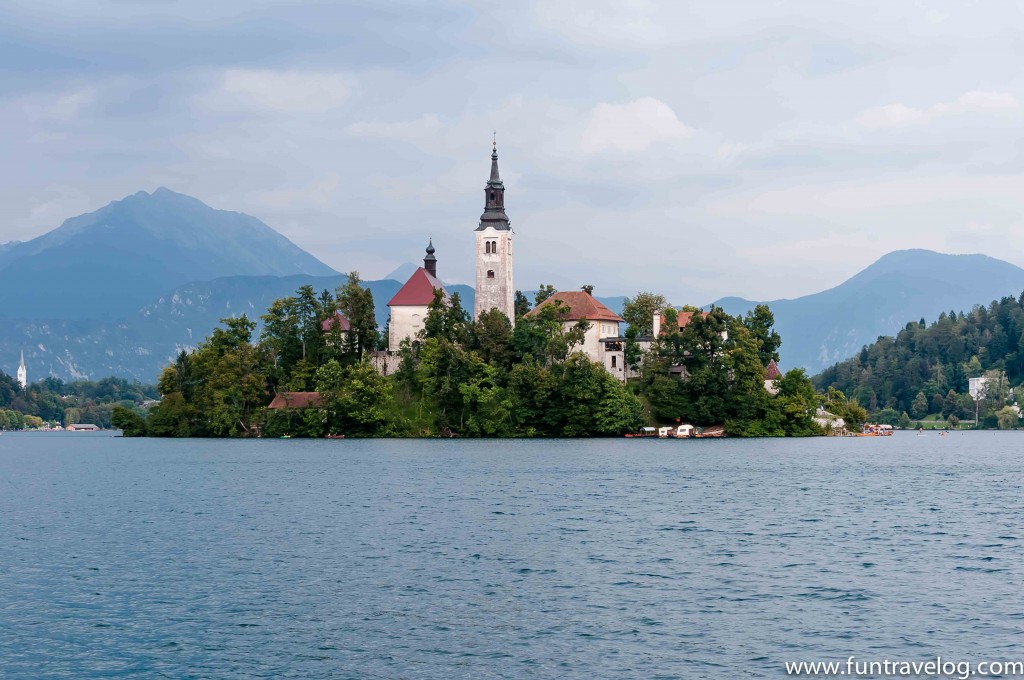 A straightforward start
The Mala Osojnica hill lies on the west shore of Lake Bled. It provides an uninterrupted view of the lake, the island and the Karavanke mountains in the background. Accessible by a 40-45 minute hike, it is said to be an easy trail to hike on. Bharat was excited. I tried to convince myself that a short hike is worth the view and that the return journey is usually the easier leg.
But here we are, on this trail surrounded only by trees for company. It was rocky and steeper than we imagined. On Bharat's suggestion, I walk in front. I have a tendency of looking down when I walk, and today I'm glad for that. We cross paths with an older couple returning from their hike. The lady had a long stick that I presumed was helpful in such conditions. They attempt to talk to us in a foreign language. Then they switch to actions and words. I distinctly decipher the word 'ambulance' and their actions suggest that the slope is slippery. We walk slowly, equip ourselves with a fallen branch and soon find a small crowd on the next leg of the trail. An injured woman was being assisted on a stretcher by a team of helpers.
From then on, the trail got trickier. Our caution is overtaken by confusion and a hint of unspoken fear.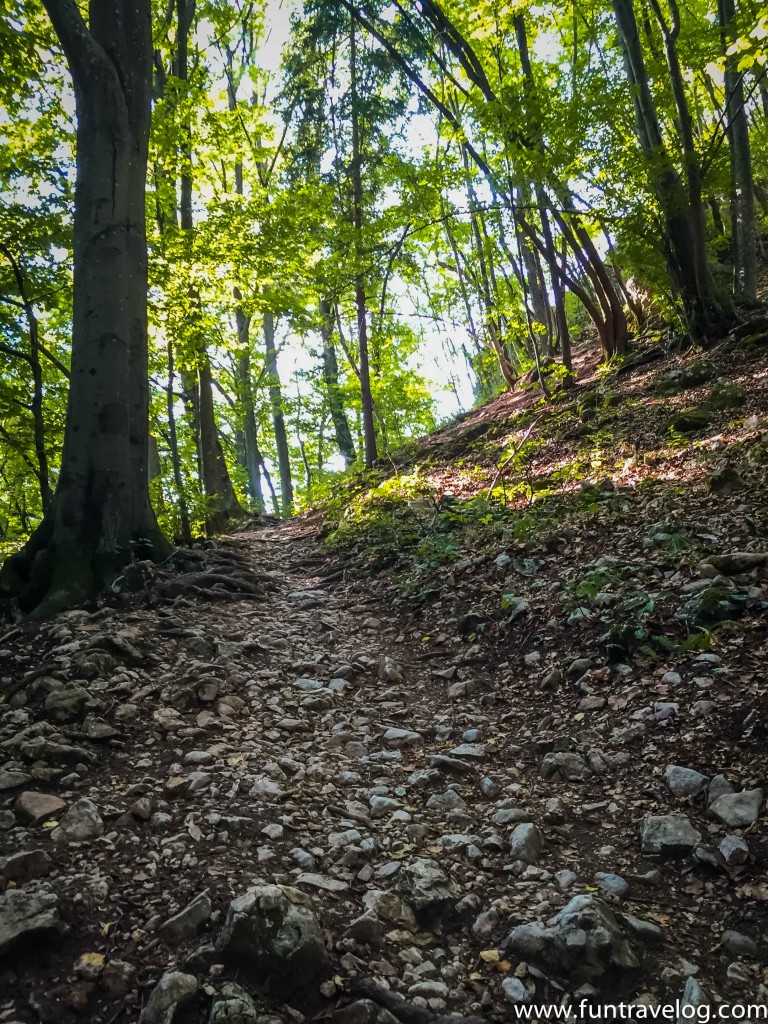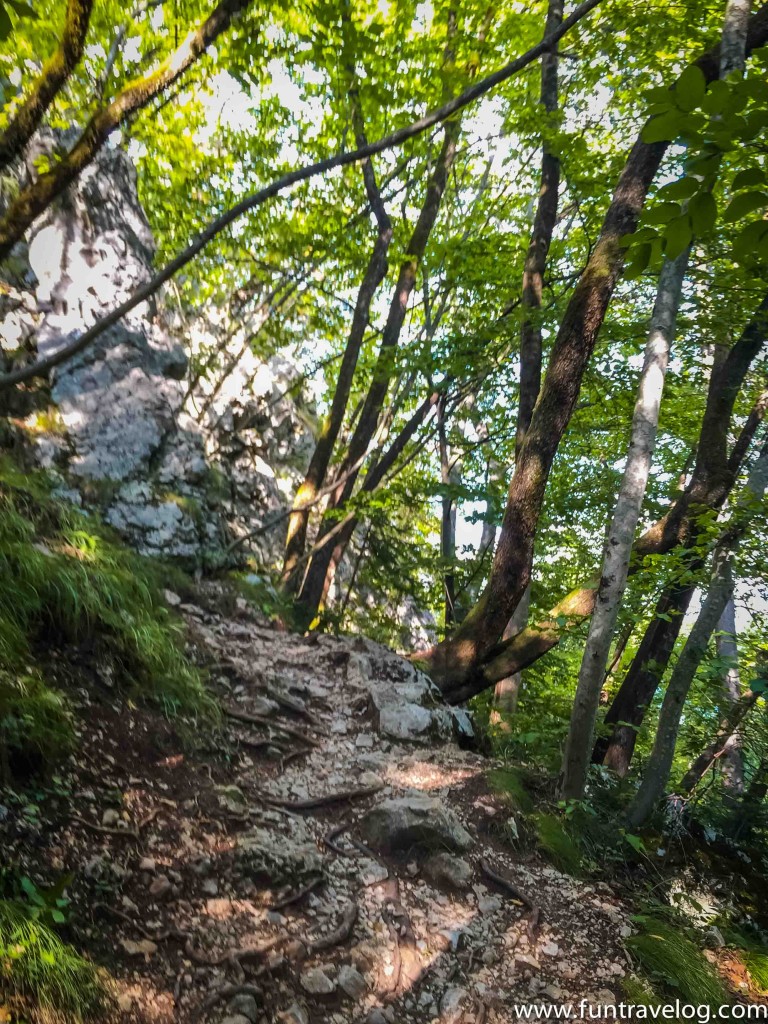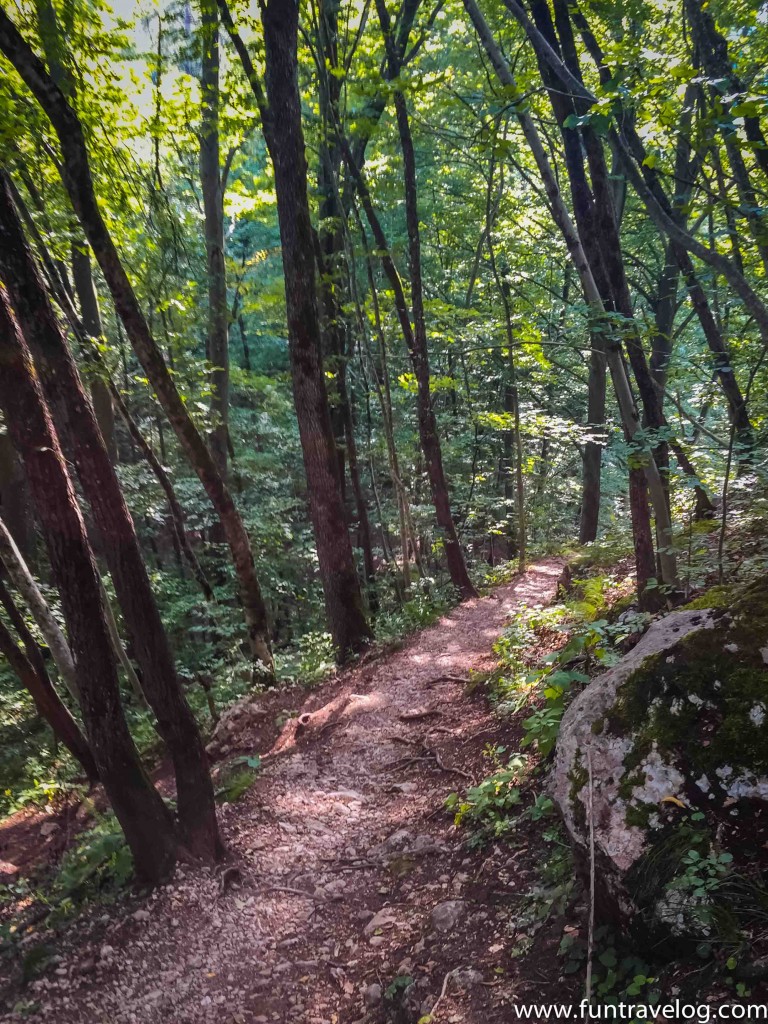 Sharp curves and serene sights
I'm out of breath. We keep walking but are unsure of the direction. Bharat suggests we take another abandoned trail in the hopes that it would be the right one. The path on this trail is laden with small rocks too, and slopes upward in the same manner as the mountains I drew as a kid. We stop mid-way and attempt to verify our path through Google Maps. It doesn't help. We turn back to our previous trail hoping to meet other people.
Suddenly, we hear voices and wait. Another couple walks down an uneven mountain path with unenviable ease. They are returning from a trail that offers a similar view of Lake Bled. The four of us were standing at the base of two trails. In a split second decision, we decide to take the mountainous trail that the couple just visited. Mala Ojstrica, the trail we pursue, seems shorter (yay!) but has several sharp curves and larger stones. This time, we also have branches and tree trunks to grab on for support. It is scarier, but we know we are closer. I dare not look down.
I'm wondering if I should mutter prayers, in my head. Bharat curses his shoes – he had picked a pair of relaxed sneakers over his sturdier ones.
We continue our ascent. Looking up, I notice we've reached the summit. We see a bench under a tree and the Karavanke mountains rising like a ring in a distance. The lake with its sparkling water looked like an artist's canvas. The best way to describe the sight is by letting our pictures do the talking.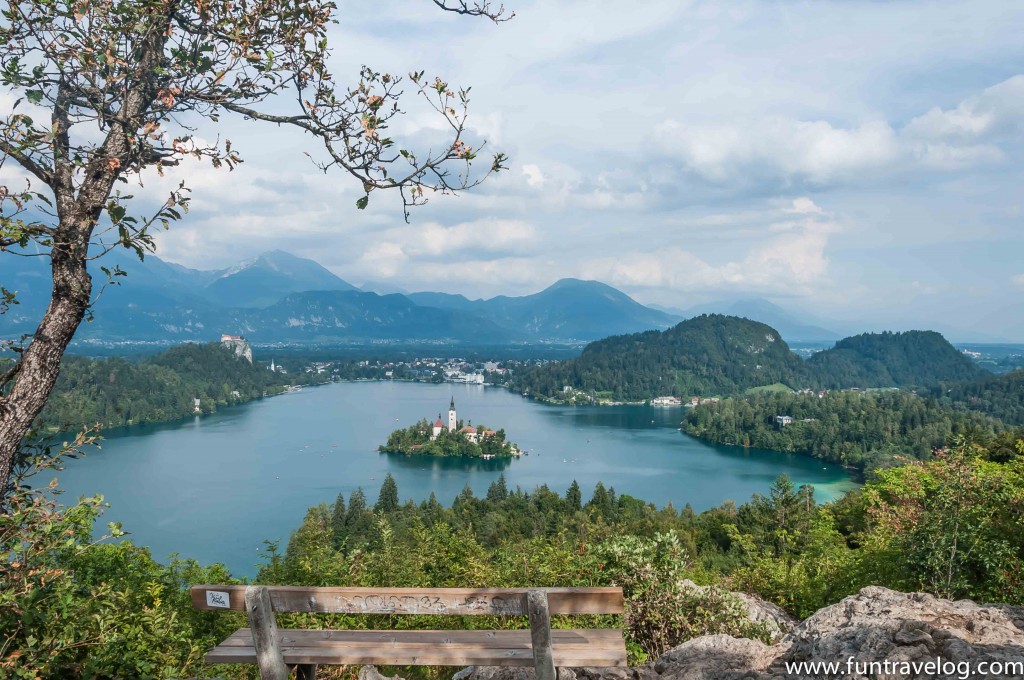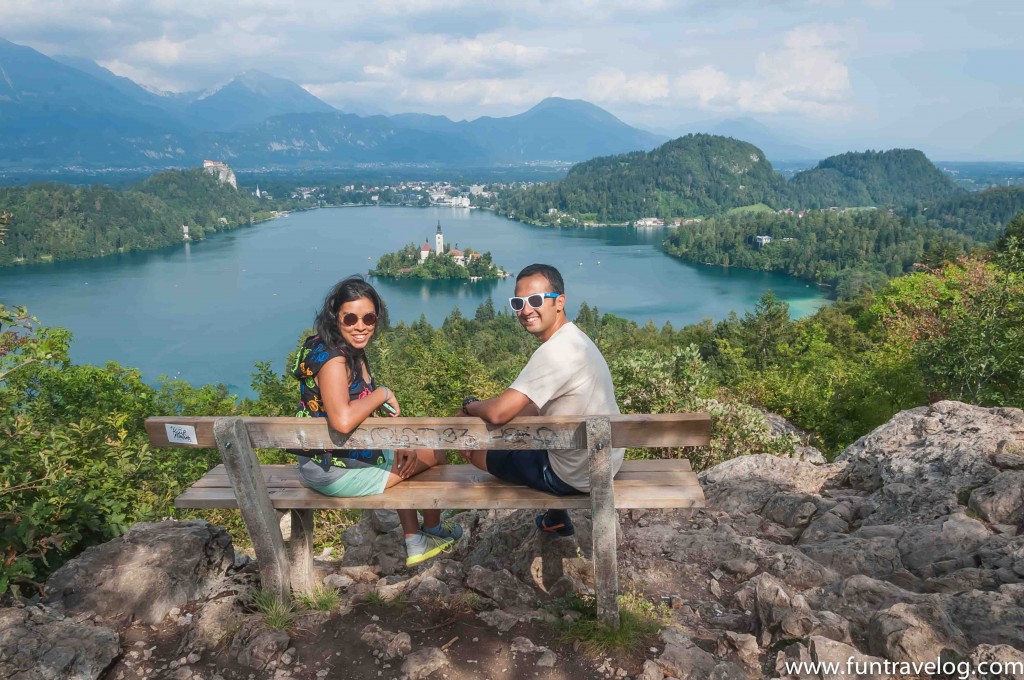 The return journey
Knowing how steep and tricky the terrain was, we almost avoid the hike back. We begin slow and steady, grabbing chunks of rocks that were jutting out on the edges of the mountain. Until I spot a narrow path that seemed like a shortcut. I convince Bharat and we take steps forward on this new found section of the slope. But again, it was steeper than we imagined and we realized that we may have to sit and slide down, inch by inch. He goes first. Almost slides. Stops. Grabs the tiniest rocks sticking out of the ground and slides down . I'm scared to sit, but I knew I'd risk slipping if I walk or run the entire way down. I crouch on all fours, push myself ahead and catch a giant tree trunk nearby. I sit on my butt, descend slowly and also pray that I don't rip my shorts. For once, I wondered how I managed to talk both Bharat and myself into taking this shortcut! He makes the home run and I think to myself – 'I can do this!' Towards the end, I got up and walked down. Victory.
Once back on the main trail, we found our confidence returning. We made it to the lakeside in no time and spent the hour relaxing by the lake. Would I do this again? With hesitation. But in order to admire nature's panorama from an undisturbed vantage point like this one? Definitely.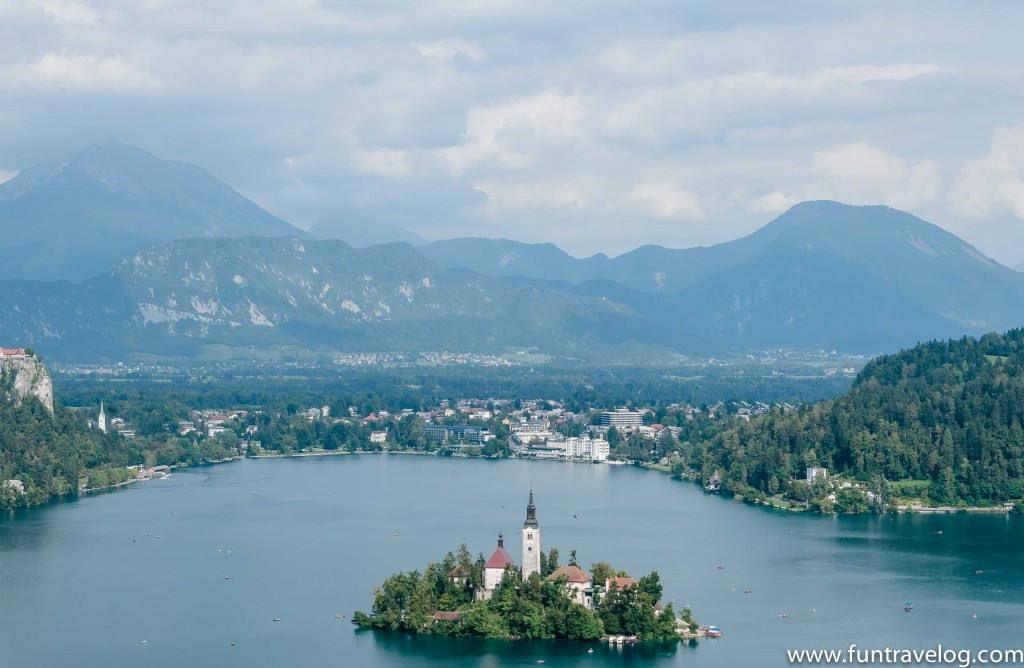 Good to know
The trail to reach both Mala Ojstrica and Mala Osojnica hills starts from the same base. On crossing the first leg of the trail, keep a lookout for a signboard on your right. Hikers might miss the sign as it is at the start of the ascend to the Mala Ojstrica hill in a corner. From this sign, there is a further trail towards the left that leads to Mala Osojnica.
We met a hiker who who returned from the Mala Osojnica hill and mentioned that it offers the same view as the Mala Ojstrica except, the former has covered railings and the latter provides a closer and more unobstrusive view. In effect, the Mala Osojnica hill is further behind and possibly offers a broader view but the fact that the Mala Ojstrica summit is not covered makes the viewing experience better.
Make sure you carry a backpack with a bottle of water and something to snack on.
Wear sturdy shoes
Be very careful with an SLR especially while hiking up
Keep an emergency contact information on your phone. There are sections of the trail where there is minimal / no network
A round trip of this trail would take anything between 1.5-2 hours depending on speed, amount of time spent on the summit.
As a last treat..
Head to the cafe in Park Hotel, right next to the Tourist Information Center and try the original Bled cream cake. They've been using the same closely guarded recipe since the 1950's! The wait for a table or the crowds will not deter the experience of tasting this culinary masterpiece.
Save
Save
Save