We've been out of action on the blog but that's no excuse to not spread some travel cheer. So, we're starting off where we left, on a fresh note – with the same enthusiasm and excitement about documenting our travels. We hope you'll read along, and share our wanderlust 🙂
It was only while gorging on vegan tacos for two consecutive days in Mexico City that we realized how far behind Boston is in terms of its Mexican food scene. The city's access to fresh produce, spicy sauces, and innovative taco making techniques left us in awe. But there is always a limit to food intake and exploring the city's historical sights. We were itching to get out of the grid and smell some fresh air.
The man-made farm
Xochimilco, famous for its floating islands called 'chinampas', was among the many tourist attractions mentioned in articles and blogs. Just forty minutes away from the city, it felt like a world away. The internet is full of posts about hiring a boat ride for cheap and some posts referred to it as being a rip off for the price. Naturally, that's not what we wanted. While casually taking suggestions from our B&B hosts at The Red Tree House (which by the way is the place to stay), they suggested we take a day trip to Xochimilco with Ricardo Rodriguez of De La Chinampa tour company. Wary as we usually are with group tours, we hesitated for a bit but relented upon the insistence of our hosts. Luckily on that sunny, cool Christmas Eve morning, along with a couple from Austin, we headed to this unique place.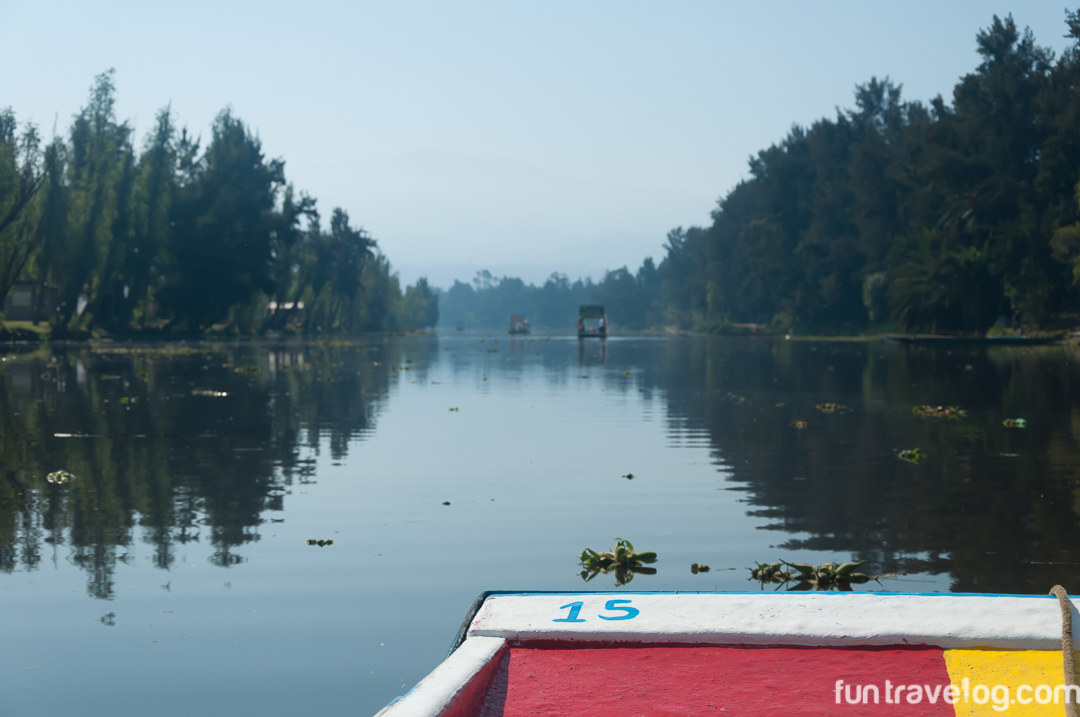 Ricardo was quick to introduce himself and share his passion behind this tour. He lives close to Xochimilco and has been striving hard to propagate the benefits of urban, pesticide-free farming. What started as a partnership with only two farmers initially, has increased to more than 40. He operates a CSA (community supported agriculture) style business — delivering fresh produce grown by his fellow farmers to homes and even restaurants. His main goal with such tours is to raise awareness about the importance of Xochimilco to Mexico City's burgeoning population in order to feed and support local farmers.
The chinampas can also be rented by corporations, restaurants, and even individuals. This sort of a partnership with local farmers provides livelihood to them in exchange for homegrown produce to those who need it. The striking feature of these lands is that it can be used for 3-4 cycles a year, which is hard to beat.
A farm to table spread
After a smooth Uber ride to the pier, Ricardo escorted us to a colorful gondola-style boat. One of Ricardo's lads was getting ready to row the boat. The entire area, which is typically bustling, was quiet and only a few food stalls were operating. Birds on the islands chirped and waves lapped gently against the boat. We were assured of food but it was more of a feast, again showcasing Mexican hospitality. Fresh guacamole, chips, salad from the gardens of Xochimilco, coffee (with sugarcane and cinnamon), white cheese from the milk of cows grazing here and steamed tamales that Ricardo's wife along with one of the farmers had prepared for all of us. Everything was so yum, that we devoured those tamales in minutes.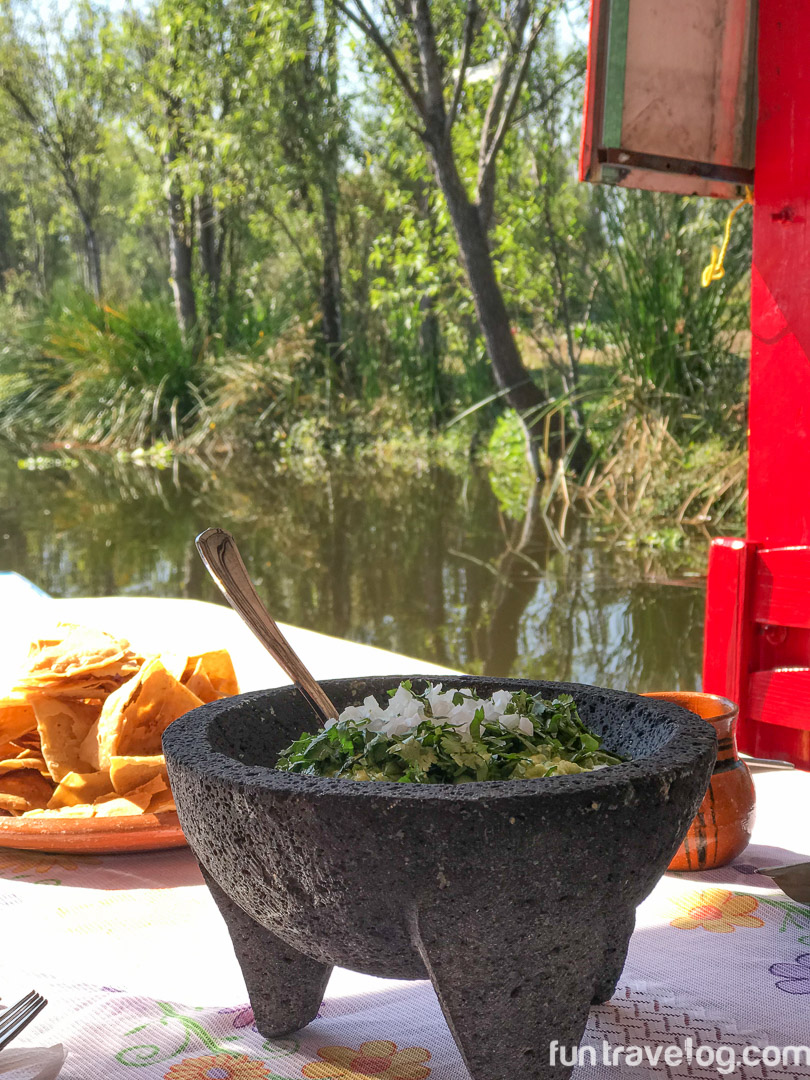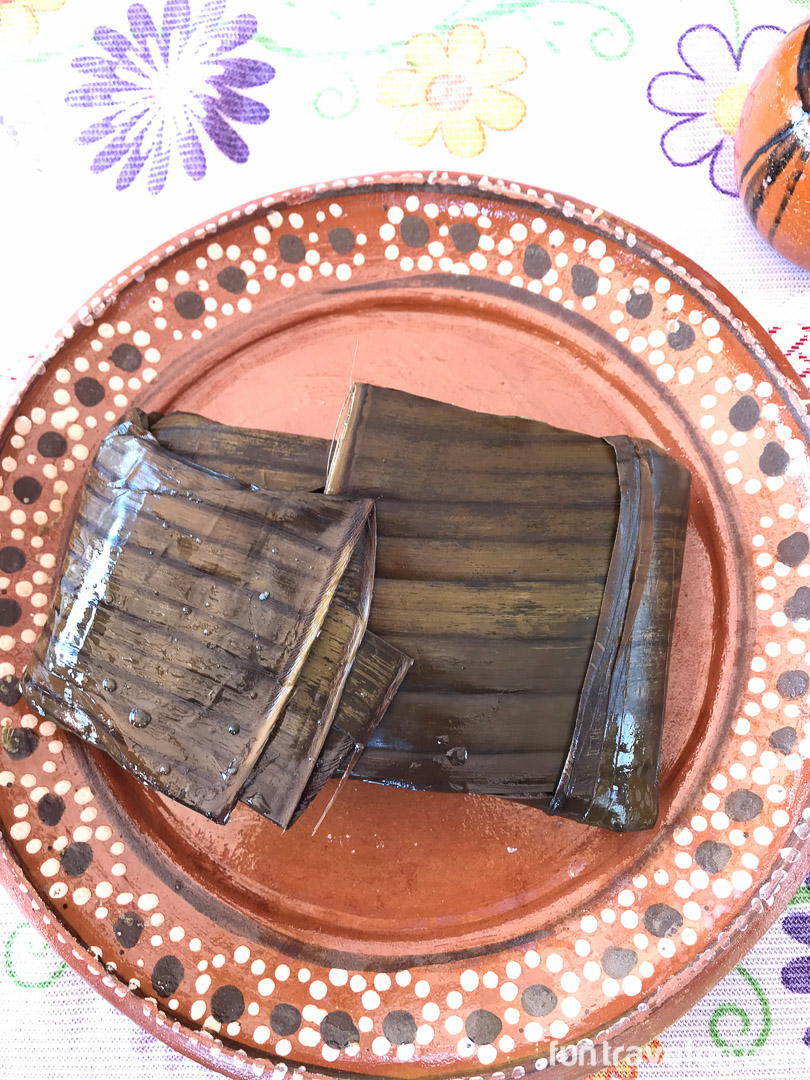 Visiting a chinampa
As our boat glided past the canals, we saw lots of blue herons, egrets, and native ducks. Ricardo told us that water snakes are also present in these canals. The islands are protected by UNESCO now, which means that there is an absence of commercial construction and electrical towers. No one lives on the islands overnight, except some cows and cats to keep a check on rats/rodents. The size of huts that can be built on the islands is also regulated.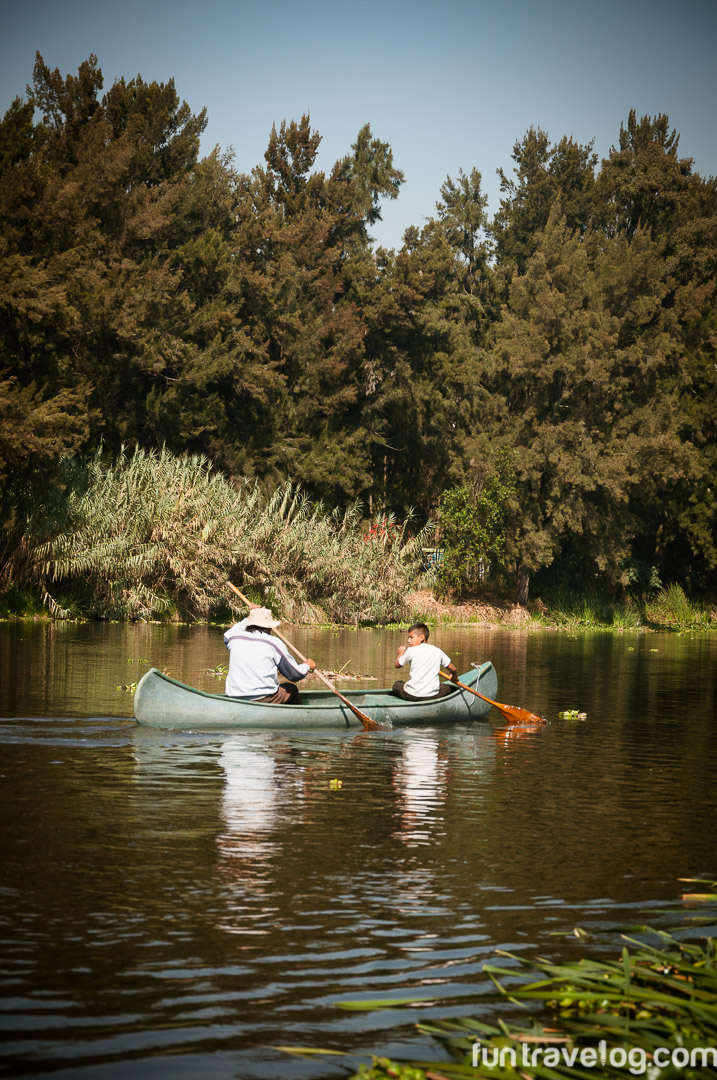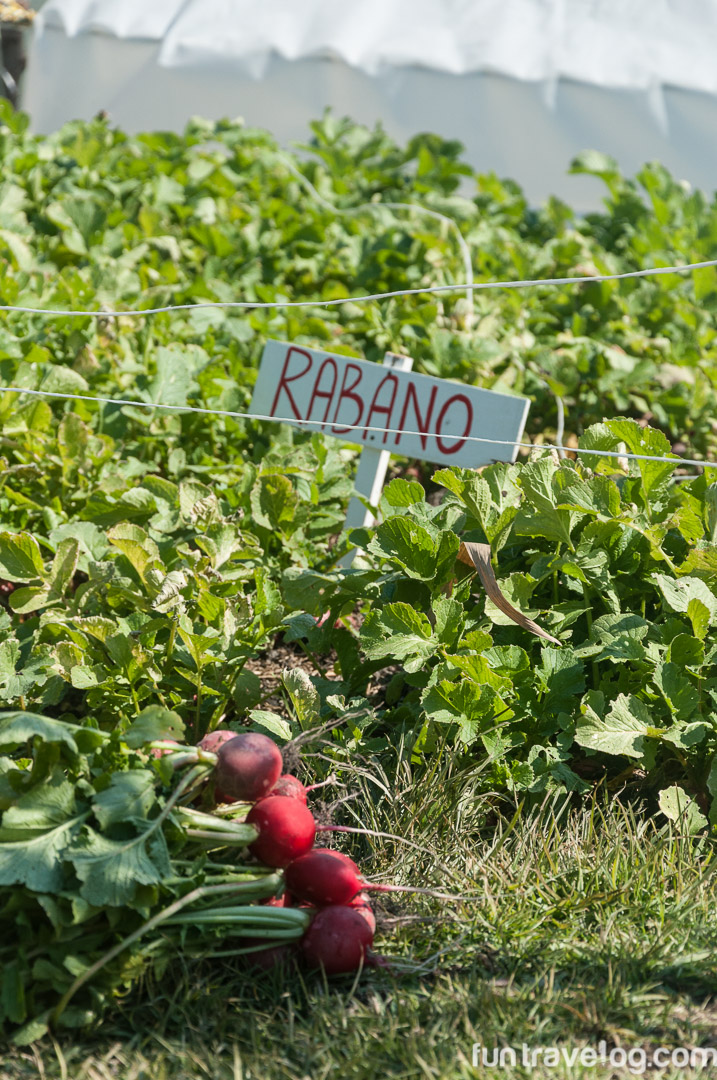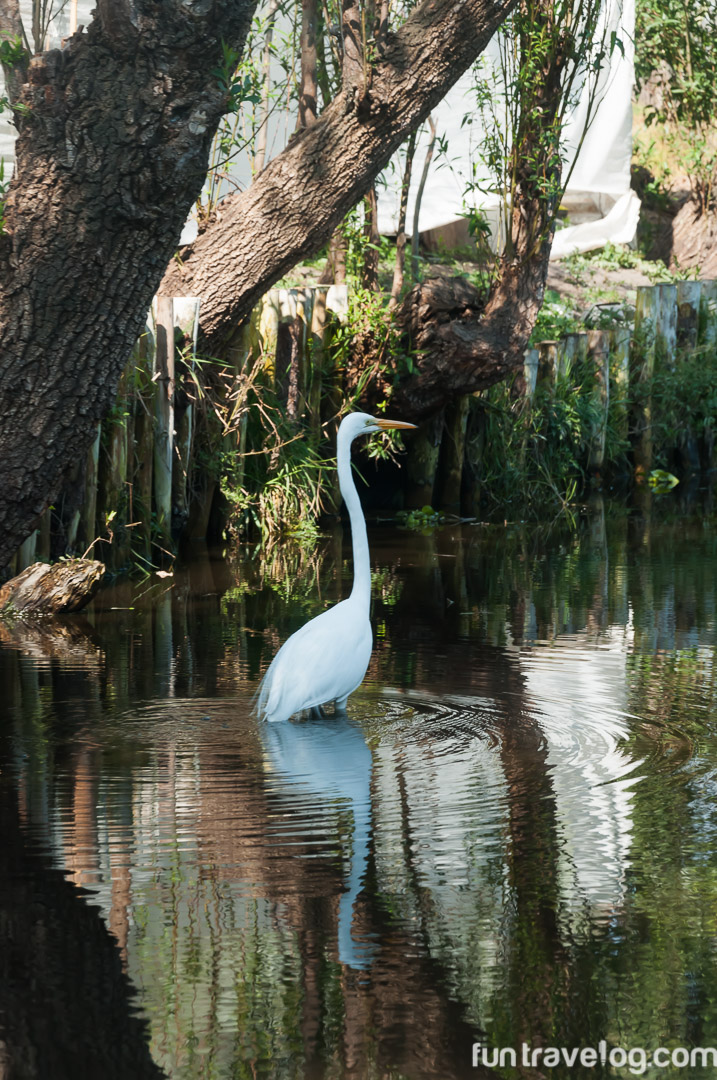 I jumped in excitement on the boat itself as I saw broccoli growing side by side with herbs. Unlike Supriya who is a city girl, I grew up in a house which was pretty much a farm. My forefathers planted lots of trees and I spent my childhood eating fresh mangoes, pomegranates, custard apples plucked every season. Ricardo took us on one of the chinampas, which was his own. Walking around, we saw fresh radishes ready to be placed on someone's table. We saw cauliflower, cilantro, tomatoes beginning to ripen as well. Irrigation is never a problem and Ricardo stressed that they use the water as it is, certifying it is pollutant-free.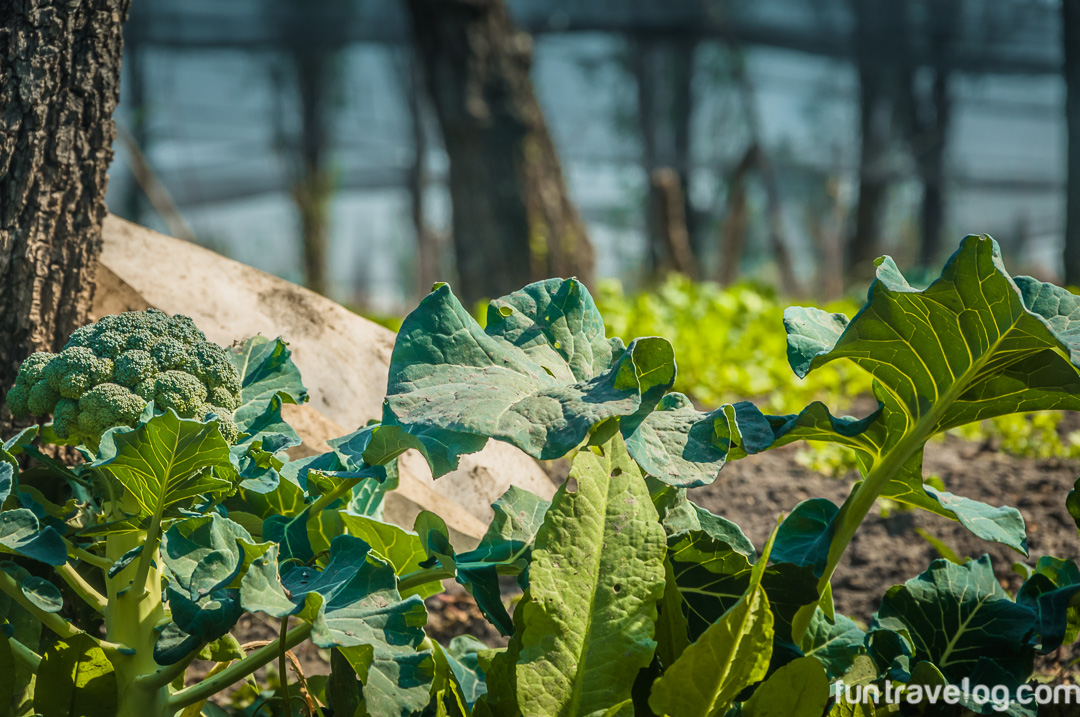 As we rode back to the pier, we watched a video on Ricardo's phone that he has produced to promote this tour. He is very optimistic about the future of Xochimilco, but sad at the same time with the lack of government support. We felt glad that we did our little bit to help him by joining this tour. More importantly, it's a different side of Mexico City that you should you not miss as well. You'll be lucky to visit this urban farm on a day as we did.
Go there!
Xochimilco is about forty minutes away from the main city. You can contact Ricardo by email ([email protected]) or by using the contact form on his website. During our conversations, we also found out that he also collaborates with Culinary Backstreets to provide farm to table tours in Mexico City. If you end up staying at The Red Tree House for their lavish breakfasts, happy hours and above all, super friendly hosts, simply request them to book this tour for you.