As I write this post, I wonder how we take life, and more specifically travel, for granted? Who knew that taking a flight would be considered a feat now? But there is hope. Hope for a better future, better medicine, and since this site is all about travel – hope for more responsible travel.
Where is Jodhpur?
Now Jodhpur needs no introduction. This stunning city is located on the western side of Rajasthan, a state in India. It is the historical capital of the kingdom of Marwar, once ruled by the Rathore dynasty. This dynasty is an ancient dynasty of Rajputs, a clan associated with aristocracy and warriorhood.
The city is insanely popular with tourists along with other cities like Jaipur and Udaipur. But we were visiting with a six-month-old baby and that too on her first visit to India. So you can imagine that we did some deep research. For instance, we looked up the best baby carrier to use within India to make sure things went smoothly, at least on paper.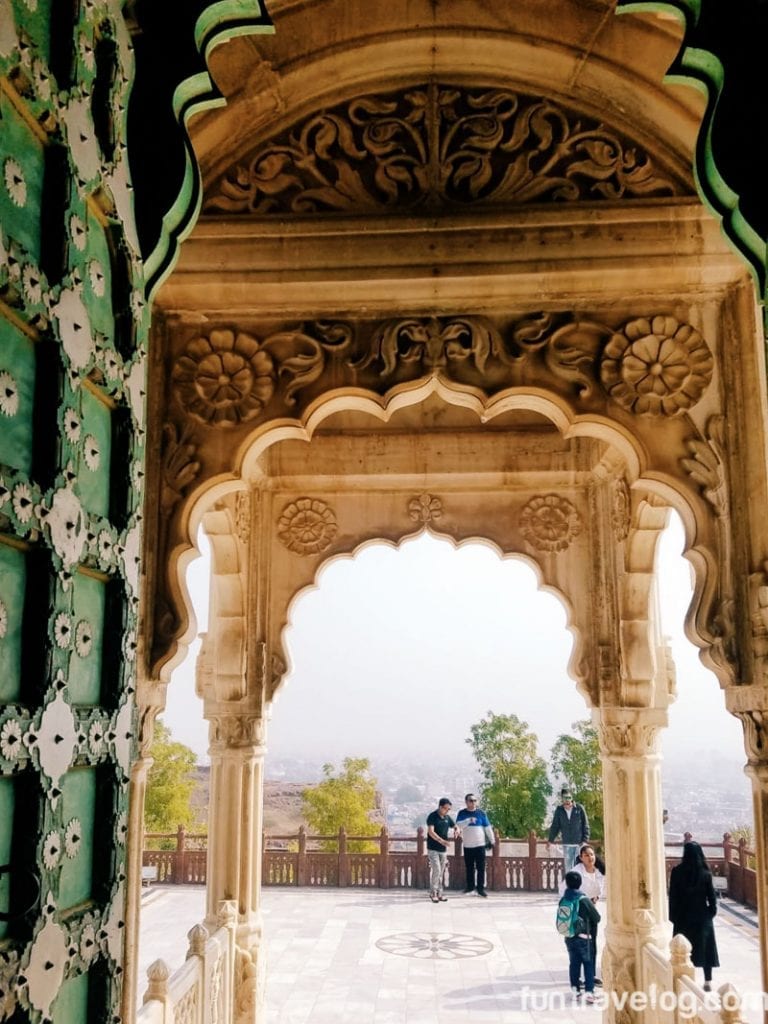 Why did we choose to visit Jodhpur city?
We were hoping to make Raahi meet her grandparents and enjoy some pleasant winter sunshine in India. Keeping our worries about sickness and jetlag aside, we went ahead, booked flights, and picked out a few places to visit in Jodhpur.
Visiting India, our motherland, literally makes us dance in joy. Most travelers visit Jaipur as a part of the Delhi-Agra-Jaipur circle. The idea of visiting Jodhpur excited us because:
It is a small city, which can be easily explored in 2-3 days
Is rich in culture
Has great food and hospitality
From our 96-hour stay, here are our recommendations on what to see in Jodhpur, whether you are with a baby in tow or not.
1. Mehrangarh Fort
This fort could be easily one of the best-preserved sites in Rajasthan. One of the largest forts in India, standing 400 feet above the city level on a hill, the walled palace of Mehrangarh Fort is an example of beautiful architecture from the region.
What will you see inside Mehrangarh Fort?
The fort has large courtyards, intricate interiors, a view of the blue city, and one of the finest heritage collections of royal paintings, objects, and treasures belonging to the family and the ruler who built the fort, Rao Jodha. There is an entire section devoted to 20th-century palanquins that were used to transport the royal family. Other interesting things to see include armory, turbans, paintings, and even cribs used by the royal family inside the museums. In those days, forts were built for the purposes of defense and were also considered as a sign of prestige.
One of the reasons why this is possible is because the noble royal family takes pride in managing the fort and its associated properties.
If you are lucky, you might be able to meet the custodian of the fort, H.H. Maharaja Gaj Singh II, and/or his spouse. We actually saw his wife mingling with tourists in the courtyard. We learned that the royal family is personally involved in the maintenance and management of the fort. The graciousness with which they were treating every visitor was visible in her interactions.
There are three cafes, a rooftop restaurant, a museum shop, and a space for certified vendors selling handloom products inside the fort as well. This makes it an ideal half a day spot, or even more.
Is Mehrangarh Fort baby friendly?
Yes! We could whisk Raahi around in her stroller for the most part inside the part of the Jodhpur fort that is open to visitors. There is an elevator to take you to the top from where you can catch a birds' eye view of the old blue city.
Entry fee: Rs. 120 (domestic visitors) / Rs. 600 (international visitors)
2. Jaswant Thada
Make this stop either before or after the Mehrangarh Fort due to its proximity. Mehrangarh Fort was grand but relatively busy. Jaswant Thada is the cremation ground of the royal Rajput family of Marwar. It had a more quiet, sublime feel in comparison.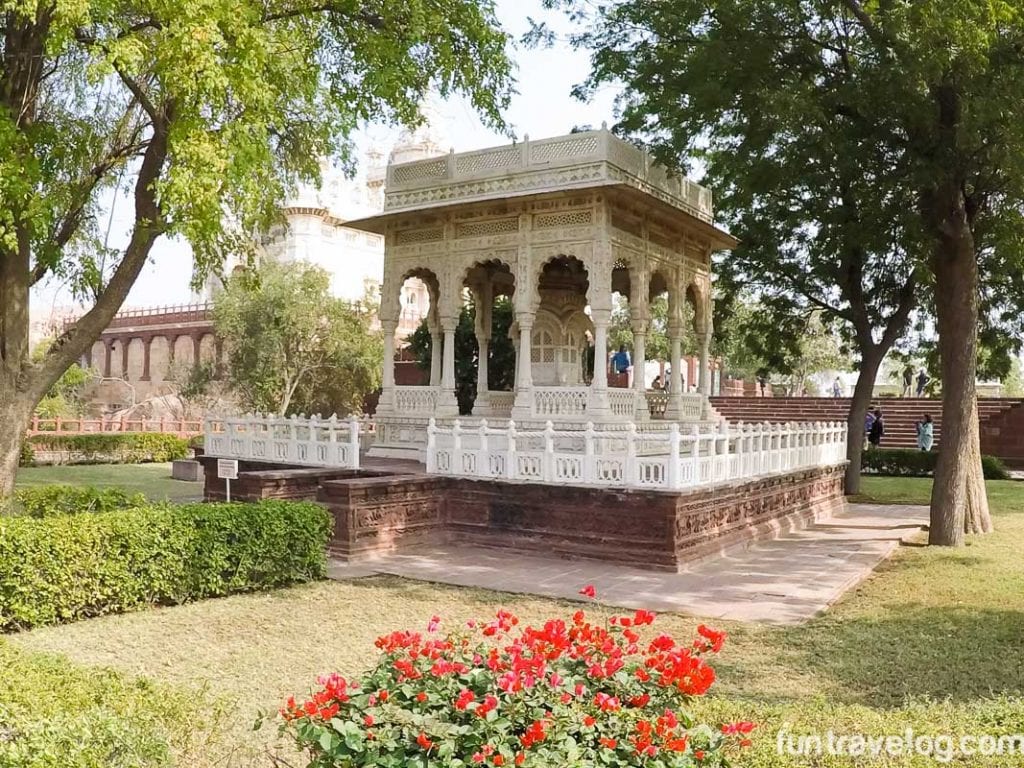 What will you see inside Jaswant Thada?
Often touted as the "Taj Mahal of Marwar", the main building was actually designed by the wife of Maharaja Jaswant Singh II and built by his son Sardar Singh. That is quite the opposite of the Taj Mahal which was built by a king, Shah Jahan for his wife, Mumtaz Mahal. You will find courtyards, individual gazebos, tiered gardens, a small manmade lake, traditional doors, exquisite architecture, and cenotaphs. It is definitely one of the best places to visit in Jodhpur, and hugely underrated.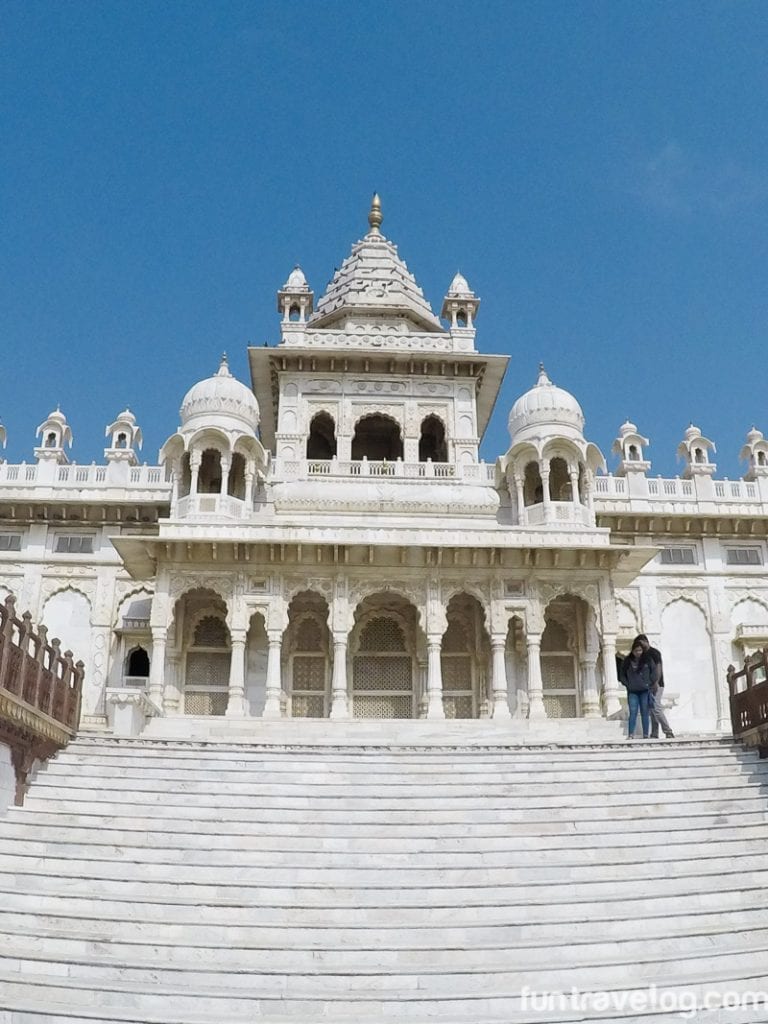 The beautiful, intricate memorial + temple of marble will beg for photographs. Our guide mentioned that there is something about this place that makes everyone feel at peace. And babies never happened to cry. True story – of all the time we spent there, Raahi was either exploring the grounds on her own or in our arms excitedly looking at the various ornate structures. Big win for us! Since there are steps inside Jaswant Thada, it is better to leave your stroller in the car.
Entry fee: Rs. 30 (domestic visitors) / Rs. 50 (international visitors)
3. Blue city or Old City
Jodhpur is famous for its blue houses which are photographed often, and a lot has been written about them too.
Why is Jodhpur's old city painted blue?
There are various theories floating around about why Jodhpur's old town was painted blue. Some say it was to keep the homes cool in hot weather, others say it was to ward away termites and so on. Nonetheless, walking through an old city with painted blue homes is similar to being in a maze. Just watch your step 🙂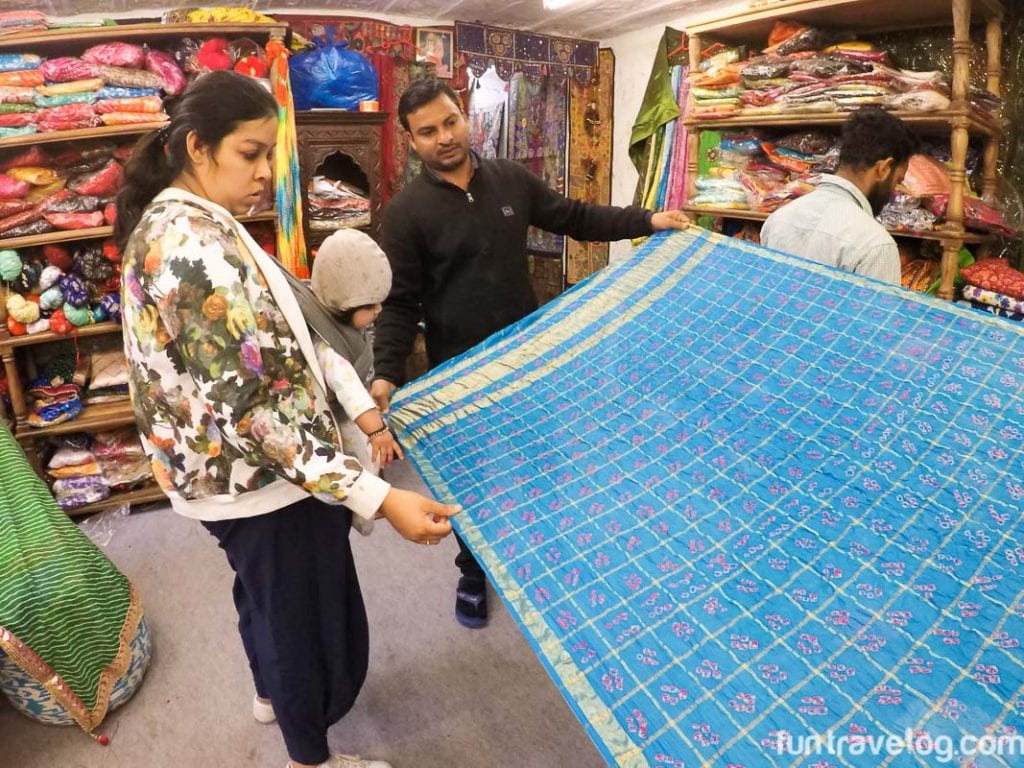 What is the best time to visit Jodhpur's blue city?
We figured the best way would be to roam around early in the morning and perhaps strike a conversation with a few locals. At this time of the day, the streets were not as busy and shops were about to open. Since it was wintertime in India, I was also looking for a roadside 'chaiwala' or tea seller.
How to visit Jodhpur's blue city?
We recommend walking this blue city with a knowledgeable guide, which we were lucky to have for a couple of days through a friend's recommendation. He took us inside tiny alleyways, shared the history, and even managed to help us with shopping in the old town market. The market is not super crowded in the early hours.
We started off at the entrance close to the clock tower, passed through the local spice and produce market, the textile markets, and finally the homes. The bylanes inside the blue city are narrow, and they are best explored by walking. This walk is certainly one of the best things to do in Jodhpur for free.
Raahi was having a sensory experience like no other as she was tagging along with Mumma in her baby carrier. We paused at various places, took photographs, waved to locals. Oddly, I did not find a chaiwala.
Entry to Jodhpur's blue city is free.
4. Toorji ka Jhalra
Stepwells have become an Instagram sensation due to its symmetrical structure. Very close to the clock tower or "Ghanta Ghar" of Jodhpur, Toorji ka jhalra was built by the queen of Maharaja Abhay Singh. It was covered in debris for a long time. When it was discovered and restored to its original beauty, it was found to be nearly 200 ft deep and had carvings of deities, dancing elephants from the city's famous red sandstone.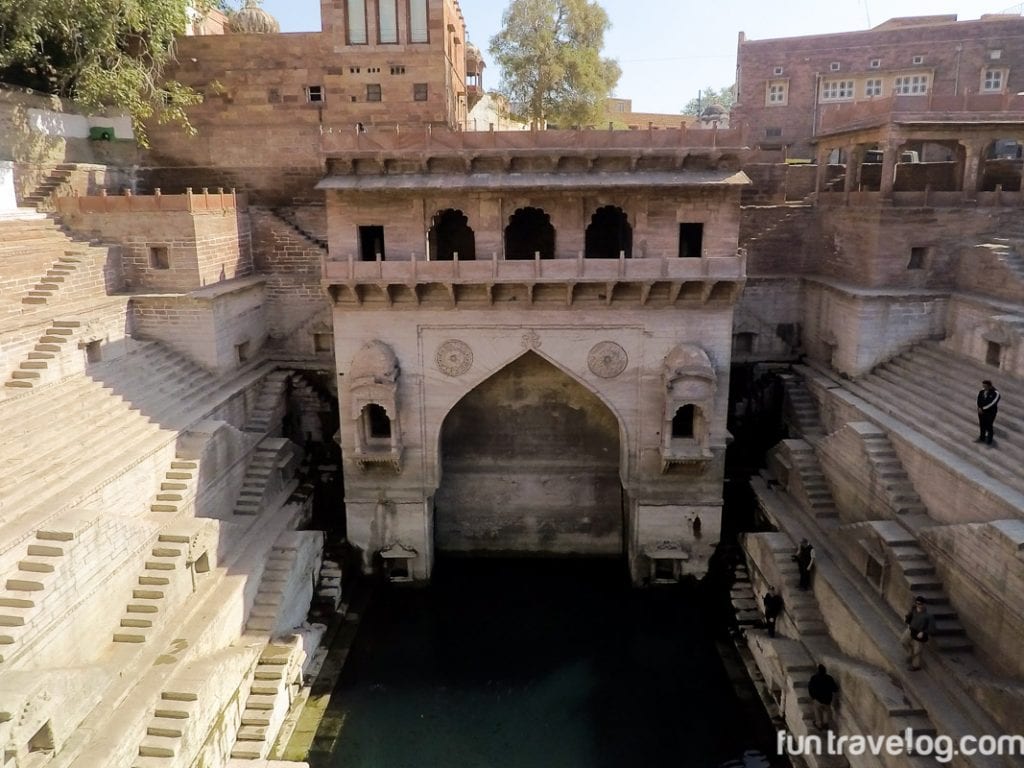 We visited this place right towards the end of our blue city tour and since it was midday by then, and both the heat and crowds were comfortable. The volunteers have been doing an amazing job of keeping it clean as we could spot colorful fishes from a height. During the summers, local kids make a splash to beat the heat.
What is the best way to see Toorji ka Jhalra?
The best way to see Toorji ka Jhalra is from one of the balconies on top or by carefully maneuvering the steps to reach closer to the water body and the best time to visit is during the day time or in the mornings. Needless to say, if you are afraid of heights, marvel at the sight from a distance and keep your child safe. If you're taking your baby along, be careful of the steps and maybe take turns to see the water body.
If you fancy a nice meal or wish to stay in a luxury hotel with a fine ambiance in the blue city, head over to Raas, a heritage boutique hotel right next to the Jhalra. A couple of India's homegrown lifestyle brands (Playclan, Nicobar) also have stores nearby.
Entry to the Toorji ka Jhalra stepwell is free.
5. Umaid Bhawan Museum
Umaid Bhawan is home to the current royal family of Jodhpur. A part of the property is managed by Taj Hotels as a five-star hotel. I am personally very proud of the TATA group which owns the Taj brand and loved every bit of our experience when we stayed in one of their properties in Maldives last year. A walk through Umaid Bhawan's palatial grounds and spending some time at the museum sounded like a great idea with Raahi in her stroller.
While you're here, read about our babymoon stay in Taj Exotica Maldives. It wasn't a palace, but every bit a paradise.
Ironically there was a wedding ongoing at the time of our visit, so we only got a chance to see the museum. The museum has allowed authorized guides to connect with travelers at the entrance. We would recommend hiring one especially if you want to explore slowly and absorb the history. Be sure to tip your guide.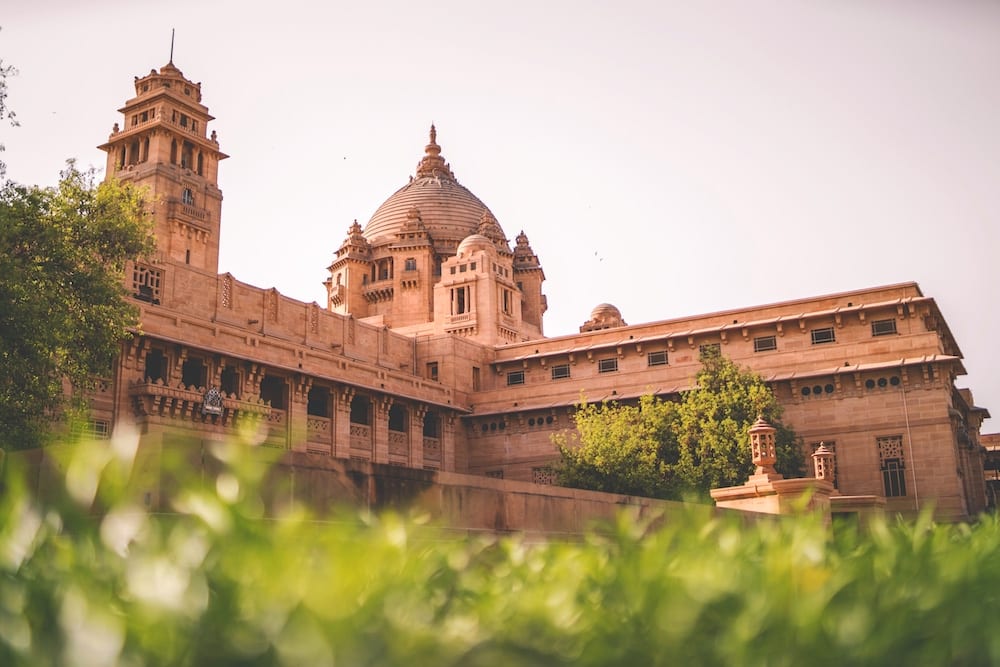 Inside the museum, you can start by seeing a well-documented photo series of the royal family's life and history. There are individual rooms with artifacts and personal collectibles (a clock collection for example) that give a glimpse into their regal life. Visitors can also see the family's vintage car collection. One doesn't need to book in advance to see the museum. The main entrance to the museum is not stroller friendly
For a splurge worthy stay, I would blindly opt for a room inside Umaid Bhawan Palace.
Entry fee: Rs. 30 (domestic visitors) / Rs. 100 (international visitors)
6. Khaas Bagh
This last bit of recommendation would not have come if we were not staying at Ajit Bhawan, which was home to the Maharaja Gaj Singh's younger brother. While Khaas Bagh is essentially a small heritage hotel with only four rooms, it has a magnificent collection of vintage cars owned by the royal family which we wanted to see.
I was also blown away by their restaurant menu which highlighted some interesting local dishes. While we just devoured a traditional 'Ghewar ki chaat' Raahi decided to call it a day. So Supriya and I had to take turns to rock her and finish our meal.
The staff was very helpful and patient, nonetheless. This is when you realize not all moments of travel with a baby can be as per your expectations.
Entry to Khaas Bagh is based on dinner or room reservations.
More tips on sightseeing in Jodhpur
We felt that having a guide to visit most of these sights was super-helpful as there is already a lot to manage with a baby. Our guide Mr. Bhawani, who worked in the Indian Army before retiring, was very humble and knowledgeable. After our day tours, we used to savor Jodhpur's famous pyaaz ki kachoris (onion fritters) and talk on various topics. He was also very mindful of the fact that we were traveling with a baby. If you need to touch base with him for your upcoming travels to Jodhpur, don't hesitate to send us a note and we can try to get you connected.
We used Uber without much trouble and even took autorickshaws on some occasions. You could also hire a local cab. If you're renting a car, be aware that parking in some places in the city, especially in the old town, could be a hassle.
If you have more days on hand, check out these places to visit near Jodhpur: Bal Samand Lake Palace, Rao Jodha Rock Garden, or plan a day-long safari to Bishnoi Village to see wildlife and local artisans at work.
Rajasthan is a handicraft lover's paradise and there are many places for shopping in Jodhpur. Shop for traditional block printed outfits or linens, comforters, jewelry, homeware, and footwear.
Bonus Recommendations
We highly recommend Ajit Bhawan for a stay, especially with a little one. Right from the check-in through the time we left for the airport, the staff were super polite and always itching to play with Raahi. We felt so welcomed and at home. The multi-course breakfast left us satiated. Since Raahi had just started solids, the staff was very helpful to prepare little items like boiled vegetables on request. A review of the hotel will be up on our blog soon!
Lastly, if you have time to extend your trip, definitely consider the towns of Jaisalmer, Bikaner, Udaipur, and Jaipur which are all 2-3 hours away, in different directions though.
Most itineraries to India end up skipping Jodhpur. Hope we've convinced you to give this Tier 2 city a chance. You may have to take an additional flight or be on the road, but it'll be a change from a giant city. Let us know if you end up visiting the timeless blue city of Jodhpur.
Heading to Rajasthan? Pin these places to visit in Jodhpur before you go.