Talk about priorities! Choosing the islands was a very tough call for our four nights' stay in Galápagos. The brothers and sisters of this family can definitely fool you if you think they are alike. For us, it was the call of North Seymour, Bartolomé, South Plaza, and of course Santa Cruz where we were based out of. Our choices was based on two factors:
A. We wanted to photograph different species of wildlife that the Galápagos is especially known for. It's all about the maximization right?
As a quick cheat-sheet- North Seymour is particularly a hot-spot for watching blue-footed boobies and red frigate birds. Bartolomé has some breathtaking panoramas apart from being a classic snorkel opportunity and for watching sea lions and sea turtles. South Plaza boasts of largest variety of land iguanas and unique flora+fauna (covered in details in Part #1 and Part #2 of our Galápagos series). Warning: you'd be tempted right away if you click these links 🙂
B. We based ourselves out of Santa Cruz island and these islands were within a day-trip reach. If we had an extra day, we would have loved to include Santa Fe to watch sea lions chilling on the beach 😀 .
Pondering over our experience, we suggest these useful ten tips (in no particular order) if you have by now made up your mind to visit these islands:
1. Living in the States urges us to plan every travel in a DIY fashion. But give that a break for Galápagos. You'd either book a cruise (either for the whole journey or basic day-trips to islands) or go with a land-based operator (as we did). We spoke with lot of travelers sailing with us everyday and many of them booked last minute and of course it saved them money. But the caveat is that they were flexible with the islands and/or had ample travel time to shop around. We booked our trips a few months back and it cost us ~$1250 pp for mid-range boutique guesthouse, Baltra airport pickup and drop off, four days of island excursions with breakfast, lunch and snorkel gear included. On our last day, we visited Tortuga Bay on our own.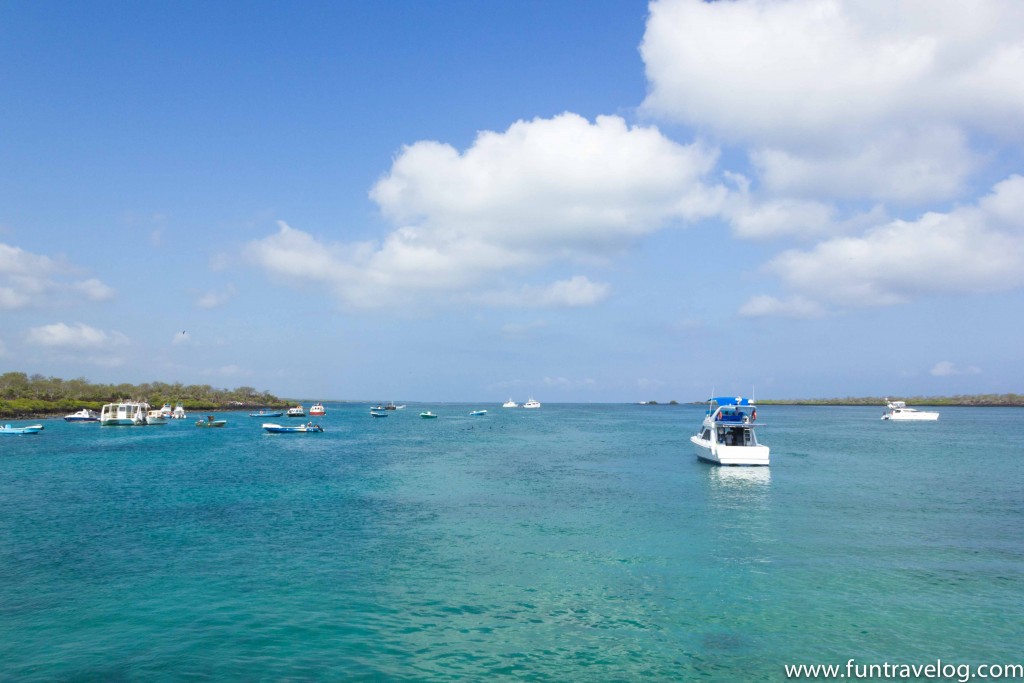 Barring one grievance regarding the quality of the boat (not to be mistaken with the spirit of its crew!), we felt happy at the end of our trip to these islands. Not only because it worked out very smooth, but the fact that the money we spent is going back into the development and livelihood of the people on these islands had a feel good factor. After all, how often do you make an impact on a foreign place which is going to be thankful to you for ever, even though you might not revisit?
2. Be very careful with water. The water in Galápagos is not drinkable, so use only bottled or filtered water- even for brushing your teeth.
3. Food is not a problem in Puerto Ayora. We as vegetarians loved eating at La Garrapata, Il Giardino but our vote goes for Galápagos Deli (cash only, where we went twice). The tiny downtown is abuzz once the sun sets in. Oh!, do not forget to get a scoop or two from the small ice cream counter at Café Hernán. Nom!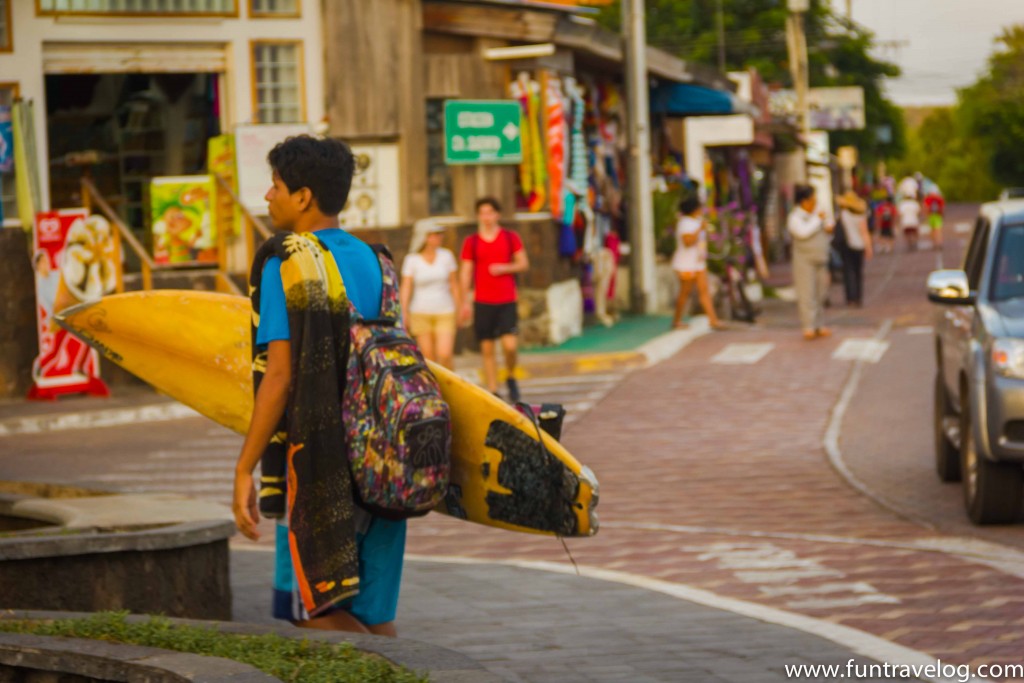 4. Carry cash (USD) for $20 transit fees payable upon departure from mainland, $100 entrance fees payable on arrival in Galápagos, most meals and cheap taxi transportation around the island which is charged flat at $1. No advance booking needed here 🙂
5. We took a local sim-card in Quito (Claro) and it worked fine in Puerto Ayora. We had a spare phone on which we used it for basic texting and phone calls.
6. Strolling around the streets on the island is absolutely safe at night, which can be stark difference from what people experience in mainland cities like Quito. Not that we had a bad experience in the capital.
7. Even if you're not a seafood lover, head to the main pier to catch the sunset and see how the locals (I mean sea-lions and Galápagos frigate birds) come to fetch the fresh catch of the day. Close by there is a wooden boardwalk from where you can see a colony of Sally Lightfoot Crabs hanging onto the lava rocks.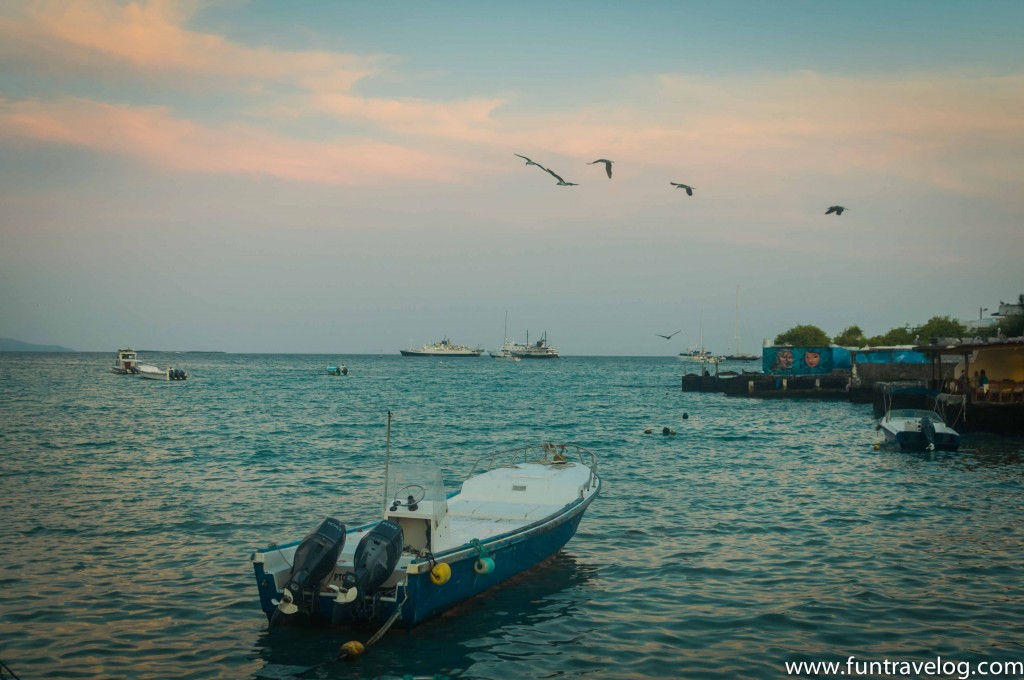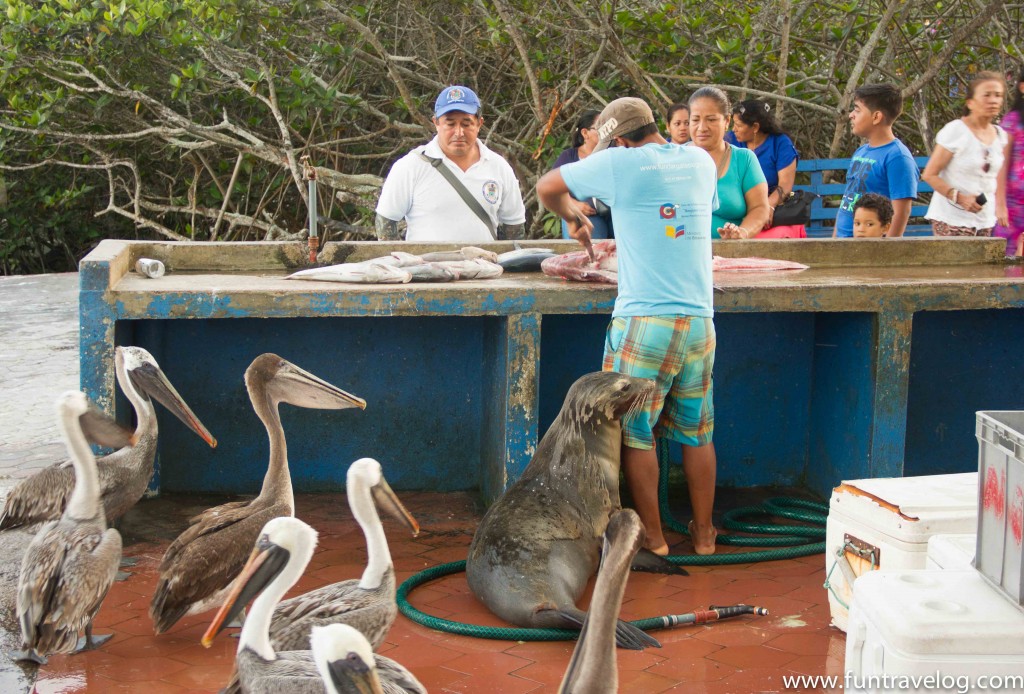 8. Ironically I think my top bet will be to carry lots of sunscreen (SPF 50 or more). Galápagos are hot throughout the year and the sun burns are common. Don't let me begin on this 🙁
Carrying full-sleeved t-shirts for day excursions, waterproof shirts for swimming/snorkel can be a smart choice to avoid sun burns.
9. There is a strict luggage check for flights to Galápagos, because it is a protected environment and every possible measure is taken to prevent entry of harmful bacteria/insects. Do not bring anything raw and carry only well-marked and packaged food if you absolutely need to. There's a great chance they might deny it.
10. We spent five days in the archipelago and it seemed just about right. Maybe we could have added a day more to explore one more island.
One last suggestion- read a book to get acquainted with this part of of the world. Pierre Constant shares some eye-popping tales from his 27 years' experience in the Galápagos, in his book- ' The Galápagos Islands, a natural history guide' and puts this outright in foreword:
"National Geographic Traveler described the Galápagos as a 'deteriorating' World Heritage Site and by mid-April 2007, Ecuador's President, Rafael Correa, had signed an emergency decree stating that the Galápagos are in crisis. Yet to many overseas visitors, the Galápagos Islands remain the image of paradise;
Yet the fact remains, the Galápagos have a strong magnetic aura."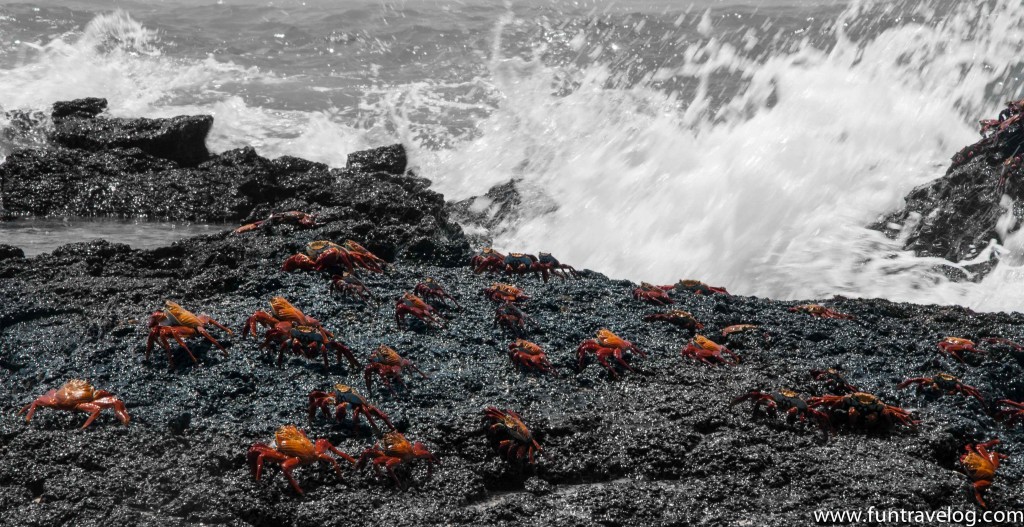 That's it folks. Hope you find these tips useful as you plan your once-in-a-lifetime adventure. Did we miss anything important? Please consider sharing in the comments below.
Save