If you've chanced upon my article here, you possibly know what Hampi is all about 🙂 However let me throw in my two cents about this marvelous place: Hampi is a charming UNESCO world heritage site located near Hospet, a town in Karnataka, India. It is an overnight train journey from Bangalore (though many prefer to drive), making it a popular extended weekend getaway from Bangalore. A paradise for backpackers and admirers of art & history, Hampi seems to be stuck in time since the Vijayanagar Empire was in its glory. But that only makes the place more sought after.
Getting There
In my opinion, the best way to get there is to board the Hampi Express that leaves Bangalore at around 10 PM and reaches Hospet at 7 AM. While returning, the same Express leaves Hospet at around 9.30 PM and you're in Bangalore by 6.30 AM the following day. Once you're in Hospet, there are plenty of transport options ranging from auto rickshaws, buses and private taxis that will take you to Hampi. The shortest route is around half an hour to forty minutes by auto. Once in the center of this historical settlement, you will have to take a boat ride to cross the Tungabhadra River where most of the guesthouses and shacks are located.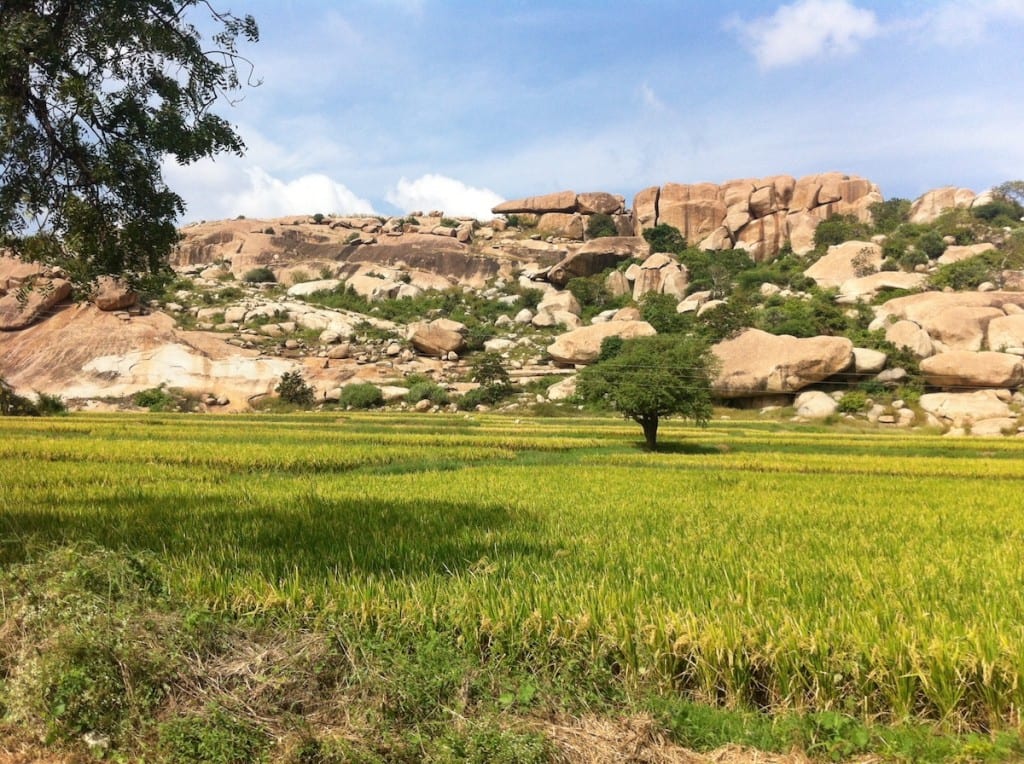 How do we explore now?
Think of Hampi as twin towns divided by the Tungabhadra River. The town of Hampi (that you first reach from Hospet) is where most of the ruins are located. Here you will also find palaces, temples and of course those majestic boulders. The other side, which you reach by hopping on a quick five-minute boat ride, is called Anegundi. This is where majority of the guesthouses and budget hotels are located, mostly overlooking the lush green paddy fields. The recent burst in tourism in Hampi has led to the opening of scrumptious restaurants and German bakeries offering a variety of cuisines from Indian to Israeli to Mexican. Guesthouses are your best bet to stay at, offering the best value for your bucks. We opted to explore Anegundi first by renting mopeds. There are some ancient temples like the Shiva temple and a Durga temple, which are noteworthy. There's also a Hanuman Temple that can be accessed by hiking up 600 odd stairs. It's a mammoth but provides a treat in the form of a bird's eye view of the entire town. Legends believe this temple was the birthplace of Lord Hanuman. The drive along the rural lanes is comfortable and refreshing, you are greeted by such beautiful vistas and cheerful people around. Also do yourself a favor and drive up to Lake Sanapur.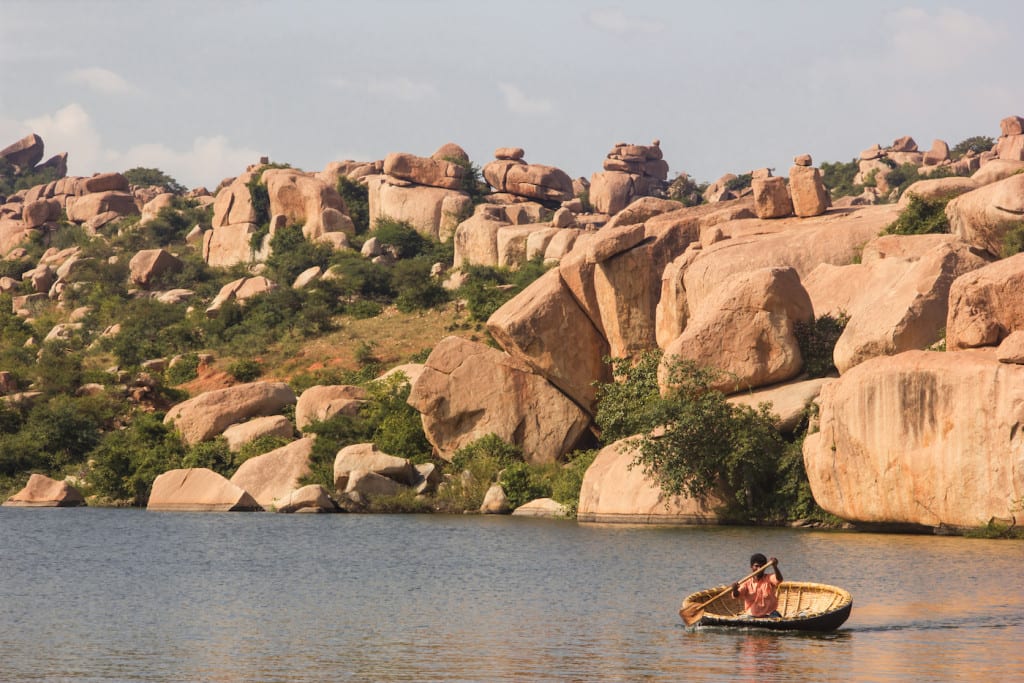 We reserved the next day for exploring Hampi. FYI- Hampi is fairly big, so your best bets are either renting a bike again or hiring an auto rickshaw where your auto driver can serve as your guide as well (hone your negotiation skills fellas!). The most impressive structures are the Vitthala temple and its Stone Chariot, Kings' Palace, Virupaksha temple, Lotus Mahal and Elephant Stables. Hike up to Matanga hill, especially during sunset to get an excellent view of the town and click a postcard for your memories. For the tough part- right opposite Matanga hill, there are boat rides to take you to a place called Koti Linga. One has to cross uneven roads, duck through a cave watched over by wild monkeys, take a coracle ride and jump over large – bulky boulders to get there, but what you find nestled in between are numerous Shiva lingas carved centuries ago. Wonder how our pre 15th century ancestors manage to create such marvelous carvings at those heights!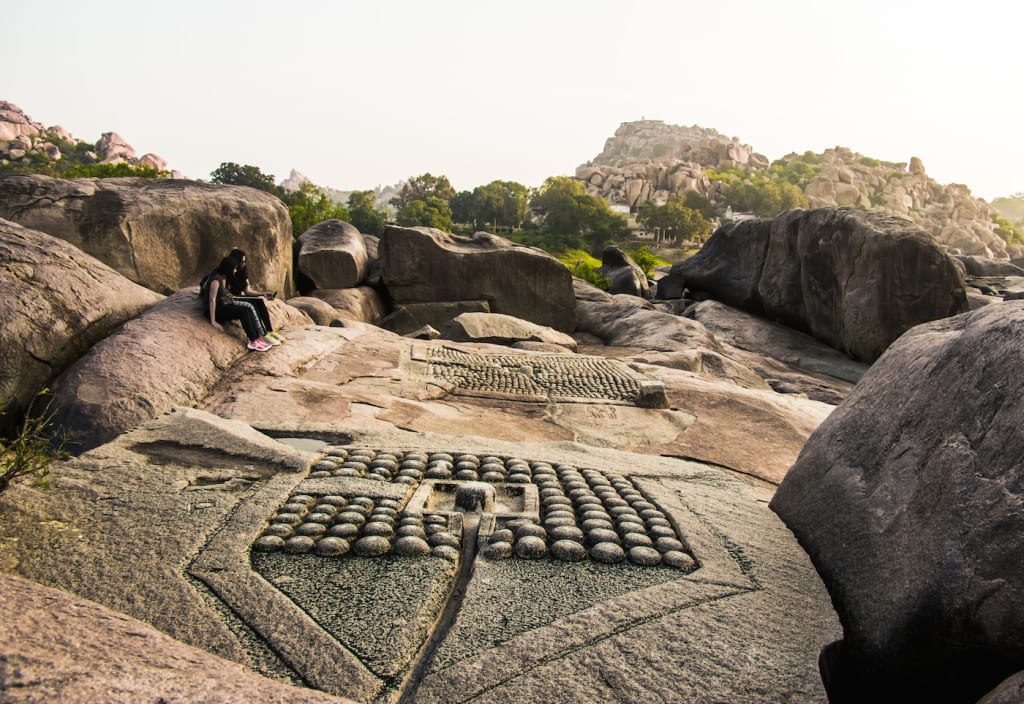 Must Note:
The boat rides stop operating after 6 PM. Plan your day accordingly so that you're not stranded on the other side of river.
When choosing a boat to cross the Tungabhadra, pick the motorboats for regular commute, as they are cheaper than the coracles. You can get a better bargain for coracles in other parts of Hampi.
For everything else, it goes without saying – bargain.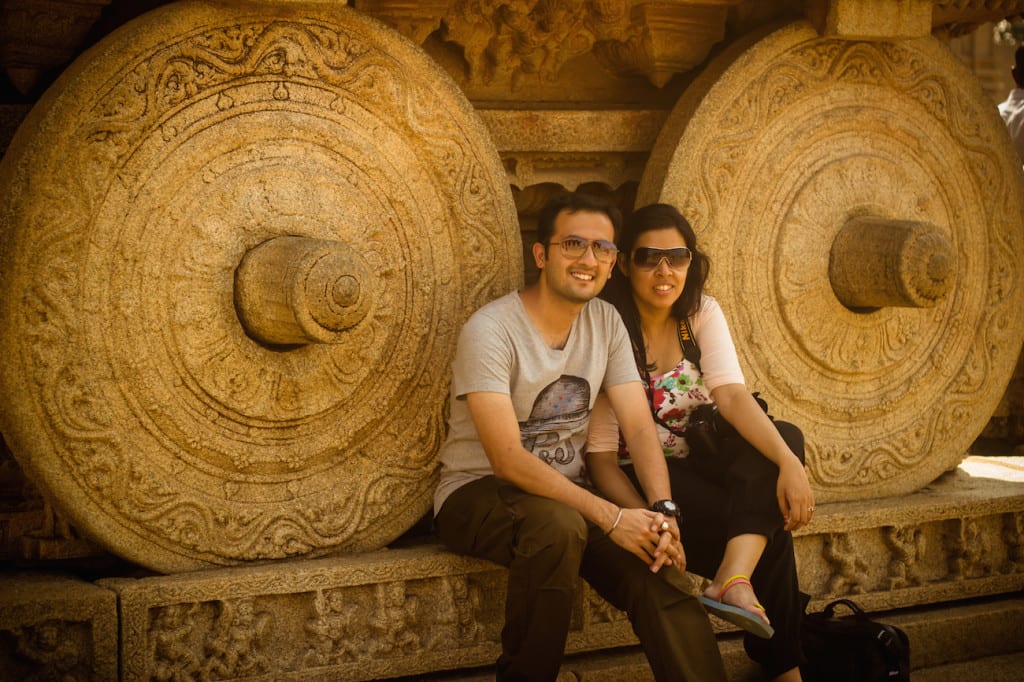 I hope this blog inspires you to pack your bags and give Hampi a chance to enthrall you. For travelers living in Bangalore, it comes as a welcome break from the madness and rush of the city life.
Save